What is life like for our HDB estate cleaners?
On International Migrants Day (December 18), Salt&Light recognises the hard work and sacrifice of migrant workers, and the impact they make in our lives.
by Gracia Lee // December 17, 2021, 1:19 am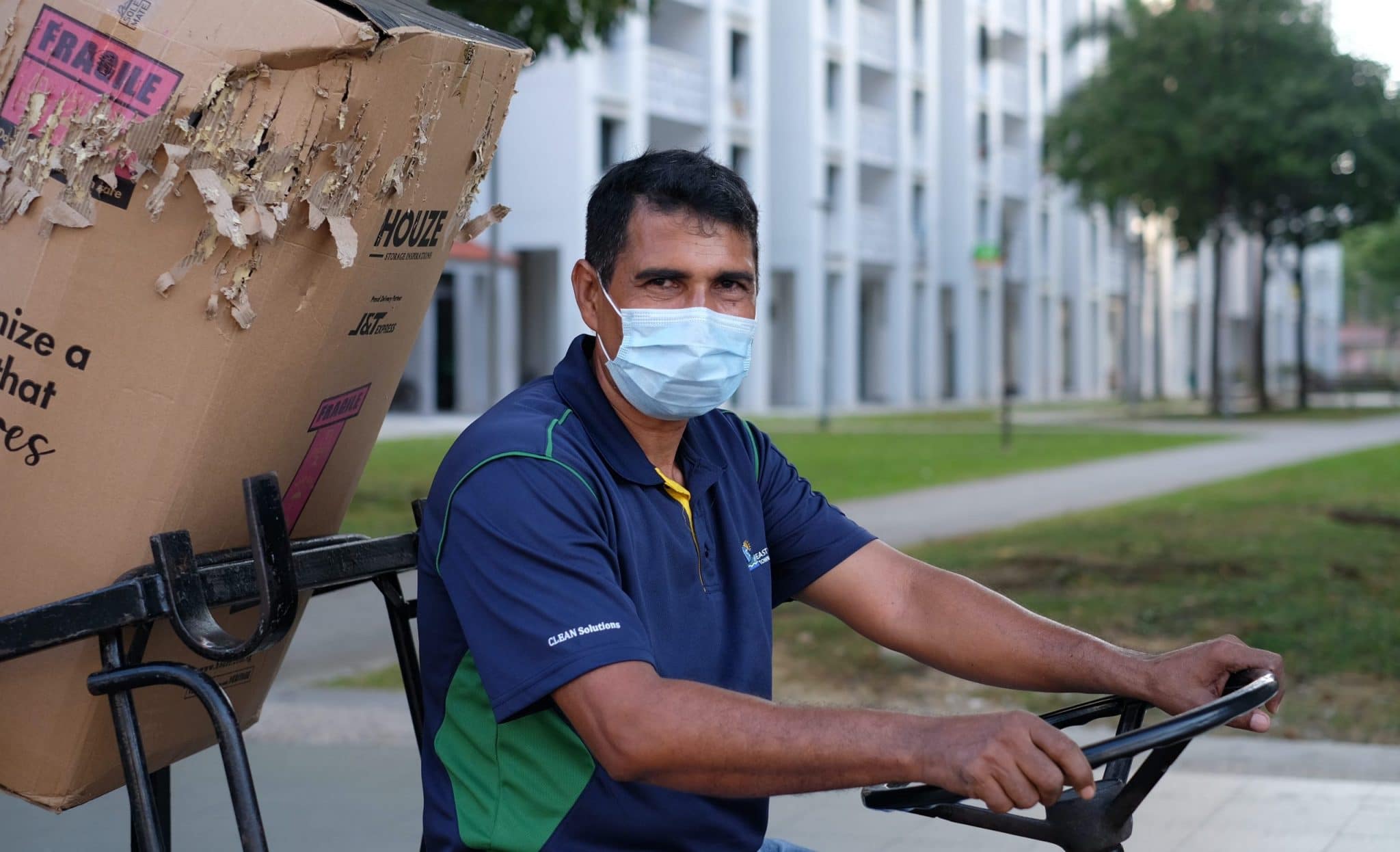 For 12 hours every day, Forhad Ali makes his way around a 16-block estate sweeping floors, clearing bulky items and responding to residents' requests for help. All photos by Tan Huey Ying.
We see them in our estates every day. We pass them along the road and on public transport. Some of them even live in our homes.
Yet, more often than not, we know so little about the migrant workers among us – who they are as individuals and the daily work that they do.
For International Migrants Day (December 18), two Salt&Light writers followed Forhad Ali, an estate cleaner from Bangladesh, as he went about his 12-hour shift, to befriend him and see what exactly goes into the work that helps to keep our homes clean.
From heaving whole fridges and sofas to cleaning up coffee spills and dog poop, Ali, like countless other workers, spends his days doing work that is so essential yet often overlooked by us.
As you look through this photo essay, we hope that it will help you to truly see the work that migrant workers in Singapore do, and encourage you to send a warm smile or a friendly "thank you" their way the next time you see them.
A day in the life of an estate cleaner
After shadowing Ali for 12 hours and getting to know him better, I was struck by his work ethic and how he takes pride in each task, no matter how small or seemingly insignificant.
I was also struck by his generosity after he insisted on paying for my lunch and going out of his way to get me a bottle of cold water toward the end of his shift.
The next morning, I sent him a text thanking him for letting me tag along, even though it must have been bothersome for him to have to keep answering my questions throughout the day.
I was surprised by his gracious reply, complete with a smiling emoji: "Thank you very much. Really."
Will you pray for our migrant workers today?
Ali is just one of numerous migrant workers in Singapore who work day in and day out to build Singapore, keep our streets clean and tend to our families. This International Migrants Day, would you take some time to thank God for their lives and pray for their families and well-being?
Thank God for the migrant workers in Singapore who work behind-the-scenes to keep our nation and families going. If you know a migrant worker by name or by face, thank God for them individually for the hard work they have put in all these years.
Pray that God will open our eyes to see any opportunities to establish friendships with them and reach out to them in care and concern. Pray that we will, as the Bible commands, treat the foreigners in our midst with kindness and compassion.
As many of them have not been home in a few years, pray that God will strengthen their relationships with their families back home, and that their spouses and children will continue to thrive despite their absence.
Pray that they will be kept safe as they work, especially those in more dangerous workplace settings, and that they will be protected from any workplace accidents. Pray that God will also keep both their mind and body strong and healthy.
Pray for those who are struggling to pay off their debts, that God will provide for them financially and also bring justice to those who are being exploited by unscrupulous employers or agents.
Pray that they will come to see and experience the love of Jesus.
---
FOR MORE STORIES ON MIGRANT WORKERS, READ:
This woman learnt the names and dreams of all 21 migrant cleaners in her estate
If you have enjoyed reading Salt&Light...
We are an independent, non-profit organisation that relies on the generosity of our readers, such as yourself, to continue serving the kingdom. Every dollar donated goes directly back into our editorial coverage.
Would you consider partnering with us in our kingdom work by supporting us financially, either as a one-off donation, or a recurring pledge?
Support Salt&Light