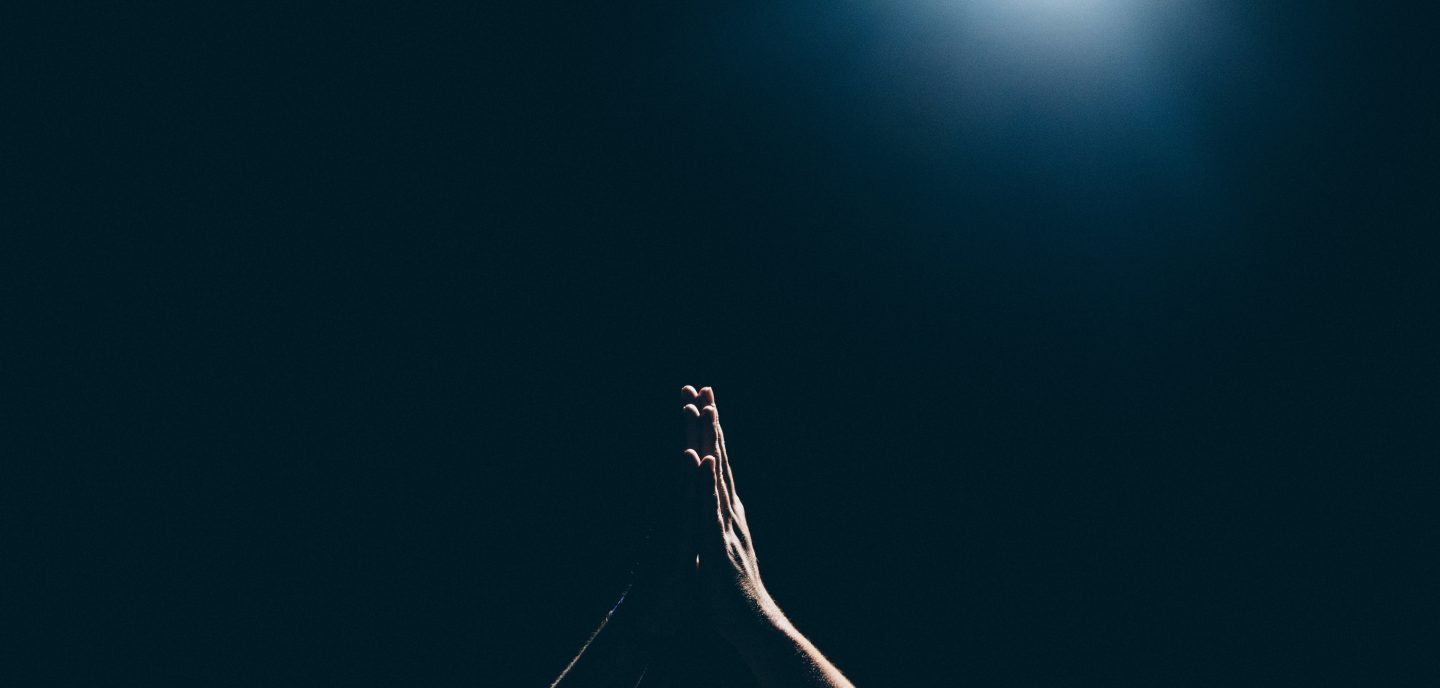 Photo by Amaury Gutierrez on Unsplash.
Tomorrow, Good Friday, churches across Singapore will be lifting their voices with one accord in an unprecedented, home-based LoveSingapore Day of Prayer.
 From 10am to 10pm, churches will each take one-hour slots to unite in prayer.
"I sense that, despite the many things we all have to deal with in response to the new restrictions, we should not miss this very critical moment to unite in prayer," said Chairman of Love Singapore, Pastor Lawrence Khong, as he rallied churches this week to join in the upcoming LoveSingapore Day of Prayer.
In a spirit of unity and purpose, both the National Council of Churches of Singapore (NCCS) and Evangelical Fellowship of Singapore (EFOS) will be participating in this "day of humbling for healing".
For format and flow, LoveSingapore encourages all participating churches to keep things simple.
For prayer agreement, LoveSingapore offers a simple guide (below) to all participating churches.
LoveSingapore prayer guide for churches
Each participating church will organise their prayer hour in a way that best suits their context for maximum participation. Below is an overview of a suggested flow, all within 60 minutes.
A: Opening (5 minutes)
Today is Good Friday when we commemorate that defining moment in world history when our Lord Jesus willingly humbled Himself, suffered, and gave His life for our sins. So, we begin with a moment of silence to honour Christ — Saviour of the world, our Servant King!
Give thanks to God
(a) For sending Jesus His Son to save us. That for our wounds, He was crushed and by His stripes, we are healed (Isaiah 53:5).
(b) For raising Jesus from the grave, conquering sin and death. That we may fear no more. And with glorious hope, we boldly confess: For to me to live is Christ and to die is gain (Philippians 1:21).
(c) For sending the Holy Spirit — our Comforter, Teacher and Guide. That we may be comforted, taught, guided, empowered to understand the times and know what to do.
B: Worship (10 minutes)
Today is a sobering moment. For the first time in the history of our nation, churches will not be gathering physically on Good Friday and Easter. But while our premises are shut, God is here, God is near. He is Emmanuel, God with us. So, we worship from the heart to the Audience of One.
Begin gently, intimately, reverently – with Matt Redman's The Heart of Worship: "When the music fades and all is stripped away, and I simply come, longing just to bring something that's of worth that will bless Your heart…"
C: Our eyes on God (20 minutes)
Refer to "Our eyes on God" below. It's good to make this available to every participant.
Facing the many unknowns, we turn our eyes on God … acknowledging who He is …
In light of who God is, let us examine ourselves … (This is a major segment: humbling for healing, not to rush. God is purifying His Church. Shaking, sifting, shifting).
D: Worship (2 minutes)
Transition song. Choose a familiar song appropriate at this point of the flow.
E: Our cry for Singapore (20 minutes)
Refer to "Our cry for Singapore" below. It's good to make this available to every participant.
Despite our best efforts through a whole-of- Government approach, despite our excellent healthcare infrastructure, and so much more, we have not been able to contain the virus and control its spread. We need divine mercy and intervention!
F: Worship (3 minutes)
Close with a familiar song exalting God above all the earth. Here's a suggested medley which is scriptural, familiar, totally God-focused: Brent Chamber's "Be Exalted O God, Our God is an Awesome God!"
Note: For a meaningful hour of prayer, the Prayer Leader must give clear instructions and allow for maximum participation, well-paced for powerful prayer agreement.
Depending on what is right and appropriate, the Prayer Leader may suggest different postures of response. Such as: Sit in silence to reflect, kneel in repentance, stand, face an open window, lift hands, cry out, declare in unison.
"Not by might, nor by power, but by my Spirit, says the Lord of hosts." (Zechariah 4:6).
I: Our eyes on God
"When I shut up the heavens so that there is no rain, or command locusts to devour the land or send a plague among my people, if my people, who are called by my name, will humble themselves and pray and seek my face and turn from their wicked ways, then I will hear from heaven, and I will forgive their sin and will heal their land. Now my eyes will be open and my ears attentive to the prayers offered in this place." (2 Chronicles 7:13-15)
1: F

acing the many unknowns, we turn our eyes on God and exalt Him by acknowledging who He is:
He is all-knowing. Nothing is a mystery to Him.
He is all-present. Nothing escapes His attention.
He is all-powerful. Nothing is too hard for Him.
He is all-wise. He never makes a mistake.
He is all-loving. He always acts in our best interest.
He is all-merciful. He is our very present Help in trouble.
He is our Sovereign King. He is the Ruler of everything.
He is our Father. He has a future and a plan for our city.
2: In light of who God is, let us examine ourselves:
Have we made God too small in our eyes? Have we doubted God's character? In what ways have we dishonoured Him? Judgment begins in the house of God. He is purifying His Church to glorify His name and be battle fit for the End Time harvest. In this time of shaking, sifting, and shifting, let us humble ourselves, confess our sins, and turn from our shameful ways:
Sin of double-mindedness. We have not kept the First Commandment. We have not loved the Lord our God with all our heart, soul, mind, and strength. We have doubted His infinite goodness. We have robbed Him of His glory and created worthless idols in our own image: power (self-importance, self entitlement, self-sufficiency), popularity (fame, name, brand), prosperity (wealth, luxury, comfort).
Sin of pride. We have not trusted God with all our hearts. We have leaned on our own understanding. We have not feared Him. We have depended on ourselves and our abilities more than we have depended on God. We have put our trust in our institutions and our systems more than we have trusted God. We have relied on our own reasoning and resources more than on the leading of the Holy Spirit. We have quenched the Spirit (ask God to reveal in what specific ways in your personal life and church context) and hindered God's promised visitation in manifest presence and power.
Sin of ingratitude. We have not appreciated the goodness of God in our lives and in our land. We have succumbed to habits of fault-finding, murmuring, and complaining. We have withheld praise and thanksgiving from God for every good gift He has blessed us with in our 200-year history, especially in our 55 years of nation- building. We have denied our God-ordained Government the respect and appreciation they rightly deserve.
Sin of greed. We have not trusted God as our Provider. We have fallen in love with mammon. We have succumbed to the fear of lack, the fear of not having enough. We are forever anxious about the job market and our financial prospects. We are weighed down by overwork and the burden of keeping up. We are preoccupied with the temporal. We have become selfish and covetous.
Sin of immorality. We have not lived holy lives according to the standard of God's Word. We have yielded to unbridled lust and shameless filth, fearing neither God nor the consequences of our sinful choices. We have opened the door for the work of evil to trap and ruin our lives, wreck our families, shatter our values, and undermine our personal purity and public morals.
Sin of prejudice. We have not represented the heart and face of God to a watching world. We have not given equal respect to one and all. We have looked differently on others of a different history, a different culture, or a different economic standing. We have not loved others as ourselves, especially those in need.
Sin of injustice. We have not honoured the gift of human life created in God's image. We have murdered unborn children. We have exploited the weak and the vulnerable instead of empowering them. We have manipulated people instead of ministering to them. We have acted unjustly to our foreign domestic helpers and foreign construction workers.
Sin of carnality. We have not lived up to our call to shine as witnesses for Christ. We have tarnished our testimony, playing the games of the godless. We have stumbled unbelievers by our angst and anxiety, our competition and cheating, our strife and slander.
II: Our cry for Singapore
Despite our best efforts through a whole-of-Government approach, despite our excellent healthcare infrastructure, and so much more, we have not been able to contain the virus and control its spread.
We need divine mercy and intervention. Pray for:
1: Our government
Divine wisdom to do the right thing at the right time in the right way for all the right reasons.
Divine protection in spirit, soul and body.
Divine blueprint for economic recovery.
2: Healthcare workers
Supernatural protection, strong immunity, sufficient rest, sweet sleep, great stamina.
Amazing grace to serve with peace and joy: My grace is sufficient for you, for my power is made perfect in weakness (2 Corinthians 12:9).
3: Medical researchers
Ask God to single out and favour His young David in the scientific world. The one who's hidden in some obscure place. The one who's not interested in making a big name for himself or making big money for his pharmaceutical company. The one whose heart is after God's own heart. The one who is moved by God's compassion for the sick and suffering. The one who seeks to glorify God!
Ask God to download His revelation in young David's mind and bless him with a series of eureka moments to unlock the mystery of the virus. For God's glory!
Ask God for His astounding outcome: a medical first, a revolutionary breakthrough that stuns the world: No eye has seen, no ear has heard, and no mind has imagined what God has prepared for those who love him (1 Corinthians 2:9). To God be all glory!
4: The afflicted
Accurate diagnosis. Swift recovery.
The visitation of Christ, flooding their soul with a peace beyond understanding. Miracle healing!
5: The unsaved
Ask God to stir within the lost an intense longing for inner peace in this time of fear, in this crisis of hope. Ask God to put in them a holy curiosity for the meaning and purpose of life.
Ask God to reveal Christ, intensify a great desperation, and trigger a turning to Christ: A Great Homecoming!
6: Pastors and church leaders
Wisdom and strength to shepherd God's flock, discernment and authority to dispel darkness, flexibility to minister in new ways.
Take this national pause to enjoy a forced sabbatical: He makes me lie down in green pastures (Psalm 23:1) for maximum soul care (Acts 20:28).
Morning by morning, seek the Lord for His word in season to sustain the weary nation, the weary spouse, sibling, son or daughter, the weary neighbour, the weary colleague, the weary church member, the weary friend. The Sovereign LORD has given me a well-instructed tongue, to know the word that sustains the weary. He wakens me morning by morning, wakens my ear to listen like one being instructed. The Sovereign Lord has opened my ears; I have not been rebellious, I have not turned away (Isaiah 50:4-5).
7: Christians
Arise with a great sense of urgency to seek God's face. Devote yourselves to prayer, being watchful and thankful (Colossians 4:2). Fathers to lead by example, restore the family altar, restore the family as the basic unit of discipleship. Towards a Great Awakening—home-based, ground-up!
Arise in faith, hope, and love to overcome fear. That we will make the most of every opportunity to bless others practically with glad and generous hearts (Acts 2:46).
Arise to reach out to those closest and dearest to us. Personal evangelism under one roof.
Arise to practise prayer evangelism which is still possible from the home by phone, via zoom, or whatsapp. Ask God for an outbreak of healing miracles, block-by- block. And awe came upon every soul… and the Lord added to their number day by day those who were being saved (Acts 2:43, 47).
8: Family and home
A new joy of being home together, fun and safe.
A new sparkle in marriages, rich and real.
A new bonding in parent-child relationships, deep and strong.
Pray for more than just an end to the pandemic. Ask Big. For God's Name to be exalted in all the earth: Lives saved. Churches revived. Nations transformed. The world evangelised!
LoveSingapore Day of Prayer: A call to arise in nationwide prayer throughout Good Friday
If you have enjoyed reading Salt&Light...
We are an independent, non-profit organisation that relies on the generosity of our readers, such as yourself, to continue serving the kingdom. Every dollar donated goes directly back into our editorial coverage.
Would you consider partnering with us in our kingdom work by supporting us financially, either as a one-off donation, or a recurring pledge?
Support Salt&Light