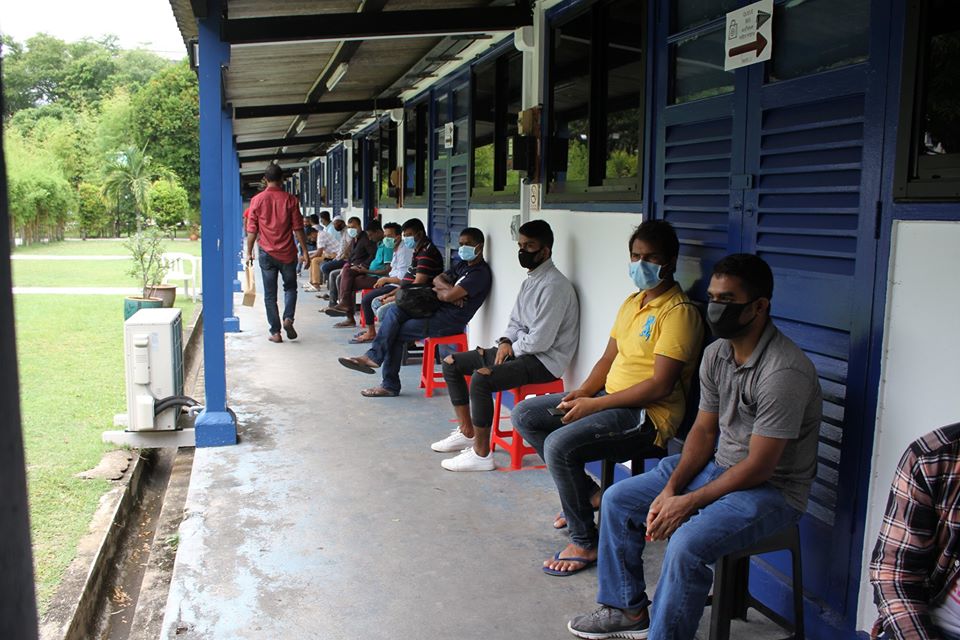 Migrant workers queuing up to collect a healthcare pack given out by HealthServe yesterday. Photo from HealthServe's Facebook Page.
Three foreign worker dormitories have been gazetted as "isolation areas", meaning that approximately 20,000 workers are now quarantined for 14 days.
Workers from other dormitories have not been spared as the nation's "circuit-breaker" measures kicked in yesterday (April 7), which means they must co-exist in densely populated circumstances.
Salt&Light spoke to Michael Cheah, executive director of HealthServe, a nonprofit serving the migrant worker community in Singapore, on the situation on the ground and how the public may be able to help. 
What is the general mood among migrant workers now?
Currently, every worker is afraid. Even the ones who were optimistic have gone pessimistic. Because this lockdown was so sudden and so quick, a lot of them are very confused. I think one of the key fears for them is: Are we being isolated? Are we being left behind?
There's a lot of confusion on the ground. For example, one worker called us and asked why he was the only one left in the room. He asked: "What happened to the rest of my dorm mates? Were they sent back?"
I think one of the key fears for them is: Are we being isolated? Are we being left behind?
We tried to calm him down. We didn't know what had happened as well. We just found out the reasons today – his roommates were displaying symptoms and had been sent for testing. They had to stay isolated elsewhere until their results came out.
We are hoping to get hold of him and explain to him that it's okay. He's already feeling the stress. He's already wanting to leave his room and our encouragement is, 'No, just stay put and stay safe, you'll be fine. We won't leave you behind.' He's there alone in his room. I think it makes it worse when you're alone.
The workers are generally confused, generally frightened, generally pessimistic. There is some unhappiness. They're asking: "How come I need to be locked in? If I'm locked in, will I catch the virus? Isn't it better for us to be out of the dorms if the dorms are the places that are unsafe?" I think they just generally wish to be out.
What are their greatest needs right now?
Of course the first and immediate need everyone wants is financial support. But I think, beyond that, the underlying issue is that they are fearful and anxious.
When people are afraid, they will try and depend on what they think is their safety net. So some believe money will be the one that will help them. But the underlying trigger is actually fear and anxiety.
When people are afraid, they will try and depend on what they think is their safety net. 
What we have done is film a series of videos. Hopefully some of the videos have a calming effect. In the first one, we tell them we know it is tough being in this situation, but stay safe, you'll be okay. We are here for you guys, and if you need anything, you can call this number.
In the next few videos we'll be telling them, 'Okay I know this is frightening and it's okay to be afraid, but what do you do when you feel afraid? Who can you call? What can you do when you're stressed?'
These are some of the things we hope will provide some calm. We hope to channel these videos to dorm operators, not just bottom up but also top down.
What is the situation like at HealthServe?
Our clinic remains open. Yesterday I was very surprised that we still had 38 people who came to our clinic for consultations for both acute and chronic conditions. Today people are also queuing up. 
I'm thankful that we are still able to remain open. The workers still need medical treatment. They still need their medication.
"Most of us have been sleeping at 2 to 3am every day. The team has been great, I'm really proud of them."
However, we have stopped all volunteering roles. We've only invited selected medical volunteers to support operations during this time. Everyone else should be staying home and we are not calling for any other volunteers now. 
Our staff are manning the clinic and we are working long hours. Most of us have been sleeping at 2 to 3am every day since this whole thing started. The team has been great, I'm really proud of the team.
HealthServe has also given out 500 healthcare packs and provided financial assistance to more than 350 workers. We knew a lot of them would have no money, so we also raised funds to give them food and international calling cards. We also gave them money to top-up their phones so they can have a mobile data plan to keep themselves occupied.
How can the public help during this time?
Firstly, we are looking for translators. We need many languages – Bengali, Chinese, Tamil, even Thai. We have a few translators, but if we have more, that would help. We want to translate some materials, like encouraging text messages to all the workers.
Simple things like, "You matter. Stay safe." We need this in all languages as best as we can. On our communication channels, there is a need for multiple languages. A person who is tech-savvy and can also write in the language will be ideal.
Secondly, we are also looking for trained counsellors or psychologists to provide tele-counselling sessions to the affected dorms and workers.
We are looking specifically for people who can speak in Tamil, Bengali and Chinese. But if they can speak Tagalog or Bahasa Indonesia it would be good as well.
Thirdly, there are a lot of workers who are currently not provided for. We know the government has done well in providing all the necessary food to all the big dormitories, but the smaller dormitories have been neglected and workers have not been able to find food.
But I have to reiterate that it can't be any kind of food. The Indians want their Indian food, the Bangladeshis want their food, the Chinese want Chinese food. Maybe when people are afraid and discouraged, familiar food is something that they can go to.
If anyone wants to help, I can definitely link you up with these smaller dormitories. However, if you want to donate items it has to be a consolidated effort. If you donate say 20 to 30 items, it's not good enough for the dorm operators because there are at least 200 people in the dorm, so how do they choose who will get the items?
Has there been any encouraging outcomes?
We have a lot to be thankful for. At HealthServe I do see the Lord's favour on us.
Honestly when we formed our mental health team, we never knew the Lord was preparing us for this need. The need is so great now but we have sufficient resources and are now able to quickly deploy them to support workers. 
"Pray that the Lord's shalom peace will come upon them in this period of fear and anxiety."
When COVID happened, we immediately thought about how to move to tele-consulting. Now we are able to remain open because of that.
Even when we needed to do a quick fundraising last month, we were just like, Lord, give us as much as You can. I told the team, let's aim for $100,000.
Some of them were like, wah, that's a lot and our runway is only a few days. But the Lord blessed us over and beyond $100,000. 
The money has already been allocated for the various needs – buying the care packs, food, phone top-ups. We also are using some of the funds to upgrade some of our services so we can better serve the workers through tele-consulting. 
Every single step, we are very thankful that the Lord has led us.
How can we pray for the workers?
Pray that the Lord's calm and peace, especially his shalom peace, will come upon them in this period of fear and anxiety.
Please also pray for the safety of the workers and those who are helping and supporting them. People are tired, and when they are tired, accidents can happen.
Finally, pray that the workers will not feel like they are isolated or neglected, and that they will know that there are people who care for them and are here for them.
Healthserve rolls out counselling for foreign workers amid concerns over morale and mental well-being