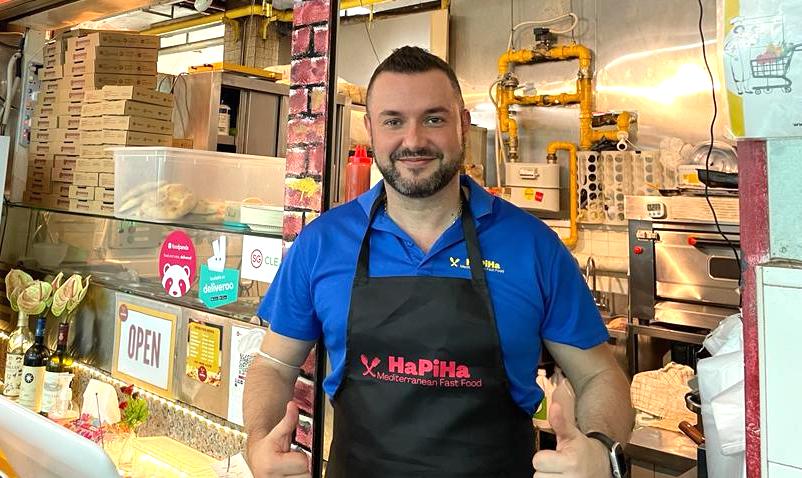 When Klevis Shima stole bread out of desperation, he was met with kindness that changed his life. All photos courtesy of Klevis Shima, pictured at his food stall, HaPiHa at Beauty World.
When he was 12, Klevis Shima and his older brother Orges would administer 10 bottles of morphine to their mother who had late-stage cancer. They would colour out the name of the drug so she could not see it.
"We wanted her to fight, to live on," Klevis, now 38, explains.
Two years later, his mother died on Christmas Eve.
"Life was desperate" for the Shima brothers who lived in poverty in the Albanian capital of Tirana, amid the violence of civil war in 1997. Angry at the collapse of the economy, people had taken up guns, resulting in the deaths of about 2,000 citizens.
Hatching their escape
Klevis' father, shocked from the loss of his wife and the responsibility of raising two boys on his own, began drinking daily. He started lashing out violently at his sons.
Faced with "chaos at home and outside", Klevis and Orges decided to run away.
The brothers knew of smugglers who could take them by speedboat to Italy. So they gathered the little cash they had and paid for the trip. They snuck themselves on a bus from Tirana to the seaside city of Vlorë, where the boat would depart.
Faced with "chaos at home and outside", Klevis and Orges attempted to flee Albania for Italy. 
The country had descended into lawlessness, and along the way, there were countless blockades "set up by gangs to take your money and check that you're not leaving your city".
The siblings pretended to be asleep during these checks. And when they couldn't, they faked a local accent. It worked.
They made it to a one-storey house the smugglers had told them to wait in.
There, they shared two bedrooms with 40 others, surviving on tiny amounts of bread and cheese for weeks until they were summoned to the shore.
The speedboat chase
Klevis remembers the night of the boat ride as if it were yesterday.
The speedboat was moored far out in the ocean to avoid detection. "They told us to wade out 20 metres into the water, then jump in and swim to it," he says.
Grown men were crying: "I'd rather stay here and have nothing than to die in the middle of the sea."
He remembers 45 people, packed into a speedboat meant for half that number. It was so cramped, he was almost suspended as large waves rocked the tiny vessel.
An hour into the tumultuous journey – over two thirds of the way to their destination – Italian law enforcement spotted the boat. They chased it across the Adriatic Sea for over three hours.
"It was cold and dark and they shouted at us to pull over. The driver kept swerving left and right and speeding up. People were screaming that we were going to die," Klevis recounts.
If there was a collision, their speedboat could capsize, throwing occupants into the Strait of Otranto.
They shook off their pursuers and reached the shores of the Italian city of Bari. "We were told to jump overboard and swim," Klevis says.
But just as he was about to dive into the water, blazing lights lit up the coast. It was the police again! The boat driver U-turned and sped back to Albania.
In all, the trip that should have taken 1.5 hours lasted seven hours.
Klevis remembers "big, muscle-y men" crying in shock on their return to Vlorë. "Many were saying, 'I'll never do this again. I'd rather stay here and have nothing than to die in the middle of the sea.'"
With no other options, the brothers returned to the smugglers' house to wait for a second chance.
Klevis believed that God answered his prayers and was watching over them. "God was good," he adds. "Every time I had a problem, deep down, I prayed." 
Hiding in public toilets
A week later, the pair made the boat ride from Albania to Italy successfully.
They arrived at a vineyard where unripe grapes  – green and hard – hung from the vines. The starving immigrants plucked and ate them anyway. The following day, they crouched in the back of several vans, which drove them to an abandoned train station.
From there they dispersed in various directions, each on their own.
"We didn't have money or a plan," Klevis admits. "But we were happy to be there."
For weeks, the brothers slept in train stations and washed themselves at public toilets.
"We didn't have money or a plan. But we were happy to be there."
Sometimes, kind locals gave them food and clothes. The locals advised them to head north where there were more jobs.
So they took the train, hiding in the toilets, praying no one would open the door when conductors came round to check passengers' tickets. They were caught once, but escaped punishment.
As the typically smiley Klevis recounts his journey over the phone, his speech dwindles into silence several times. His Hong Kong born wife, Ali Wong, who is beside him, interjects softly: "He's crying".
Yet after her husband collects himself, his voice is strong, firm. "God was there," he says, "at every step that I took."
Caught for stealing bread
By the time Klevis and his brother reached the Trieste province, they were so hungry that they stole bread from a supermarket.
"I saw more clearly than ever that God had always been there for me."
"We had to survive," Klevis says. They were caught and hauled away by police. To their surprise, the siblings were given food. And after hearing their story, the policemen sent them to a children's home in the province.
But the home was too crowded and did not have sufficient funds to support extra mouths.
So two weeks later, Klevis and Orges were transferred to another home – one sponsored by the church, this time in Venice.
"It was beautiful," Klevis recalls. "We each got our own bed, and it was very clean. Our lives changed."
With support from the children's home, the brothers were able to attend school.
After getting his diploma, Klevis worked as an electrician, then a construction worker, and finally as a waiter in Venice.
From Venice to Beauty World
It was at a restaurant that Klevis met and fell in love with Ali. She was in Venice on a work trip. Ali, now 41, runs her own digital marketing company.
They married and he relocated to Singapore to be with her.
When Ali got pregnant in 2017, Klevis knew he wanted their baby, Zak, to be baptised. "I wanted my son to have a religion," he says.
The father-to-be, who had no home of his own for decades, chose Christianity. Because he felt "a home-y feeling" whenever he walked into a church.
"It's just me and God," he explains. "It's just peace, peace, peace."
Klevis had also been surrounded by Christians his whole life: From friends in Albania to people at the children's home in Venice.
There were so many "angels" he met: The train conductor who had let him and Orges off. The woman who had offered to adopt them. His neighbours in Singapore, who are like family.
Klevis and Ali also sought to be baptised, so they started reading the Bible and finding out more about God.
Verses like Isaiah 43:2 spoke to Klevis: "When you pass through the waters, I will be with you; and through the rivers, they shall not overwhelm you; when you walk through fire you shall not be burned, and the flame shall not consume you."
"All the people I met were sent by Him. I was never alone, no matter how difficult life was."
He is also fond of Psalm 23:4: "Even though I walk through the valley of the shadow of death, I will fear no evil, for you are with me; your rod and your staff, they comfort me."
Through these promises, Klevis says: "I saw more clearly than ever that God had always been there for me.
"Leaving Albania, going to Italy, coming to Singapore was all God's plan. I had a tough journey, but every step made sense. All the people I met were sent by Him. I was never alone, no matter how difficult life was."
At his baptism, Klevis, who then 33, shivered and teared up. "It was such a beautiful feeling," he said.
In Singapore, his new home, Klevis had several gigs as a manager at several Italian restaurants, and a stint as a sales engineer at an aircon maintenance firm.
The permanent resident now sells Mediterranean and Italian food – the very dishes he used to eat in Tirana and Venice ­– out of a hawker stall at Beauty World. HaPiHa (which means "eat-drink-eat" in Albanian) opened in August 2021. 
As for his plans for his future, Klevis says: "I don't know what more God has in store for me. But now I have serenity and stability. I feel like my life has been renewed, and I am free."
---
FOR MORE MIRACULOUS STORIES OF MIGRANTS:
"I saw the need to forgive, but I wasn't willing to let injustice go": Max Jeganathan's journey to reconciliation
If you have enjoyed reading Salt&Light...
We are an independent, non-profit organisation that relies on the generosity of our readers, such as yourself, to continue serving the kingdom. Every dollar donated goes directly back into our editorial coverage.
Would you consider partnering with us in our kingdom work by supporting us financially, either as a one-off donation, or a recurring pledge?
Support Salt&Light