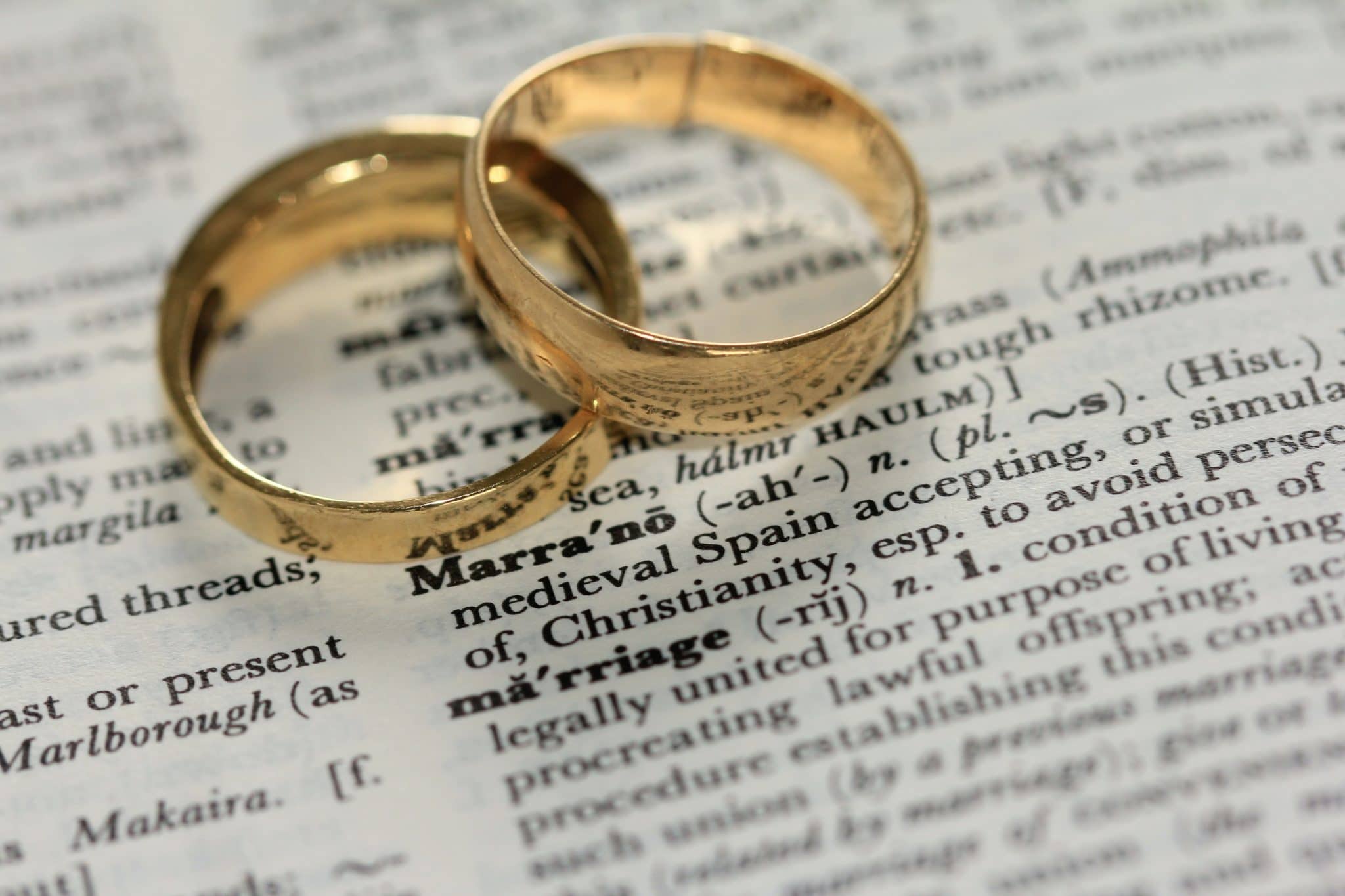 Covid isn't the only culprit of the decline in marriages registered in Singapore. Since 2014, marriages here have been seeing a downward trend. Photo by Sandy Millar on Unsplash.
"We got married because we were in love with each other and wanted to spend the rest of our lives together," said Evelyn, 55, shyly.
She met her husband Max Tsang, 58, at work more than three decades ago. It was "love at first sight", they both agreed.
"But I don't believe it was a coincidence. It was in God's plan and design," said Max.
Though they were different – Max is from Mauritius and speaks French while Evelyn is a homegrown Singaporean – it was their differences that attracted them to each other.
Said Max: "We were ourselves, no pretension before and after marriage. So, no faulty expectations although we were, and are, different."
Added Evelyn: "We were hanging out after work regularly with our group of colleagues. But, somehow, we felt drawn to each other the more we knew each other.
"We were very comfortable with each other. There was no one else with whom we shared such a chemistry."
Marriage less popular
Fewer people hold such a view of marriage now. In 2020, the number of marriages registered in Singapore saw the biggest fall since 2000, dropping 10.9% from the year before.
Blame it on the pandemic. But even before Covid-19 raced across the globe, Singaporeans already held a less-than-rosy view of matrimony. In 2019, the number of marriages was 5.8% lower than in 2018.
In fact, since 2014, marriages in Singapore have been seeing a downward trend.
Only half of those single say marriage is important, and fewer want kids.
The statistics were presented at the 8th State of the Family (SOTF) organised by Focus on the Family Singapore (March 10). Graced by Guest-of-Honour, Minister for Home Affairs and Minister for Law Mr K Shanmugam, the annual event held onsite and online this year was attended by more than 500 participants. They represented some 300 organisations including schools, social service agencies, faith-based organisations and community partners. The theme for this year, which also marks the 20th anniversary of Focus Singapore, is Bigger, Deeper and Stronger for Family.
Apart from dealing with sexuality, mental health and parenting, Alicia Boo, Chief of Impact and Principal Counsellor at Focus on the Family Singapore, also reported some revealing facts about marriage in Singapore:
Fewer were getting married and having children.
Nearly a third (32%) of couples felt that conversation was lacking in their marriage.
More than a quarter (26%) felt detached from their spouses.
Wives were less satisfied with their marriages during and after the Circuit Breaker.
More were getting divorced, especially those recently married.
Only half of those single say marriage is important, and fewer want kids.
Yet, there appears to be a dilemma of sorts because in another survey, young people appeared to aspire towards marriage and parenthood:
More than 8 in 10 (85%) wanted to get married
Nearly 9 in 10 (89%) wanted to be parents in the future
Don't marry if …
Salt&Light spoke to long-time couples about this great marriage debate.
The Tans, Nam Seng, 60; and his wife Sok Mian, 59, have been married for 34 years. They have two adult children and three grandchildren.
Together, they serve as marriage mentors in Hope Singapore, volunteer at Focus on the Family Singapore, and are Founders and Directors of Bridging Hearts Ltd, a non-profit organisation that empowers marriages and strengthen families.
Sweethearts in junior college, they reconnected as adults and got married after dating for two years.
Said Sok Mian: "We were really enjoying each other's company and were eager to start a new life together."
The Tsangs, Max and Evelyn, have three grown daughters in their 20s. Both serve in the Family Life Ministry at Moriah Bible-Presbyterian Church. They volunteer at Cru FamilyLife for the Art of Marriage weekend retreats as well.
The Tans and the Tsangs shared three reasons not to marry.
1. You're looking for happiness
If happiness is the key reason for marriage, when a person is no longer happy in a marriage, the reason to remain married also vanishes, said the Tans.
"If I pursue marriage for my personal happiness, then, of course, I will question whether challenges in a marriage are worth it.
"We have seen how marriages break up because one or both parties are not 'happy'."
"Why should I bear with him or her? Does he or she deserve my sacrifice to change to suit them?
"Everything revolves around self-preservation – my rights, my needs.  If my needs and expectations are not met, and it becomes too difficult for me, I give up, I want out, I leave," explained Nam Seng.
"Over the past years, we have seen how marriages break up because one or both parties are not 'happy'. For them, commitment becomes a burden that hinders the pursuit of happiness.
"When God is not in the picture, there is no eternal life. Our time on earth becomes limited. Making the best of it through seeking happiness becomes the only way."
2. You want a 50-50 relationship
Said Max: "Liberal socio-cultural mores have shaped people's value systems and mindsets. There is a greater focus on freedom of expression, individualism, and priorities that are focused on self and the short term."
As a result, marriage is seen in terms of fairness.
Agreed Nam Seng: "It's a worldly world view. If I do my 50%, I expect you to do the other 50%. I have done so much, what about you?"
Marriage, and all that it entails including financial responsibilities, housework and child care, becomes about being equal and fair. But equal division of all things may be difficult when both are pursuing their careers, and hard pressed for time and energy, noted Nam Seng.  
3. You don't appreciate differences
"In many marriages as well as relationships we have worked with, not understanding gender differences have caused much conflict and anguish," said Nam Seng.
"Lack of empathy for how different genders respond and act has caused much conflict."
"God has designed us to be man and woman. We are different by design.
"Yet in many marriages, we see husbands expecting their wives to think and respond in ways men do.
"Similarly, many wives expect their husbands to feel and respond in ways women do. Without them knowing, they are working against God's design.
"This lack of empathy for how different genders respond and act has caused much conflict through so many generations."
Why marry at all?
Marriage is "not a bed of roses", admitted Evelyn.
Agreed Nam Seng: "Marriage can be challenging because it is about two very unique individuals trying to live together, managing each other's habits and idiosyncrasies, making decisions together, managing a household full of responsibilities and, more so, when children come along.
"Conflicts and disagreements will be inevitable, and these can wear you out.  In fact, marriage really brings out all the ugly side of us. Everyone who enters into marriage must be aware of these realities."
The question that arises is: If the road for two is so tough, why not go it alone? 
1. Marriage is an opportunity for growth
"Most think that finding the right person to marry is the secret to a successful marriage, so they attribute the failure of marriage to marrying the 'wrong person'," said Evelyn. 
But marriage is about "being the right person", she added.
"With the right perspective and realistic expectations towards marriage, both can work together to overcome these challenges and savour its sweet rewards."
Quoting Christian writer Gary L Thomas, Nam Seng added: "If you want to be (completely) free to serve Jesus, there's no question – stay single. Marriage takes a lot of time.
"But if you want to become more like Jesus, I can't imagine any better thing to do than to get married. Being married forces you to face some character issues you'd never have to face otherwise."
2. Marriage changes us into the likeness of God
"To be honest, I got married for happiness but God intended it for holiness," said Evelyn.
"Marriage has shaped both of us differently over the years, and we believe it is for the better.  God is still not done with shaping us through this very special union even though we have been married for 30 years."
"I got married for happiness but God intended it for holiness."
Nam Seng agreed: "Our purpose on earth is not so much about pursuing happiness but becoming more like Christ.
"To be clear, God is not against us being happy, but when we pursue that as an end in itself without knowing and understanding God's purpose for our lives, happiness will be hollow and fleeting."
Working through differences and difficulties "moulds us and grows us to be better persons" and into the likeness of Christ.
"We believe that God is more concerned with our relationship with Him and living out a Christ-like life in the marital relationship."
3. Marriage is a calling from God
"As believers, we see marriage as a calling from God. Marriage becomes about pleasing God, a journey with God, about fulfilling my God-given role as a wife and as a husband, and through this journey, we experience love and joy in each other," said Nam Seng.
How can we strengthen our marriage?
1. Be prepared
Couples need to prepare themselves even before they get married, said the Tans.
"Preparation includes gaining in self-awareness, building self-identity, growing to be emotionally healthy and growing in empathy. 
"We also need to grow in our security in who we are in the Lord.  Being emotionally healthy will help couples be more ready for marriage," said Nam Seng.
2. Find a community
"We often say that it takes a village to raise a child. It is also true that it takes a community to build strong healthy marriages.
"We always encourage couples to find a community to belong to, where there are other married couples or young families, where they can support one another," said Nam Seng.
Marriage mentors who are a little ahead in the marital journey can help walk with couples through the various seasons of a marriage. Since 2015, the Tans have trained marriage mentors in their church and more than 25 other churches.
3. Keep working at it
Of her mentor, Evelyn said: "I am thankful to have a mentor who encouraged us to invest in our marriage by attending marriage retreats. 
"Attending marriage retreats will go a long way to uniting both spouses."
"We attended our very first marriage retreat three months after being married. We are a big believer in marriage retreats because we have been greatly blessed."
This is because the first few years of marriage are crucial ones.
Said Max: "We have two individuals with different backgrounds and interests coming together and living under the same roof – agreeing how to manage finances, how to resolve conflicts, doing things together while also leaving room for individual 'me-time', learning something that your spouse likes, being transparent, communicating openly and lovingly.
"Attending marriage retreats will go a long way to uniting both spouses in facing these crucial early and also later years."
4. Leave and cleave
The Tsangs were mindful to set up their own household.
Said Evelyn: "There was no interference from our families of origin. We had complete freedom and responsibility to decide for ourselves how to conduct our marriage – whether the marriage thrives or dies.
"Good or bad, there was no option of running back home if we are unhappy. No matter how upset we are at each other, we still sleep in the same bed every night. I think that helps. It reflects our commitment to stay with each other regardless."
5. Make time for each other
When their children came along and Max was also doing his post-graduate studies part-time as well as travelling overseas for work trips, the Tsangs made it a point to spend time together as a couple without the children.
"We would take afternoon leave once a month to spend time doing what we like. We also often took night walks after the kids were asleep. Those long walks and deep conversations kept us going over the years," said Evelyn.
Even now, with the children all grown up, they have not given up their walks together.
---
RELATED STORIES:
Struggling mental health among Singapore youths a key concern, reveals State of the Family 2022
"Give and forgive, not just give and take": 7 tips for a long and happy marriage from couples wed over 30 years
"In the midst of many disagreements, we both ended up crying": New marriage campaign helps newlyweds fight well
If you have enjoyed reading Salt&Light...
We are an independent, non-profit organisation that relies on the generosity of our readers, such as yourself, to continue serving the kingdom. Every dollar donated goes directly back into our editorial coverage.
Would you consider partnering with us in our kingdom work by supporting us financially, either as a one-off donation, or a recurring pledge?
Support Salt&Light