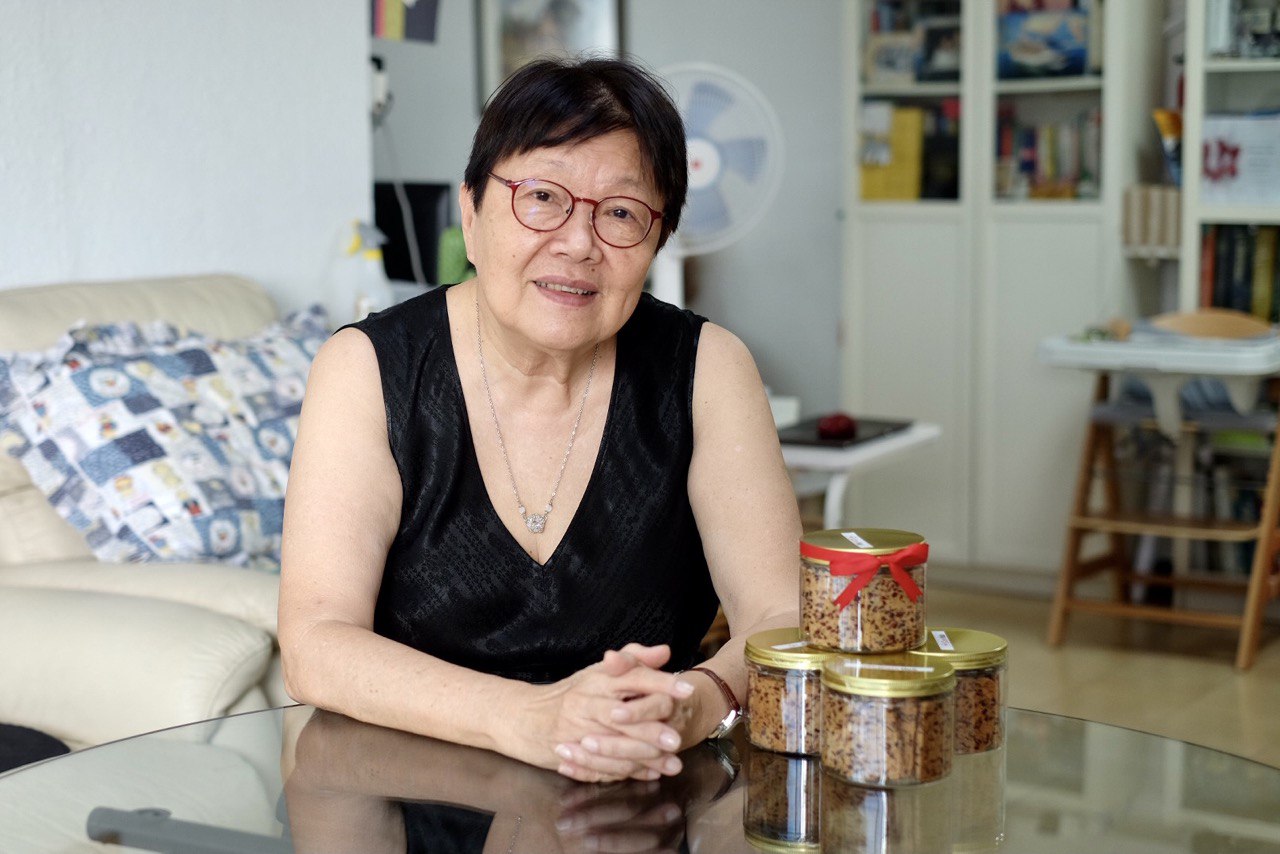 Even though her faith was like a yo yo, God never gave up on her, Lau Leng Hoe says. She is one of the co-founders of iCare Hub, a shelter for homeless women ex-offenders. Photo by Tan Huey Ying.
Baking cookies and cakes for sale was a crucial source of income that 71-year-old Lau Leng Hoe unintentionally stumbled upon nearly 20 years ago.
With a fresh criminal record, Leng Hoe needed to find a way to clear her mountain of debt that she had accumulated after nearly three decades as a gambling addict.
Though she was a Christian who had been actively involved in church – serving in Sunday School, the church choir and women's fellowship – Leng Hoe had secretly also been a die-hard gambler who borrowed money to cover her ever-increasing losses.
It was a mask she had worn for over 25 years.
Easy money
In 2003, Leng Hoe was jailed for six months at a US Federal Detention Centre.
She had attempted to help a Chinese national enter the US with a fake passport as part of a human trafficking syndicate. All she had to do was to pose as a mother-daughter pair to get her "daughter" through customs.
Leng Hoe was quarantined in an isolation cell for 14 days.
"Sounds good," she thought. The promised payout was too good to resist, Leng Hoe said of the greed and desperation she harboured at the time. It would pay off some of her mounting debts.
"Easy money, why not?" was her only thought.
The duo met up in Paris a few days earlier to run through their cover story before boarding their flight to the United States. But upon arrival, customs officers grew suspicious of her "daughter's" accent and took them both in for questioning.
Once the fake passport was discovered, however, both women were arrested. Leng Hoe was charged with human smuggling and given a six-month sentence.
All this happened just as the SARS pandemic was taking Asia by storm. So when prison authorities realised that Singapore was a hotbed of infections, Leng Hoe was quarantined in an isolation cell for 14 days.
"I was afraid and lonely," Leng Hoe recalled.
Her family did not know where she was – Leng Hoe did not tell anyone what she was doing – until she was released from quarantine and was allowed to call them.
"I thought of God and the Bible because I had no one to turn to but God," she told Salt&Light.
Small fun, big trouble
Almost 25 years before, several friends had invited Leng Hoe to a game of mahjong, saying: "Come have some 'small fun' and take your mind off things."
At that time, Leng Hoe was facing many stressors at home. Her then-husband was jobless and the family was constantly being harassed by loansharks for the debts that he owed. Her two children were under the age of five.
Eventually, they divorced and Leng Hoe moved into a small rented apartment with her daughter.
The "small fun" escalated to serious gambling.
Leng Hoe dabbled in almost every imaginable form of gambling available then – she was even a regular customer at illegal gambling dens in Singapore and Indonesia.
"Xiao du yi qin," she said in Mandarin, which is a phrase describing how small bets are pleasurable. "But in the end, I got hooked."
After work, she would often spend the entire night gambling, heading home only in the morning for a shower and change of clothes before returning to the office again. She was careful to avoid the smell of cigarette smoke that permeated gambling dens. "I don't know where all my energy came from," Leng Hoe said.
"Sleep? Sleep on the bus or during my lunch lor."
For a season, Leng Hoe juggled her work as a pastor's secretary by day and gambler by night.
Faith like a yo-yo
But as her addiction grew, so did her losses.
Leng Hoe started borrowing money from family, friends and even from the owners of illegal gambling dens that she frequented.
"When I lose money, I confess to God. But when I have money, I go and gamble again."
Once, she acceded to her daughter's plea to seek professional help and counselling. For two whole months, Leng Hoe steered clear of the tables. But it was not for long. She was soon back at the vice that had now taken over her life.
Her faith was like a rubber band, yo-yoing back and forth, Leng Hoe admitted.
"When I lose money, I cry and confess to God. But when I have money, I go and gamble again. Sometimes near, sometimes far."
The only constant was her mask ­of propriety and pious faith – a mask that she had learned to wear all too well.
Her stint in the US prison barely had any impact on her addiction.
"Starting scared lah, but once I come back to Singapore, no difference," Leng Hoe said matter-of-factly. Within a month of her return, Leng Hoe was back in the game. 
Her sister, who had been praying for her for many years, could not take it anymore. Come stay with me in the United Kingdom for a while and get help, she urged Leng Hoe, offering to pay for her air ticket.
With a fresh criminal charge, Leng Hoe's passport had been impounded.
But through what Leng Hoe says is divine intervention, the officer in charge of her case helped her apply for a special visa that made it possible for her to visit London.
There, she attended her sister's church and met Jacob, a prayer intercessor who also had the gift of prophecy. Leng Hoe was embraced and welcomed into the community, with many, including Jacob, praying constantly over her.
One day, a member of the cell group approached Leng Hoe with two verses for her: "Of them the proverbs are true: A dog returns to its vomit, and, a sow that is washed returns to her wallowing in the mud." (2 Peter 2:22)
"When I heard it, wah, very disgusting. Very hurting also."
Leng Hoe was taken aback: "I didn't know this verse. When I heard it, wah, very disgusting."
Then she added: "Very hurting also.
"But I realised, it's true lah."
In that passage was a harsh rebuke that spoke directly into her situation and her double life. She explained: "When you do all these bad things, leave and come back, it's like a dog returning to his vomit.
"That truth made me come back to God. Without God, no one can do anything. Your willpower is not that strong. (For addicts) relapse is very common; you must really cut the bonds."
Leng Hoe repented and spent a total of three-and-a-half months with her sister in London. She returned to Singapore, touched by the love shown to her and armed, not just with practical advice, but with a love gift of several thousand pounds that the church had raised for her to start her life anew.
Honouring her debt
Though some of her debts were forgiven by friends and family, and the majority were written off by the closure of several illegal gambling dens, Leng Hoe still had some outstanding payments to settle when she returned to Singapore.
To one owner of a gambling den in particular, Leng Hoe felt the need to make full restitution for the $30,000 she owed. The owner was very surprised. With her den now closed, she had expected that the loans she had made to customers would never be recouped.
"I dare not keep in touch; if she ask me go gamble, then how?"
Leng Hoe, however, worked out a repayment scheme of $500 a month. She told the owner: "You see, I very stupidly pay you, but it's not because of you. It's because I have to honour my God."
"And God just worked it out," Leng Hoe told Salt&Light in wonder. Even with an irregular income supplemented by her baking, she always found enough to make her payment. "Five years … cleared," she said triumphantly.
The owner soon followed Leng Hoe to church but Leng Hoe does not know whether she continues to do so. She has since cut off ties with her previous gambling network and friends.
"I dare not keep in touch; if she ask me go gamble, then how?" Leng Hoe said with a chuckle. 
"I did my job already," she said.
Choosing the narrow path
"I don't gamble anymore," Leng Hoe said, sharing that when she first returned to Singapore in early 2004, she was hyper-vigilant in steering clear of old influences. Even from friendly mahjong games.
In those early days, when the urge struck, Leng Hoe would even go all the way to Sentosa to distract herself from acting on those urges.
"He changed me, I should give them a chance to change too."
It is better now, she said, though the path of obedience and repentance is a narrow one that Leng Hoe continues to tread. Going back to her old vice is as "scary" as it was when she first returned to Singapore, she shared.
Recently, Leng Hoe turned down an invite to go on a cruise with some co-workers. They know about her past, but are confident that she will not gamble.
Leng Hoe begs to differ. "I will struggle. Nothing to do on a boat but gamble. Why should I give myself such temptation?
"Relapse means you become worse. For us, we gamble more. Maybe not straightaway, but a few years later even.
 "As a Christian, I should not do this. So I trust God, and I have to walk very closely with Him.
A chance for change
Today, Leng Hoe is the co-founder and Operations Director at iCare Hub, which runs a shelter for homeless women ex-offenders and women in recovery from addictions.
Founded in 2013, the residential programme reaches out mainly to hardcore drug offenders who have been through at least one long-term sentence.
While job placement is part of the official approach which includes counselling and recovery support, Leng Hoe also teaches the residents baking skills so that they can earn some income and start their lives anew.
There are as many success stories as there are of relapses, and frustrations abound. But Leng Hoe is unfazed: "Just pray and hope they come back. So many years, God never give up on me. I cannot give up on them. No matter what, we will sow the seed.
"God is so good. He changed me, I should give them a chance to change too. So many (that God has changed), who says God cannot do it?"
---
To date, more than 160 women ex-offenders have received temporary shelter and assistance since iCare was founded in 2013. iCare Hub is in need of funds to help continue the work they are doing. 
To support Leng Hoe in her ministry to ex-offenders like herself, you can buy her cookies here (orders closed till after CNY), or find out more on their Giving.sg campaign here. Every donation is matched dollar-for-dollar until March 31, 2022. 
---
RELATED STORIES:
"I want you to know I am here for you": He spent 14 years caring for China's left-behind children
"My home is now my church": How a pastor-turned-private-dining-chef redefined church work
If you have enjoyed reading Salt&Light...
We are an independent, non-profit organisation that relies on the generosity of our readers, such as yourself, to continue serving the kingdom. Every dollar donated goes directly back into our editorial coverage.
Would you consider partnering with us in our kingdom work by supporting us financially, either as a one-off donation, or a recurring pledge?
Support Salt&Light