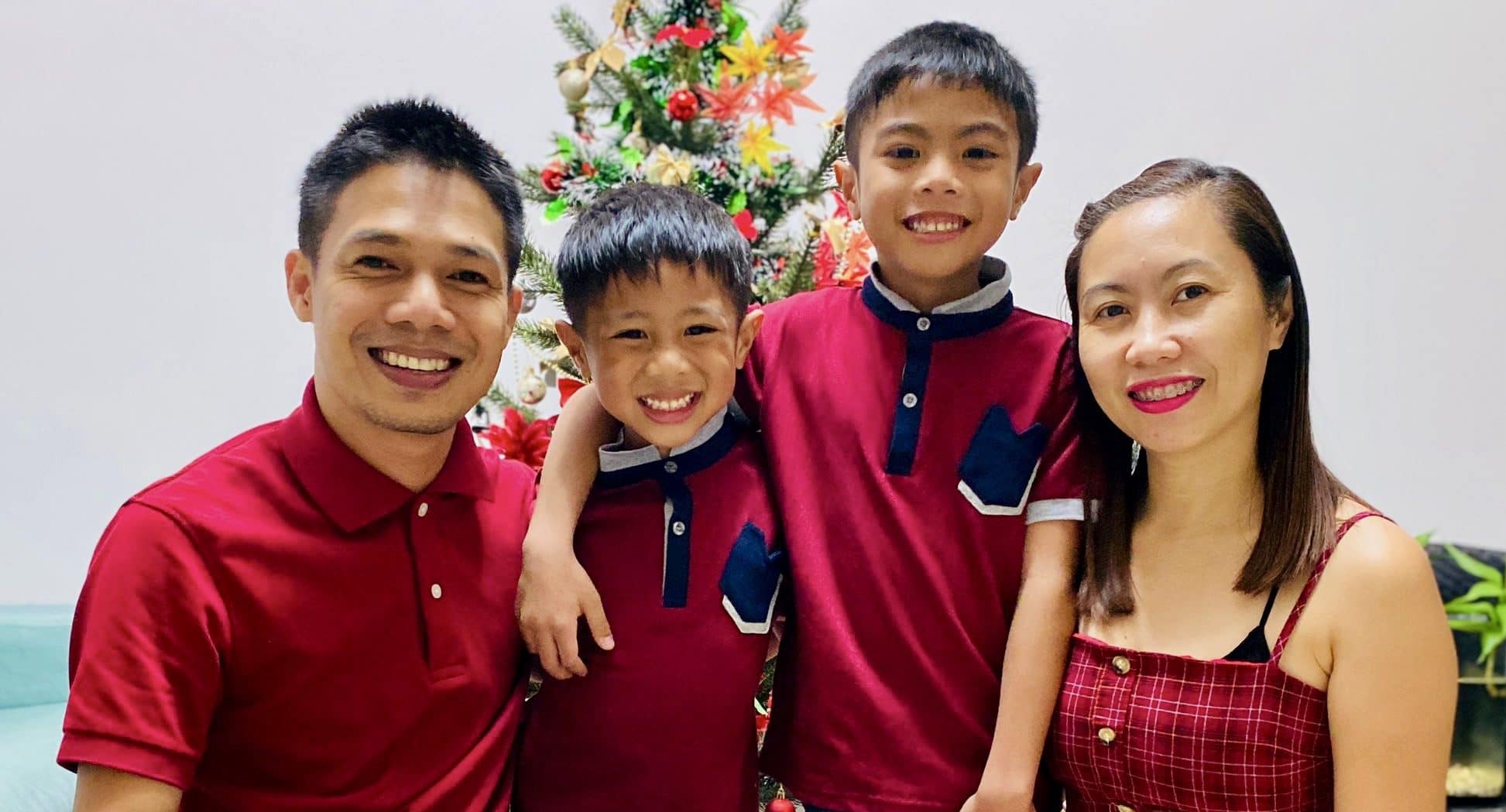 Together again: Filipina Roselyn Terry (right) and sons Seandy, 7, and Deandry, 5, with their dad, Andy Terry, who is working in Singapore. All photos courtesy of the Terry family unless otherwise stated.
Family reunions are often happy, long-awaited occasions, especially in young families separated through work.
So Filipina Roselyn Terry and her young boys were upbeat as they awaited her husband Andy Terry's return visit to the Philippines from Singapore, where he works as a software engineer.
It was early 2020 and their elder son, Seandy, was eagerly anticipating his daddy's presence at his kindergarten graduation.
Since 2017, the family had been shuttling between Singapore and the Philippines to be with each other.
"Andy was supposed to come for Seandy's kinder graduation on March 25. But he never made it," Roselyn, 37, told Salt&Light.
The Philippines went into lockdown on March 15, 2020, as a result of Covid-19. Airports and international borders were abruptly shut, separating families like the Terrys.
A long-awaited answer 
Almost a year later, Roselyn received a phone call one night in late January 2021.
"How come so long never come back to Singapore?" enquired the caller whom her children call "Grandma". 
"Grandma" is Jenny Tsang, a trainer of preschool teachers. Roselyn met "Ms Jenny" (as she still refers to her) in 2007 when the latter was engaged to help upgrade a preschool run by a Chinese church in the Philippines. Roselyn was then a teaching assistant. 
Jenny, 70, is married to Bible-Presbyterian pastor Rev Dr David Wong, 72.
"Quickly come back to Singapore," Jenny told Roselyn. "We don't know if there will be another lockdown."
By then the young Filipino family had been separated for nearly a year.
"I could not contain the happiness in my heart. This was the answer to our prayers."
But the cost of travelling at that point of the pandemic was prohibitive. According to Roselyn's research, it would cost $2,360 per person, regardless of age, to get swab tests and be quarantined in a Singapore hotel. These were mandatory for travel into the Republic at that time. So the trio needed to fork out over $7,000, even before factoring in the cost of air tickets which had shot up sharply from pre-Covid days.
Roselyn had hoped to visit Andy in Singapore after his annual bonus, usually paid around Chinese New Year. But the question was: Will the border still be open?
"In God's time we will come back," Roselyn told Jenny. "I clung to the promise of Romans 8:28 that God works for our good in all things. It was reassuring. It means that no matter the circumstance, there are only two qualifiers for God to be working all things together for our good … 'those who love God' and 'who are called according to His purpose'."
It was then that Jenny volunteered: "You come back. I will help you. If I shoulder half the fees, will Andy be able to raise the other expenses, including the airfare?"
"I cried," said Roselyn. "I could not contain the happiness in my heart. This was the answer to our prayers."
Grandma Jenny
"She is like a fairy godmother to me and my family," said a very teary Roselyn in a testimony she gave to her church in December of, not just Jenny's role in reuniting her and her family, but also in the development of her life.
Even after 15 years, Roselyn is still in awe of how the older woman took her under her wing when they first met in the Philippines.
Back in 2007, when they first met, Jenny was the visiting trainer who roped in the young teaching assistant to help with visual aids.
"I could feel she trusted me to do things," said Roselyn.
Two years later, when the school sent its teachers to observe how pre-schools are run in Singapore, Roselyn was not included as she was still on probation.
"Ms Jenny insisted, 'Roselyn needs to come', and sponsored my airfare and passport. I did not even have travel documents at that time," recalled Roselyn, as she told Salt&Light how Ms Jenny helped her over the years.
Jenny would encourage Roselyn to go for the further studies needed to become a full-fledged teacher.
"Ms Jenny would say, 'Roselyn, don't refuse the blessing. Next time, it will be your turn to share with others."
"My salary as an assistant teacher on probation was very low. She said, 'If you are willing to go for further studies to become a full-fledged teacher, I will help you.'
"She paid for three semesters of my Master of Education in Early Childhood Education," said Roselyn.
"Each time I said it was too much to accept, Ms Jenny would say, 'Roselyn, don't refuse the blessing. Accept it and be thankful. Next time, it will be your turn to share with others," recounted Roselyn.
Later Jenny encouraged her: "Come to Singapore, and let's see how you can find a job."
Roselyn, whom the Wongs describe as their "Filipina daughter", stayed with them in the parsonage during her first month in Singapore. Jenny took Roselyn as her assistant to Surabaya, Indonesia, when she went there to train preschool teachers.
When Roselyn and Andy tied the knot in Singapore, they asked Jenny to be their witness. Jenny also wrote a reference letter for their application to become Permanent Residents in Singapore; they are currently waiting for the outcome.
"I am so amazed by this couple," said Roselyn with gratitude.
Travelling alone
After the Terrys' year-long separation in 2020-2021, the women committed Roselyn's travel plans to the Lord.
"If it is God's plan, everything will go smoothly," Roselyn said of getting the necessary approvals from the Ministry of Manpower for re-entry into Singapore and passing local medical requirements.
"My sister was worried, and asked if I could handle travelling back to Singapore alone with the two kids."
Seandy, the elder boy, was 6, and Deandry was 3 going on 4.
"God's timing is perfect, and God's plan for us is certain. So we just wait for his perfect timing."
Pre-Covid, one of Roselyn's siblings would travel with her to help with the juggling act that families travelling with young children only know too well – carrying sleepy children along with more than one bag of tot-related paraphernalia and clearing immigration.
With Covid travel restrictions at that point, only pass holders – not visitors – could seek approval to enter Singapore.
Roselyn told her sister: "God is with us, He will help us."
Indeed He did.
The transfer from a domestic flight to Manila and an international flight onward to Singapore was smooth. The boys did not complain of stomach aches; in fact, they slept all the way during the flights, and woke up when it was time to get off the plane. The older boy helped his mum by holding his little brother's hand as she spoke with the immigration officer.
"The Holy Spirit and angels were with us. It was my first time travelling alone with the boys, and everything was smooth and easy.
"What this experience has taught me is that God is really good all the time. God's timing is perfect, and God's plan for us is certain. So we just wait for his perfect timing."
"Mama, can we now hug Papa?"
Three weeks after her conversation with Jenny, Roselyn and her two boys arrived at Singapore Changi Airport.
While getting their luggage from the arrival hall, Roselyn finally locked eyes with the man who has been her sweetheart since her  tertiary school years.
"Papa is there!" she told the boys.
"Before the flight, I had told them, 'When you see Papa, we can wave at him through the glass but cannot hug him yet.' The kids were very understanding."
A taxi whisked them to the hotel where they served out their quarantine.
They would need to wait another 14 days before hugging their Papa who was waiting at the hotel driveway when his family finally  emerged from quarantine. 
"Mama, can we now hug Papa?" Roselyn recalled the boys asking. She wiped away the tears that flowed as she recounted the memory to Salt&Light.
In total the family had been apart for 14 months.
A week later, the Terrys met up with Ms Jenny and Pastor David at Gardens by the Bay.
"I hugged them and told them, 'I cannot say how thankful I am that God used you as an instrument for us to be together again.'
"God has been really good in our lives," said Roselyn, who called the reunion "the great miracle that God made in my life in 2021".
Open palms
Roselyn was in for two surprises.
First, she was informed that the charges she had paid for quarantine would be "recomputed" and the difference refunded to her.  It turned out that the cost per child was only $700 each. She got a refund of almost half of the $7,000 she had paid. 
"One hand will receive the blessing and the other one will bless others. So it will be a continuous blessing."
"Andy and I told Ms Jenny that we would give back the $3,000 she gave us. But she told us, 'No need. Keep it for your family's use.'"
Recalling what Jenny had always said about "next time it will be your turn to share with others", the Terrys informed her that they had given some of it to their church, shared it with their families in the Philippines and set aside funds for their sons' education.
Said Roselyn: "The blessing will be received by two hands. One will receive the blessing and the other one will bless others. So it will be a continuous blessing. If you just open one hand and you only receive and you close the other hand, the blessings will not flow. So if you receive, share."
Delivered from poverty
On why she helps others, Jenny told Salt&Light very simply that it is because she was delivered from poverty.
"I help because God saved me.
"I came from a poor family – the middle child in a family of nine kids. My father was never at home. We were like street children running around Redhill where there was a lot of  vice. There was lots of fighting, stealing and bad language."
At age 10, she and the neighbourhood kids were invited to Sunday School and were told Bible stories. But, before long, her family moved away from the area.
"I help so that, when they go back to the Philippines, they can help their own family and others."
Then when she was in secondary school, she received a Christmas card from someone inviting her back to church.
In a house church at an HDB flat in Bukit Merah, she met the boy who would become her husband.
That day in 1966, something else happened. "The love of Jesus touched my heart. I wanted to change. I knew Jesus could help me."
Later, she felt Him calling her to be a preschool teacher. Through it, she would have the opportunity to touch children – just like the child she was when she was reached by the church. God would place her in church kindergartens such as Clementi Woods Kindergarten as head teacher and Glory Kindergarten as its principal for five years.
God would also open doors for her to train teachers in other countries – including far flung places like India, Egypt and Nicaragua. To date, she has made more than 30 mission trips. 
In the course of her mission work, God grew in her a heart for the people of other nations.
As for the Terrys, Jenny said simply: "I help so that when they go back to the Philippines, they can go on to help their own family and others."
---
MORE STORIES OF REUNIONS:
If you have enjoyed reading Salt&Light...
We are an independent, non-profit organisation that relies on the generosity of our readers, such as yourself, to continue serving the kingdom. Every dollar donated goes directly back into our editorial coverage.
Would you consider partnering with us in our kingdom work by supporting us financially, either as a one-off donation, or a recurring pledge?
Support Salt&Light