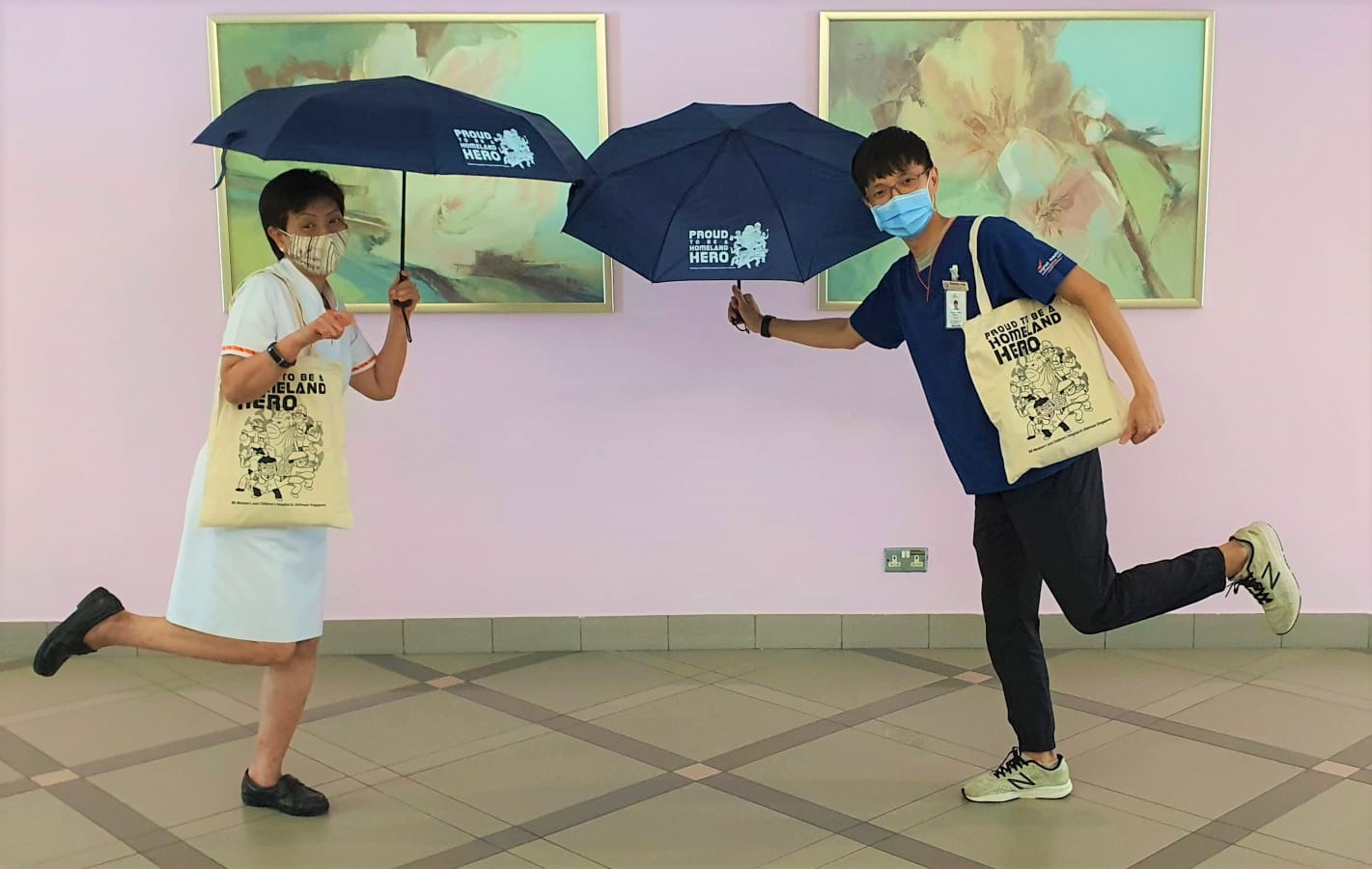 People, funds and supplies keep coming to seed LifeHouse Singapore's continuing efforts to bless. Over the weekend, they showed love to staff at KK Women's and Children's Hospital (KKH) via 5,700 kits of gifts illustrated by cartoonist Colin Goh. Photo courtesy of KKH. All other photos courtesy of LifeHouse Singapore.
Lawyer Stephanie Magnus and husband Daniel Ong could have been mistaken for panicked hoarders when they cleared Daiso's shelves of 1,000 bottles of hand sanitisers.
This was in the days before social distancing measures were introduced. Before the Circuit Breaker. And possibly before the coronavirus was officially given a name.
As they considered how to carry off their purchases, the couple ran into a friend who happened to be shopping there. Magnus told her how their fellowship group LifeHouse Singapore was scrambling to put together 1,000 care packs of masks and sanitisers for the low-income elderly in four blocks of one-room HDB flats in Henderson. Up from their initial plan to bless one block of flats with 300 packs. 
Magnus told Salt&Light: "A stranger overheard us. 'Oh, you need sanitisers? I manufacture sanitisers,' she said."
The stranger at Daiso would sponsor sanitisers for what would be Phase 2 of the group blessing another group: Migrant workers. The stranger was one of the first in a line of "angels" – "people coming out the woodwork in exact times of need to help out", said Magnus. 
"That's been our journey. When we take a step in faith, God provides. And not just sufficiently, but in abundance – always enough to seed another project that He has in mind."
One pebble, many ripples
"It didn't start with a grand plan," said Magnus. "One little seed, one little pebble, and all these ripples have gone out."
"God wanted us to bless the foreign workers who have been working alongside us for the well-being of Singapore."
At one of LifeHouse's prayer sessions, "the Lord impressed upon us not to just pray for the nation, not just to love with words or speech, but to also act in love as well". The group used to gather once a week on Monday evenings, but some members now meet virtually up to twice a day. 
The group had raised funds to put together 300 care packs of masks and sanitisers for that first block in Henderson.
But when they reached out to the Henderson Community Centre and the grassroots, they were asked if they could do four blocks – 1,000 packs. Hence the mad scramble to Daiso. They distributed the care packs with MP Joan Pereira (Tanjong Pagar GRC).
Subsequently, LifeHouse felt "God wanted to bless the foreign workers who have been working alongside us for the well-being of Singapore".
They were praying for one of Singapore's earliest COVID-19 patients in intensive care – the Bangladeshi construction worker and father-to-be who had been unconscious and in critical condition.  
LifeHouse got in touch with the Migrant Worker's Centre. On 19 April, the fellowship group sent out the call for funding and volunteers to pack 1,000 care packs of soap and snacks for foreign workers. Included in each pack would be a postcard printed with an encouraging message.  
"There is so much creativity in how He provides."
"We were faithful in this work and sending out the call. And God was faithful in the multiplication," says Magnus.
Just two days later, they had sufficient funds for 5,000 care packs.
"There is so much creativity in how He provides," said Magnus of help that has come their way.
Over the recent Hari Raya, the supplier they've been buying muruku snacks from for the care packs, gave them 900 samosas and prawn rolls for the migrant workers. 
Around the same time, an online boutique selling handmade eclectic jewellery donated their proceeds from its reopening sale to the group's efforts.
Their contact was a friend of a friend. Some items were sold out within hours of the sale starting. "That's just God's amazing provision," said Magnus.
Donations have come in from individual and corporate sponsors, as well as young students. Like Primary One student Gabriel Wong, 6. 
When Gabriel's grandma Doreen Wong, 65, shared with him the importance of looking out for the needs of those who have less, "he took $10 worth of coins from his piggy bank and put them in a ziplock bag as his gift. The second time, he gave $5", said his grandma. "His donation may seem small, but it was enough to buy five care packs, costing $3 each, for the foreign workers."
Love snacks
Since March, LifeHouse members plus friends have raised funds, packed and distributed close to 20,000 packages.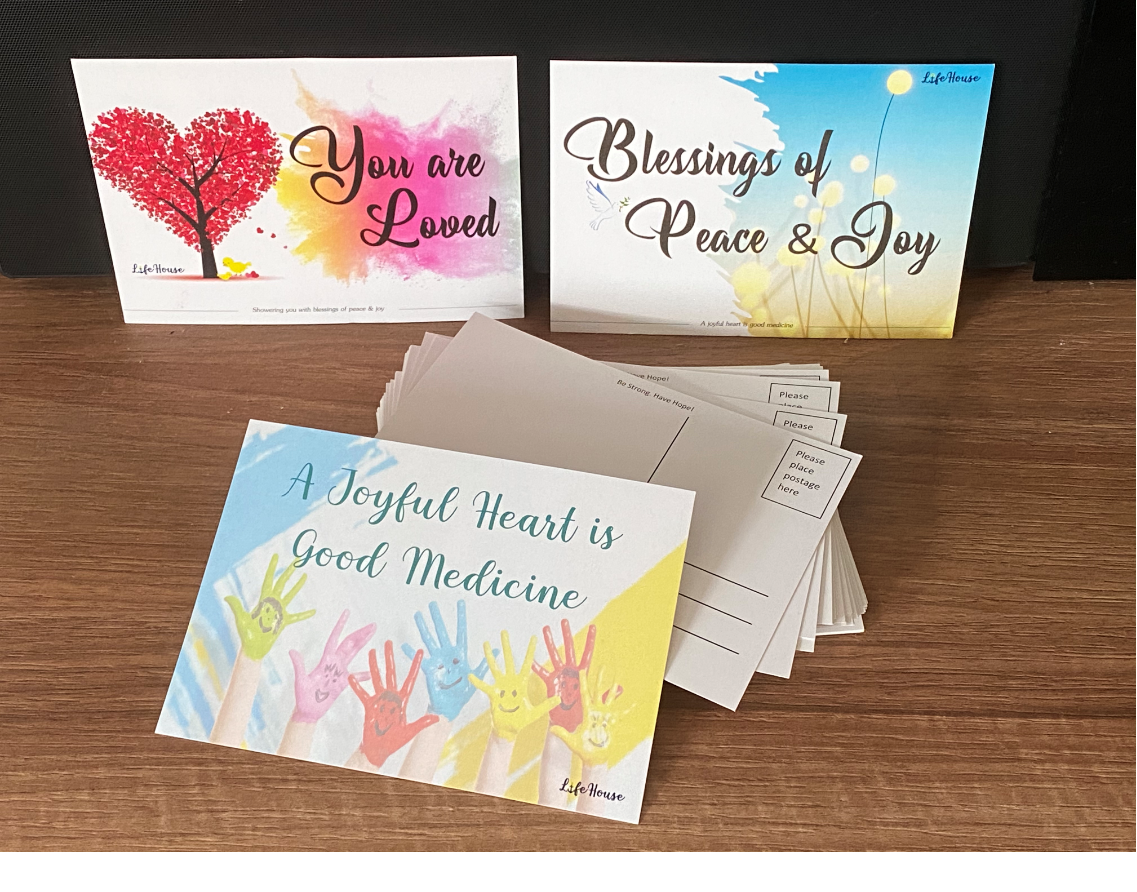 This is not counting procuring some 14,000 sponsored items, mainly sanitisers, for migrant workers through agencies such as Crisis Relief Alliance, Alliance of Guest Workers Outreach and the Diocese of Singapore. 
"Funding is always tough. But the Lord keeps giving, giving, giving."
"Funding is always tough. But the Lord keeps giving, giving, giving. 
"Anything leftover is to bless another child that He loves.
"It's not just snacks, it's not just the care packs," says Magnus. "It's about making friends, making sure that they know that there is someone is thinking of them, praying for them."
Several migrant workers have since reached out by commenting on or liking LifeHouse SG's Facebook page or by emailing the group a snapshot of the postcard included in their care pack.
Most leave the message section blank, only writing their names and contact details on the back of the postcard. The group has gotten in touch with these individuals.
Many hands, one body
Circuit Breaker may have kept LifeHouse's members physically apart, but they worked as many parts of one body.
People of different faiths and nationalities have come alongside LifeHouse in their mission to bless.
One member set up a Facebook page so that they could be accountable to donors. Another helped with logistics. Yet another with accounts. Still another with orders and administration. With everyone else rallying around .
Volunteers packed in their own homes. They bought trolleys in anticipation of more packing and volunteering.
Others, including people of different faiths, have come alongside LifeHouse in their mission to bless. About 100 different households (and counting) are involved in packing, donating or sponsoring. Volunteers range from kids as young as two years of age, to friends in their 70s.
"Everybody is just wanting to do something in the community, wanting to love the community, bless the community. And I think just as long as we have hands that are willing to do God's will, to pursue love in action, He will send people alongside," said Magnus.
Family packs
For families, packing together has been a time to bond, an opportunity to plant in young hearts the desire to love and help those who have less. Many prayers were answered during this time.
One grandmother, Lee Siew Koon, fell while unloading the goods for packing and sprained her ankle badly. She said: "I literally cried out to the Lord for help and healing as there was the packing to do. There was massive swelling and bruising, but God took away the pain and I was still able to help with some of the packing and supervise my grandson."
Mary or Martha?
Not everything has been rosy all the time.
Hannah Chua, who helps with orders and administration (and helped compile testimonies of members for this story), admits to feeling tired and frustrated when things did not proceed as smoothly as she had hoped. She struggled with wanting to have more personal time. She struggled with conflicting emotions and thoughts:
"Something really good happened in his business. 'I better give you more soap,' he said!"
"Why do I feel that way? Why am I not serving with joy as others are? Who am I to complain when others who are busier are contributing more? Why do I feel more distant to God when I am supposed to feel closer?"
Only her boyfriend, and of course the Lord, knew. "I started to wonder if I had done anything wrong. And if I had been a hypocrite to a certain extent," she confessed. Even so, she persevered. "For I knew that I might regret it if I chose to relax and pursue my own will. Perhaps I just had FOMO (fear of missing out).
"God reminded me during this period that He does not need me to do things for Him. He just wants me to sit at His feet like Mary.
'I am still struggling with this as I feel I am more like Martha. In fact, I wish that I can be both Mary and Martha, enjoying His presence even amid all the busyness.
"But God is so loving and always meets me exactly where I am. He sent people to encourage me for the work I have done, to remind me that He wants me to be joyful, to satisfy my food cravings with a surprise delivery of duck rilettes."
Gentle love
Many who started out as wanting to bless the migrant workers and other groups of people, have found themselves blessed, says Magnus.
They include a contact who donated 1,000 5-litre bottles of soap after she sent him a note telling him about what she was doing.
The 5,000 litres of soap was a God-send for a lodge of migrant workers who were under isolation in the early days of the coronavirus. 
It was a time when everyone was scrambling for soap and sanitiser. This was yet another example of how "God's timing couldn't be more perfect". 
Magnus would later get a WhatApp message from her soap donor, who is of a different religion. "Something really good happened in his business. 'I better give you more soap,' he said!"
The soap, appropriately enough, was called Gentle Love.
 "God's love is infinite," says Magnus.
If you have enjoyed reading Salt&Light...
We are an independent, non-profit organisation that relies on the generosity of our readers, such as yourself, to continue serving the kingdom. Every dollar donated goes directly back into our editorial coverage.
Would you consider partnering with us in our kingdom work by supporting us financially, either as a one-off donation, or a recurring pledge?
Support Salt&Light