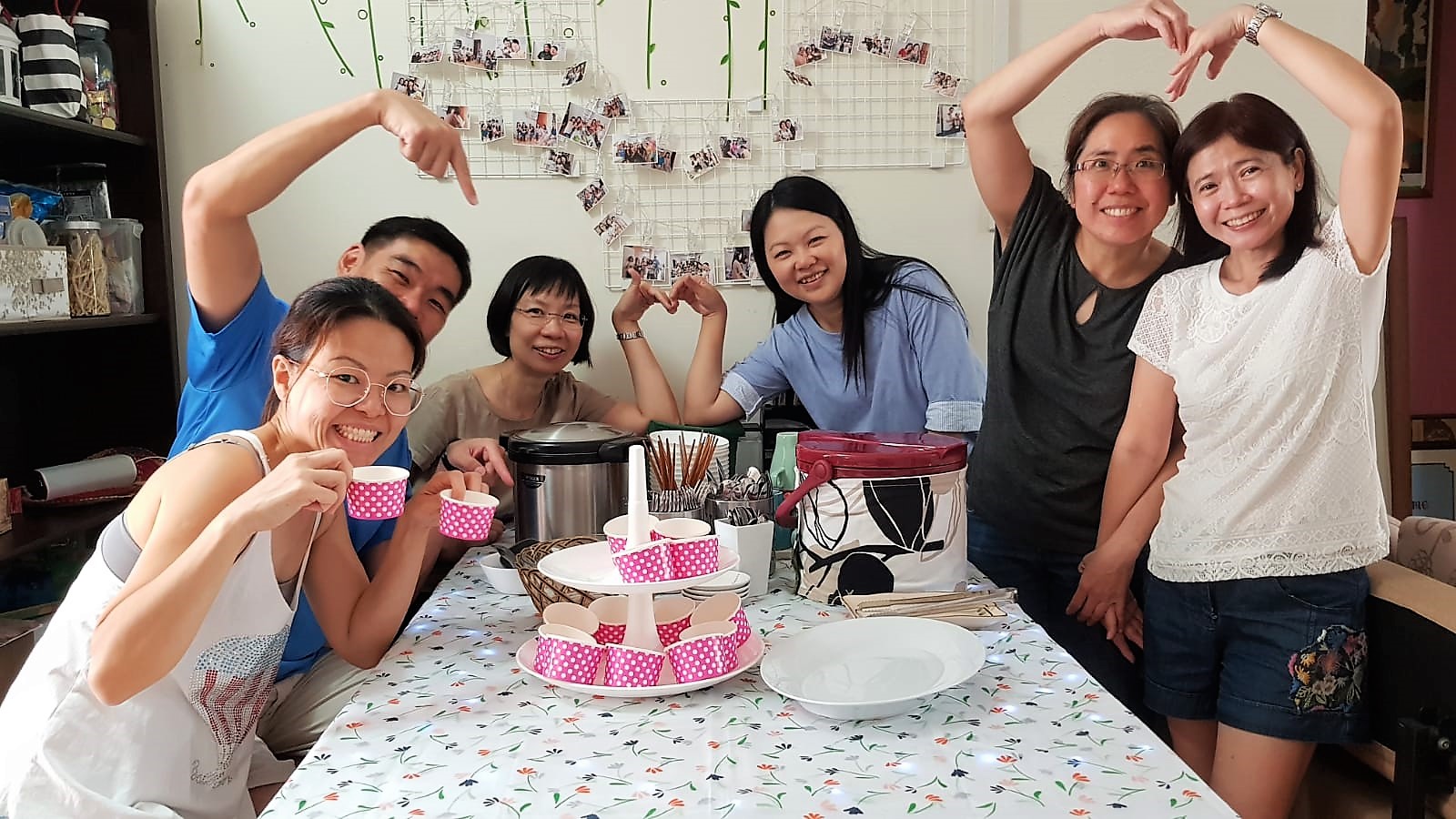 Oh Meng Hiong (far right) is driven to share the Gospel constantly. Now she has a cell group that shares the Word regularly as part of their mission. All photos courtesy of Oh Meng Hiong.
Oh Meng Hiong was in her 20s and feeling down about "some relationship problem" when her old primary school friend invited her to church. It was not his first invitation.
"He kept sharing Christ with me. He was very determined. He even brought a group of friends to talk to me about Christ.
"He put Christian tracts in my letter box that talked about Jesus' resurrection – whether it was a fact or a myth. Another friend showed me a documentary about a near-death experience," recalled Oh, now 50.
She had, at that time, what she thought was a good reason not to take up his invitation to visit his church.
"I am very sporty. On Sundays, I was canoeing and running."
"He kept sharing Christ with me. He was very determined."
On the other hand, she thought she might get "an answer from God" regarding her relationship problems.
Relenting, she agreed to go to church with her friend who "was so nice, kept asking me".
Finally, at a Christmas Day evangelistic rally, Oh gave her life to God. She was 24.
"The speaker encouraged us to give God a chance and said that I didn't have to finish reading the whole Bible before I believed," she said.
Her persistent school friends helped change the course of her life. And Oh has been trying to do the same for others ever since.
Driven to share
Oh started with her family. Among her six siblings, she had been the first to become a Christian.
"After the rally when I accepted Christ, I went back feeling very scared that I had made the wrong decision because my family was very against Christianity.
I told God, "Let me lead one person to Christ each year."
"My older brother actually asked me why I became a Christian."
Undeterred, she went on to share her faith with them. When her sisters got married, she shared with her brothers-in-law as well.
"When my mother passed away, one of my sisters called me and told me she wanted to go to church."
But the opportunities to share beyond her family were few and far between, something Oh regretted.
"I didn't manage to evangelise to a lot of people. Maybe I was too busy working and taking care of the young kids," said the mother of two children, now aged 17 and 14.
Yet, she determined to share the Gospel.
"So, I told God, 'Let me lead one person to Christ each year'."
Ministry at home
She was delighted when she found out about a mother's support group run by Cru Singapore.
"It was natural for me to tell my helper about God."
WOW MOM started as a network of small groups for stay-home mums, though, today, the network runs groups for working mums, too. Devoted to sharing parenting tips and providing support to mums, the groups do Bible study together and offer training in sharing the Gospel. 
A stay-home mum then, with a son who was three, Oh joined a WOW MOM group near her home.
"I thought I really needed some parenting help. In the cell group, I was the leader. I was giving. At the mum's group, I got input, I got fed."
The group members were encouraged to share their faith. But, as a stay-home mother, Oh's social circle was small. All her friends were either church friends or already Christians. 
But when Oh became pregnant with her second child, the family hired a domestic helper, Jeminah. Now she had someone to share the Gospel with.
Jeminah had prayed before coming to Singapore that she would be placed in a Christian home. 
First, she had to teach her domestic helper English. It was eight months before Oh could have a meaningful conversation with her helper.
"It was natural for me to tell my helper about God. I asked her, 'Have you ever thought about your faith?'"
What Oh did not know then was that Jeminah had been grappling with her own religion. She had raised questions to her religious leaders but was not satisfied with their replies.
Eager to know more about God, Jeminah had spent four years learning about different religions. She wanted to know more about Christianity and had prayed before coming to Singapore that she would be placed in a Christian home. 
A year or so after Oh started sharing the Gospel with her, Jeminah quietly became a Christian. "I had given her a Christian tract. She accepted Christ on her own. She only told me after that."
Moved by the Spirit
It was only then that Oh discovered just how miraculous that decision was. 
"She started to open up to me after she became Christian. She told me she had been a medium in her country."
Jeminah had been part of a troupe involved in horse trance dances for six years before becoming a domestic helper.
Dancers involved in such performances would allow themselves to be possessed. When in a trance, they would often display supernatural strength and unusual endurance. They would eat glass, endure whipping or walk on hot coals without being harmed. 
Jeminah confided in Oh that she had tried to be rid of the horse dance spirit and had endured deliverance sessions back home that had lasted 70 days. But she had experienced no relief.
Whenever she heard the drum beats that signalled the start of the dance, she would have searing headaches. She could see evil spirits and was often haunted by what she saw.
Even moving to Singapore did not help matters. Once, she chanced upon a horse dance performance in Singapore. She had to run away because she was afraid the horse dance spirit would possess her.
"During worship, she would cry till her whole face was full of tears even though we sang in Mandarin, which she did not speak."
"That was why she refused to sleep in the same room with my daughter because she was harassed by evil spirts and did not want to put my daughter in danger," said Oh.
After Jeminah became a Christian, she was totally set free. The piercing pain in her ears and the dizziness whenever she saw a horse dance performance disappeared.
"She told me that the horse spirit no longer bothered her. She could wear black again.
"Previously, she couldn't because the colour would attract the horse spirit. She even went out and brought seven black t-shirts."
Jeminah stayed on with Oh for another two years. In that time, she would follow Oh to church.
"During worship, she would cry till her whole face was full of tears even though we sang in Mandarin which she did not speak. I couldn't understand it but I could see that the Holy Spirit is very amazing."
Jeminah would also help out during cell group meetings. She told the children Bible stories. "She was very good with the kids."
After she completed her second contract, she returned home in the hope of becoming an English teacher. 
Happiness group
It would be several years before Oh had another chance to share her faith as deeply.
In 2013, the family hired a part-time helper. Oh decided to share the Gospel with her because "everyone is precious to me, every single person. It's a lost soul".
"I told God, 'If I don't share the Gospel, I feel terrible'."
Every time her part-time helper came to clean the house, Oh would chat with her.
"If I don't share the Gospel, I feel terrible."
A lover of testimonies, Oh shared the story of Jeminah and other stories of faith that she had read. Sometimes, they would watch videos of such testimonies together. This continued for two years.
"When I thought she was ready, I brought another person to share Christ with her. She prayed to receive Christ immediately."
As Oh prayed for even more opportunities to share her faith, her church started Happiness Groups (幸福小组 ) in 2018. The concept is a Taiwanese adaptation of a model that first started in South Korean. Adopted by one of Taiwan's fastest growing churches, FuQi (Blessed & Blessing) Church, it is a cell-group based community outreach programme.  
Because sharing is done at the level of cell groups, every member is given a chance to evangelise. This encourages teamwork as well as ownership. Sharing the faith then becomes something everyone does naturally, not just the pastors or leaders. 
The group would wake up as early as five in the morning to pray together.
Guests invited to the cell group are shown godly love in action through warmth and acceptance. The senior pastor of the Taiwan church, Rev Young Sih-ju, emphasised that hearts, not only brains, needed to be engaged for people to be moved by the love of God. 
Oh's group would wake up as early as five in the morning to pray together. "We also prayed at night – we prayed consistently", she said. 
One of the most memorable Happiness Groups Oh has ever conducted was built around the theme of travel. Each week, her house was transformed into one destination, complete with décor from that country.  
"Every time we changed countries, the decorations in the house were changed as well." 
The ice-breaker and food – "there is always a lot of good food" – also centred around the theme. 
Like any cell group, there would be songs that "move or inspire". A short message and several testimonies would follow. This would go on for eight weeks. 
"I had been sharing the Gospel with my JC (junior college) friend but she just wasn't interested. Then, I invited her to a Happiness Group and she accepted Christ. We move you with the love of God."
"When I run out of ideas, I pray to God!"
When Covid-19 hit, the group moved online. But the food and fun remained real. They arranged for meals to be delivered to the guests.
After three rounds of Happiness Groups, 12 people gave their lives to Christ.  
"Because of the Happiness Group, I have learnt to be more sociable. Now, I tell myself I must make more friends."
Oh has since joined an exercise group. "If you think hard (of a way to make friends), God will make a way.
"When I run out of ideas, I pray to God!"
---
RELATED STORIES:
"If persecution does not stop others from sharing, I must share too": Chinatown shop owner from China
"My kids hated music lessons. So I funded classes for missionary kids instead": One mum, many ways to share