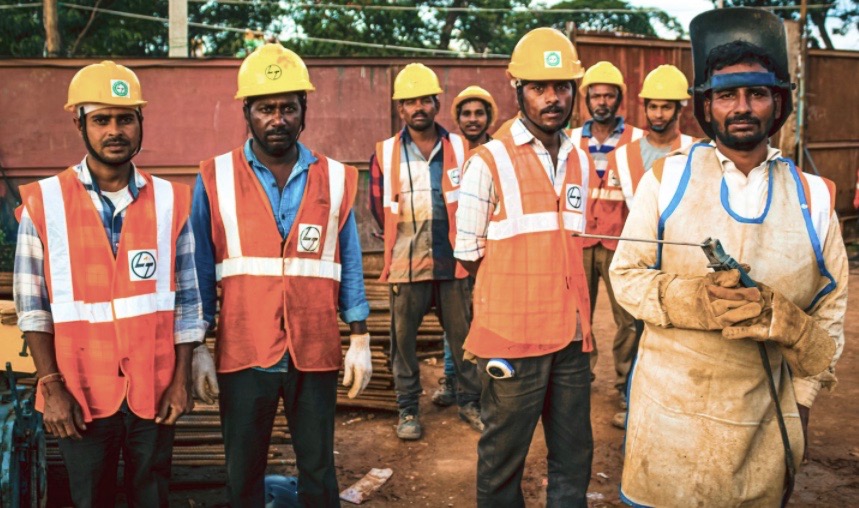 For many migrant workers, Wednesday's news of 17 infections at the Westlite Woodlands dormitory felt like déjà vu, especially since it comes exactly a year after the full lockdown on dormitories kicked in on April 21, 2020. Photo by Shubham Verma on Unsplash.
When Ramachandran Malaivendan caught wind of the news last night that 11 migrant workers in a dormitory had been infected with Covid-19, a sense of panic welled up inside of him.
"I am hoping it will not happen the same as last year."
"After one year (of lockdown), we had gone back to work and we were really happy. But suddenly this happened and we were totally panicked and distressed, and we don't know what to do," the 29-year-old Indian national told Salt&Light through a Tamil translator this afternoon (Thursday, April 22).
Speaking over a video call from his dormitory, where he said he has been ordered to remain until further instructions from authorities, Malaivendan was visibly anxious.
With furrowed brows, the electrician said that his biggest fear is going back into a lockdown. Though he is confident that the authorities and his company will take good care of him, he dreads returning to the isolation.
"If we go back, we'll feel lonely and depressed. It's very stressful. I am hoping it will not happen the same as last year."
Déjà vu
The cause of Malaivendan's anxiety was the news yesterday (Wednesday, April 21) that 11 workers from the Westlite Woodlands dormitory had tested positive for Covid-19.
This came after a 35-year-old Bangladeshi worker living in the same dorm tested positive on Monday, even though he had been vaccinated.
In a news release today (April 22), the Ministry of Health (MOH) said that measures have been put in place at the purpose-built dormitory after 17 workers who recovered from the virus tested positive again for the disease.
Together with an expert panel comprising infectious diseases and microbiology experts, MOH is investigating if the workers have been re-infected, or if they are "persistent shedders" from their earlier infections, reported CNA.
The tally on Thursday was the highest that Singapore has seen in the dormitories for months.
The tally on Thursday was the highest that Singapore has seen in the dormitories for months. Before Wednesday, there had only been seven cases in the dormitories since the start of the year.
According to news outlets, more than 1,100 residents from the affected block will be recalled from work and taken to a government quarantine facility for 14 days as a precautionary measure.
For many migrant workers like Malaivendan, the news of the spread felt like a dreaded sense of déjà vu, especially since it comes exactly a year after the full lockdown on dormitories kicked in on April 21, 2020.
This was when the daily infections in dormitories was at its peak, hitting more than 1,000 a day at one point.
While the full extent of the new spread in the dormitories remains unclear, just the thought of possibly going into a lockdown again is enough to spark "a rippling effect of greater fear, greater anxiety" among the workers, said Pastor Samuel Gift Stephen, chairman of the Alliance of Guest Workers Outreach (AGWO).
"They ask: Will there be another lockdown? If a lockdown happens, what's going to happen then? Are we going to be paid salaries? Will we ever be able to go back to our countries? Will the virus kill us now?"
Michael Cheah, executive director of HealthServe, shared similar observations of fear among workers, some of whom said they would "rather go home and face Covid there, where I have the freedom, than to be locked down again".
He is preparing his team for more calls to the organisation's counselling hotline. "With yesterday's news, more and more workers will be panicking, so that's what I'm worried about," he said, adding that he will be checking in on as many workers as he can in the days ahead. 
Intercede and unite
Since the pandemic swept through the migrant worker dormitories last April, many of these workers have seen their mental health take a hit due to restrictions to curb the spread of the virus, said Ps Sam from AGWO.
The tally on Thursday was the highest that Singapore has seen in the dormitories for months.
They are only allowed in their dormitories and workplaces, though authorities have also set up for them eight recreation centres, which they can visit at pre-booked timings up to thrice a week.
The reduced social interaction has been especially difficult as many of them come from cultures that are community-centric, said Ps Sam.
Noting that they often met with friends and family over food and drink prior to the pandemic, he added: "The dire need of each person is relational and when it's not being met, that's when they're not too good in the area of mental resilience."
Ps Sam urged the Church to intercede and unite in prayer for the migrant workers, who are experiencing "a really trying time", as well as for the authorities who are handling the situation.
How you can pray:
Pray that the spread of the virus in the dormitories will be curbed quickly and effectively. 
Pray for the mental and emotional state of the workers, many of whom are fearful and anxious. May the Holy Spirit, His comfort and peace be poured out on them.
Pray for wisdom and strength for the government agencies to handle the situation well. Pray that they will have enough rest so they can have a clear mind to make sound decisions.
Pray also for unity for all the stakeholders involved – government agencies, non-profit organisations, volunteers – that their teamwork will be fruitful.
Pray that churches and volunteers will be God's hands and feet that bring hope, comfort and love to those who are away from home.
---
FOR MORE STORIES ON MIGRANT WORKERS, READ:
"Your family may not be here, but we are": Volunteers bring clothes, murukku and laughter to migrant workers stuck on cruise ships
If you have enjoyed reading Salt&Light...
We are an independent, non-profit organisation that relies on the generosity of our readers, such as yourself, to continue serving the kingdom. Every dollar donated goes directly back into our editorial coverage.
Would you consider partnering with us in our kingdom work by supporting us financially, either as a one-off donation, or a recurring pledge?
Support Salt&Light