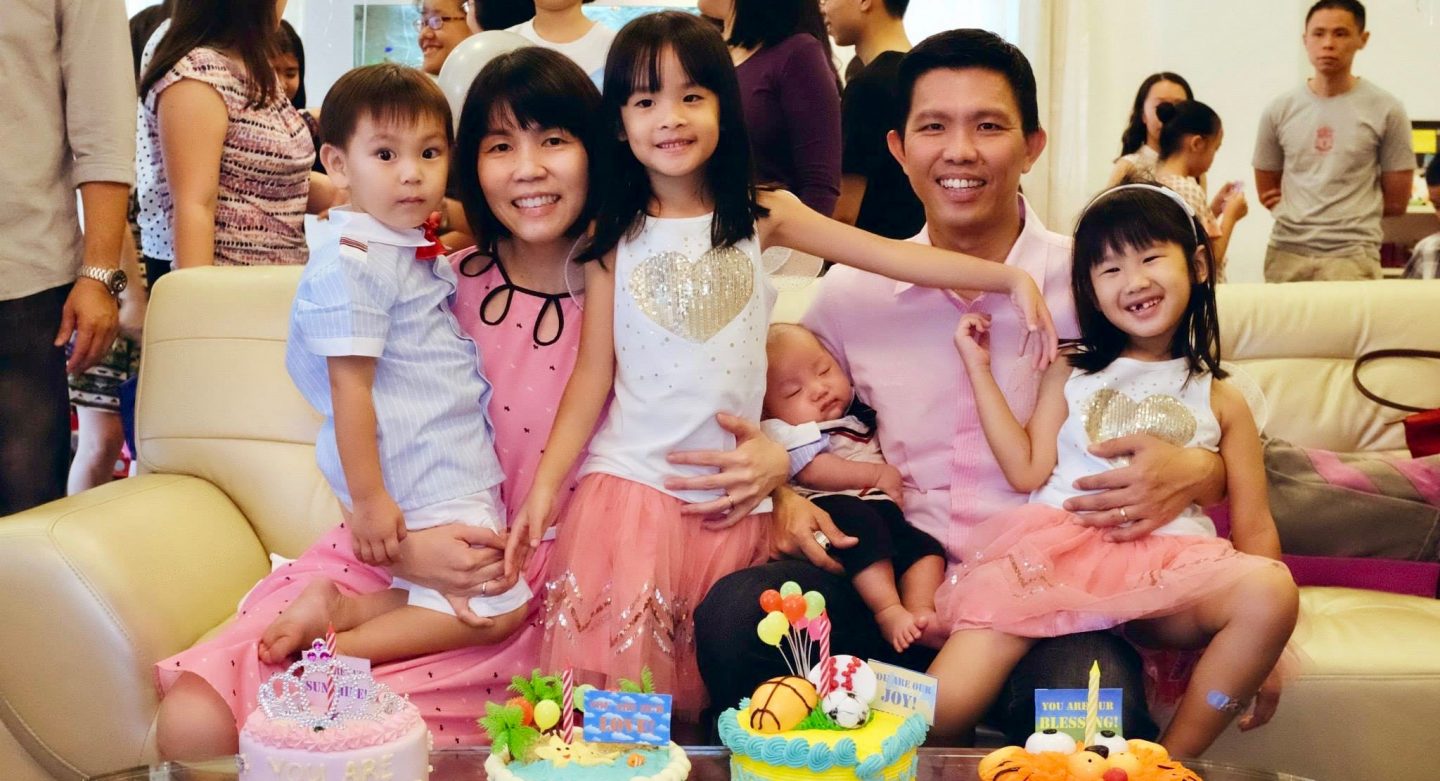 Baby Alan's Welcome Party on September 20, 2014. All photos courtesy of Dickson and Allison Lim.
Most parents don't get to choose their children.
But the Lims could choose theirs – four times over – as could so many other adoptive parents.
When the Lims made the choice to adopt, however, they chose not to choose.
That was what they told the adoption agent when they met up with him: Let us adopt any baby that comes next who needs a home.
"We couldn't bear the thought of any child being abandoned a second time just because we chose someone else, let alone decide between two beautiful babies whose existence wasn't even their choice," said Dickson Lim, 49.
Children, not commodities
Dickson's wife Allison Chong, 43, had gone through eight cycles of fertility treatments by then and the couple, who love children, decided to adopt.
Despite having been in the adoption industry for over three decades, the adoption agent had never met parents like that.
"We couldn't bear the thought of any child being abandoned a second time just because we chose someone else."
Usually, many first-time parents would select children who look like them, to minimise questions about their origin. Others would make sure the babies cleared the medical tests so that they do not have any abnormalities or severe medical conditions.
Some would even check the educational qualifications of the birth parents to ensure a higher possibility that the child would turn out to be smart.
Almost all would have a look at the baby's photograph before the infant arrived and take a few days to mull over whether to adopt the babies once they had seen them in person in the agency's office.
This is normal practice because adoption is for life and it costs a hefty sum – at least $30,000 – to adopt a child.
But children are not commodities to the Lims. They made up their mind not to actively select a child after hearing about the experiences of their then senior pastor Edmund Chan from Covenant Evangelical Free Church. Pastor Edmund and his wife, Pastor Ann, went ahead to adopt a baby despite being told that the baby had three tumours in the brain.
In addition, one of Allison's friends, who had also adopted a child, shared with Allison her unease at selecting a baby from a roomful of infants.  
So the couple only told the agent that they wanted to adopt an infant, particularly a female because they tended to be less in demand among adoptive parents.
Increase our faith, God
In early 2009 when the agent called them and said that a female baby born as a third child into a poor family had been offered up for adoption, the Lims immediately arranged to go down to the agency's office that weekend. They had not even seen the baby's photo.
Understandably, the first-time parents were nervous as they did not know what to expect. They prayed to God to increase their faith and expand their capacity to care for the baby, in whatever condition she came.
"The atmosphere in the car ride to the agency was so tense. We were quiet as we did not know what to say to each other," said Dickson, who is the Director of Individual Philanthropy Services, Asia-Pacific, at BNP Paribas Wealth Management.
They prayed to God to increase their faith and expand their capacity to care for the baby, in whatever condition she came.
When they arrived in the room and had their first glance at the healthy baby who was soon to become their daughter, Allison broke down and wept.
"My heart broke. I couldn't understand why someone would give up this helpless child," said Allison, who is the Principal of Marymount Convent.
For Dickson, that moment was a moment of clarity after months of suspenseful waiting. He carried the baby and took a picture with her.
Then Dickson walked over to the table and asked to sign the documents that would allow them to bring the baby home.
Despite knowing the couple's stand that they would not reject any baby who was presented to them, the agent still had doubts in his heart. He'd only had the confidence to bring the baby in from Malaysia because he had a "back-up" couple who was interested in viewing the baby if the Lims did not want her.
So he had expected Dickson and his wife to take a few days to decide and thus had not even prepared the necessary paperwork.
When he realised they were serious about adopting her in spite of seeing her just 10 minutes ago, he fumbled in his bag and began getting the documents in order.
New dawn
The couple named the 53-day-old baby Dawn, to signify hope. When they threw a welcome party for her soon after, relatives were a little awkward, not knowing how to make conversation about the adoption or how to explain the situation to their children.
Little was known about adoption then and, for some, it is still considered something of a taboo.
But her proud parents showed her off by throwing no less than six welcome parties for her in their various social circles and talked effusively about her on social media.
A year later, the couple called the agent again because they wanted Dawn to have a playmate. This time, the agent already knew no prior photos or viewing were needed.
"We are adopted into God's kingdom with all our imperfections, and we will take the 'surprises' with full acceptance."
The second time they walked into his office, Allison carried Dawn in her arms. Dawn gave her new sibling, a nine-day-old baby born out of wedlock, a soft toy.
This time, the baby looked purplish as she had severe jaundice. After signing the documents, the couple took her to the paediatrician to treat the jaundice and discovered that she had G6PD deficiency, a genetic disorder where the body does not have an enzyme to help red blood cells work.
So the baby, named Amanda which means "worthy of love", spent her first two days in a hospital instead. She is allergic to certain foods and chemicals.
Two years later, the couple decided to adopt a baby boy to complement the girls. Dawn and Amanda joined them in the car ride to – once again – the adoption agency.
When they got there, it was his smell that greeted them.
The fourth child of an unwed couple, the 14-day-old had accumulated enough eczema over his entire body that he smelt bad when they received him.
They named him Daryl, which means "darling" or "beloved".
A year later, they would notice that he was not crawling like other kids. Instead, he slid around in a seated position. At two years old, he was diagnosed with cerebral palsy. His left fingers were not able to grasp objects and his left leg was perpetually on tiptoe, needing to depend on his right leg for stability.
Daryl was later found to also have dyslexia as well as Attention Deficit Hyperactivity Disorder (ADHD), like his sister Amanda.
This did not stop the Lims from adopting their fourth child two years later as they felt that Daryl should have a male playmate.
Of course, the agent by then knew they did not need to choose the baby but he vehemently insisted on sending them a picture of a body part of the boy as he had a huge lump at his navel.
They were told that he was given away by his young, single mother and probably "left on the shelf" for 77 days due to the lump, which they learnt later was umbilical hernia (protruding intestines).
They named him Alan, which they understood to mean "one with the Lord". When Alan was handed over to them, he was wailing away in discomfort as a metal coin was placed on top of his naval and his handlers bound him tightly in cloth in a bid to push the lump down.
Fortunately, his intestines retracted within a year and he was healed from the condition.
However, at age four, he is unable to recognise letters and numbers, and may also have dyslexia.
A masterplan
Some parents, having learnt that their child has a disability, may wonder if the problem lies in their genes, or complain bitterly at the unfairness of life dealing them a bad hand.
Despite three out of the four children they adopted turning out to have some special needs, the Lims have no regrets about not choosing their children before adopting them.
"See lah, early on never choose properly," some of their relatives remarked, concerned over how they would be able to manage.
Dickson's rejoinder to that was that, since all of us are adopted into God's kingdom with all our imperfections, he and Allison will take what they have been given and other "surprises" that may come with full acceptance.
Even though each of them came from different cities and villages in Malaysia, they resemble their adoptive parents.
This has not been an easy undertaking and there were many instances when things got overwhelming.
For example, there was a time when the couple was both busy with transferring Amanda to another school as she could not cope with the pressures in her former, as well as supporting Daryl who had just discovered that, unlike his friends, he got "zero" for spelling because he was dyslexic.
Then came the inevitable point in time when they had to have "the conversation" with the kids about where they came from.
Using an anecdote from the Kungfu Panda movie, Allison shared with Dawn and Amanda how the duck looked after the panda even though they were not from the same family, and that they are still very much loved and wanted.
So much so that Dickson and Allison had no qualms about taking the initiative to make a request to the adoption agency for the details of the children's birth parents so that they would have the information should the children want closure in future.
Usually, birth parents are not allowed to know who adopted their children and the adoptive parents would not want to know any details of the birth parents.
The Lims have no such fears as they believe that each of their four children is part of God's masterplan for their lives. 
For instance, though they were told each time that the search for a baby might take many months or even years, they received all their four babies within three months and all of the babies were born in May.
And even though each of them came from different cities and villages in Malaysia, they resemble their adoptive parents. For some reason, Dawn and Daryl take after Allison and Amanda and Alan take after Dickson.
Today, they are known by friends and family as "the DnA family", even though they have no genetic ties.
The DnA family
Despite the apparent obstacles of bringing up four children, three with some special needs, and both of them working full-time, God has shown them that He has it all planned out for them.
"Each of the four children is part of God's masterplan for our lives."
Before they adopted Daryl, they had joined a 10-week bible study course. Later on, Daryl's physiotherapist recommended a renowned neurologist for the parents to consult for Daryl's cerebral palsy condition.
The expert was in high demand and her clinic had a long waiting list. But the Lims found out that she was their bible study group leader years ago and they could reach out to her personally for her help.  
Today, Dawn is nine years old, Amanda is eight, Daryl is six, and Alan, four. They attend student care and childcare in the afternoon, while their working parents, together with their domestic helper, take care of them at night.
Dickson and Allison have learnt many things but one key takeaway is truly experiencing, and understanding, the unconditional love of God. Despite the various medical "surprises" they had with the kids, and the fact that more may be uncovered in future, the pair has learnt that their love for them does not hinge on who they are.
"Our love for them cannot be conditional on who they are now because we simply don't know what other 'surprises' await us," said Dickson. 
"It has to over-extend to full acceptance regardless, as reflected in the Father's relationship with us, and this biblical mandate spurs us on in our parenting journey."
If you have enjoyed reading Salt&Light...
We are an independent, non-profit organisation that relies on the generosity of our readers, such as yourself, to continue serving the kingdom. Every dollar donated goes directly back into our editorial coverage.
Would you consider partnering with us in our kingdom work by supporting us financially, either as a one-off donation, or a recurring pledge?
Support Salt&Light