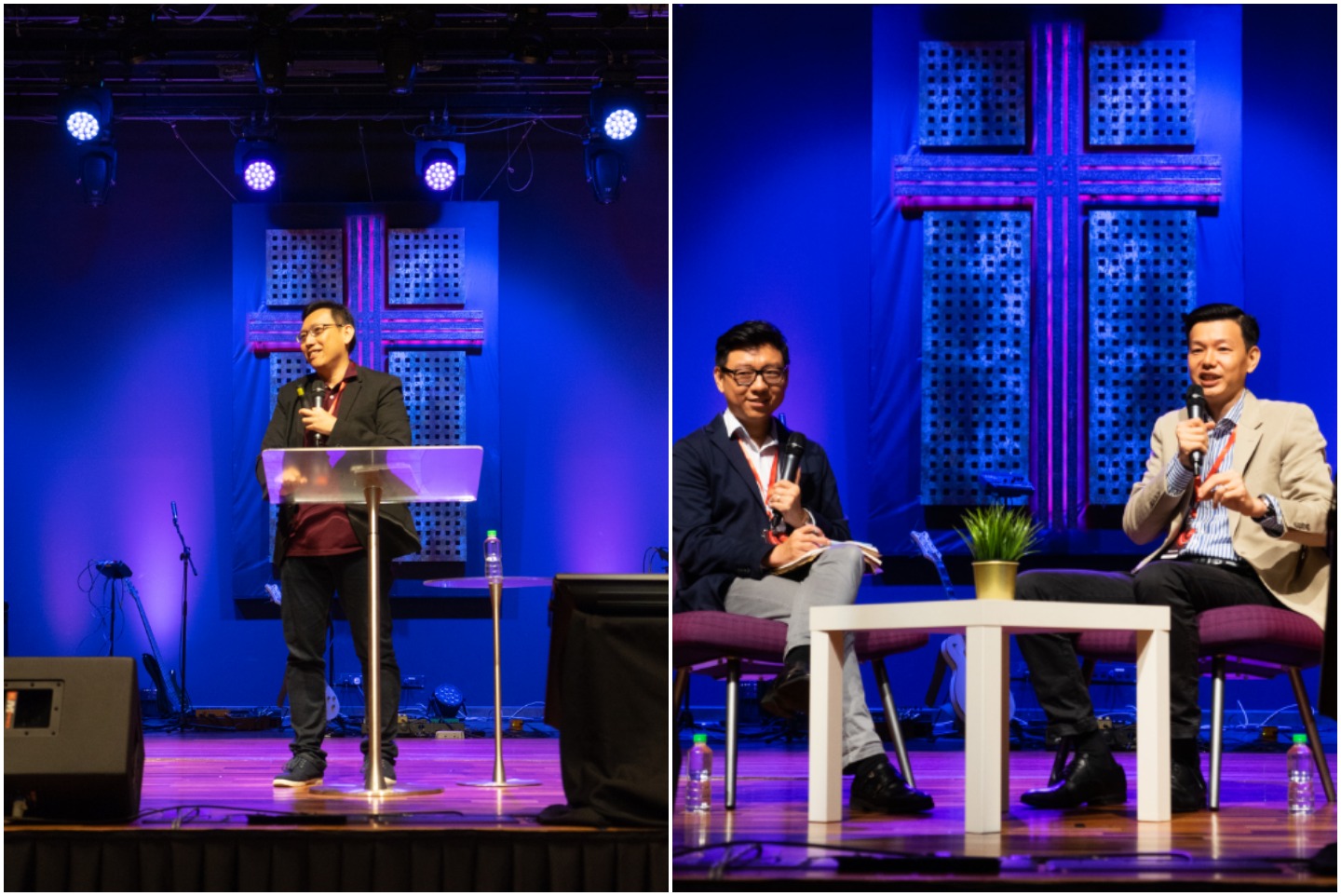 Senior Pastor of Every Nation Church Malaysia Timothy Loh (leftmost) opening day two of the Alpha Workplace Conference 2018. In a dialogue session, Pastor Fergus Ong (centre) of SIBKL talked to Cargill Tropical Palm's Chief Executive Office Richard Low (right) on God's hand in his career. Photos courtesy of Alpha Malaysia.
Pursue righteousness and God's favour will be upon you, said two corporate leaders at this year's Alpha Workplace Conference in Kuala Lumpur, Malaysia.
Pastor Timothy Loh, the senior pastor of Every Nation Church Malaysia, opened the second day of the conference by talking about how believers can influence the marketplace.
A former sales executive at the now-defunct Information Technology company DataCraft and entrepreneur – he used to own four restaurants and still runs one – said that God has given everything a believer needs to live a godly life, citing 2 Peter 1:3-7.
God will appoint His people to their jobs to transform the culture of the workplace and industry.
Therefore, Christians should always do the right thing before the Lord's eyes. The bi-vocational pastor gave an example of a time when he was sent to the Thailand headquarters to attend a celebratory meeting, as the Thai team clinched the biggest contract yet for DataCraft.
The head of the Thailand office gave a speech about how he bribed the client to win the deal. All 300 attendees stood up to give him a standing ovation, Pastor Loh said, except him.
Two weeks later, the chief executive of the Malaysian department, who attended the meeting, wanted to fire Pastor Loh, but he managed to keep his job.
"Just tell them you won't do it, because you want to honour God."
Referencing Jeremiah 1:4-8, Pastor Loh reminded the participants that God is always with His chosen people, and He will appoint them to their jobs to transform the culture of the workplace and industry.
A different mindset
Richard Low, the chief executive of palm oil player Cargill Tropical Palm Holdings (CTP), affirmed Pastor Loh's take on workplace conduct during a dialogue session on the topic "God's favour at work". 
"When you realise that God wants you to do a great work, you go with a different mindset."
Having come from a "very privileged family", Low said that he grew up proud and arrogant, compounded by his smooth climb up the corporate ladder – he became a managing director at 34, and went on to head other companies.
He believes God sent him to CTP to transform the palm oil industry to "disciple the nations" (Matthew 28:19), a message he heard from the Almighty at the Kingdom Invasion conference in Singapore.
Low got the job offer from Cargill the day he resigned from his previous firm, he said.
CTP was facing multiple headwinds when he entered as their chief operating officer. From there, his prayers started to change as he learnt to "rely 100% on God".
"For the vast majority of my life, I prayed this prayer: 'O God, help me, I'm facing this and this problem. Please help me,'" he said. "But when you have the realisation that you are there for a specific reason that God actually opened the door for you to be there, and He wants to do a great work, you go with a different mindset."
When he moved up to be the chief executive of CTP, he worked with the company's leadership team to change the company's vision to be "the most respected company in improving lives".
However, the year he became CEO, Low watched CTP end up in the red for the first three quarters of the financial year, though according to oil extraction rates, his employees were more productive than ever. 
Low worried about how he could hand out their annual bonus, which is based on how much profit the business makes. His new mission would ring hollow within the organisation.
He prayed about the situation, and began a 40-day fast after he heard Lou Engle imploring business leaders to do so during the Kingdom Invasion conference in Singapore. 
"If you want to see what you've never seen, you must be willing to do what you've never done," Low recalled Engle saying.
Supernatural presence of God
When it came time to give out the bonus, Low said the money flowed in and CTP was able to pay the same amount as they did the previous year.
When we carry the presence of God, He does supernatural things, says Low.
He said that his next goal for the company is to demonstrate to the industry, which has a poor reputation of exploiting workers and the environment, that it is possible be environmentally sustainable and safe, while still perform financially. 
"Every one of us isn't just placed in the marketplace to do the ordinary, because each of us carries the presence of God," Low said.
"And when we carry the presence of God, God does supernatural things."