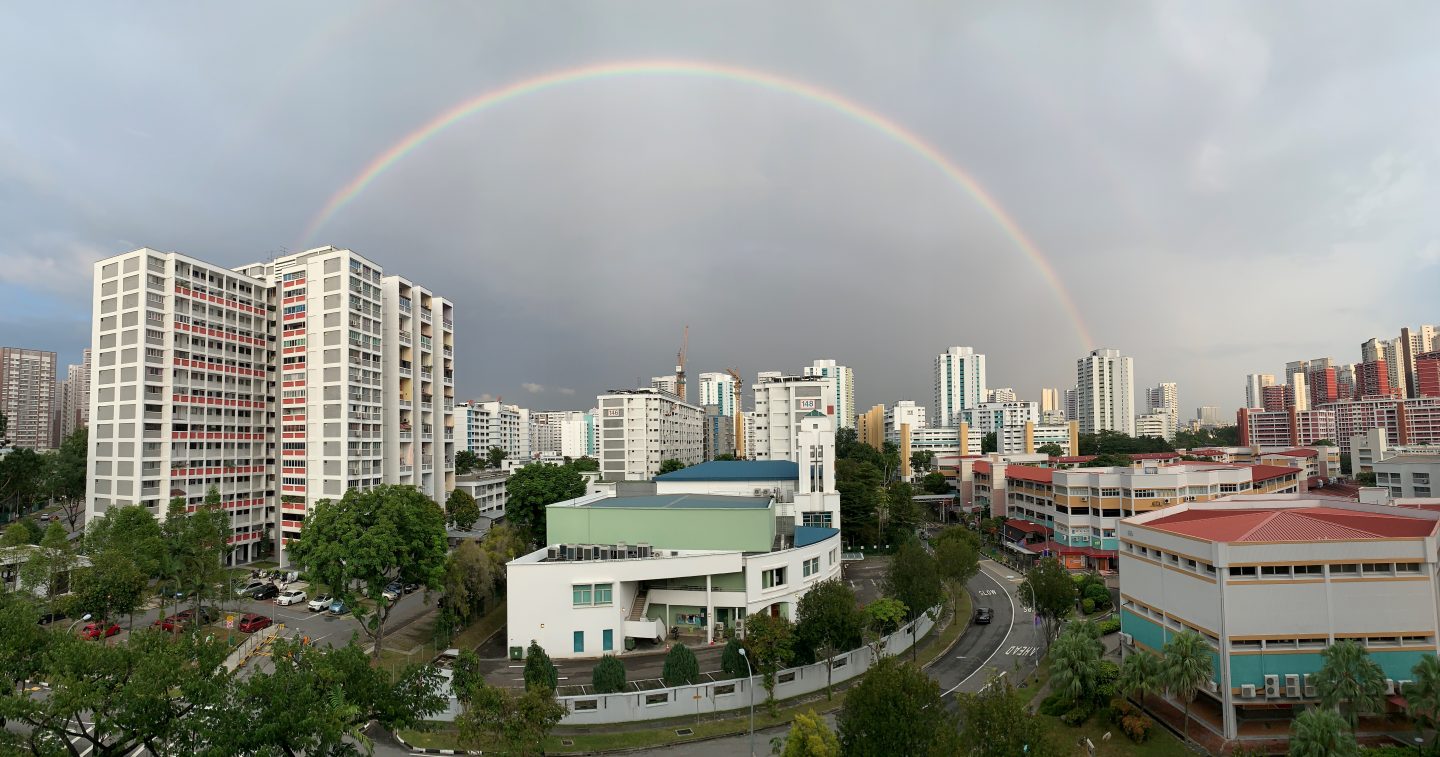 CEO of St Luke's Hospital, A/Prof Tan Boon Yeow, saw the double rainbow as God's promise of His faithfulness towards His people. All photos courtesy of St Luke's Hospital.
On 17 February 2020, St Luke's Hospital (SLH) received a call to inform them that one of their staff had tested positive for COVID-19.
"Not one asked to leave us during this time. Instead, they encouraged us in ways that warmed our hearts."
"When we first heard about the coronavirus, I was prepared to handle it like the viral outbreak we see once every few years," A/Prof Tan Boon Yeow, CEO and Senior Consultant of the hospital, told Salt&Light. Up to that point, it had mainly been concentrated in Wuhan, China, and was only just trickling into Singapore.
But when their colleague was affected, the news really hit home.
During this time of uncertainty, there was a general peace and clear-headedness in the hospital that has always acknowledged that "the work at St Luke's is, and has always been, the work of God and not ours alone".
As Tan reflects on the events and journey that God has brought himself and the hospital through, he recognises God's hand in it all. He summarises his and the hospital's response to this challenge with the phrase, "I ASK God", that is: Acknowledge, Share and Kneel.
Acknowledge God's sovereignty and man's frailty
Having gone through the Severe Acute Respiratory Syndrome (SARS) crisis in 2003, the hospital was already prepared for another possible outbreak.
Despite precautionary measures in place, one of the hospital's non-clinical employees, who had no direct contact with patients, had tested positive. She had been infected outside the hospital and was linked to a church cluster.
When Tan received news, he couldn't help but wonder: "Why did this happen to us?"
After this initial denial and protests, he accepted and "acknowledged God's sovereignty, and that there is a purpose for us".
This enabled Tan to carry on and do what was needed with calm and a clear head.
Share and receive God's love
"It was a very trying time. We were also worried that we would become a new cluster," Tan says.
Tan relayed the news and provided reassurance to the hospital staff. He wanted them to hear it from the organisation before the news broke to the public. The hospital also issued letters to inform its patients.
"Not one asked to leave us during this time. Instead, they encouraged us in ways that warmed our hearts."
Tan and the hospital's senior management kept in contact with the affected colleague and her team, who were quarantined as a result, checking in with them regularly to ensure that they were fine. The hospital's pastoral care team constantly covered them in prayer.
Tan is grateful for the support the hospital received from many partnering institutions and schools who sent support and words of encouragement. This also motivated the hospital to "work harder than ever as a team to keep the hospital running and our patients safe."
With more restrictions on visitors, staff started to arrange more activities for patients, tapping on technology. This is part of the hospital's holistic care, not just for physical needs, but also emotional and spiritual needs of its patients.
However, through this episode, Tan believes that SLH has become stronger, more robust and resilient.
Kneel before God
During this time, Tan clung to Romans 8:14-17: "For all who are led by the Spirit of God are sons of God. For you did not receive the spirit of slavery to fall back into fear, but you have received the Spirit of adoption as sons, by whom we cry, "Abba! Father!" The Spirit himself bears witness with our spirit that we are children of God, and if children, then heirs — heirs of God and fellow heirs with Christ, provided we suffer with him in order that we may also be glorified with him." (ESV)
"The wisdom to know what to do on a daily basis … comes from knowing the Abba Father."
Life has not been the same since the coronavirus challenge hit the hospital and, indeed, the world.
"Looking back and even now," Tan says, "The wisdom to know what to do on a daily basis, the discernment, comes from knowing the Abba Father. In difficult moments like these, when we don't know what tomorrow brings, it is that relationship with Him that grants us the strength to carry. His shalom peace helps us to make the best decision for the patients we care for, our staff, as well as the partners we work with."
A double rainbow that spanned the skies shortly after the Dorscon alert was raised to Orange reminds Tan of God's promise of His faithfulness towards His people (Genesis 9:13). The verse is a constant reminder to him and the team that God is watching over them in the midst of the current COVID 19 season.
As the COVID-19 situation continues to evolve, the organisation faces relentless pressure to continuously adapt and revise her policies and guidelines to keep the hospital and staff safe.
"We continue to show love to the team, and the team continues to show love to us and the patients."
Tan finds himself constantly coming before the Lord to seek divine wisdom for difficult decisions: "Thus says the Lord: 'Let not the wise man boast in his wisdom, let not the mighty man boast in his might, let not the rich man boast in his riches, but let him who boasts boast in this, that he understands and knows me, that I am the Lord who practices steadfast love, justice, and righteousness in the earth. For in these things I delight,' declares the Lord." (Jeremiah 9:23-24, ESV)
While Wednesday chapel services for SLH staff have been suspended in view of COVID-19, some of the Christian staff pray at noon.
This coincides with the time that Christians in Singapore set their alarms to pray for the nation. Coming to God in prayer reminds the team at SLH to depend on God in all situations.
As for making sense of what looks like a situation that will be around for some time, Tan says: "We must be prepared for the new normal. We don't know how long it will last. We need to be in continuous conversation with God, talking to Him and knowing Him as Abba Father."
Warming hearts
In the midst this challenge, "there are also a lot of opportunities to become closer in the community, really caring for each other in a deeper way."
The hospital started Project Warm Hearts on 14 February, Valentine's Day, with the message: We are here for each other.
"We continue to show love to the team, and the team continues to show love to us and the patients," says Tan.
The affected colleague has since recovered and returned to work. No one else in the hospital was infected through her.
She shared that God had brought her from a state of "shame to humility then hope", as she spent time in fellowship with Him, journalling and being encouraged through songs and through the prayers of many.
"God is present. God cares. God provides," say medical staff working with "no fear, no reservation"
Home away from Home: Churches and charities express God's love to stranded Malaysian workers
If you have enjoyed reading Salt&Light...
We are an independent, non-profit organisation that relies on the generosity of our readers, such as yourself, to continue serving the kingdom. Every dollar donated goes directly back into our editorial coverage.
Would you consider partnering with us in our kingdom work by supporting us financially, either as a one-off donation, or a recurring pledge?
Support Salt&Light