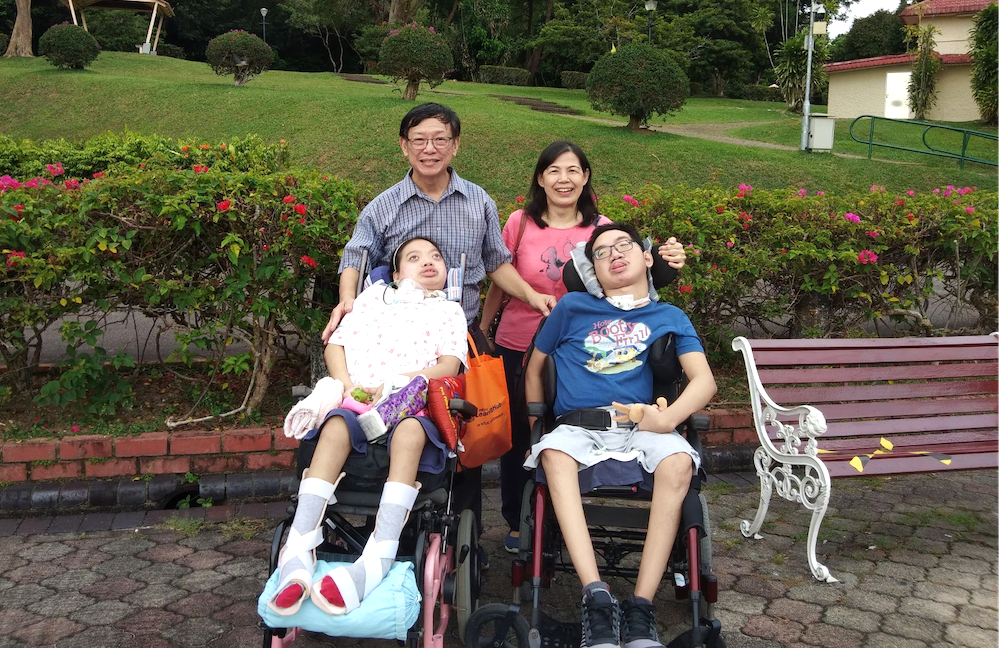 "God may have put my family through fire," says David Lang, 63, whose two surviving children have a rare genetic disorder. "At the same time, He has also brought loving people to form a ring around us to shield us from the direct blasts of the fire." Photos courtesy of David Lang.
My wife and I have three children born between 1991 and 1996. They were all born healthy and developed normally in their early years. They were also very bubbly and bright.
However, between the ages of five and seven, they started showing signs of degeneration.
Two years after I went with my family to a seminary in Chicago for doctoral studies, Justina started having memory problems in school and became very withdrawn.
Thinking it was due to the stress of being in an American school, I decided to bring my family home to Singapore.
The start of a long road
However, her condition worsened. She started having daily seizures, including sudden drop attacks and convulsive seizures.
Between the ages of seven and 10, she lost her ability to walk, stand and sit. She also stopped being able to talk, eat, drink and even swallow her own saliva.
At the age of 11, Justina started having breathing difficulties and had to wear a hard collar around her neck to keep her airway open. Later, she needed a ventilator to pump air into her lungs through a face mask.
One option would result in a "low quality of life" but the other option was to let her go.
When this did not work, the doctors presented us with two options.
The first was to have a tracheostomy, which could prolong her life but also meant prolonged suffering and a "low quality of life". The other option was to let her go.
Seeing that Justina could still be happy in spite of her sickness and smile even when we were using the resuscitator on her, we chose the tracheostomy.
We learned that quality of life is not dependent on the absence of pain or the ability to do what one wishes; quality of life can be seen in living life courageously and in receiving love from others.
Death and an unwelcome discovery
Our second child, Timothy, started degeneration at the age of seven.
In 2004, our family went for a church camp in Johor, Malaysia. On the second day, he choked on a piece of bacon and was rushed to a nearby hospital.
When we arrived at the hospital, his heart stopped.
Children with the Niemann-Pick disease type C rarely live beyond their mid-teens.
The hospital doctor removed the obstruction and managed to restart his heart. He was later transferred to the National University Hospital (NUH).
He died 19 days later without regaining consciousness.
Before Timothy died, a doctor took tissue samples from him to send to the USA and Australia for investigation.
The result came after he had died – we were told that our children have Niemann-Pick disease type C, a rare metabolic disorder. Children with this disease rarely live beyond their mid-teens.
After the results came, Titus also started degeneration. He went through the same process as his sister.
Running an ICU at home
Today, both are bedridden with no control over their hands, legs, head and even eyes.
Both are tube-fed and need ventilators. Both need to go to the hospital regularly for tests and check-ups. Both are often warded in the intensive care unit (ICU) of NUH for various complications.
In fact, caring for them at home is like running an ICU. Even with two live-in caregivers, my wife and I also provide round-the-clock care.
At home, we maintain several ventilators, oxygen concentrators, oxygen monitors, suction machines, electric feeding pumps, nebulisers and even a patient hoist.
Seeking solace 
As a father, it is very painful having to watch helplessly as our children suffer, lose their abilities and eventually pass on.
As a father, it is very painful having to watch helplessly as our children suffer.
I shed much tears in secret and cried out to God: "Why? Why must my innocent children suffer?
"Why not me?"
"Is it because of my sins, my lack of faith or my not persisting in prayer for healing that my children are not healed?"
Though I already had theological answers to such questions, my desperation drove me to turn to the Scriptures again.
I carefully studied many passages on healing and answer to prayers. Whereas in the past I learnt them as promises for believers to claim, my re-examination of these passages in their broader literary settings revealed that such understanding was wrong.
Surprising consolation
I also read the book of Job for help to put into words the frustrations I could not express. I did not expect many answers as scholars have said that, in the book, God did not address Job's questions.
To my surprise, I found much comfort in Job.
When I read the book of Job for help … I felt relieved that it was alright to pour out my frustrations to God.
When I read how God vindicated Job that he had spoken rightly of God (Job 42:8) despite all that he said to God, I felt relieved that it was alright to pour out my frustrations to God.
Second, God can grant his creatures the joy and courage to go through life, despite the hardships and dangers of life (Job 39:13–28).
Third, God is in control of the most powerful evil mythic monsters and has set limits for them (Job 40:15–41:34).
Finally, when Job said: "I have heard you with the hearing of my ear, but now my eyes see you" (Job 42:5), I learned it is the presence of God that can bring comfort and sense of purpose.
Grace-laced
We experience God's presence in many ways. Once, NUH refused to discharge Justina even though she was ready to be sent home because they learned that the screen of Justina's ventilator was damaged.
A couple, whom we do not know, somehow heard about our need. They took a flight from Indonesia to Singapore the next day to give us two high-quality ventilators.
God may have put my family through fire. He has also brought people to shield us from the direct blasts.
Then, three years ago, a group of my secondary school friends, whom I have not seen since 1974, organised a crowdfunding project to buy us a car with a wheelchair ramp and space for two wheelchairs and three passengers.
So besides caring for our children at home, we now try to provide meaningful experiences to which they can look forward.
We believe bedridden people with incurable diseases need not just lie in bed waiting to die.
We can, with the help of the community, give them meaningful experiences. Besides taking our children daily to the garden below our HDB flat, we also take them regularly to places like Jewel Changi Airport and Gardens by the Bay.
Indeed, our Heavenly Father has been very present with us throughout this long journey with our children.
He has brought many people, including strangers, to rally around us. It is because of their love, prayers and sacrificial support that I can serve God in teaching at the Singapore Bible College and ministering to other groups and individuals while helping to provide the intensive care that has enabled our children to live way beyond their life expectancy.
Justina turned 30 recently and Titus will be 25 at the end of the year.
God may have put my family through fire.
At the same time, He has also brought loving people to form a ring around us to shield us from the direct blasts of the fire.
---
This article was first published in The Gospel Speaks! Past, Present, and Always, published by Singapore Bible College, and also appeared in the June 2021 issue of Methodist Message. It has been republished in Salt&Light with permission. 
If you would like to send encouragement to the Lang family, you can leave a message at David's Instagram account @david05.52. To send a love gift, you may PayNow David at 96283554 or send it to his POSB account at 501028045. 
---
RELATED STORIES:
Three children with fatal genetic disorder, yet David Lang sees God's sovereignty
God's picture perfect gift: How a young woman overcame a rare disorder to become a professional photographer
What are the odds? A doctor specialising in voice disorders finds herself struggling to speak
If you have enjoyed reading Salt&Light...
We are an independent, non-profit organisation that relies on the generosity of our readers, such as yourself, to continue serving the kingdom. Every dollar donated goes directly back into our editorial coverage.
Would you consider partnering with us in our kingdom work by supporting us financially, either as a one-off donation, or a recurring pledge?
Support Salt&Light