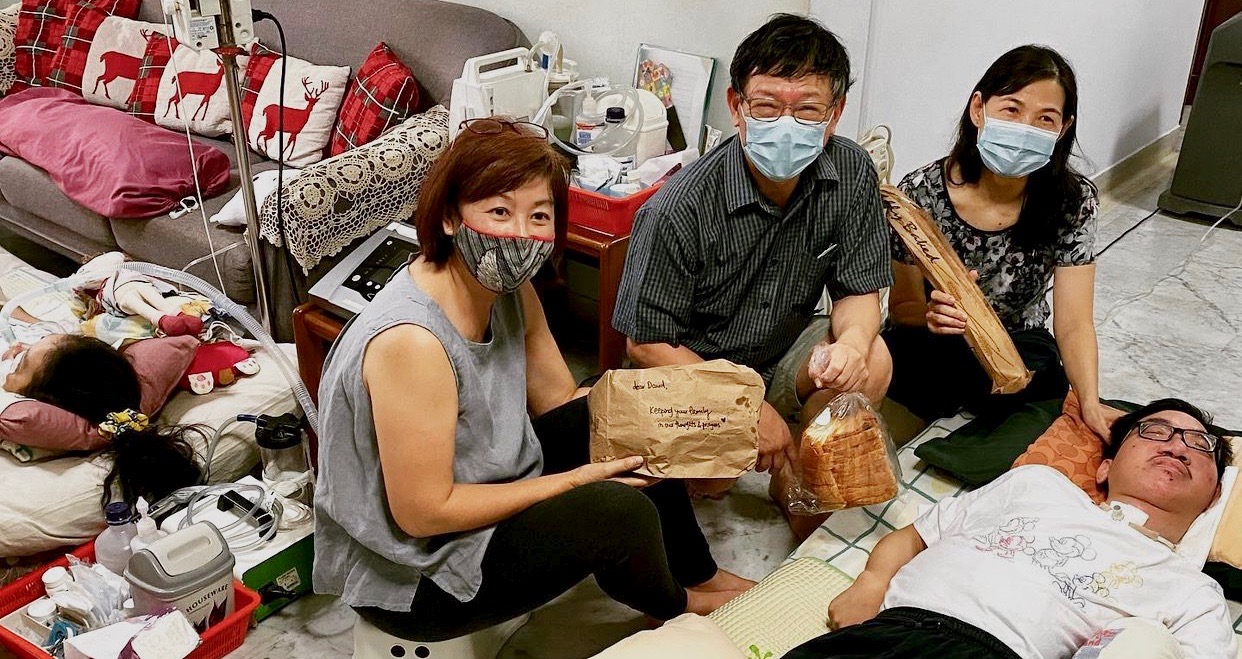 Thrina Low (left) visiting the Langs on Father's Day with a care package from Bakery Brera. Her social media post on the Lang family's sacrificial love for their children triggered a flood of love gifts to the family. All photos courtesy of Thrina Low.
It was a Father's Day gift he didn't see coming.
When a social media post revealing David Lang's unshakeable love and sacrifice for his children with fatal Niemann-Pick Disease Type C was posted as a Father's Day tribute, Singaporeans poured forth their encouragement – not just with words – but with financial support.
The Langs' story of boundless faith and love in the thick of suffering, was what weary Singaporeans needed to hear.
In less than 15 hours of posting, 250 strangers had channeled $20,000 to David and his wife, Loo Geok. Another three days and the amount swelled to $135,000 from more than 1,600 well wishers, including children who had dug into their piggy banks.
In a year of recurring bad news, when compassion fatigue had crept up like a thief of hope, it seemed the story of the Langs, with their boundless capacity for faith and love in the thick of suffering, was what weary Singaporeans needed to hear.
The media picked up the story – including features in Salt&Light, Thir.st, AWWA and the Methodist Message – and to date, about $250,000 has been donated to the Langs, whose medical expenses for their children, requiring round-the-clock care, amount to over $7,000 a month.
The Langs and Thrina Low, 56, the owner of Bakery Brera who had posted the tribute, were humbled and moved by the overwhelming response.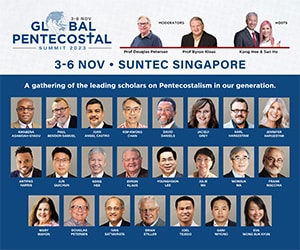 Three children with fatal genetic disorder, yet David Lang sees God's sovereignty
The truth was, when Low had contacted Lang through a mutual church friend, referring vaguely to "something about Father's Day", Lang had expected a one-time cash gift, maybe an occasional bag of bread.
Little did he (nor Low, for that matter) expect the great outpouring of compassion from the public.
Thanking the "angels" who "gave even though you neither know us nor have met us, and gave at a time when many have suffered income loss and face uncertain future", Lang revealed with wonder that the gifts were "in God's perfect timing".
"I just turned 63 last month, and 2 weeks ago I was just wondering how our needs will be met should I retire (as a Singapore Bible College lecturer) in 1 to 4 years time," Lang wrote in the Bakery Brera Instagram account where his story had been posted on June 18.
"Coming Monday 21 June 2021, Justina will be 30 years old. The CPF has just introduced a scheme where those severely disabled and are 30 years old or above can put at least $20k in their medisave account to earn the high CPF interest rates of 5% and withdraw up to a maximum of $200 per month. We plan to use the gifts received for this purpose."
"Many wrote to me on questions of unanswered prayer."
As he marveled at "God's hand behind all these", Lang told Salt&Light that, even more than the donations, he valued the opportunity to minister to others.
"Many wrote to me on questions of unanswered prayer, faith healing … one wrote from USA asking me to pray for her child in the final stages of kidney failure, one person came to share her struggle with God over sufferings in her family."
That he could share how he and his wife continue to cling to faith in a loving God despite losing one child to the disease and watching their two surviving children deteriorate intellectually and physically over the course of 30 years, means everything to him.
"Though God has put my family and I through the fire, He has surrounded us with many loving people to form a ring to shield us from the direct blast from the fire."
A community that blesses
His is a faith that Thrina Low from Bakery Brera knows well.
To every Bakery Brera follower who posted appreciation to Low for highlighting the Langs' decades of sacrifice, she replied with a gentle nod towards the source of her inspiration:
"God impressed upon my heart and He put David in our hood."
"To God be the glory, He orchestrated this."
"Trust in the Big Guy!"
By now the Bakery Brera community is familiar with Low's faith, and the positivity of the artisanal boutique bakery's social media accounts, which reflect Low's firm belief in "loving God and loving neighbour".
"Alone, we can only do so much, but with community effort, we can do 100 times more."
In between pictures of creamy basque burnt cheesecake, impressively puffy panettone and caramelised kouign amann, are earnest posts rallying the Brera community to jump in on the Welcome in My Backyard campaign to sponsor croissants to migrant workers "who contributed their sweat and blood to our nation building", or to sponsor care packs for Tan Tock Seng Hospital staff affected by the Covid cluster, or to gather reusable jars and containers after Chinese New Year to support the eco-forward Project bECOme.
Low doesn't see Brera's almost 32,000 Instagram followers as just customers. She wants to feed them with, not just baked goods, but with the kind of giving "kampung spirit" she believes even urban Singaporeans possess.
"God gave me these precious 32,000 followers and it is a responsibility," she told Salt&Light. "I am going to take care of them faithfully, give them edifying news, give them opportunities to bless others.
"Alone, we can only do so much, but with community effort, we can do 100 times more."
Low might seem completely comfortable as a digital citizen, but just five years ago when Bakery Brera was launched in a quiet, leafy Farrer Road neighbourhood, this couldn't have been further from the truth.
Kampung spirit
The "kampung spirit" Low exudes comes from her actually growing up as a "kampung girl" in Muar, Johor.
She is the middle child of an 11-child family raised by a lorry driver father (who incidentally happened to grow up in the same kampung (village) as the current Prime Minister of Malaysia, Muhyiddin Yassin).
Life in the small town shaded by durian and rambutan trees was uncomplicated, but hard. To supplement their father's income – "he would earn 50 or 200 ringgit for every delivery" – the family had a farm with pigs and chickens.
School (where the diligent, young Low often won first prize for her studies) was "the happiest place", because after school there were plenty of chores to be done.
The family did not have much – "though my father actually put all 11 of us through school with his lorry driving", she pointed out – but they were close and their humble home was constantly bustling with friends and neighbours.
"Ours was a big family, everything we did was double portion!" recalled Low. "Yet my mother was always blessing others – our home was an open house. Anyone could come regardless of race or background.
"She could whip up almost everything in the kitchen – all kinds of bao, butter marble cake, prawn crackers, goreng pisang, fried beehoon, fried mee … everything her hand touched was turned into yummy food.
"My mum, with her strength and sacrificial love, did a wonderful job of raising all 11 of us. She was very strict about good behaviour and if she so much as smelled selfishness or infighting among us, she wouldn't give us chance.
"She brought her children up with this culture of loving one another and till today we always give the best to each other – if we have a plate of food, we serve others first and keep the worst for ourselves. The best is always for other people. My mum passed on three years ago," she said quietly. "I still grieve. She taught us so much about giving and serving."
Deep longing
Low first heard the Gospel from a classmate when she was in Secondary Three.
"Back in my little hometown in those days, with after-school chores and younger siblings to look after, there was not much of a chance to go out except to school. But one day I managed to sneak out to visit my classmate," she recalled. "At her house, I witnessed something quite out of my own world.
"Her family worshipped God together, read Bible passages, held hands to pray and asked for forgiveness. I remember being in awe of what I saw as a refined and civilised 'family culture' so different from my own. The picture stuck with me.
"It got me thinking about Christianity. But, out of fear of being discovered by my parents, I buried that experience in my heart.
"It was only when I went to university in Kuala Lumpur that I got my freedom and independence and started following friends to church.
"I remember falling in love with the Bible the first time I opened it. The grace and acceptance, the welcoming love of Christ, spoke deeply to my heart."
Before long she said the sinner's prayer and accepted the Lord into her life with simple faith. But, not having the opportunity to study the Word, it was still something of a mystery to her.
"I remember falling in love with the Bible the first time I opened it."
After graduation, a 23-year-old Low came to Singapore to work, first as an engineer for five years, and then in corporate human resources for 15 years at multi-national corporations. Along the way, she married a Singaporean semiconductor salesman her sister had met while working in Malacca.
"My husband and I were very naïve then, no experience in pak tor (dating)," said Low with a chuckle.
Four children – two daughters and two sons – soon followed and family life became very full.
But while Low appeared to be flourishing both professionally and domestically, inwardly, she felt a strange sense of lack.
"I worked hard, but my English at the time wasn't up to par and I could never match up to the well spoken Singaporeans," she said. Whenever she was asked to give a speech or presentation, she would be sick with apprehension and a fear of failure.
When she was criticised or put down, she suffered in silence and would only shed tears in the toilet.
"There was something I was lacking, and I didn't know what. I felt like I was searching for something, for my identity," said Low, who tirelessly chalked up professional qualifications, including a graduate diploma in business administration from the Singapore Institute of Management, a Masters in human resource management from the National University of Singapore and even English courses at the British Council, to try to fill the lack she was feeling.
When she was criticised or put down, she suffered in silence and would only shed tears in the toilet.
"Even when I was heavily pregnant, I was working in the day and going to classes in the evening, returning home way past 10pm," she recalled.
She was appointed head of HR at a German bank and subsequently at AIA.
"Even though I was being promoted at work, I was struggling inside."
She had stopped attending church for fear of objection by relatives. But she remembered the God of her youth and yearned to grasp the peace and acceptance she felt during worship in church. Family tradition made it impossible to live out her faith except as an "undercover Christian".
"I would pray and say, 'God, why is life still so tough for me?'" remembered Low.
God answered in a totally unexpected way.
Giving back lost years
In 2010, Low's husband was posted to the Philippines for work, and the entire family, including three of their four young children, aged between five and 13, uprooted and moved to the bustling business district of Alabang, an hour-and-a-half away from Makati. One of their daughters was in Hwa Chong boarding school for six months before leaving for University College London.
As an expatriate wife, Low had time on her hands for the first time.
She looked up the nearest Bible Study Fellowship (BSF) to her home and – "I tell you, God 100% tailor-made this opportunity for me" – within three months she was a BSF group leader to a diverse international group of women.
She found a church she felt at home in, and started attending a women's cell group that was discipled by a Chinese pastor who taught in Mandarin, her heart language. Her faith and her foundation of the Word grew in strength.
"It was such a privilege to be finally studying the Bible," said Low. "I felt like God was giving back to me all the years I had lost. I told Him that I would not waste a single minute of this gift."
Together with her church and BSF community, Low hosted Bible study for domestic helpers and drivers, did outreach among the poor who lived at dumpsites, providing them with books, food and medicine.
"By the time I left Philippines, I could give my heartfelt testimony to the church community that God had used this place, this soil, to provide me with the turning point in my spiritual life."
There was something else God would sow into Low's life during her time in the Philippines – the seed of a future Bakery Brera.
As an expat wife, Low hosted numerous dinner parties with her family.
"This was when I learnt to eat desserts!" she said. In her humble childhood, desserts had been a luxury her family could not afford. 
She and her husband learnt to cook western food – steaks, pizzas, pasta – which their guests seemed to enjoy. Their friends' compliments emboldened her and her husband to join seven Filipino partners in opening their first restaurant in Makati. One Way Restaurant served hearty and delectable sourdough pizza, pasta and Mediterranean specialties.
She occasionally helped out at the restaurant with the warm hospitality that was in her DNA, and with the efficiency of an engineer and HR specialist. The restaurant would go on to be voted No. 1 in the Philippines by TripAdvisor, attracting foreign dignitaries, celebrities, Filipino businessmen, even former Philippine President Fidel Ramos.
She also learnt something important about herself: God had given her a palate for good bread.
From fruit shop to bakery
When the family returned to Singapore, Low, with newfound confidence, threw herself into church service, leading BSF groups and teaching English as a Second Language (ESL) to expats and domestic helpers at International Baptist Church (IBC), eventually starting Bible study classes for the ESL group as well.
One day, four months after her return from the Philippines, Low was walking by the sundry shops near her church, when the fruit shop owner stopped her for a chat.
Knowing she was from the church, he requested: "Hey, can you help me to pray? I want to give up my shop and retire. My health is deteriorating. Can you help me pray for a tenant or buyer?"
A month later when they met again, he blurted out: "Hey, how about you and your husband? Why don't you take over the shop space?"
Taken aback at first, Low started mulling over the idea and raised the possibility to her husband. They had already tried their hand, successfully, at running an F&B business in the Philippines.
Their children were aged 10 to 21 at the time. She was turning 50 and felt a readiness spiritually, mentally and financially.
"I remember praying, 'Lord, if this is Your will, help me to use this place as my mission field, to be salt and light in the community'," said Low.
"It was only after I uttered this prayer and surrendered totally to His will that I felt peace."
The couple decided to return to a menu they were familiar with: Artisanal breads and pastries. They chose the name Brera after a serene town on the outskirts of Milan, because they envisioned the same atmosphere for their bakery.
During the official opening of Bakery Brera in 2016, Low dedicated the bakery to the Lord.
Bread of Life
The first four years were a rough rollercoaster, confessed Low, who set up everything from payroll to the kitchen to the staff. Every day she would pray over the hands that baked the bread, prayed that the bread "would rise beautifully", and that "the customers who eat our bread will be satisfied".
"God was the best business partner," she said with a twinkle in her eye.
Just one year into their opening, a team from celebrity chef Wolfgang Puck's restaurant group and Emirates Leisure Retail (ELR) knocked on her door. They were looking for bread suppliers for their Changi Airport outlet and the executive chef from dNata remembered Low, whom he had met at a cheese tasting when she had brought baguettes.
They requested that Low prepare a tasting of four breads for them: Baguette, sourdough, multigrain and brioche.
After sampling her bread, they told Low, to her astonishment, that her bread matched the quality of the bread they served in their New York restaurants. Immediately placing orders, they asked that Low deliver the bread to the airport daily.
"I didn't even have a delivery vehicle, just my own car which was not allowed into the service area of the airport," said Low. "So every day I would drive there, then their staff would come out to the waiting area to take my bread and they said, 'Thrina, your bread is beautiful'. I honestly could not believe it. This was truly God's favour."
The Americans treated Low like their aunty, she said, asking for recommendations on the best shao rou (BBQ pork) and shao ya (roast duck) in town, and visiting her kitchen to test out recipes. The pandemic put a halt to their airport operations.
But Bakery Brera's reputation was just starting to grow. The bakery began supplying breads and buns to well-known burger joints, restaurants, coffee chains and bars.
It was not all smooth sailing. In October 2017, Low was diagnosed with breast cancer. But God spared her from suffering the worst of the treatments.
The stress of being a first-time business owner was great. Not being a baker herself, Low was at the mercy of her bakers, some of whom were demanding and difficult.
"On one hand, we are serving the physical bread of life, but on the other, we are serving the true Bread of Life. (John 6:35)"
But, through the challenges, God sent encouragement when she needed it most. A Christian designer volunteered to design publicity material, suggesting "Drop by for a slice of life" as a tagline, which still graces the window of the bakery.
"I was just amazed at God's provision," said Low. "On one hand, we are serving the physical bread of life, but on the other, we are serving the true Bread of Life. (John 6:35)"
Upon chatting with customers, she sometimes senses a certain disquiet and prays for those who are willing. They have included cancer patients, those with mental illness, and families in conflict, who tell her: "For some strange reason, I ended up in your bakery."
They often pour their heart out to her, giving her a chance to share about God the Healer and Comforter (Isaiah 57:18-19).
A mother and son came in one day because the son loved the bakery's pastries. In talking to the mother, however, Low sensed a tension between mother and son, as the son had refused to attend school for a year and his 'O' levels were approaching. Low not only prayed for the mother, she ended up offering the son an internship.
To this day, Low doesn't turn anyone away who applies to intern, especially the young. Interns have included those with mental illness who did not have the confidence to get jobs elsewhere, troubled teens, and those who had lost their jobs.
While Covid spelt disaster for many F&B establishments, Bakery Brera saw their business boom, as takeaway and delivery orders grew in popularity. Her exquisite French pastries and Spanish burnt cheesecakes have given Singapore residents, local and expatriate, a sense of travel, in a time when everyone's wanderlust has been curtailed.
By this fifth year, they are established enough to sponsor social projects and partner their community to do good for those in need.
It is God who has directed not just every customer to the bakery, but also every staff member, maintains Low.
A few months ago her head baker left suddenly. She had treated him like a son and his leaving threatened to throw the business into crisis. It caused her sleepless nights.
But God provided her with two amazing outcomes.
Fellow entrepreneur and management consultant, Raymond Khoo from The Peranakan, who is a member of a fellowship of Christian restauranteurs dubbed F&B Avengers, came to her aid, helping to sort things out with the old baker.
Secondly, after her baker left, two new bakers joined almost immediately.
"God truly gives us in abundance, more than we even ask for."
"So now I have two head bakers instead of one, and they are amazing – one is an Austrian master baker who is a Singapore PR, and the other had been a head baker at Marina Bay Sands since its opening 11 years ago."
In fact, when she called up the Austrian baker, he revealed to her that he had felt from the start that this was "his job" and had prayed over it. He called it "a miracle" that the job indeed was his, six months after he was rejected for it.
"God truly gives us in abundance, more than we even ask for," said Thrina.
As Low openly proclaims that the values of the bakery are Christian, "it means we must somehow show that we rely on God for our strength, wisdom and needs".
"The Bible verses displayed around the bakery reflect our guiding principles. And my staff – not all of whom are Christian – know that this bakery is a mission field and I make it clear to them who the ultimate Boss is. I am only a chief servant and God's steward.
"The humble loaf of bread is an illustration of God's heart." 
"This has been a faith journey for all of us – I pray with staff who encounter problems like illness in the family, and they get to witness God's goodness through the daily testimonies of His grace in our business. They see how much I rely on God out of my inadequacy and limitations. He is our Provider. (Deuteronomy 8:3)
"Looking back, I see that God does not make mistakes with us. He gave me the exact number of years of corporate experience I needed to make a success of Bakery Brera, and the exact faith training in the Philippines that I needed to learn His heart for His people and to make the bakery a mission field.
"The humble loaf of bread is an illustration of God's heart – He wants to feed us, nourish us, comfort us and give us all life in abundance." (John 10:10)
---
If you would like to send encouragement to the Lang family, you can leave a message at David's Instagram account @david05.52. To send a love gift, you may PayNow David at 96283554 or send it to his POSB account at 501028045. 
---
RELATED STORIES:
"Heaven is full of good food": ieatishootipost's Dr Leslie Tay
"God calls us to be steadfast and faithful. We can trust Him": F&B pivots as "no dine-in" Covid-19 regulation is announced
If you have enjoyed reading Salt&Light...
We are an independent, non-profit organisation that relies on the generosity of our readers, such as yourself, to continue serving the kingdom. Every dollar donated goes directly back into our editorial coverage.
Would you consider partnering with us in our kingdom work by supporting us financially, either as a one-off donation, or a recurring pledge?
Support Salt&Light