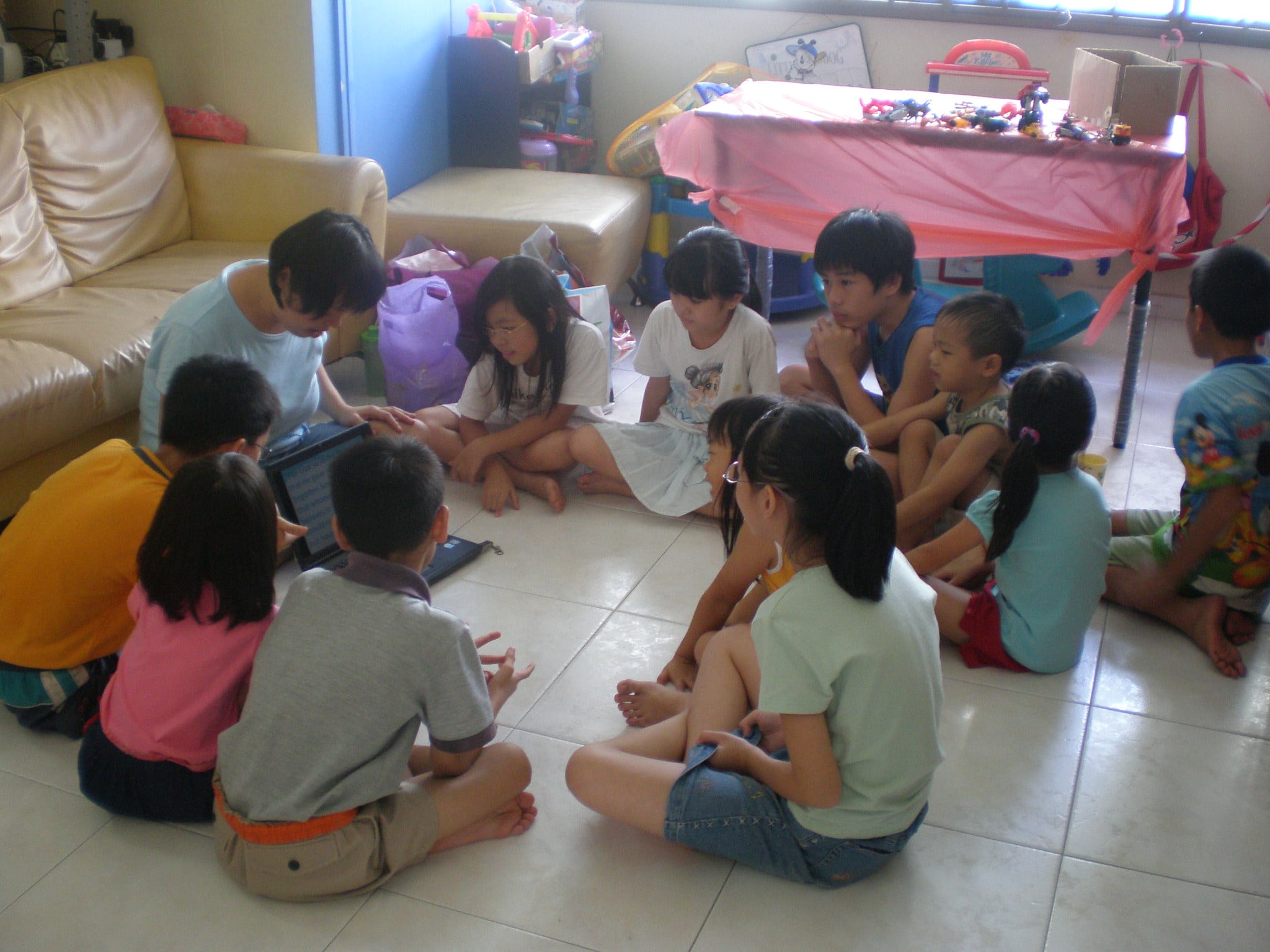 "There is truly no better way to disciple my children than by bringing them along when I share Christ with others," says mother of five, Jodi Yong. All photos courtesy of Jodi Yong.
For the past 22 years, I have had the joy of being a witness for Christ, both locally and overseas, together with my family.
Together, we have tried many things, from giving out goodie bags with Gospel tracts, to organising parties for neighbours and friends for any and every occasion, to even an inter-generational mission trip to Kaohsiung, Taiwan, with toddlers and elderlies in tow.
Witnessing as a way of life, even as a family, is not as intimidating as it seems. It can even be fun!
I have also learnt that there is truly no better way to disciple my children than by bringing them along when I share Christ with others!
Here are five simple steps through which I involve my children in evangelism:
1. I do. You watch.
When my children were young, they could not do much but they became the ice breaker in my meetings with people to whom I was reaching out.
As our children grow up, they watch us being intentional with our Christian faith. We can involve them by helping them take small and achievable steps in an outreach activity. 
In December 2012, as part of the Celebrate Christmas In Singapore (CCIS) outreach efforts, my husband and I decided to take along our one-year-old, five-year-old, two tweens and our teenager to distribute evangelistic magazines along Orchard Road.
My three older boys (then aged 13, 9 and 5) were completely overwhelmed by the swelling crowd. Through some encouragement and gentle prodding they managed to give out a few magazines. My 11-year-old girl was just as frightened. Yet, being the goal-getter that she is, she worked towards giving five magazines before she took a break.
Also, during each of our children's one-month-old parties, our older kids would witness either my husband or me sharing the Gospel with our friends and relatives.
2. I do. You help.
As they grew older, our children helped prepare the materials needed for various outreach efforts. Two years ago, two of my boys helped me paint beads in various colours to make into Gospel key chains based on The Wordless Book.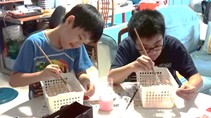 I recall a time when my daughter's room was converted into a makeshift nursery while the children's mommies were gathered in our living room for a parenting talk. It was crazy but fun. This taught my children to give what they had for the Gospel!
3. You do. I help.
During our mission trip in 2014, my then 15-year-old son was tasked to share the Gospel by doing a magic trick. I helped him source for bleach, water and a few drops of iodine. As it was an overseas trip, we did not take these chemicals along.
Thankfully, we managed to find the materials in the supermarket – and even the local hospital – with the help of the locals. I was so proud that my introverted son stepped up to do this trick twice with a big grin on his face.
4. You do. I watch.
In 2013, my 12-year-old girl was feeling bored after her PSLE. She asked me: "Mummy, will we have a Christmas party this year?" Immediately I felt tired at the thought of the many preparations needed for such an outreach. I replied: "No, dear. We just had one last year. We are taking a break this year."
Thankfully, the Holy Spirit reminded me that she and four other 12-year-olds had seen their mommies run three Christmas outreach events over the years.
At that instant, I turned to my girl and challenged her: "Why don't you run this year's Christmas party with your friends? Are you game for it?" She gave me a resounding: "Okay!"
She started to recruit other 12-year-olds and more children to form the "committee". I was the only adult member watching over them on their maiden project. The flyer was even designed by a 10-year-old. A few girls were tasked to shop for the goodie bag gifts. Other children led the games segment. Even the Gospel-sharing was done by a 12-year-old boy.
I witnessed how God honoured their youthful faith. Many friends came. Even the bouncy castle for the party was rented at half the price. One fellow mom of another faith was so impressed with this fully children-run programme that she expressed interest in sponsoring subsequent parties.
5. You do. Someone else watches.
In that same year of 2013, my daughter went on a church-organised mission trip to Northern Thailand as part of a primary-six cohort event. During the trip, she got to share her own God-story with her team and with the Thai children.
I pray Philippians 1:3-8 over all our children … Let us discover the joy of witnessing together as families!
She shared how, in Primary 4, she struggled with her academics to the point of wanting to give up studying altogether. Through divine providence, the Christian teachers from her mission school who were on the trip went on to encourage her, giving her the courage to trust God and not lean on her own understanding. Her studies gradually improved and she came to know God even more personally. It was nothing short of a miracle. 
I thank God that, through her struggles, she met Him and, on her own initiative, was able to share His great love to others.
I pray Philippians 1:3-8 over all our children:
"Every time I think of you, I give thanks to my God. Whenever I pray, I make my requests for all of you with joy, for you have been my partners in spreading the Good News about Christ from the time you first heard it until now. And I am certain that God, who began the good work within you, will continue his work until it is finally finished on the day when Christ Jesus returns."
Let us discover the joy of witnessing together as families!
---
Sign up for #READY's workshop on using the art of storytelling in evangelism here. 
This article is a collaboration between Salt&Light's call to #PublishPeace and Cru Singapore's #READY initiative to activate and empower every young adult to share Christ. 
---
MORE STORIES ON CHILDREN SHARING GOD'S LOVE:
"Help us bless migrant uncles and aunties this Deepavali!": 6-year-old and pals urge kids in video
The 5-year-old who raised $8,500 for COVID-hit migrant workers
If you have enjoyed reading Salt&Light...
We are an independent, non-profit organisation that relies on the generosity of our readers, such as yourself, to continue serving the kingdom. Every dollar donated goes directly back into our editorial coverage.
Would you consider partnering with us in our kingdom work by supporting us financially, either as a one-off donation, or a recurring pledge?
Support Salt&Light