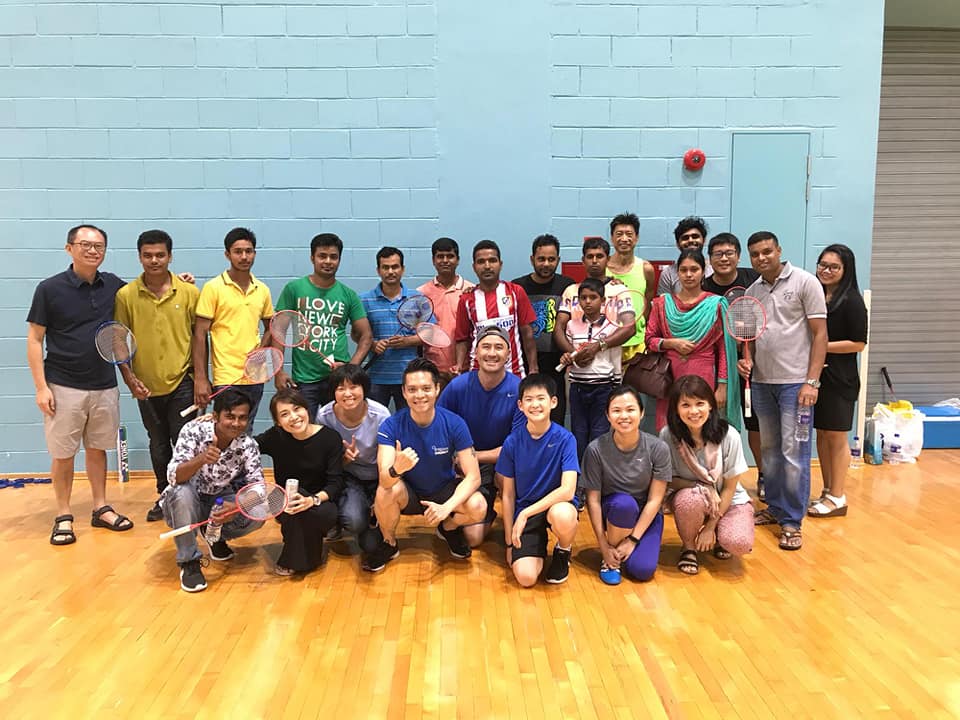 Invite migrant workers for a home-cooked meal or a game of badminton, urges Tang Shin Yong (standing, extreme left) who has been ministering to migrant workers for 13 years and counts many of them his friends. Photos courtesy of Tang Shin Yong.
"You may not remember us. You may not remember all our names. But I will always remember you!" shouted Simon* to Tang Shin Yong as they parted.
Tang had just shared a meal together with him and his fellow HDB cleaners.
The words were seared into Tang's memory.
"Often we don't realise how others look at us. We only think in terms of how we look at them," said Tang, 55, who has been ministering to migrant workers for 13 years and counting.
Tang co-founded HealthServe with Dr Goh Wei Leong in 2006 after they discovered their shared concern for the underserved migrant worker community in Singapore.
But his years of doing regional mission work did not prepare him for the shock he got in his own backyard.
40 in a shophouse
HealthServe opened the doors of its first medical clinic in Geylang Lorong 23, hoping to offer subsidised medical services to those living in the area. But patient traffic turned out to be slower than expected.
They decided to venture across the street to the even-numbered lanes in Geylang, where Singapore's red-light district is concentrated.
"To truly effect change and impact lives, relationships need to be built and communities need to be established."
"We found out that there were a lot of migrant workers living at the shophouses, right above the brothels. In some instances, about 40 people were crammed into a dimly lit shophouse," said Tang.
"We were all quite shocked at their living conditions and realised that more needs to be done."
This led HealthServe to gradually expand its offerings to better meet the needs of migrant workers. Besides subsidised medical services, it now also provides low-cost dental care, as well as legal aid, social assistance, skills training and even free meals.
But to truly effect change and impact lives, relationships need to be built and communities need to be established – which is at the heart of what HealthServe does, Tang explained.
It was wisdom gleaned from the years of involvement in his church's mission work, as well as volunteering with non-governmental organisations (NGOs).
The spirit of sacrifice
Tang was a businessman for more than a decade before heeding God's call to go into full-time ministry, which included a stint with Church Mission Society (CMS), an Anglican mission organisation.
"The Lord teaches us that at the heart of service is sacrifice and I think that's what Christian service is all about."
His time at CMS shaped his view of what community is: Community is not simply about relationships, it also involves hospitality and serving the least of the brethren.
That in turn influenced the culture that he and Dr Goh sought to establish in HealthServe.
"The Lord teaches us that at the heart of service is sacrifice and I think that's what Christian service is all about," said Tang, referencing Galatians 6:2 and John 15:12-13.
During his seven-year tenure as its volunteer executive director, he saw sacrificial service being modelled not only by the core team but by the volunteers as well, as they sought to meet the needs of those who crossed HealthServe's threshold.
Doctors volunteering their extra hours even though they were tired from work; lawyers taking up pro bono cases, some of which dragged on for one to two years; volunteers helping to bail out workers from jail while a case was still being heard.
This spirit of sacrificial service is alive and well in Singapore and it is vital that this is passed down to the volunteers, said Tang.
Beyond the time and effort needed to grow these relationships, he believes the key to laying a firm foundation for these communities lies in "learning about each other and learning from one another".
Made in the image of God
More often than not, the migrant worker is just a face in the crowd to us. Many of us are probably guilty of looking at them as lowly paid workers with no skills. But, like us, they too have talents, dreams, hopes and struggles.
Tang recalls the many instances when he and other Singaporeans invited migrant workers to their homes, and the workers would offer to cook a meal for them.
"Whether it's Chinese dumplings or an Indian curry, we're so enthralled because the food is so good and so authentic!" he said. These interactions have enriched volunteers' lives as it allowed them to learn more about the migrant workers' cuisine  and culture.
As with all healthy relationships, it is a two-way street. The migrant workers not only receive but they often give too.
Besides the well-documented instances of migrant workers giving up their seats on public transport, they have, on their own accord, also helped to paint and clean the houses of Singaporeans who are in need, shared Tang.
"Because we often have a bias against migrant workers, we fail to appreciate the gifts and talents that they possess. But once our blinkers are taken away, we can see them for who they truly are," said Tang.
They are made in the image of God (Genesis 1:27), and every single one is precious in His sight.
Loving the foreigner among us
It has been more than four years since Tang left HealthServe but migrants remain at the top of his mind.
Six months after leaving HealthServe, God opened the door for him and his wife, Joyce, to visit a Malaysia-based refugee learning centre in June 2015.
"After the migrant work, God was pointing me towards something that would be a trajectory for the future – work with refugees," said Tang, who has been journeying with refugee families from different countries, looking into their daily needs as well as the educational needs of their children.
Besides ministering at the refugee centre and being a consultant to churches and mission agencies, Tang still actively reaches out to migrant workers locally, specifically HDB cleaners.
"I never knew I'd be doing migrant and refugee work," replied Tang, when asked if he had an inkling when he was younger that God would lead him down this road. He was heavily involved with youth work in his younger days.
He stressed that caring for the migrants living among us is not just for the select few who are called: "As Singaporeans, I think we need to own this."
Even more so as Christians whom God commanded in Leviticus 19:33-34 to love the foreigner living among us. He urged believers to do more to help vulnerable migrant workers (Malachi 3:5).
"If the workers go to a police station or the hospital, there is often a language barrier or they may be discriminated against. In these cases, we can do a lot just by helping to speak on their behalf or explain the regulations to staff or talk to different stakeholders to seek solutions."
His advice to those who want to get involved: "Go down to where the community is, build relationships, stay as long as you can."
Our home is your home
"It is sometimes easier to just run a programme or provide a service and not be part of a community. But I think that you will miss out on a whole lot of good things," he explained. "If we are doing community work, or NGO work, we should be a part of the community, we mustn't separate ourselves from them."
"If we are doing community work, we should be a part of the community, we mustn't separate ourselves from them."
He cited the example of Paya Lebar Methodist Church, which has been reaching out to migrant workers for the past four to five years. The church started by holding events and running programmes such as English literacy and computer courses. But the breakthrough came when church members invited migrant workers to their homes.
"That is phenomenal because trust was established and relationships were strengthened. It was a huge milestone for them and I think churches should consider how to be a part of the migrant community."
"We need to move beyond programmes to become relational witnesses. Invite them to our homes or take them out for a meal and build long-term relationships. Visit their families back home and inculcate long-term relationships. And above all, see them as part of our family and as part of God's Kingdom."
Talk is cheap but Tang is walking the talk.
His love for migrant workers and refugees is infectious; it has inspired many of his fellow church members and friends to join him in impacting this community.
Wondering how to start? Begin by befriending the cleaners in your estate.
If you have enjoyed reading Salt&Light...
We are an independent, non-profit organisation that relies on the generosity of our readers, such as yourself, to continue serving the kingdom. Every dollar donated goes directly back into our editorial coverage.
Would you consider partnering with us in our kingdom work by supporting us financially, either as a one-off donation, or a recurring pledge?
Support Salt&Light