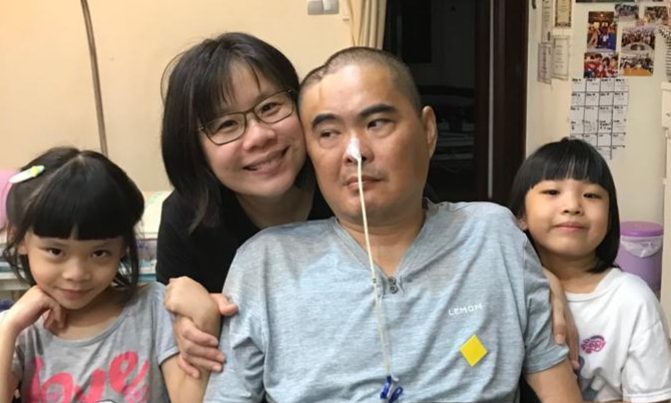 Dr Chia Yen-Yen has been her husband's primary caregiver since he suffered his first stroke two years ago. She considers caring for him an act of worship of God. Photo courtesy of Dr Chia Yen-Yen.
"Cry, cry, cry and cry. I cry a lot, usually in the middle of the night and even in church," confessed Dr Chia Yen-Yen.
"God gave us tears for a reason."
That was how the former Deputy Director of Nursing at the KK Women's and Children's Hospital dealt with her emotions when the demands of caregiving overwhelmed her.
For 16 years, she was the primary caregiver of her mother who was a stroke patient. When her mother passed away in 2016, she was the one by her side.
"I literally witnessed very rapid breathing to abnormal breathing until her last breath. I was the one who saw her last breath," said Yen-Yen.
For a long time, she also struggled with guilt, wondering if she had hastened her mother's death. She had been cleaning her mother's mouth and had removed a piece of crust.
Yen-Yen suspected that her mother may have inhaled the crust and developed aspiration pneumonia which landed her in hospital twice. Her mother then passed away.
"God gave us tears for a reason."
"It kept recurring: Was I the one who caused my mum's death?" said Yen-Yen. It took years for her to let the thought go.
In the last two years, she has been caring for her husband who became a total care patient after two strokes, as well as her father who lives with her and is house-bound. She does all this while raising two young, adopted daughters under the age of nine.
In 2020, she quit her job to focus on caregiving. Only recently has she started working flexi-time as a financial consultant.
Yen-Yen was speaking to nearly 270 participants on the episode of Salt&Light Family Night (Sept 28) about caring for the caregiver.
According to a poll that night, more than half (60%) were caregivers like her, caring for an ageing parent or a sick family member. The majority (45%) were middle-aged – between 46 and 60. But a number (1 in 5) were 35 or younger.
Asked about the type of support they needed as caregivers, the most cited need was time out. Rest and understanding followed closely behind.
Apart from Yen-Yen, the panellists for the night were Reverend Alvin Ngo and Tim Lee.
Ps Alvin is a retired pastor who has been caring for his wife for the last 13 years. She was diagnosed with early-onset dementia when she was 52. Her condition has progressed to the point where she can no longer speak, walk or care for herself. Ps Alvin is her primary caregiver. The couple has no domestic helper.
Tim is the CEO of Caregivers Alliance Limited (CAL). The professional non-profit organisation is dedicated to providing caregivers of persons with mental health issues with the education, support networks, crisis support, tailored services and self-care enablement they need.
They were on hand to offer tips to caregivers so that their care journey would not seem so lonely.
Tip 1: Ask for help
Be inter-dependent
Ps Alvin tries to manage his wife alone as much as possible. The couple does not have a domestic helper because he does not think that a stranger would have the patience and love to care for his wife in the way he does.
"Don't feel bad because if they have a share in this person's life, they should extend some form of help."
But even he admitted that asking for help is necessary.
"Be inter-dependent in your posture. We can't do everything. We cannot be there all the time. So, we need others to help us.
"Don't feel bad because if they have a share in this person's life, they should extend some form of help."
When he needs an hour or two just to "get away from the situation I am in", he calls on his children or his siblings to care for his wife.
Rely on family
Tim agreed: "Please don't do it alone. You are not alone."
He encourages caregivers to attend the programmes run by CAL with their family.
"If they all come together, have the same understanding, apply the same approaches, they will understand you a lot better."
He shared the encounter a pair of sisters who had attended a CAL programme together. Because of the training, the younger sister understood the trials her older sister faced as a caregiver.
She decided to bring their brothers in to help alleviate her sister's stress.
Bring in the church
Tim also encouraged getting the church involved. Churches can get themselves trained to provide support to caregivers, he said.
CAL offers such programmes to churches.
Tip 2: Communicate but be in control
"Communication is very important among stakeholders," said Ps Alvin.
While he is his wife's primary caregiver because "she is my first priority, it is my responsibility as a husband", he makes sure his children know everything about their mother's condition as it progresses.
"I communicate clearly with them about the changes to appointments, duration, medication. I inform them as the stages of deterioration come in. I make sure my children know about it so they will not be caught off-guard.
"Decisions have consequences and I live with the consequences."
"But somebody has to take the responsibility for the person and make the difficult decisions at the end of the day."
This is something Yen-Yen does as well.
"I do have many talks with my brothers especially when it comes to my dad and mum. It is only right to discuss with them."
But because she is their parents' primary caregiver, she makes the final decisions.
"The main caregiver, the one who lives with the person, would have to have greater weight of what the strategy or approach should be."
When perspectives differ, she is "quite blunt with them" and tells them what is helpful and what is not.
"Decisions have consequences and I live with the consequences."
Tip 3: Use resources available
CAL has a programme specially for those caring for loved ones with dementia. Created three years ago, it has become its most popular programme, said Tim.
"Our programme is quite special in the sense that it is taught by caregivers for caregivers.
"So, what we try to do is to not make it too academic. It's really about sharing knowledge and skills that are practical and useful."
CAL also has programmes for young caregivers although being in a mixed-age group has its advantages.
"The idea is to have them find a company of people who are just like them."
"It is good for them to understand what caregivers from the older generation are going through."
These programmes do not just provide know-how, they also become support groups for the participants. Tim explained that that was the intent when the programme was developed, which is why classes last up to 12 weeks.
"They learn they can share openly in a free space. They know they are not alone."
In addition to this there are support activities and respite care arrangements. CAL also has a 12-month support group called Caregivers for Caregivers.
"They meet once a month. Hopefully at the end of 12 months, they have a chance to bond with other people and they want to stay together as a group.
"This is inspired by small group ministry. The idea is to have them find a company of people who are just like them, and can support and help them in the journey ahead."
Tip 4: Seize the moment
For care recipients who may not remember or respond to those around them, Tim had this encouragement: "They may have lost the memories. But you are holding those memories. You can help them remember.
"You can also create new memories."
This is what Ps Alvin and his family are doing.
"They may have lost the memories. You can help them remember and create new memories."
"We wanted to enjoy life with her from the onset of the illness," said Ps Alvin.
In the last 10 plus years, they have travelled together to several parts of the world even when his wife became dependent on a wheelchair to get around.
Cruises and staycations are how they spend extended time together as a family now and "move away from the mundane routine of staying at home".
"There are moments when she is lucid. She can acknowledge what is happening around her, she can smile.
"She sometimes even bursts out laughing when she remembers happy moments. Those are the moments that make my day."
How do you prepare for death?
Of her mother's passing in 2016, Yen-Yen said: "I don't think I was prepared for that and I don't think anyone would be prepared for that."
She chooses to focus on life instead, living day by day, which is her approach as she cares for her husband.
"I am just thankful that every day I see him alive."
Ps Alvin agreed: "When we look back, we count the years but actually we live day by day."
But he is also pragmatic. When his wife was first diagnosed, doctors told them she would live between eight and 10 years. It has been 13 years.
"When my girls ask me about death, I face it squarely."
"I've dealt with what is eventual as a way of preparing myself. I have planned a funeral service because I am a pastor.
"I have chosen the song, written down the people I want to conduct the service. I have written my eulogy of her and it is somewhere in my computer."
Yen-Yen has open conversations with her daughters about death.
"When my girls ask me about death, I face it squarely, 'Yeah, Mama will die one day.'
"The more we talk about it, the more we express ourselves, the more our loved ones know what is on our minds, what we want."
When should nursing homes be considered?
"You need to seek professional medical assessment for this," said Ps Alvin.
He is prepared for the possibility of institutional care for his wife if he can no longer provide her with the care that she needs even though "if I have my way, my wife will die at home".
"In the whole journey of caregiving, we must be client-centred, doing what is best for this person."
Yen-Yen did send her mother to a nursing home for nine months when she had to do her doctorate abroad. She sought her mother's agreement at the time and kept in touch regularly.
"I thought that, since my mum was frail, being in the nursing home was best."
How do we deal with the financial burden?
Ps Alvin relies on government schemes for caregivers. With government grants, he has been able to obtain the necessary for his wife – wheelchair, hospital bed, sit-up chair, wheelchair ramps – for a fraction of the cost.
He also encouraged sharing the financial burden with family.
"Sometimes, it's painful. But I am showing my girls how to spend within or below our means. In the long run, it will help them."
"Within the family setting, we should not apologise about talking about how to share in the caring of the person that is still part of our family.
"Please talk about it. At least you know what other resources you have when you are really in need."
For Yen-Yen, managing the financial strain included giving up her car in 2019.
"After letting it go, I am so happy taking the bus. I started to realise what is necessary and what is desired.
"Sometimes, it's painful. But I am showing my girls how to spend within or below our means. In the long run, it will help them."
To economise, she also buys necessities like adult diapers in bulk.
"Spending habits have got to change."
---
Editor's note: This report is Part 2 of the Salt&Light Family Night episode on caring for caregivers. You can read Part 1 here.
A full recording of this episode is available on our YouTube channel here. You can also watch past episodes of Salt&Light Family Night on the channel.
---
RELATED STORIES:
"To you it's suffering, to them it's love": Caregivers join Salt&Light Family Night for tips on staying strong and sane
Who cares for the caregivers? 70-year-old Auntie Audrey does
Where to get Dr Chia Yen-Yen's book
Indonesian and Chinese copies of So You Would Come are available to Salt&Light readers for free. The book chronicles her journey with God following her husband's first stroke.
Write to [email protected] for your copy.
If you have enjoyed reading Salt&Light...
We are an independent, non-profit organisation that relies on the generosity of our readers, such as yourself, to continue serving the kingdom. Every dollar donated goes directly back into our editorial coverage.
Would you consider partnering with us in our kingdom work by supporting us financially, either as a one-off donation, or a recurring pledge?
Support Salt&Light