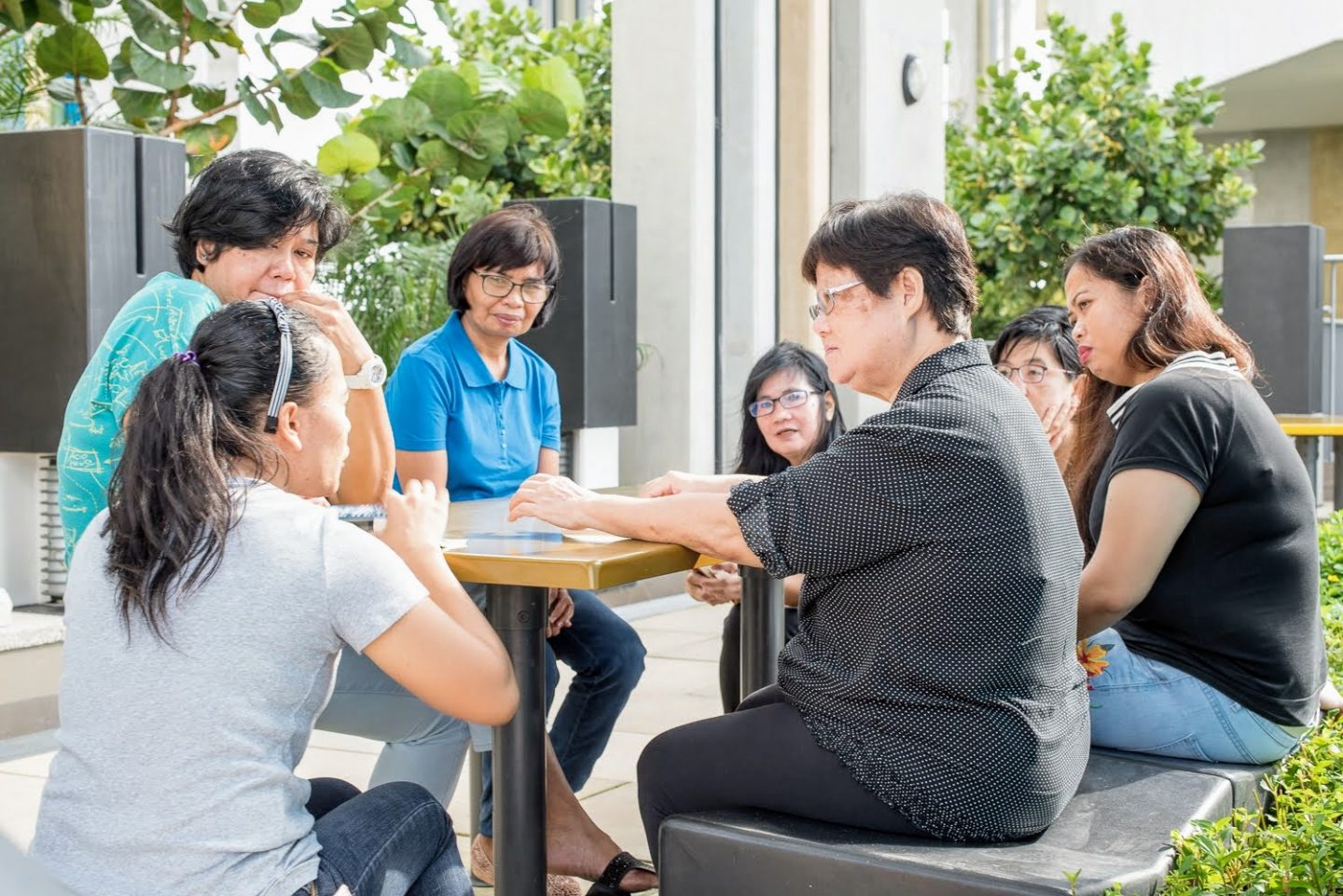 Audrey Lai and her ladies group at SkyVille. They meet for worship and Bible study weekly. The group adjourned here after receiving a flyer about the availability of the garden deck at SkyVille for public use. Photo by Glen Goh.
Gusts of wind blow across the sky gardens at Dawson's SkyVille.
Perched on the 47th floor you get an unblocked bird's eye view of the lush surroundings, a rare sight in our concrete city.
It is only 8.30 am and some women are huddled round the table in the public garden deck. They are not there to enjoy the view but are engrossed in conversation, completely oblivious to the cleaner who is sweeping nearby and a lone jogger who has just finished his run.
Each person has a booklet and a smartphone Bible lying open on the table – it's a Bible study session in the park. And the women's accents are unmistakably Filipino.
Every Thursday these women, who work as caregivers, settle in their charges (all special needs students) at the Rainbow Centre, Margaret Drive, before crossing the road to Dawson's SkyVille.
Usually 10 to 12 of them gather, but today there is a special school outing and some had to chaperone their charges during the excursion.
Most caregivers would wait at school daily for a good three to four hours. While the students attend class, many of the carers while away their time in tsismis (gossip in Tagalog) until the bell rings for dismissal. This routine repeats daily during the school week.
"I told God, 'It took you seven years to answer my prayer, but it is good waiting!"
But Sweet Berte, for one, is glad for the weekly Bible study. "We are always  inside in the school, sometimes we get tired of waiting. Here, we get encouragement and learn the Word of God."
She has been coming to the group since it started in 2016.
Audrey Lai, or Auntie Audrey to the ladies, leads the Bible study.
Her grandson, Jaymin, is enrolled at the Rainbow Centre. Auntie Audrey is also a lay leader at her local church, Oikos, in Geylang.
For the 70-year-old grandma, this Bible study is God's answer after a seven-year wait. 
A face in a dream
When she first accompanied her grandson to the school, Audrey had lamented: "Why, God, did you send me here to waste my time! All these women were yakking away. Everywhere was just noise. So I would go to the Queenstown Public Library nearby, but there is only so much time you can spend in a library."
In the meantime, God was also stirring another fellow believer's heart – Cristin Talastas, a veteran Filipina caregiver who has worked in Singapore for more than two decades.
Cristin first met Audrey in her sleep.
"I had a dream of an old lady, and the Lord said to ask her to pray for my son. When I went to school, I saw Auntie Audrey sitting in the corner and I said, 'I think I dreamt about you, can you pray for my son?'" 
Audrey prayed along with Cristin until her son in the Philippines had the breakthrough he was seeking.
In one of their casual conversations, Audrey remarked that Cristin had a mission to accomplish in Singapore.  
That thought stuck with Cristin.
"When I went home, I was thinking, 'What does Auntie Audrey mean, what mission?' Then God whispered to me to start a Bible study group in this school. My mind said I cannot.
"If they don't have the strength, wisdom and motivation from the Lord, it can be difficult to be a caregiver to a special needs child."
"Whenever I walked through the school door at 8:15 am, I would think, 'All these girls are so noisy so early in the morning.' Then God would whisper again, 'Why not approach them, and tell them to pray first before talking?'"
It took Cristin three years before she finally mustered enough courage to obey the soft whisper.
She recalls: "That day, I talked slowly to the girls who were sitting there. I said, 'Hello, we spend so long hours in the school, why not we do this, before we started talking and talking, why don't we start with some prayer first?'  
"Marites was the first one to say yes. At the time I thought, 'Wow, God is good!'"
Victory was sweet. With that, she approached Audrey and the rest, as they say, is history. 
Still with a trace of excitement, Audrey chimes in with her part of the story.
"When Cristin said, 'We are ready', I immediately went to buy all these Bible study books. Everyone  has a book and it's easy because they can go home and work on their lesson plan. When we meet we discuss the notes they have written down.
"I told God, 'It took you seven years to answer my prayer, but it is good waiting!"
Maid to matter
As the main caregiver for her own 13-year-old grandson for most of his life, Audrey understands these maids' plight and what they go through as the main caregiver to a special needs child. 
"It can be very tiring; sometimes you feel like giving up. What more for a maid? If they don't have the strength, wisdom and motivation from the Lord, it can be very difficult.  
"If the maids are strong in the Lord, they can help our community better. 
"So even if the employers may be mean, they will look up to God and believe that their reward is not just in the salary, it is in Heaven, and for His Kingdom's sake.
"By encouraging them, I myself feel encouraged because at times I also have my meltdowns."
There are others who, although not part of the Bible study group, also ask Audrey to pray with them.
"One girl approached me and said, 'Grandma, you are a Christian, can you pray for my problem?'
"She had been in Singapore for 16 years and never had a day off. Her birthday was coming and her friends had asked her out to celebrate her birthday. She asked her employers for half a day off and they told her to bring the boy along. Their son is wheelchair bound and had tubes all over. The maid just stood there and cried.
"I said, 'Don't worry, just celebrate your birthday with Jesus. But you must do one thing: Forgive your employers for they know not what they are doing.'
"Some parents don't even bathe or touch their special needs children for that matter," Audrey adds quietly.
The tough nut
This spunky septuagenarian is already casting her net wider.
"I'm praying to reach out to their employers. I have their names on my prayer list!"  
For Audrey,  it is the change in lives that brings the most satisfaction.
Several girls have been water baptised since the group started. But the first was the most memorable. 
Marites, the first to say yes to have prayer, also proved to be a tough nut to crack.
"She got angry with us when we started worshipping. She would say chay (a sound of disgust) but she was also the first person to be water baptised in the group. You see, God works wonders! The 'worst' one is always actually the best one to be converted!" Auntie Audrey chuckled.
Sisters all
While many Singaporeans may not spare a thought for this transient group of people, Auntie Audrey is very proud of them and includes visiting Filipinos in their Thursday itinerary. 
"Go home healthy, minister to your families and share what God has done."
"I want them to appreciate their own Filipino sisters. I would get them to come to pray for the group and edify one another. The goal is that we complement one another and that's it."  
More than just play a supporting role in these women's lives, Auntie Audrey has a motherly concern that speaks from her heart.
"You are not sold to us, you are not slaves for us. Money is not the end of everything. We don't want you to go home sick. Go home healthy, minister to your families and share what God has done."
If you have enjoyed reading Salt&Light...
We are an independent, non-profit organisation that relies on the generosity of our readers, such as yourself, to continue serving the kingdom. Every dollar donated goes directly back into our editorial coverage.
Would you consider partnering with us in our kingdom work by supporting us financially, either as a one-off donation, or a recurring pledge?
Support Salt&Light