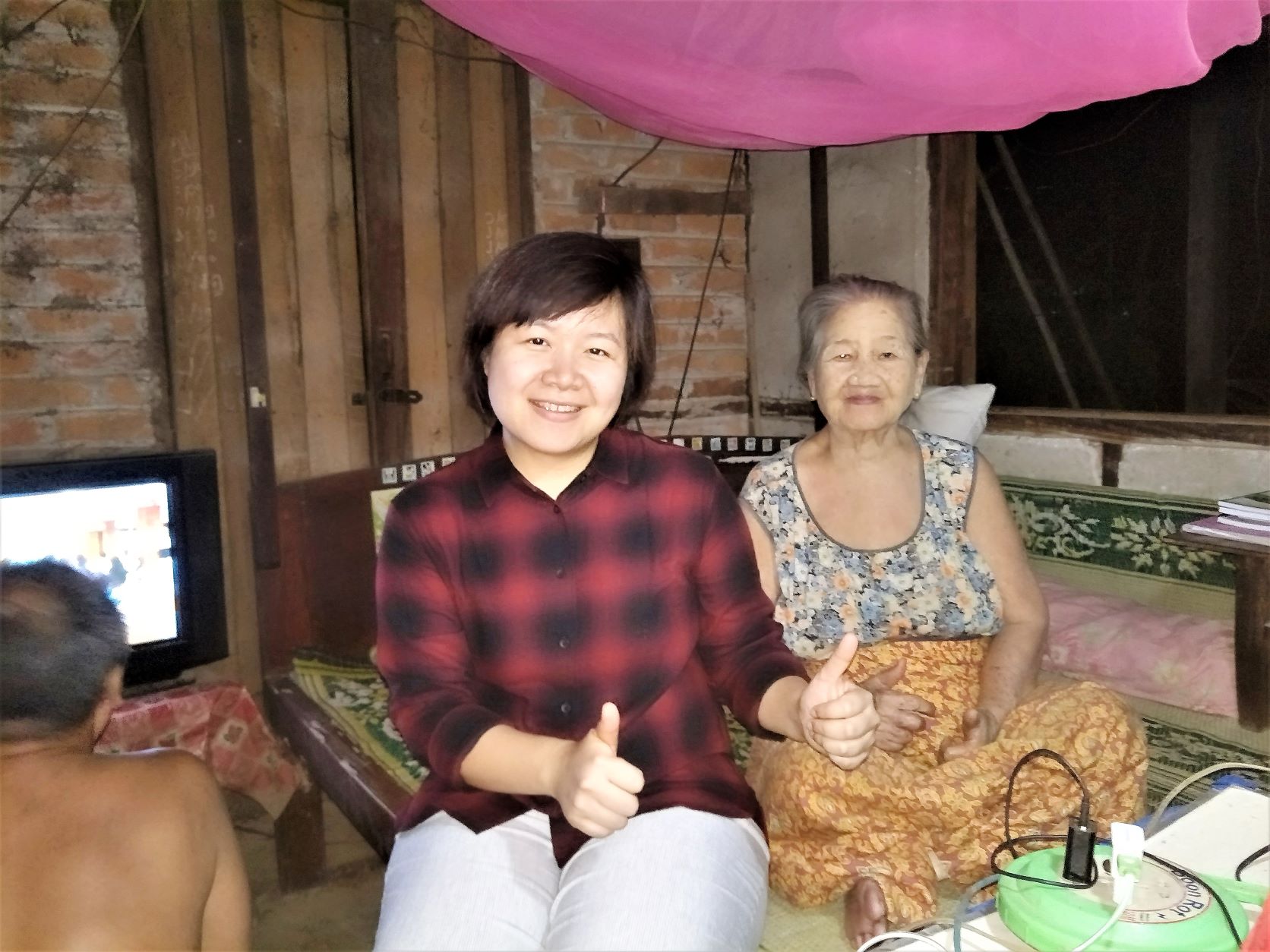 Nurse Nan Hnin Ei Phyu with her grandmother on one of her visits home to Myanmar. Her grandma was among those who contracted Covid-19 during Myanmar's deadly third wave which saw hundreds dead daily. All photos courtesy of Nan Hnin Ei Phyu .
The last time Nan Hnin Ei Phyu went home to her family in Myanmar was in 2018. She did not know it then, but that would also be the last time she would be with her 94-year-old paternal grandmother.
The Assistant Nurse Clinician at the Singapore General Hospital (SGH) has lived in Singapore since she came in her teens to study nursing at the Nanyang Polytechnic.
Before the pandemic, she would return to Myanmar for a visit every two years or so, but Covid-19 put paid to that.
"My grandmother was very healthy. She would go to the market and cook for the whole family.
"Grandma would put on her Sunday best and wait for the bus to take her to church every week without fail."
"She was a midwife and had worked very hard her whole life. Maybe that's why she was so fit," said Nan, 38.
Then, Myanmar experienced a deadly third wave of the pandemic beginning in June this year and her family became part of the surge of confirmed Covid cases.
Her younger siblings – a brother and a sister – came down with the virus separately. Nan suspects they may have caught it at work. Grandma, who lived with her brother, contracted Covid next. This was in late July.
While Nan's siblings recovered quickly after 14 days of quarantine, Grandma became very ill.
"She couldn't go to the hospital because they didn't accept patients older than 90 due to the lack of space.
"They gave her antibiotics and oxygen. At first, two litres, then five and then 10. But she still couldn't breathe."
The once-active nonagenarian who would put on her Sunday best and wait for the bus to take her to church every week without fail in pre-Covid times could not even get out of bed.
"She was a very faithful old lady although her hearing was not very good."
Then faith arose
Worried and feeling helpless, the family turned more to their faith.
Though they are Christians, as are most of the Karen tribe to which they belong, Nan said that theirs had always been a more perfunctory faith.
"She was happy. I thank God for that or we would be even more devastated."
"Because they couldn't send her to the hospital and had to manage her at home, they felt so lost.
"The only thing they could do was pray for Grandma, pray for peace, read her Bible verses, play her hymns."
By then, Grandma could no longer speak but seemed content to be surrounded by family, listening to sermons and worship songs.
"She was happy. I thank God for that or we would be even more devastated."
Immersing themselves in God's Word and in fervent prayer changed the family.
"Through the process, I can see their hearts were softened," said Nan.
Nan's father, usually a temperamental person, mellowed. "His tone of voice changed, too, and he learnt to surrender to God."
"My grandmother's oxygen level had dropped to 60%."
Nan's younger sister matured as she looked after their ailing grandmother. "She now reads the Bible more and prays more, not like before," said Nan.
After a few weeks, Grandma looked like she had turned the corner. Her appetite returned. But just as suddenly, she became so weak that she could not be roused.
The family called for the doctor but he told them that there was nothing more he could do for her. They simply had to make her comfortable.
"My sister called me via Zoom that day. My grandmother's oxygen level had dropped to 60%. The whole family was there.
"As we talked to her, she tried to open her eyes. I could see her gasping as she tried to breathe even though we were giving her the highest level of oxygen – 100%."
Grandma had not eaten for two days. She was so frail that they could not even find a vein to give her an IV drip.
"In front of my eyes, she slowly stopped breathing."
Love in action
Nan is one of thousands of Myanmar nationals working in Singapore separated from their families at home, not only because of the pandemic, but also because of the political turmoil following a military coup in February.
She is one among the many foreign nurses who make up a third of the overall nursing workforce in Singapore. Although she works in the neurological ward and does not treat Covid patients, nurses like Nan remain vital.
With so much manpower needed to manage Covid patients, hospitals count on healthcare workers like her to plug the gap elsewhere.
In Nan's church here, consisting of Myanmar nationals, many have lost at least one member of their family to Covid.
But while Nan is alleviating the healthcare needs of Singapore, there is little this nurse with a degree in Neuroscience can do for her own home country. She cannot even go home.
Already among one of the more fragile Asian nations, Myanmar's healthcare system is now buckling under the strain of the most recent wave of Covid-19 infections.
The effects are felt even here in Singapore. In Nan's church, which is attended entirely by Myanmar nationals, many have lost at least one member of their family to Covid.
"But there is change through this. Hearts are now softened to obey God. In the past, our minds are full of wanting to achieve.
"But suddenly, we all feel like if God didn't allow us to live, we would not be able to move even a step forward. There is a return to a reliance on God."
There has also been an increase in love for others, given how fleeting life is. "If I see this person today, maybe tomorrow I may not. So, how am I going to treat this person?"
The socio-political turmoil in Myanmar has compounded the uncertainties.  
"There is change through this. Hearts are now softened to obey God."
Months after the military coup in February wrested power from a democratically elected government, Nan says bombings, blackouts and gunfire are still regular occurrences in the cities.
"In the beginning of the coup, we were sad for our country. We felt lost and angry when we read Facebook news articles about the situation.
"But there was nothing we could do but bring our frustration to God in prayer and send them support."
Like many of her Christian countrymen, Nan did ask God why He had not protected Myanmar more.
Instead, God showed Nan His love in action. "We saw a lot of people from different places, different groups, coming up to support the people in need. It was heart-warming.
"This world is a temporary place. This is not the end. From the Word of God, He has said that He meant it for good for those who believe in Him.
"I know that God will do the best thing for the Myanmar people in His time."
God's precious jewels
These new perspectives have strengthened her belief that nursing is more than a job, it is a calling to display God's love.
"I strongly believe that this (award) is not just about me. "I'm representing the whole healthcare team."
"When I start to put an eternal perspective in my workplace, then almost daily, I ask myself, 'How should I respond in a way that obeys God?'"
But that had not always been her view of nursing. In fact, nursing was not something she aspired to at all.
"I wanted to be a doctor. But it would have taken too long and cost too much."
At the time, Singapore was sponsoring students studying Nursing. It became a convenient option for Nan who was looking to study abroad.
But as she worked as a nurse, God began to change her heart.
"On one of the Nurses' Day, God spoke to me that nursing is a calling and that I was called to serve, heal, save, protect, advocate and teach.
"Sometimes even our supervisors at work may not see. But the Lord sees it all."
"Since then, I have been so grateful to the Lord for this job that can impact many others and that can give me the opportunity to receive eternal rewards daily through the service."
In July, Nan was among 125 nurses who received this year's Nurses' Merit Award, an accolade conferred on nurses who have displayed noteworthy and exceptional performance, participated in professional development, and contributed to raising the nursing profession.
"To receive this in such a challenging season especially with the Myanmar situation, and having experienced so much heartache, I strongly believe that this is not just about me.
"I'm representing the whole healthcare team, be it from my church or outside who are foreign nurses. I feel like God is patting us on our shoulders and telling us to press on fulfilling His call in our field.
"He is near and He sees us in our actions and motives even if sometimes even our supervisors at work may not see. But the Lord sees it all."
This seems to be a fulfilment of a prophecy given to her church.
"A pastor anointed in the area of prophecies shared that he saw a our pastor with a bag of jewels around her neck which she then scattered.
"When our pastor received this, she wondered what these jewels represented since most of the people in the church were not rich, we are mostly nurses.
"Then, our pastor realised that the jewels were NLCC members, 80% of whom are us healthcare staff. 
"In this season, healthcare workers play a precious role. We are needed everywhere, not just in Singapore."
---
MORE STORIES ON MYANMAR:
Myanmar Christians here raise funds to support church in their struggling homeland: "No more crying, we have to do something"
"Help! We can't breathe": Pray for Myanmar, struggling to get oxygen as dead bodies pile up
Humanitarian crisis in Myanmar: The anguish of a nation on the brink of civil war
"Brothers and sisters in Christ, please don't forget about us," plead embattled Christians in Myanmar
If you have enjoyed reading Salt&Light...
We are an independent, non-profit organisation that relies on the generosity of our readers, such as yourself, to continue serving the kingdom. Every dollar donated goes directly back into our editorial coverage.
Would you consider partnering with us in our kingdom work by supporting us financially, either as a one-off donation, or a recurring pledge?
Support Salt&Light