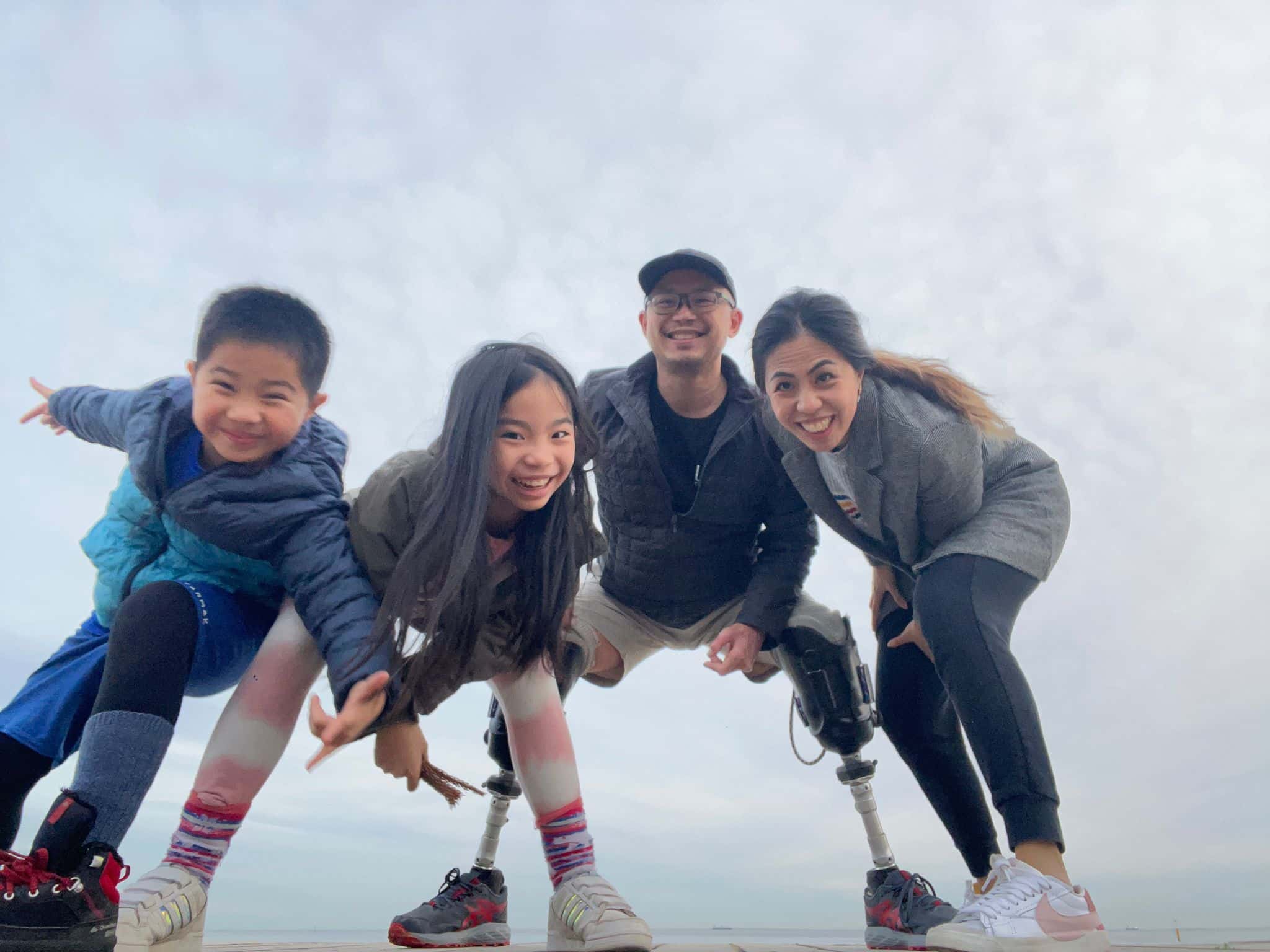 Jason Leong and his wife, Ruth, (right) and their children enjoy playing together as a family. Photo courtesy of Jason Leong.
One afternoon, in a moment of sheer spontaneity, Jason Leong gathered his two children and, together with his wife, Ruth, organised an impromptu water bomb fight.
They got water balloons and had a wet and wild time as a family.
"It was special because, for that moment, all of us put aside our roles and got lost in play," said the 44-year-old.
"My son and I enjoy roughhousing. Pretend play, even the physical sort, is a great opportunity to bond and learn about wielding strength appropriately." 
"Pretend play is a great opportunity to bond." 
This commitment to physical play for Jason is all the more admirable because of what he has been through. He lost both legs below the knees and a finger on each hand due to a serious bacterial infection.
The infection led to gangrene, the death of tissues in his body because of a lack of blood flow to those areas. Over the course of a few months in 2019, he had to have parts of his limbs amputated in 10 surgeries to save his life.
But Jason was determined to bounce back. With the loving support of Ruth, he went through countless hours of physiotherapy and occupational therapy. The former PE teacher can now jog and squat with a 40kg weight, participate in high-intensity training sessions five days a week, and return to the sports he used to love.
All this has allowed the hands-on, intentional dad to push boundaries when it comes to connecting and playing with his children, aged eight and 10.
Play as a family
Apart from these spur-of-the-moment activities, Jason and Ruth also block out one night a week to have extended family play time with the children. They are intentional about bonding this way despite the fact that there are challenges.
"My kids really appreciate when my wife and I put aside everything and enjoy their company."
Said Ruth: "The kids are getting older and are spending more time pursuing their own interests. Sometimes, they have classes up to three to four times weekly. Coupled with schoolwork getting more challenging, it leaves little time for extended play."
But the Leongs are persisting because they believe in the benefits of play as a family.
"I think my kids really appreciate when my wife and I put aside everything and enjoy their company," said Jason.
Growing tomatoes and more
Mother of two, Han Jia Min, 34, is another parent who has purposed to enter into the world of her children to forge a stronger relationship with them.
Her daughters, aged three and five, were really interested in gardening. Despite confessing to "the lack of green fingers" and having little interest in plants, the family decided to grow tomatoes at home. Now, they have a thriving tomato plant.
"All these play moments that we've shared become topics for conversations to take place."
Her girls also love role play, something Jia Min finds difficult to relate to as an adult. But she was willing to step out of her comfort zone. She saw how important it was to engage in activities her children enjoyed. So, she has put up home dramas where they enact stories from the books the girls have read.
Said Jia Min: "All these memories of interesting play moments that we've shared become topics for conversations to take place, strengthening our bonds.
"By engaging in free play with my children, I can better understand my children's likes and dislikes, and support them in their areas of interests." 
Step out
This Children's Day (October 7), Focus on the Family Singapore has launched a campaign, Capture the Wonder, to bring play back into homes. With the tagline "Play It Your Way", this year's campaign (September 23 to October 7) encourages parents to celebrate their children by scheduling time to play. It also aims to resource and equip parents with ideas to rediscover the joys of parenting through play.
There are parent stories, bite-size social media content and inspirational videos. The 20th anniversary parent-child video, Take Time To Wander, features four parent-child pairs. Each takes on challenges and questions to highlight the importance of having parents step out of their comfort zones to grow and spend quality time with their children through deepened connections, conversations and play.
A digital resource called The Playfull Guide: How to Rediscover the Joys of Parenting Through Play is available, too. It features parenting tips on the benefits of play, creative play ideas for parents of different strengths and in various seasons of parenting, and The Playfull Game Map downloadable which is full of parent-child conversation starters and fun activities. 
"When parents immerse themselves in their child's world of play and imagination, they get to bond and build irreplaceable memories." 
Parents can also use the Play is Bao-werful Instagram filter to engage in creative, interactive play.
This second edition of the guide is complimentary for the first 1,500 parents. Thereafter, parents can access the material for an indicative donation of any amount. This pay-it-forward initiative encourages parents to gift other parents the opportunity to be equipped and encouraged in their parenting journey through future campaigns.  
CEO of Focus on the Family Singapore, Joanna Koh-Hoe, said, "With increasing mental health challenges among youths, strong developmental relationships between parent and child are critical preventive and protective factors for our children's socio-emotional well-being.  
"When parents immerse themselves in their child's world of play and imagination, they get to bond and build irreplaceable memories towards their child's holistic growth.    
"What may be seen as 'child's play' can even help us loosen up as parents and enjoy life a little. It is an important reminder for us adults about what really matters in life."
---
RELATED STORIES:
Fun ways to engage the kids when you can't go out this June holiday
If you have enjoyed reading Salt&Light...
We are an independent, non-profit organisation that relies on the generosity of our readers, such as yourself, to continue serving the kingdom. Every dollar donated goes directly back into our editorial coverage.
Would you consider partnering with us in our kingdom work by supporting us financially, either as a one-off donation, or a recurring pledge?
Support Salt&Light