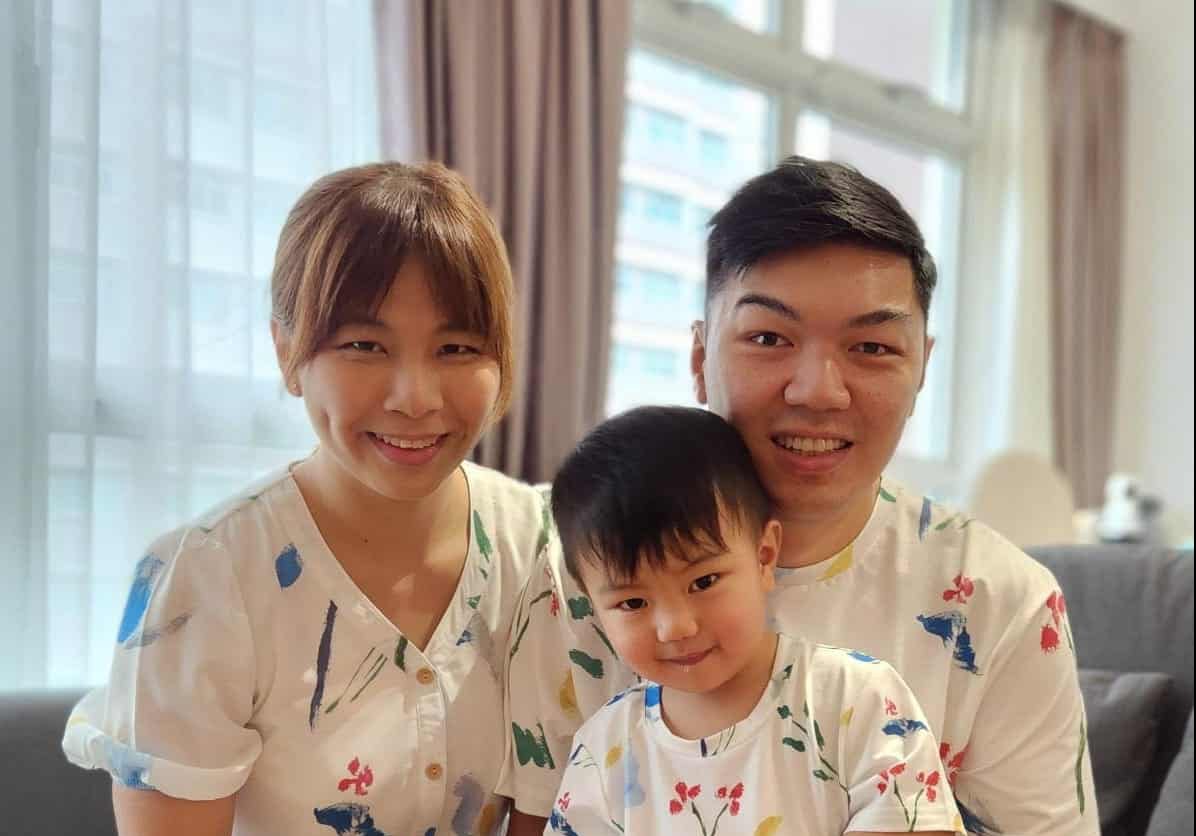 Dr Eileen Ong with her husband and son. Her motherhood journey is one of seven stories told in this year's Focus on the Family Singapore's Mother's Day campaign. Photo courtesy of Dr Eileen Ong.
As a paediatric emergency doctor, Dr Elieen Oh sees children every day.
"I've always loved kids and have been good with them. It felt natural to be a paediatric emergency doctor, and I thought I would ace motherhood," said the 32-year-old. 
But her own motherhood journey had a bumpy start. She did not get pregnant after trying for about a year and was diagnosed with subfertility, a condition marked by difficulty conceiving. 
"I kind of knew it, being a doctor myself. But it was a big blow to me when I received the news. I struggled with feelings of denial and despair."
Eileen's motherhood story is one of seven that appears in mama-zine The Stories We Get to Tell. The digital magazine filled with tales of joy, despair, loneliness and strength that make up the tapestry of motherhood is part of this year's Mother's Day campaign (May 5-15) by Focus on the Family aptly dubbed One of a Kind Mum.
What followed for Eileen was intense fertility treatment. But she still did not get pregnant.
"I felt like I needed to hang on because soon after I got married, God gave me a vision that I would have a son and his name would be Jairus." 
"I thought I knew all about taking care of a child. But becoming a mum showed me how much I didn't know." 
Eileen was asked to consider either IUI or IVF.
IUI or intrauterine insemination involves putting sperm collected directly into the uterine cavity. IVF or in-vitro fertlisation is a procedure in which the egg is fertilised in the lab before being transferred into the uterus.
Then Covid swept through the globe, making it difficult for her to go for her O&G appointment. What looked like a setback at first turned out to be a blessing. She got pregnant naturally a month later.
But when it was time for Eileen's son to be born, the delivery took 36 hours because he was facing her front instead of her back, making it difficult for him to pass through her pelvis. In the end, she delivered him by C-section.
"Being a paediatrician equipped me with medical knowledge. I thought I knew all about taking care of a child. But becoming a mum showed me how much I didn't know." 
No best way to be a mother
As part of the Focus on the Family campaign to affirm and celebrate mothers for who they are, mothers are invited to be honest and vulnerable with their stories, and to be kind to themselves and fellow mothers. 
Said Focus on the Family Singapore's Chief of Strategy, Vicky Ho: "In giving voice to each unique story we have as mums, we are weaving together a collective tale of beauty and strength and helping ourselves and each other find meaning and hope."
Amelia*, whose story also appears on The Stories We Get to Tell, is one mother who went through several challenges and found meaning in her struggles.
At 36 weeks pregnant, her womb caved in and suffocated her baby. The devastating loss made her question: "Why me? Why do I have to go through all this when others can have a smooth pregnancy?"  
"In order for our marriage to be strong, God must be at the centre of it."  
In their grief and search for an answer, Amelia and her husband ended up blaming each other. Though they managed to extract themselves from the downward spiral, they would encounter more tragedy that would threaten their marriage.
Nine months after their loss, Amelia became pregnant again.
"I felt a sense of heightened stress and fear that the same thing would happen to me. I had a fearful anticipation of what was to come".
At 32 weeks, her baby's heartbeat weakened. Despite an emergency C-section during which she had seven bags of blood transfused into her, she lost her baby. The medical procedures set the couple back by more than $20,000. The financial stress and emotional burdens were so heavy that the couple found themselves on the brink of divorce.
"We were drifting apart and sin was creeping into our lives. There was spiritual warfare and there was even the temptation to want to have an affair.
"We knew that in order for our marriage to be strong, with a child or not, God must be at the centre of it.  And if eventually we want to be parents again, we needed to work out our issues and problems."
Through mourning and counselling, they slowly learnt to live with their losses. In 2021, despite delays brought on by Covid, they adopted a child. Their son is now three.
Let's rally around mum
Apart from the e-magazine, Focus has resources to remind mums of how far they have come and of the community behind them.
Bite-sized reminders, videos and podcasts are available on the website for mothers to take time to encourage themselves and feel seen and heard in their motherhood journey.
"I entered motherhood with what really felt like a broken body."
Such pick-me-ups are especially important because motherhood can be an isolating journey, especially when life takes a rough turn.
Joy Lau, 33, a gymnast-turned-business-owner and mother of two girls with another on the way, experienced Hyperemesis Gravidarum (HG) in the first trimester of her pregnancies. Because of the severe form of morning sickness, she lost 10kg in just two months.   
"Neither my family nor colleagues who were much older knew about HG and thought I was just having the usual morning sickness.
"It was so bad I could not even keep the antiemetic medications down long enough for them to start working. Even a sip of water would trigger the nausea." 
"This year's campaign aims to encourage mums to own their individual journeys." 
While delivering her firstborn, Joy haemorrhaged and lost so much blood that she required a blood transfusion.
"In recovery, my tailbone throbbed in pain, making sitting almost impossible and whenever I went to the bathroom, I would pass massive blood clots even weeks after being discharged.
"I entered motherhood with what really felt like a broken body."
To rally around mothers, family members and communities have the opportunity to Take A Moment for Mums. The flyer has suggestions on how to love mums through small acts of support and appreciation. The practical and fun list of activities and suggestions rally the community to surround and support mothers.
Said Vicky: "As mums, it is easy to compare ourselves with other people, and question if we are doing enough. This year's campaign aims to encourage mums to own the individual journeys we've been on, and to celebrate the strength and growth that have already taken place." 
*Names have been changed for purposes of privacy.
---
RELATED STORIES: 
"Rainbows only come after the storm": Singer who composed Mother's Day song after son's medical scare
If you have enjoyed reading Salt&Light...
We are an independent, non-profit organisation that relies on the generosity of our readers, such as yourself, to continue serving the kingdom. Every dollar donated goes directly back into our editorial coverage.
Would you consider partnering with us in our kingdom work by supporting us financially, either as a one-off donation, or a recurring pledge?
Support Salt&Light