Rudy Taslim and Lam Bao Yan with visually impaired children at a school they helped scale up in Rwanda. All photos courtesy of the Taslims.
Lam Bao Yan and her husband Rudy Taslim could have lived the high life. But they did not.
They could have stayed put in Singapore, he running his architectural firm Genesis Architects and she managing the business aspect of the company. But they did not.
"People always think of fruitfulness as productivity and efficiency. But to God, intimacy is fruitfulness (John 15:5)."
Instead, they have made the world their home, not for personal gain but for the good of those in need.
When Russia invaded Ukraine, they answered God's call to enter the country and help the people left behind.
But the Taslims did not need a war to get them halfway around the world.
For nearly a decade, they have had ministries in Africa – Congo, Rwanda, Mozambique – as well as Borneo while working their jobs in the marketplace.
Their mission has been to help the poor, weak and abandoned.
While Rudy uses his skills as an architect to build schools, homes and even airstrips, Bao Yan uses her expertise in running a business to keep the schools going as well as manage programmes for various ministries.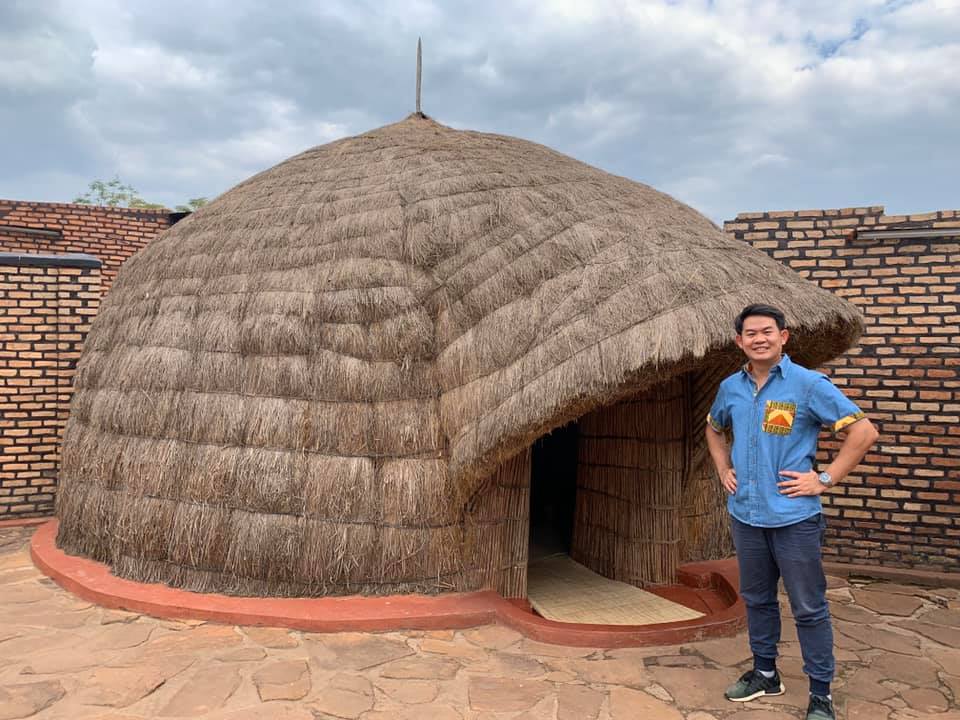 How they ended up in the world's second largest continent is a tale of twists and turns, and of God's unusual assignments.
"Unless the Lord speaks, we have no plans"  
Bao Yan was a teenager when she became "sold out" for God.
In her 20s, she and Rudy, who were dating, enrolled separately at Heidi Baker's missions school in Mozambique, Harvest School. Missionary Mama Heidi is known for her work there caring for orphaned and abandoned children.
At the school, they learnt how to do missions in a revolutionary way.
"Heidi is all about being a laid down lover of God – the more you lay down, the greater your intimacy with God. For her, intimacy is fruitfulness. The closer you are to God, the more fruitful.
"People always think of fruitfulness as productivity and efficiency. To God, it is not like that. To God, intimacy is fruitfulness (John 15:5)."
So instead of going out into the mission fields first, they would often spend time simply being with God.
"We would just worship the whole day, face down, flat out, no plans. At first, I thought: I didn't come to Africa just to do this. 
"Everyone asked, 'What is the plan?' She would say, 'Unless the Lord speaks, we have no plans.'"
One day, as they were worshipping and waiting on God, Heidi told them that God had told her to take the boat out.
"Just like that. It was so random. But we did it."
"We had waited the whole day with no plans. Suddenly, there was a plan and it was so ugly."
The team took the boat out and midway through their journey, the boat started to sink. Their guitarist had to hold his instrument above his head to save it from water damage.
"We had waited the whole day with no plans. Suddenly, there was a plan and it was so ugly."
Everyone made their way to shore and, to their surprise, there were tribal people there waiting for them.
Until their boat had capsized, the group had been on their way to that very group of tribal people. But they had gotten lost and were, in fact, heading in the opposite direction. Now, here the pygmy tribes were at the beach, waiting for Heidi and her team.
That day, Heidi preached to them and the whole village prayed to receive Christ.
"She taught us: Man's plan may not work but God's plan will. So no one can boast that it was our planning."
Sitting under a tree to wait
Lessons on waiting and listening sank in deep for Bao Yan and Rudy.
It was at Harvest School that God had called Rudy to Rwanda.
"Heidi was saying, 'Ask God for a people group, a nation to reach out to.' And Rudy had a vision in which he saw many hills and ladies with baskets. In his heart, he just knew it was the nation of Rwanda.
"So he went to look up Rwanda and found that Rwanda was known as the Land of a Thousand Hills.
"Then God brought back a memory of his favourite stamp when he was young. It was a large stamp of Rwanda with a picture of lions on it. Years before, God had already planted the idea of Rwanda."
Neither Rudy nor Bao Yan knew anyone in Rwanda who could get them an inroad into the country. But they went anyway in obedience. As they were taught in Mozambique, so they did in Rwanda. They simply waited on God.
"Ask God for a people group, a nation to reach out to."
"We sat under a tree and waited. We told God, 'We are here. If we heard You right, then You show us. If we heard You wrong, at least we tried."
They sat under the tree for a few days and then they heard God tell them to go on a safari.
"It didn't make sense. We were there for the people, not animals."
But again, in obedience, they went.
The ride to the safari took six hours and throughout the trip their guide shared the Gospel with them. Rudy and Bao Yan had been told to be careful when in Rwanda so neither said very much to the guide.   
On the six-hour ride back, the guide continued to share the Gospel and then he asked if they would like to receive Jesus as their Lord and Saviour.
"It was then we told him that we were Christians. He gave us a look like: Why did you let me go on and on?"
As it turned out, the guide was also a pastor. On their return trip, he pointed to one of the hills and told them that it was at that site that the first revival in Rwanda had taken place in the late 1920s.
"He told us, 'You must visit the church in this place.'"
Just like that, Rudy and Bao Yan had a way into a ministry in Rwanda.
A God-appointed connection
When Rudy and Bao Yan went to the ministry in the hills, they found a whole community there. 
"I felt God speak to me, 'I sent the first missionary in the late 1920s. Now I am sending you.'"
There was a hospital, a school and a very famous church. For a country as impoverished as Rwanda, this was a phenomenal achievement.
Said Bao Yan: "I felt God speak to me, 'I sent the first missionary in the late 1920s. Now I am sending you.'"
The place had never had visitors, and Rudy and Bao Yan got invited to speak at their church service.
In a church building that had no roof, no doors and no windows, they taught God's Word. When they were done, the congregation left eggs and sugar cane at their feet.
"I asked them, 'Why are you putting these at my feet?' They told me it was their offering and tithe. This was their first fruits.
"With what is given, the pastor would sell the produce in the market and buy bricks to build the church brick by brick. My honorarium was two eggs."
Rudy and Bao Yan stayed in Rwanda for three weeks, preaching in many churches.
On the Sunday before they were set to leave, several bishops came for the service. Among them was Bishop John Kabango Rucyahana, arguably the most prominent and effective leaders of the country.
Bishop John is not just a respected spiritual figure, he is a well-known political one as well. He is the President of Rwanda's National Unity and Reconciliation Commission and played a monumental role in reconciling the nation after the 1994 genocide.
That was the year nearly a million of the country's eight million people were killed over 100 days in an effort to rid the small African nation of Tutsis, one of its main ethnic groups.
Bishop John asked to speak with Bao Yan and Rudy after the church service. Not realising who he was, the couple postponed the meeting to 8am the next day because their schedule was packed.
"It had to be eight in the morning because we had to go to the airport after that. We didn't realise that he lived two-and-a-half hours away and had to leave his house at five-ish to get to us.
"He told us that, when we spoke in church, he felt God say, 'Connect with them. There are plans for Singapore and Rwanda through them.'
"We were like, 'Oh wow!'"
This was in 2016. Bao Yan and Rudy have since been working in Rwanda setting up schools to nurture the next generation.
God's care for his little ones
God also led the couple to a woman who started a community for blind children.
Her own child had been born blind. In Africa, any disability is considered a curse. Children born blind are routinely abandoned in the wild to die.
"This woman has a heart for these children because of her own child. The children who come to her are the ones who have been abandoned in the hills.
"By the time they come, they would have had broken arms and legs, they would have been attacked by animals. They are so traumatised they cannot speak," said Bao Yan.
Bao Yan and Rudy helped her scale up her school for blind children. It now cares for 300 children.
"Within three months of being in her school, these children who could not speak at first can sing and speak.
"I met one boy whose name means 'I am able' and he sang, 'I might not be able to see, but I can see your heart'."
Another of Bao Yan and Rudy's ministries in Rwanda is with the Historically Marginalised People (HMP). They make up between 0.2% and 0.4% of the population. Their plight has moved the couple.
"I met one boy whose name means 'I am able' and he sang, 'I might not be able to see, but I can see your heart'."
"They are impoverished. Intermarriage amongst close relatives has resulted in them being smaller in size and has affected their IQ. It also made them vulnerable to diseases. If a disease strikes one, it strikes them all.
"They live in trees and caves because they think they are not worthy to touch the ground," explained Bao Yan.
Ostracised, they are a closed community. They do not work but forage instead to survive.
The Taslims' outreach to the HMP involves running a vocational school for them so they can learn a skill and find a job to support themselves.
Because of how the Taslims have seen God lead them in Africa, being called to unexpected ministries far from home has been nothing surprising for the couple. Though they have given much, they are careful to emphasise that all of it has been God's doing for His name's sake.
Said Bao Yan: "God is not looking for the exceptionally gifted people or the extraordinary, just laid-down lovers of Christ who will bear His glory with humility, and not take it for themselves."
---
RELATED STORIES:
She wanted to be a missionary but God let her pull out foot-long worms from children's feet instead
"True courage stems from my hand in His": Missionary Jemima Ooi on being tender-hearted to those who hurt in Africa
What serving in Africa during the pandemic taught this doctor about sacrifice
If you have enjoyed reading Salt&Light...
We are an independent, non-profit organisation that relies on the generosity of our readers, such as yourself, to continue serving the kingdom. Every dollar donated goes directly back into our editorial coverage.
Would you consider partnering with us in our kingdom work by supporting us financially, either as a one-off donation, or a recurring pledge?
Support Salt&Light