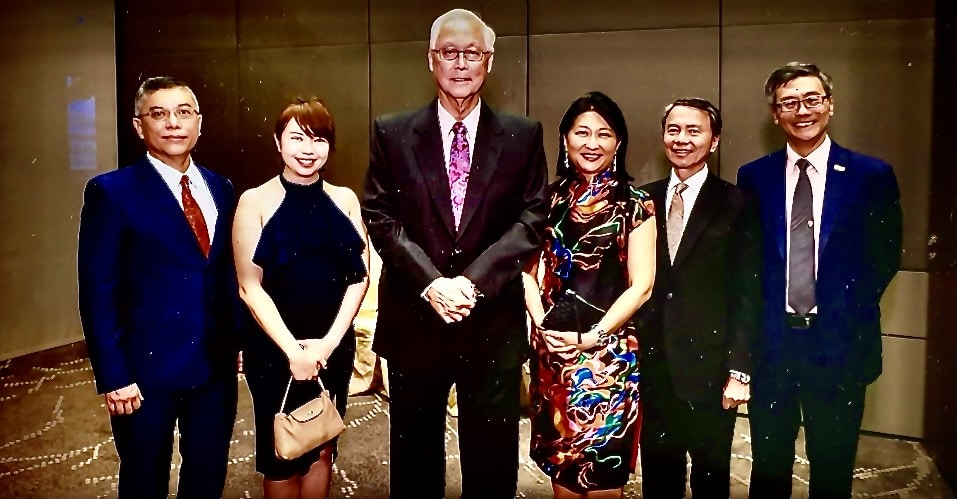 Junie Foo (third from right) with Emeritus Senior Minister Goh Chok Tong (fourth from right) who received a lifetime achievement award from the National University of Singapore Faculty of Arts and Social Sciences in 2018. Junie is on the faculty advisory board. All photos courtesy of Junie Foo unless otherwise stated.
As a political science major in university, Junie Foo aspired to be the first female ambassador to Japan.
God would send her there – but via a different route.
"You are already a leader if you're helping the rest of the group to make decisions."
The student of Japanese politics entered a Japanese essay writing competition; in three hours, she had to write on the future of Singapore. It won first prize and was picked up by the Japanese Association in Singapore. A general manager at a Japanese bank read it and offered her a job even though she did not have an accounting background. 
"I was an accidental banker," said Junie, now 54.
Junie would go on to break the Japanese glass ceiling in 2015 and became the first non-Japanese and the first female in management of the corporate banking division of a bank.
She stayed in the industry for a good 28 years before switching gears and moving into the social service sector as Executive Director (now CEO) of Methodist Welfare Services (MWS) in 2018.
Diplomatic banker 
Junie's gift of diplomacy would come into play on the first day she was posted to the head office of a Japanese bank after three years in its Singapore branch.
She was the first Singaporean in the international programme which was reserved for graduates of Japanese universities. It was the 1990s. She was then 26 and tasked to write a strategy for developing non-Japanese business for Asia.
"You don't have to be aggressive. You can be gentle, firm and assertive."
All female employees of the bank were expected to wear the company uniform.
"The only person who doesn't is an American lady," she was told.
Respectfully but firmly, she stuck to her guns.  
"I told them that in Singapore, it's different. If you don't mind, I will continue to wear what I usually wear.
"They were probably quite upset with this 'rebel' from Singapore. But really, I thought that it wouldn't reduce my identity or my capability," she shared.
As a female foreigner in a largely masculine, competitive world of banking in Japan, Junie found that it was crucial to stand up for herself and what she thought was right. 
She went on courses to equip herself and gave herself milestones to reach.
Her bosses and teammates could see that she was good at her job and that clients appreciated her sense of responsibility, gentle firmness and maturity despite her youthfulness.
She believes that "the eyes of the Lord are on the righteous and His ears are attentive to their prayer".
"When you swim with the sharks, you really do need to stand up for yourself. You don't have to be aggressive. You can be gentle, firm and assertive."
As a corporate banker, there were occasions where she had to extricate herself from potential knotty situations. 
While she was not as close to God as she is now, she is thankful that God has always been faithfully watching out for her. She believes that "the eyes of the Lord are on the righteous and His ears are attentive to their prayer, but the face of the Lord is against those who do evil". (1 Peter 3:12)
At one bank, an insecure boss hurled expletives at her.
She firmly told him not to swear at her, left the office and went home feeling horrible.
"I prayed to God, asking him to send a helicopter down to save me. It was a very toxic environment," she recalled.
God answered her prayers and opened another door for her.
Flourishing women 
In 2011, Junie co-founded and chaired BoardAgender, an initiative of the Singapore Council of Women's Organisations (SCWO). BoardAgender has been advocating and creating awareness of the benefits of having more women in senior leadership positions.
Junie launched this initiative together with two other senior women in the community when she learnt that female representation on Singapore listed boards was only 6.4% at that time.
She was also conscious that many capable women had sacrificed their careers to care for their elderly parents or for their children. So whenever she was able to, she hired women who had taken a career break; a good number flourished and became successful leaders in their own right.
Looking to the next generation
God would send Junie on a "tour" of French, American and British banks overseeing the regional business in Singapore before her final stop at a Japanese bank.
"That was where I felt much closer to God because I was seeking Him a lot."
Around that time, Junie increasingly felt the desire to make a social impact.
By His grace, she became the first non-Japanese and the first female to join the management team at the Japanese financial institution. This was a breakthrough. In the past, all senior positions were filled by non-Singaporeans.
"That was something significant. It was a milestone for me as I could be a role model for the younger people."
The following years were not all smooth sailing and Junie faced many challenges in the competitive industry, including conducting a retrenchment exercise. All left her feeling emotionally drained. (See her story below.)
From corporate banking to working with the needy and vulnerable: Junie Foo on the privilege of sacrifice
It was then that God called her to her next assignment: MWS in the social service sector. 
"It was as if God was saying, 'Okay, you want to do something socially impactful?'"
Walking the ground
Both in banking and now in social services, Junie was thrown in the deep end and had to learn on the job to understand the landscape. 
Completely new to the social service sector, she walked the ground to understand the professionals and the work that they did – along with their challenges and the needs of their clients.
"I went with the social workers and the home care nurse to visit the clients' families to see how they arranged the medication. I needed to understand my staff and their work on the ground."
At one of the MWS nursing homes, Junie met a resident who was born blind and deaf.
"Every day she would just sit down, rock herself and fiddle with her shirt. All I could do was tap her on her shoulder to let her know that somebody's there. I just sat there with her for 15 minutes."
It was an emotional moment for Junie.
With a better understanding of the organisation and needs of beneficiaries, Junie was able to revamp certain segments and spearhead new initiatives.
"For instance, we are training our social workers on trauma-informed care so that they are able to ask the right questions to identify adverse experiences and apply the necessary interventions to build resilience."
Trauma care addresses the physical and emotional safety of an individual.
"We are also going upstream to help families before they become distressed," she said.
In July 2022, MWS will be starting Strengthening Families, a programme that provides marriage and divorce support.   
All to God
Junie believes that leaders can be "over-glorified".
"You really need that first follower to follow you before you can become a leader," she said of a concept she came across in a video. 
"My role is really to bring everyone together. If we progress, we progress together."
"Everyone is a leader as long as you have a sphere of influence. In any occasion or circumstance, you are already a leader if you're helping the rest of the group to make decisions.
"Great leadership has the potential to excite people to achieve phenomenal levels. And when that happens, it's beyond performance, it's about meaning."
Junie sees great potential in harnessing the collective spirit, especially in the social service sector, of people passionate about doing good.
She works closely with her team and relates to them as equals. Many of them have valuable long-time experience in the sector.
"My guiding principle is to remain true to myself but conforming enough so that we have the majority consensus. I cannot just go my own way and leave the rest of the team behind. My role is really to bring everyone together. If we progress, we progress together."
A biblical leader Junie looks to is Joseph. "He had integrity, grace, discipline, humility. He was wise and a strategist.
"But most importantly he was faithful to God and attributed all to God."
---
This is the fourth article in a series of Leadership Conversations by St Luke's Hospital (SLH) and is republished in a collaboration between SLH and Salt&Light.
Check back soon for perspectives from other leaders who were invited to inspire SLH staff in their personal and professional development.
---
MORE STORIES IN THE SERIES:
"When somebody tells me it can't be done, I would take it as a challenge": Jason Wong on transforming lives of families, former offenders
"If anyone does anything differently because of your influence, you are a leader": Dr Tan Poh Kiang, who ran 200km to lead by example
If you have enjoyed reading Salt&Light...
We are an independent, non-profit organisation that relies on the generosity of our readers, such as yourself, to continue serving the kingdom. Every dollar donated goes directly back into our editorial coverage.
Would you consider partnering with us in our kingdom work by supporting us financially, either as a one-off donation, or a recurring pledge?
Support Salt&Light