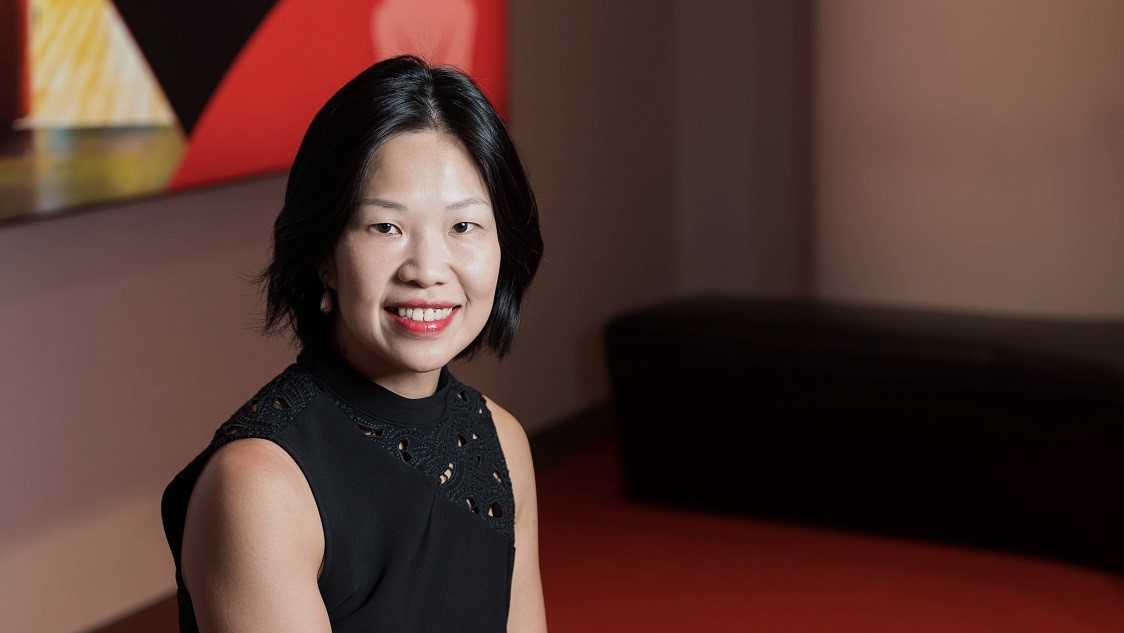 "When I look at my life today, I don't think I could have imagined that this is what it would look like," said Claire Wong, Head of DBS Foundation. Photo by Glen Goh.
Claire Wong helms the DBS Foundation, championing social entrepreneurship in Asia.
In 2019, the Foundation was the inaugural winner of the Social Enterprise Champion (Corporation) award. The recognition from the President's Office honours business organisations' contribution to the local social enterprise sector.
Salt&Light sat down with 44-year old Claire Wong to talk about her faith that keeps her anchored as a business leader in the marketplace and, at home, as wife and mother.
As a product of Sunday school, Wong knew the Lord as a child. At 19, with an EDB (Economic Development Board) scholarship to the London School of Economics tucked under her belt, she was pursuing the Singapore Dream but not quite God's plan for her life. She relates to Salt&Light how getting on board with God's agenda changed the way she now lives every aspect of her life:
Was there a turning point in your life?
I was a typical Singaporean student, definitely very driven by results. 
"If I was really a Christian, then there should be some change in my life priorities."
At university, I saw many friends become Christians and, their lives were changed but I didn't see that same change in my own life. I was still pursuing the same things as before – the perfect grades and a good career. I questioned if I was really a Christian.
The final year of my master's degree (MPhil, Economics, University of Cambridge) was very difficult. My course-mates were either having mental breakdowns or were so driven by the need to pursue the course. It made me think if chasing that piece of paper was really that important.
God used that to help me see that, if I was really a Christian, then there should be some change in my life priorities. Getting good grades should not be the only, and topmost, thing in my life.
God challenged me: If I truly believed in Jesus and wanted to follow Him, He had to be the Lord over my life and, in my decisions and priorities. I needed to trust Him, not in myself.
That was a turning point in my life.
How do you bring God's purpose to work?
Christians sometimes struggle with their purpose at work, it's like: "I'm just going to get this (the work) over and then I'm off to church for Bible studies at night." But I think the nine hours you spend at work is just as important.
I am a Christian at the workplace as much as I'm a Christian in church.
I tell myself, I'm a disciple of Christ – at home with my kids, at work and at church. I try to use all the opportunities God has given. 
I am a Christian at the workplace as much as I'm a Christian in church. It is about being faithful, bringing God's glory in everything, seeing myself as an ambassador of Christ.
God doesn't compartmentalise our lives – having that mindset changes the way you work.  
"Many of these caring moments can become Gospel moments." 
The key principle in every decision is to consider: How do I love others? How do I lead? Does this please God, does it glorify Him? How do I reflect the Gospel? And then looking for opportunities to share. 
So before I send the e-mail, especially when I'm angry about something, and want to say "something", I ask myself, "Would people be led closer to God or will they be stumbled by what I say?"
It's the motivation, that broader perspective, just thinking about pleasing God as your Master in everything that you do, that makes the difference.
How do you seek opportunities to share at work?
Opportunities come in many forms and could be random.
There was this colleague in my workplace I didn't really know. Someone had told me that there was a tragedy in her family. So when I bumped into her in the toilet, I said: "I heard about this, am very sorry to hear that. If you would love to chat, we can have lunch." 
It was amazing because we did have lunch and I realised another Christian had also reached out and shared the Gospel with her. She wasn't a believer then. So when I came along, I was the next person.
Some of the deepest friendships that I have developed at work come just from reaching out to someone. Many of these caring moments can become Gospel moments.
God's wisdom in secular work – is that possible?
The many decisions at work actually allow us to really seek His wisdom.
"Work situations bring about different things that God uses for our sanctification."
James 3:17-18 talks about wisdom from above. Godly wisdom is about the pursuit of righteousness. It's about loving others, showing care and concern.
Those verses struck me. It reminds me that this is the kind of wisdom that I want in my work decisions. 
The workplace can be very harsh where showing compassion and love are almost alien.
The worldly wisdom is about who wins the argument or deal, even when they are done in the most un-peaceful and unrighteous way. Never mind that, you still won. So, I ask myself: Is that the battle I am fighting?
If you strive to please God, you would leave the things that are not in your hands to Him and, if someone's upset about it, I'd pray that God will take care of that.
Work situations bring about different things that God uses for our sanctification.
How do you steer clear from material trappings?
Material success and education are probably two big idols in our society.
That's not to say that I don't struggle with them, but when you're aware of them, you're more prepared to fight them. While the idols are desirable, I am conscious of the sinfulness that can come.
To live differently, you need to be counter-cultural. The idols in this society are so clear, so it is also very clear when you live counter-culturally, not chasing after the same things.
But being counter-cultural is a very powerful witness of the Gospel.
(To be counter-cultural, was something Claire faced eight years ago, when her husband, Eugene Low, decided to become a pastor. Reverend Eugene Low pastors at Grace Baptist Church. He was formerly the Washington Correspondent for The Straits Times.)
What were your thoughts when your husband went into full-time ministry?
To be honest, I was hoping that maybe God would change his mind! But being honest as well, I wrote out the list of fears I had – the fear of financial insecurity, fears that we wouldn't be able to provide for our children and have the life I had dreamed of.  
"Being counter-cultural is a powerful witness of the Gospel."
I spoke with Eugene and other Christian friends about my list. I went back to the Scriptures, challenging myself, wrestling with and allowing God to change my heart. And He did.
I realised that the list of things I struggled with about my husband's change in vocation were also idols in my heart. God was saying to me then: "Why do you not trust that I will provide?"
The struggle was much about me and God. It was part of my discipleship as a Christian, my cost of following Jesus and not what I'm giving up for my husband.
Throughout the period, I knew that it was where God was leading us to. I just needed to figure out how I could get there, how my heart could be aligned with God's heart, to desire what He desires.
How did you navigate changes in your career? 
On the first of January each year, my husband and I would sit down to talk about our life and priorities, which include work, church, kids, marriage.
"My job decisions have always been made with my husband."
It was in those general check-ins when I would feel God place change in my heart. We prayed about it, talked it out, sought counsel from people and waited to see where God was leading.  
I'm thankful that, as a couple, we take time to talk about my career transitions, what they mean for us as a family, how my husband views it, supports and encourages me. In a way, my job decisions have always been made together, because Eugene also knows that he has to step up when I'm busy. 
The transitions were not easy and the learning curves were steep. But in that time of change I also learned a lot about myself and my faith. I realised that there was still fear of man, and again, that achievement orientation – I really wanted to do well.
I had to turn to God and rely on Him. He helped me to see clearly and to persevere. The verse in Isaiah 41:10 was especially an encouragement during that season.
As a working mum, have you felt absent from your kids' lives?
At times I do. It's really important to always evaluate and re-evaluate. It is also a question of how the kids are doing. Do they feel insecure, or have developmental issues and challenges as a result of your not being there?
It's about being willing to be honest about where things are and submitting to God. As Singaporeans, we hold on to our careers too tightly, such that if God is calling for a change, you are unable or unwilling. I'm not saying it's easy. 
Actually I have been in that season. Eugene had just moved to a different church, I just had my second child and was in a consulting job. I felt things were not in order and I was unable to manage our home.
"I do strongly believe that, if God has made you the mother of your children, only you can carry out the role."
I had to stop and evaluate. It was very hard. I stopped work and didn't have a timeline to it.   
Managing your household has to be a priority, and when you say it's a priority, then you have to figure out how to make it a priority.
As a woman, especially in Singapore, I am aware that I should not outsource the role of being a mother or wife, because I do strongly believe that God has made you the mother of your children and only you can carry out the role.
No one else, not the grandparent, not a helper can.
"Family comes first" tenet has not stopped IBM veteran Janet Ang's rapid rise