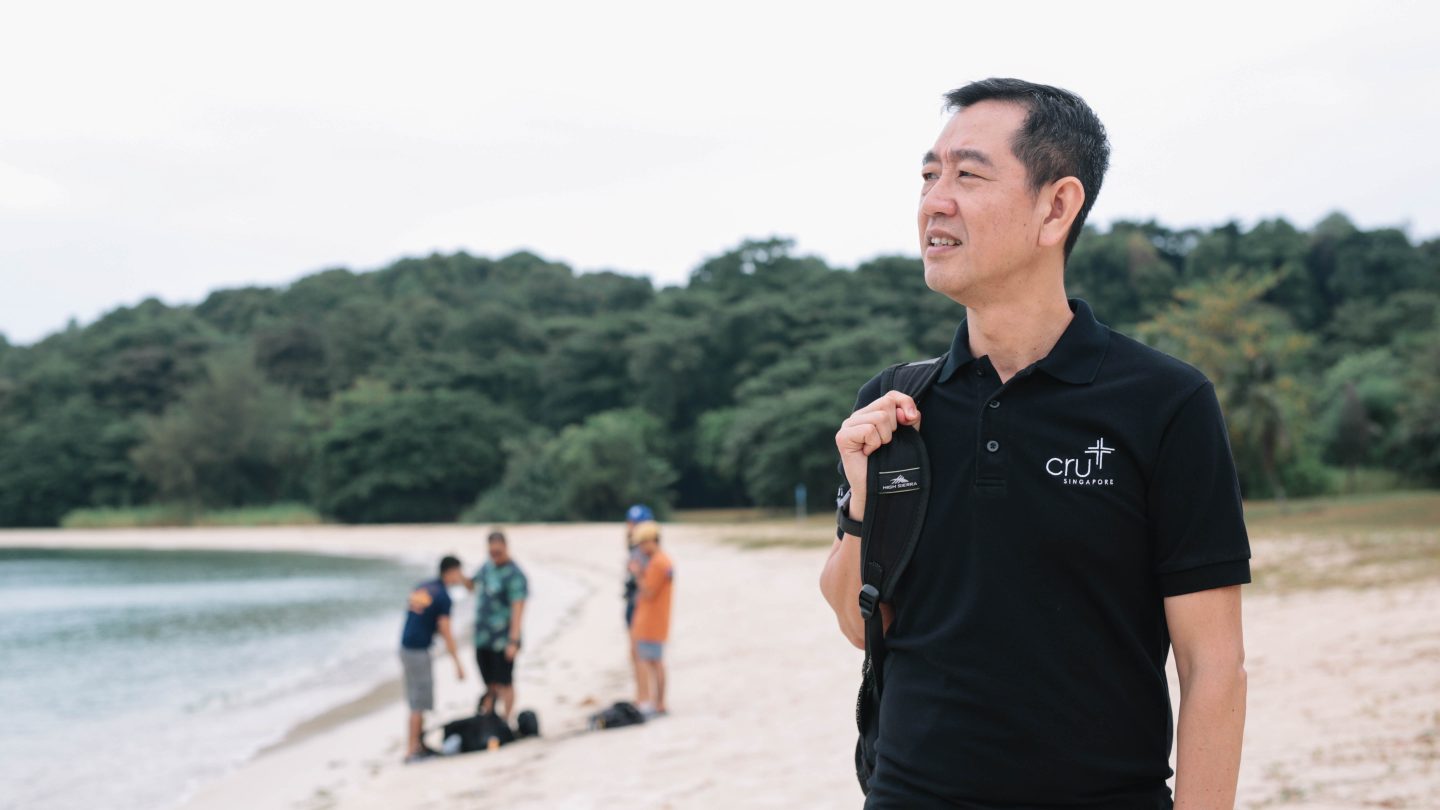 On his last day in the office, Lam Kok Hiang decided to reflect on "the things that I am thankful for and see how long the list can go. That is how I want to leave, with a heart of gratitude". All photos courtesy of Lam Kok Hiang and Cru Singapore.
It may be Lam Kok Hiang's last day as the leader of parachurch organisation Cru Singapore, but most of his papers and books still remain piled on the table and bookshelves in his small and nondescript office, roughly the size of two toilets.  
"I will pack up and move more things another time. There's not enough time," said Lam, 58.  
The time-pressed leader would continue to have a long day even on his last day, although he had also deliberately carved out a pocket of time for reflection.  
The day began with an 8am prayer session on Zoom, before he headed off to office to do some packing up. He then made his way to a restaurant at Marina Bay Sands for a farewell lunch that his successor Goh Hock Chye, 49, bought him, with their spouses in tow.  
After that, he returned to his office for a quiet time of reflection. What was he reflecting on, on this last day in office as Cru's national director of 14 years? 
"I want to think about the things that I am thankful for and see how long the list can go. That is how I want to leave, with a heart of gratitude," Lam told Salt&Light in an interview on his penultimate day as leader of the organisation.  
After that, he made his way to a church meeting, before gathering with his family for a celebratory supper at Swee Choon dim sum restaurant along Jalan Besar.  
There is indeed much to celebrate and give thanks for. Lam's love affair with Cru had begun way back in his National University of Singapore (NUS) days.
Cru, then known as Campus Crusade for Christ, left a "profound impact" on his Christian development as an undergraduate.
Thus, he joined the organisation as his first "job" – though it could hardly be defined as a job, as Cru is known for its model of not giving its staff salaries but having them "support-raise" their salaries from their own networks.
Even through the later years as Cru's leader, he had to raise his own salary.   
That first job was 34 years ago. He has never left, except for a brief stint in the United States for theological studies.  
The reluctant leader 
Before Lam left for further studies in 1995, he was in Cru's campus ministry. When he returned from the United States in 1997, he did mission and training work. Yet his heart was always drawn to discipling and leading students and staff via its campus ministry.
He oversaw the whole campus ministry from 2001 to 2006.  
When his area leader felt the need for a leadership change and asked him to consider being Cru's national director in 2005, he turned down the position – twice.  
He heard God speaking to him about dying to his own dreams and desires about campus ministry.
He had no reason to say "yes" since he enjoyed his campus ministry work immensely and did not see himself as one who naturally took initiative or aspired to leadership.
Who was he to take on so big a role? Besides, he thought, the role of a national director is a generalist one and he did not really want to become a "master of none".  
"If there was a fire and someone had to take the lead and get the fire extinguisher to put it out, I would not be the first to do it. I may be the second, third, or even the last," Lam admitted frankly. 
When the area leader persisted and asked him for a third time, Lam sought the Lord again.  
This time, God led him to mediate on John 12:24: "Very truly I tell you, unless a kernel of wheat falls to the ground and dies, it remains only a single seed. But if it dies, it produces many seeds." 
He heard God speaking to him about dying to his own dreams and desires about campus ministry and to stop asking questions such as "Why me? Aren't there better qualified people?"  
On July 1, 2006, he took up the national director role by faith.  
Though he started out as a "somewhat reluctant leader", Lam recalled the satisfaction of fulfilling Cru's mandate to bring the Gospel to the nations in the first decade of leading Cru. 
In its heyday back then, one third of Cru's staff members were being sent out as missionaries. It was also sending some 300 students a year to eight to 10 nations for mission trips.  
Relevant at every life stage
He also identified two key areas in which Cru needed pivotal change.  
The first was that Cru needed to stay relevant to be effective.
"Being a student is just one phase of life. Next are the other life stages of working and family."
Though Cru was mainly known to others as occupying the campus ministry niche, alongside others such as the Singapore Youth for Christ and The Navigators, he felt that Cru could not remain just as a student ministry.  
"Being a student is just one phase of life. Next, they would go on to other life stages of working and having a family and their needs will change. So there's a need to move beyond campus ministry to reach out to the marketplace and to commit to supporting the whole person by having a range of ministries, whether it is family life or otherwise," he said.  
"This does not dilute Cru's calling, which is about fulfilling the Great Commission. When Bill Bright founded Cru, one of the largest Christian ministries in the world, student work was simply a springboard for evangelism and outreach, though later it became so successful that we became known mainly for campus ministry."  
To address the need to remain relevant, Lam began focusing more on developing its adult ministries in 2008 and pushed for its name to be changed from Campus Crusade for Christ (CCC) to Cru Singapore in 2013.  
"CCC is a very strong brand since its incorporation here in 1972. But the downside is that people still think we are who we were 20 to 30 years ago. Its explicit name can also seem insensitive and may cause access problems when we are doing missions overseas," he said.  
"The Great Commission is a call to impact every generation of society, within and beyond the campus."  
"The name change was more than just a PR and branding exercise. It asked existential questions about identity – who are we? What are we here for?"  
The way he understood the Great Commission, said Lam, is that it is a call to impact every generation of society and to reach everyone within and beyond the campus.  
So Cru began allocating more resources and leaders to develop its adult ministries, such as The Significant Project and FamilyLife Singapore.  
The second key area that Cru needed to work on was in its relationship to the larger body of Christ.  
"Cru was something like a loner, doing its own thing in isolation. Even if others were to come and help us, there was not much reciprocity," observed Lam.  
To help Cru develop more partnerships within the body of Christ, Lam stepped out of his shell and began building friendships with pastors and ministers by attending more pastors' summits and prayer meetings.  
That resulted in greater collaborations over the years and Cru Singapore began to join in major local faith events such as the LoveSingapore prayer summit, Celebrate Christmas in Singapore (CCIS) and the Celebration of Hope rallies.
It also became part of the Fellowship of Missional Organisations in Singapore (FOMOS). These partnerships allowed Cru to both give and receive resources such as manpower and expertise.  
Faith, up close and personal
Along the way, Lam also experienced many other faith adventures with God that stretched and grew him.  
 In 2011, when an earthquake and tsunami led to the nuclear explosion at Fukushima, widely regarded as the second worst nuclear accident in history, Lam was faced with the unenviable task of deciding whether to recall the Singaporean missionaries based there.  
"People do not care how much one does or knows, they just need to know that one cares."
 Though they were based in Tokyo, some distance away from the disaster zone, some leaders and family members of the Cru staff were urging him to make the missionaries come home, in light of their safety. Other stakeholders, however, felt the opposite: The missionaries should remain there because they were there precisely for such a time, to minister to people in distress.  
Lam had to have the courage to make the final call to bring the missionaries home for two to three months, despite facing various disagreements and dissenting voices.  
The next year, Lam found himself having to manage a different kind of crisis. In 2012, an image of its posters put up on NUS campus walls were making its rounds online for the wrong reasons.  
The poster in question was advertising overseas trips to Thailand and Turkey. But netizens complained that it contained insensitive comments about the countries' religions. 
Lam was left to manage the fallout. The organisation issued an apology on its Facebook page, but by then, the episode had generated negative sentiments against Christian groups on campus and it was suspended for a few months.  
All these experiences grew Lam as a leader.
As he reflected on his own learning points from his 14 years of leading Cru, he came up with four key leadership lessons.  
1) Leading well is about loving well  
People do not care how much one does or knows, they just need to know that one cares.  
However, Lam said that one should not be afraid to speak the truth in love, even if that means giving a scolding, as that could be done out of love.  
2) Be prepared to embrace pains and losses
Every leader will bear their own scars on their backs, said Lam. Whatever decisions one makes, there will be disagreements and one needs to have the stomach for that.
For him, his scars were about losing trust and friendships as some relationships turned awkward along the way. There was a time when he was criticised by his staff and leaders over a decision he made on an internal policy, yet he chose not to react.  
3) Leading is about finishing well  
Learn to not only start, but end well. Lam stayed as national director for 14 years as he felt he needed to complete the tasks on his plate before passing on the baton.  
4) A leader must be able to laugh well  
This is inspired by Proverbs 31: 25: "She is clothed with strength and dignity; she can laugh at the days to come."
Whatever challenges or circumstances come at one's way, one needs to have the inner strength to laugh at what is to come.  
A new season
Over the years, what gave Lam great satisfaction was seeing the impact that Cru's ministries made in the lives of people.
In its The Significant Woman workshop series, Lam recalled one woman who could not look herself in the mirror, due to some past hurts. The workshop reminded her that she is a masterpiece of God and eventually she summoned up the courage to finally take a good look at herself in the mirror.
"I know God uses one season of life to prepare us for the next."
Separately, a Filipino professional who went for Cru's The Art of Marriage conference with his wife felt so ministered that he quit his job to join Cru's FamilyLife ministry.  
"This says a lot because his wife was pregnant with their first child then and to join us as staff, he had to raise his own salary or support," said Lam.   
Two years ago, Lam felt his season of leadership was coming to an end.  
The board appointed Goh Hock Chye, 49, whose first involvement with Cru also began way back in his university days at the National University of Singapore. Since 1995, he has been a staff member of Cru Singapore and was appointed the organisation's head of operations in 2006. 
Since the start of the year, he has been serving as its deputy country leader. He is also an Elder at Bethesda (Bedok-Tampines) Church.  
"He is also a 'reluctant' leader. I asked him informally multiple times before he agreed to step up," said Lam with a smile.  
"Perhaps the best leaders are those who are initially reluctant. That is because once they say 'yes', they know what they are in for and what is at stake," he added.  
Cru has to rethink its model for missions, given that borders are closed and visas are hard to come by.
"Hock Chye has a good mind and is not a man-pleaser. Instead, he seeks to do what is right. He is a secure leader and has a generous spirit," said Lam, who first knew Goh when he was an engineering undergraduate at NUS. 
Lam is heartened to have a good leader succeed him, given the myriad challenges ahead.
With the Covid-19 pandemic, Cru has to rethink its model for missions, given that borders are closed and visas are hard to come by.
It is also difficult to connect with polytechnic and university students as most of their classes are online and accessibility to the campuses are restricted due to Covid-19 safety measures.  
In the meantime, Lam is not leaving Cru. He will take on a "leadership mentor" role as well as oversee some projects.  
At 58, he knows the next decade is crucial as it may be his last decade to have the time and energy to advance God's Kingdom in the marketplace.  
"I know God uses one season of life to prepare us for the next," said Lam, who is waiting on God to reveal His plans for him.
---
If you liked this story, you may like these stories on finishing well and empowering the next generation:
Goh Hock Chye to take over leadership of Cru Singapore from October
"He will bring you across the finishing line": Pastor Yang Tuck Yoong on staying the course in Christian ministry
Bishophood not a prize to be won but a cup to be drunk, says Bishop Rennis Ponniah as he prepares handover
From "mom-and-pop clinic" to a voice for migrant workers: Goh Wei Leong takes a farewell look-back (and look-forward) at HealthServe
If you have enjoyed reading Salt&Light...
We are an independent, non-profit organisation that relies on the generosity of our readers, such as yourself, to continue serving the kingdom. Every dollar donated goes directly back into our editorial coverage.
Would you consider partnering with us in our kingdom work by supporting us financially, either as a one-off donation, or a recurring pledge?
Support Salt&Light