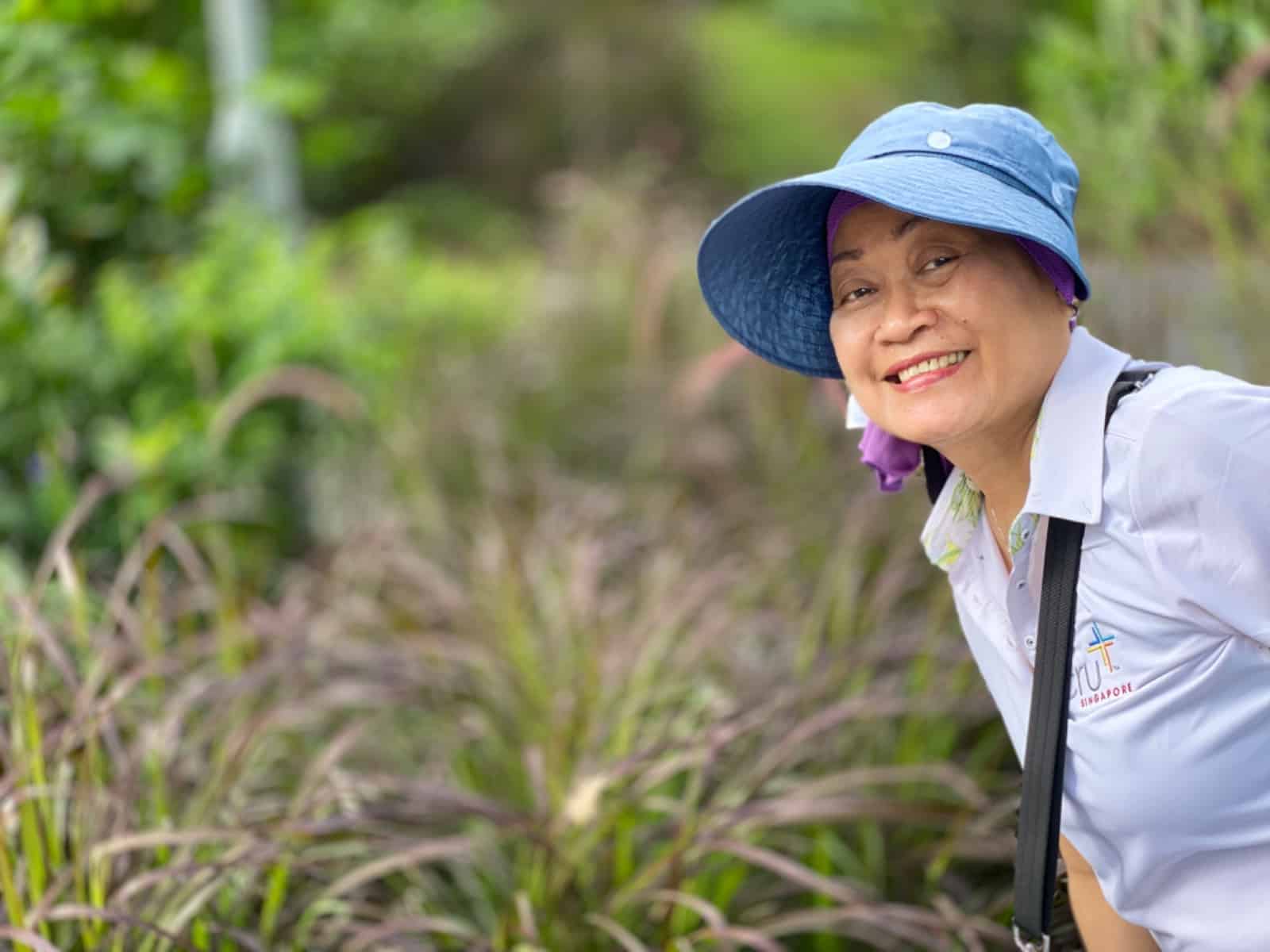 Pauline Lau, one of the longest-serving staff with Cru Singapore, pioneered many of its ministries over the years.
As the evening light faded, then-16-year-old Pauline Lau heard a knock on the door of her three-room flat in Toa Payoh.  
She did not open the door, but lowered the window blinds for a peek to check who the visitor was.  
Cru Singapore staff Nancy Chuang caught her gaze, smiled widely and began talking to her from the corridor outside, through the window.  
Back then in 1973, Cru had a 'Housing Estate Ministry'. Its staff would go from door to door to do surveys on religious attitudes and share the Gospel with those who were open to hearing it.
"I was ready to hear the Gospel then because I always wanted to have the joy and peace that my Christian friends had," said Pauline.  
"I always wanted to have the joy and peace that my Christian friends had."
"Nancy used the analogy of my closed door to explain to me that I needed to open the door of my heart to allow God in before I can have a personal relationship with Him."  
That was how Pauline, now 65, received Christ almost five decades ago.  
Who knew then, that she would go on to join Cru as staff and serve the organisation for the next 45 years.  
Pioneering work 
Cru Singapore is celebrating its 50th anniversary this year. As one of its veteran staff, Pauline has played an instrumental role in its history by pioneering many of its ministries.  
She started its 'High School Ministry' in secondary schools and junior colleges in 1978. Many of the student disciples from that time have gone on to serve God in full-time ministry both locally and overseas, whether as pastors, church leaders, bible school lecturers or missionaries.  
When Pauline became a mother in 1985, she did not stop serving God. However, she knew that serving Him would look different in that season when she mostly had to tend to the needs of her son, Jonathan, at home.  
"God provided me with five neighbours from blocks around me who were all university graduates, believers and stay-home mums for support.
"Together, we pioneered the 'Home Makers' Ministry'," said Pauline, whose husband, Wilson, also became a full-time staff with Cru in 1980. The monthly salaries of most staff with the organisation are fundraised through donations from churches and supporters. 
"We wanted to empower and mobilise moms to first express Christ in their families and then in the communities that God has divinely placed them."   
That meant having groups of mothers in various neighbourhoods meeting together in homes every week, to study the Bible or review various parenting books.
They were also intentional in inviting other mothers and children who had yet to know God to cooking or baking sessions, birthday celebrations, outings, playgroups and phonic classes.  
At the height of the 'Home Makers' Ministry' (now known as the 'WOW MOM' Ministry), there were some 200 mums having home-based ministry in most of the heartlands of Singapore.  
Life transformation and spiritual multiplication came about from the humble ministry. Irene Fones, for instance, was a mother who joined a homemakers' group in Clementi in 1990. At the time, she was struggling with the care of her two young children. She took anti-depressants and had hallucinations.
With the support of fellow mothers, she was freed from fear and stress and went on to lead other mothers' groups.
Other mothers saw their immediate and extended family members coming to know Christ as their own faith grew through participating in the groups.  
Transitions
Pauline served in the 'Home Maker's Ministry' for a decade before handing it over to another mother. She joined her husband, who had become a lecturer at the East Asia School of Theology, Cru Asia's equipping division, to study and later work there.  
"The women found freedom as they surrendered their lives to God."
While she was pursuing her Bachelor's and Master's degrees in the school, she was introduced – through a Cru board member who was a lawyer – to a number of women who were divorced or separated.  
Seeing the need to minister to these women, Pauline started another new ministry called 'Women In Transition' in 1996.  
For a start, about 10 women would meet at her home every weekend in Simei for lunch and discussion on topics such as the healing of hurts. Pauline's husband helped to mind the children while they met.  

"The sessions were often tear-filled but the women found freedom and support as they surrendered their lives to God. In sharing their life stories, they also blessed other women who encountered similar experiences," said Pauline.  
She recalled a time when a woman named Sue Lim, whom she did not know, walked into her home. It turned out that Sue had a miscarriage and was separated from her husband.
Desperate for help, she walked into church one day and heard about Pauline's group. When Sue joined the group, she not only found comfort and healing but also came to know the Lord. Today, she is ministering to children in the United States.  
Despite pioneering multiple ministries and impacting many lives, Pauline was not shielded from trials and suffering in her own life.  
Troubles at home
When her son was in Secondary Four, he started playing truant. He did not do well enough in his 'O' levels to get into the junior college he wanted and ended up having to travel the long distance from their home in the East to Pioneer Junior College in the West.
He was constantly tired from the journey, and also kept bad company in school.  
"Growing up, we did not give him what he wanted – such as a mobile phone and a personal computer (we had a shared computer in the living room). So, he felt deprived and thought we could not afford it as we were full-time Christian workers.
"But it was actually because we did not want him to have these items too early," said Pauline.  
Due to their differences in values and viewpoints, her son felt rejected and often stayed away from home. "On hindsight, instead of correcting him too much, we should have affirmed how he felt." 
Her son did badly in college and could not qualify for a local university. His parents sent him to the Singapore Institute of Management (SIM), where he studied business because he was drawn to the allure of creating wealth. However, his grades were poor and he did not complete his final year of studies.  
Thereafter, he moved out of his parents' house and mingled with friends who played poker. He found that he was very good at the game and began training under a poker coach with the intention of going professional.
Other players hired him to go to countries such as Cambodia to compete. The money was good when he won the games.  
"We prayed a lot for him but we could not connect and communicate much with him."
"There was a clash of values," Pauline shared. "He was proud of being good at the game and earning well from it.
"But to us, it was a form of gambling and a waste of his time. We prayed a lot for him but we could not connect and communicate much with him, especially my husband."   
In Cambodia, her son also got into debt and had loansharks chasing him. Many of his friends there were thrown into prison.  
During that time, Pauline and her husband were also travelling often – shuttling between a country in East Asia and Singapore. Pauline served in the East Asian country by providing care and support for women missionaries there, while her husband led Cru's Human Resource and Leadership Development department.  
Double whammy
In 2010, her husband found himself greatly discouraged by differences with others in handling ministry issues. He was also saddened and worried over his son's waywardness. Weighed down by these stresses, he sank into depression.  
Though he was once a Bible school lecturer for a decade, he began questioning the fundamentals of his faith and became suicidal.  
Pauline journeyed with him by doing Bible study with him, even as he received psychiatric treatment. Seeing her functioning better than him, however, led to a plunge in his self-esteem  and their marital relationship suffered.  
"There were not many people I could share authentically with."
Dealt with a double whammy of having a difficult son and a depressed husband, Pauline was, inevitably, affected emotionally. 
"Though I have the simple gift of faith and trusted God enough to surrender my son and husband to Him, it was not easy. Many times, I found myself crying in my car," said Pauline.  
As a senior staff at Cru, she could not find many people to confide in. "People were stumbled by what was happening to me because some had the expectation that I was supposed to have God's favour, breakthrough and blessings since I was serving Him full-time.
"There were not many people I could share authentically with," she said.  
Wrestling with God 
She also had questions which she wrestled with God over: Why was it that trouble tended to happen whenever she was overseas doing His work? Why was it that the more she prayed, the more wayward and far from God her son seemed to be?  
"God, would you show me that You are still with me?"  
One day, in despondency, she prayed: "God, would you show me that You are still with me?"  
That day, she was running a programme called 'The Significant Woman' in a church in Singapore.  
'The Significant Woman' is a discipleship and life coaching tool that Pauline was first exposed to while serving in the East Asian country. It seeks to help each woman discover her uniqueness in order to deepen her walk with God and discern God's personal mission for her.
Finding it to be an effective tool, Pauline launched 'The Significant Woman' ministry in Singapore when she returned in 2011.  
After conducting the session, she unknowingly left her laptop at a bus stop near the church. Later that same day, she answered a call from a stranger who told her that her laptop had been found and was now in the church.  
"I did not realise I had lost my laptop. What happened was a miracle because the passer-by who picked it up at the bus stop somehow passed it to the church. The staff in the church did not know who it belonged to but a stranger hacked into the laptop to find my contact details and called me," said Pauline.  
"I realised that if God can do it for the situation with my laptop, He can do the same thing for my son and husband." 
The peace of God flowed over her and she knew then that He was watching over her and her family despite the crises they were facing. 
Her husband recovered from the bout of depression after two years. Meanwhile, her son found work in another industry in Cambodia.  
Life experiences 
"On hindsight, God was honing my character. I learnt to be calm, flow along with circumstances and be able to see the light even in difficult times," said Pauline, whose biggest consolation during those troubled times was turning to God's word. 
With these life experiences, she was also able to journey better with the women she was ministering to.
For instance, a number of the divorced or separated women in the 'Women In Transition' group faced similarly challenging parenting seasons with their children. They would hear about Pauline's own need for marriage counselling, and other low and high points in her life, and be encouraged by real-life coaching and mentoring.  
"I learnt to be calm and be able to see the light even in difficult times."
'The Significant Women' programme has been such a hit here that it has been expanded to include other segments of the population under 'The Significance Project' umbrella, such as for men ('Man of Impact') and couples ('The Significant Couple').  
As Cru Singapore reaches its 50-year mark, Pauline hopes the Cru family will grow exponentially to be a multi-generational community that seeks to love deeply and share the Good News globally. 
"We need to stay connected and know the seasons and times, so that we may seize every opportunity to declare His Kingdom on earth," she said.  
Though she is now a grandmother of two, she remains as active as ever. She continues to lead 'The Significance Project' by training, mentoring and coaching its facilitators.  
Life in her golden years has continued to throw her its curveball. Three years ago, just before the Covid-19 pandemic spread worldwide, she was diagnosed with brain tumours that required two immediate surgeries.  
She booked the first surgery for late-January 2020, and proceeded to go on two mission trips in Myanmar and Turkey prior to that as she had already committed to them.  
When she returned, her doctor asked if she wanted to postpone the surgery, as it could not proceed as planned – accessing the tumour through her nose – due to Covid-19 restrictions. Instead, they would have to do open scalp surgery.  
Pauline felt God's peace to go ahead as soon as possible, and underwent a seven-hour operation during which 12 inches of her scalp was cut open.  
Apart from being sustained by the prayers of people from different ministries, Pauline had the blessing of receiving home-cooked lunches and dinners for a whole month from the mothers of the 'Home Maker's Ministry'. They had remained in contact over the last two decades since she pioneered the ministry in 1985.  
With the convenience of Zoom, she was able to ease back into ministry within two months. Later that year, she went through a second surgery to remove the remaining tumour via radiation.  
Through it all, Pauline, one of the longest-serving staff members of Cru Singapore, still testifies to God's faithfulness and grace.  
"His amazing grace and timely intervention, whether through provision or encouragement, is what gives me the strength and joy to engage in ministry not as work, but as a way of life."  
---
This story is part of a special series produced in collaboration with Cru Singapore, which is celebrating 50 years of God's grace in disciple making.
Did you know that there are still approximately 7,400 ethnic people groups that are unreached? Journey together with Cru Singapore to Reach boldly, Build deeply and Send urgently.
Explore opportunities by visiting Cru Singapore's website or following them on Instagram and Facebook.
---
RELATED STORIES:
Waiting on a loved one's salvation? Don't lose hope, says Cru head who baptised mum after 34 years of prayer
Love them, just love them: The missionary couple who prayed their prodigal children home
"I asked my wife to give me permission to end my life": One pastor's battle to come out of anxiety and depression
If you have enjoyed reading Salt&Light...
We are an independent, non-profit organisation that relies on the generosity of our readers, such as yourself, to continue serving the kingdom. Every dollar donated goes directly back into our editorial coverage.
Would you consider partnering with us in our kingdom work by supporting us financially, either as a one-off donation, or a recurring pledge?
Support Salt&Light