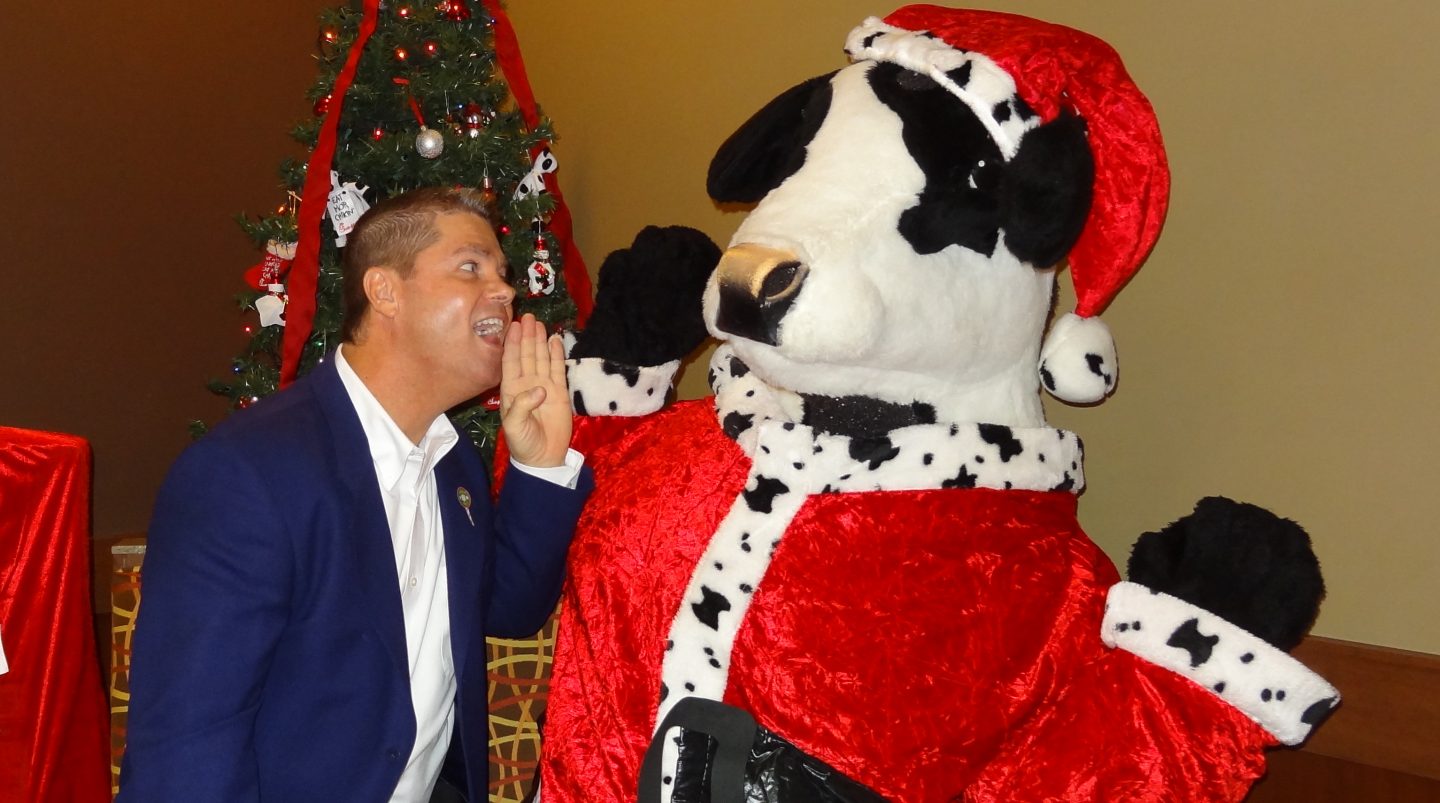 David McGrew with the Chick-fil-A mascot. Photo courtesy of David McGrew.
This franchisee of two Chick-fil-A stores in America used to hate it with a passion.
David McGrew, 58, once stopped to grab a late lunch at a Chick-fil-A outlet that he was passing. But he was utterly disappointed: "The sandwich was so bad and the fries were so cold, I swore I would never go back."
And he didn't – for three whole years.
That is, until 2002, when he was urged by his wife, Kathy, to consider applying to run a Chick-fil-A franchise (which the Washington Post has dubbed as being harder than getting into Harvard University).
Half-time considerations
He was 42 and had just taken a one year sabbatical after he quit his job as the Senior Director of two departments in a large telecommunications company. McGrew travelled often, with offices in Stuttgart, Germany, Milan in Italy and within America.
But a recent promotion had required his family to relocate to New Jersey which neither he nor Kathy wanted.
At the end of his sabbatical, McGrew had decided to start his own business and was on the lookout for opportunities. Kathy knew his dislike for Chick-fil-A, but she was insistent that he should apply for the franchise.
Kathy was a huge fan – unlike McGrew. She loved how family-oriented the Chick-fil-A near their home was and would take their two children there every Monday night when McGrew was away.
So, to appease Kathy and prove why it was a bad idea, McGrew decided to "dig up all the dirt" he could on Chick-fil-A.
Instead of finding anything incriminating, however, McGrew found a strong resonance with the Christian values that founder, Truett Cathy, had incorporated into the business.
18-hour days 
Once McGrew applied, the doors opened one after another. An application process that took up to three years on average, took only six months for the McGrews.
Their franchise opened in December of 2003.
The quick-service restaurant industry was foreign to McGrew. He was an engineer by training with two Masters – one in biblical studies and another in business administration.
"We have a personal vested interest in the people we hire. They become our family."
These were uncharted waters. The learning curve was steep.
"That first year and a half, I worked 110 hours a week."
Six days a week, 18 hours a day – because Chick-fil-A closes on Sundays.
Not long after McGrew found his footing, the sub-prime financial crisis hit America. For 40 straight months, from 2007 to 2010, McGrew's Chick-fil-A saw "negative sales growth".
McGrew said: "With a man, it's all about providing for the family. When I lost my house and had to return my wife's car, it was humbling. Many times, I thought about going back into telecom.
"But I'm not a quitter." So, he hunkered down and focused on developing the business processes.
McGrew explains: "I've got a business degree and my background is in engineering. I re-wrote processes and created modular systems for everything."
In 2010, the month that they saw their first positive sales growth, McGrew executed his business revamp.
"There is no such thing as a Christian business. Christ's blood wasn't shed for any P&L statement. But there are businesses founded on Christian principles."
Over a two-year period, McGrew's franchise went from "basically last place of all the Chick-fil-A chains to the number three in the chain out of 1,800 stores."
Today, they are still in the top 10% of the chain in sales growth and the top 3% for corporate governance.
This year marks 15 years after McGrew's venture into the restaurant business where he now owns two Chick-fil-A stores in Arizona and employs over 150 staff. After the lean years he has experienced, McGrew can hardly be blamed for wanting to enjoy the taste of success. 
But he is not one to rest on his laurels.
"Do I want to make a lot of money?" McGrew asks. "I can make a lot of money, but I don't chase profit."
It is simply not his purpose in life.
His main purpose is stated in the corporate purpose of Chick-fil-A: To glorify God by being faithful stewards.
"We don't call it a Christian business, there is no such thing as a Christian business," McGrew cautions. "Christ's blood wasn't shed for any P&L statement. It was shed for your soul, and mine.
"But there are businesses founded on Christian principles – and that's what Chick-fil-A is."
A balanced stewardship
So what are the Christian principles that governs McGrew's franchises?
Second-mile service is based on the Christian principle of going the extra mile and treating every customer like royalty.
"I would say I'm aggressive. My ultimate goal is to be number one Chick-fil-A franchise owner in Phoenix, Arizona.
"Not in the negative sense," McGrew clarifies. "It's focused energy. If I'm going to do this, let's really do this. And if He has entrusted these Chick-fil-A franchises to me, I'm going to run it the best I can."
For McGrew, that standard of "best" applies to both people and profit.
"That's the power of the 'and'. We have to value the people and the profits equally.
"If you value the profit too much your people suffer. And you'll never get good service because you're dealing with new people all the time. You'll never grow."
He calls this a "create-raving-fans" strategy.
First, the basics: Operational excellence in terms of fast service, a clean restaurant and good food.
Then, second-mile service: A Christian principle to go the extra mile and treat every customer like royalty.
Finally, hiring and training people.
"You've got to treat all your people like they're your next future leaders."
McGrew shared that he realised how working at Chick-fil-A would only be a stepping stone for the vast majority of his employees. 
"But when they leave, I want them to have so many transferable skills that they're gonna go conquer the world in whatever they do."
He puts every full-time employee hired on a development plan where there is constant learning and training for six months. Then they "marinate" and hone their skills before they get a potential raise or apply for a promotion.
McGrew said: "You've got to treat your people like they're your next future leaders – and that's at all levels."
It is difficult to ensure that both people and profits are equally valued. 
Anonymity in a job devalues people, McGrew asserts, quoting from Patrick Lencioni's book, The Three Signs of a Miserable Job: "Are you just a cog in the wheel coming to work doing the same thing every day? You don't get noticed?"
"We have a personal vested interest in the people we hire," McGrew says. "They are not just our employees, they become our family."
McGrew has been to the baby showers, graduations and birthday parties of his employees and he has even bought prom dresses and rented tuxedos for some. "It takes a whole lot of effort, but that's our focus on being a faithful steward – to create this tight-knit family that helps lift our employees up.
"I will do whatever it takes for my employees to succeed (Luke 22:25–26). This is the servant-leadership model we've built on Christ's example."
Tough calls 
And what does he do with consistently-underperforming employees?
"I fire them," McGrew stated unapologetically. "In fact, the lacking element in most leaders is the inability to get rid of the wrong person on the team."
"If I'm going to make a mistake, I want to make it on the side of grace."
McGrew has an acronym "GTTA" (pronounced "gotta") to guide his decision: Goals, Training, Tools, Accountability.
"Those first three: Goals, training and tools? That's on us. If I don't provide them with all three of those, they cannot be successful. I'm managing people and livelihoods; I'm not inclined to fire people. I live by God's grace, so if I'm going to make a mistake, I want to make it on the side of grace.
"But accountability is the most important. And that's to my customers and managers."
McGrew considers it a plain and simple principle in everyday life that is rarely applied to businesses.
"It's not fair for that person to be hanging on to a job that they don't want to work at or put the effort into. And it's not fair to someone who might want a job and can't have it because someone's taking up the position."
McGrew adds: "Often, by the time I fire somebody, my managers are screaming and yelling at me to fire that person."
Dependent on Christ
"A business is a business whatever the front-end 5% that is specific to the business. But we're Christians, we're supposed to serve. For me specifically, it is business leadership. So I'm talking and bringing Christian values into business leadership," says McGrew.
"I am more reliant on Christ than I have ever been in my life."
Coming into Chick-fil-A was a huge change for this clear-headed corporate leader, but it is one he does not regret.
"In the early days, we went through some very rough times. I really hated it," McGrew said. "But I learnt so much. I've learnt more running this fast-food restaurant than in the corporate world or in seminary.
"I am more reliant on Christ than I have ever been in my life. My reliance on Him is tantamount to everything."
That statement, coming from a corporate high-flyer who has also planted and pastored three churches, can only stem from a deep and authentic understanding of servant leadership.
If you have enjoyed reading Salt&Light...
We are an independent, non-profit organisation that relies on the generosity of our readers, such as yourself, to continue serving the kingdom. Every dollar donated goes directly back into our editorial coverage.
Would you consider partnering with us in our kingdom work by supporting us financially, either as a one-off donation, or a recurring pledge?
Support Salt&Light