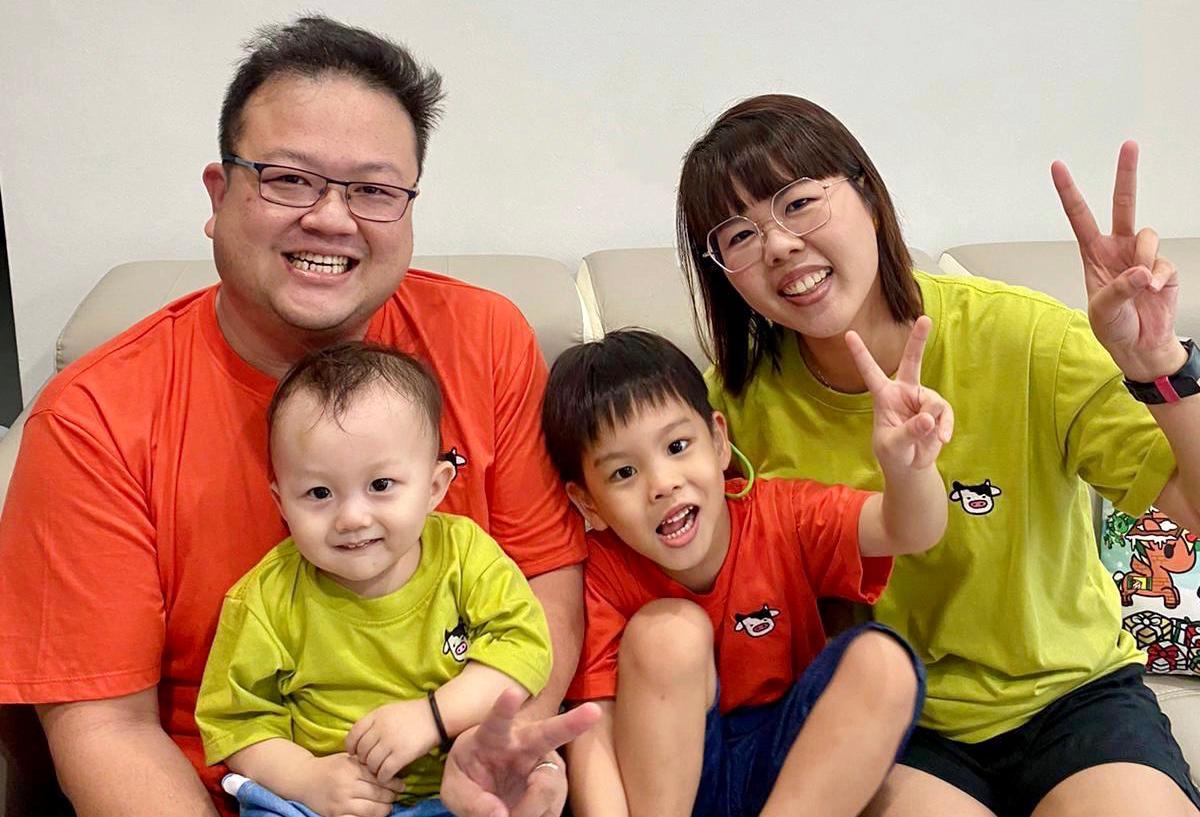 Max Leong and his family in a photo taken earlier this year. At one point in time, Max Leong worked two jobs as a tutor and a private-hire driver just so that he could service his repayments of his credit card loans. Photo courtesy of Max Leong.
For over two years, Max Zechariah Leong worked two jobs as a tutor and a private-hire driver in an all-out effort to pay off his gambling-induced debt of $40,000 which had steamrolled into a hefty $80,000 after bank fees and interest.
In 2018, averaging only four hours of sleep a night, with equal measure of guilt and a sense of responsibility to provide for his young wife and toddler, 32-year-old Max was in a dark place of his own doing.
Conscience override
It started with a seemingly innocent trip to the casino with a friend in 2015.
That night, Max went home starry-eyed and flush with winnings. It was easy cash, he thought then. He just needed a few more "good" visits to set him up.
One visit led to another, and Max soon became a gambling addict who financed his addiction by drawing down loans on his multiple credit cards. Despite having grown up in a Christian family and knowing God, the temptation far outweighed the quiet promptings of his conscience.
The downward spiral
As his addiction intensified, his debts grew.
The temptation to gamble is a reality because gambling comes in very varied and accessible forms.
Multiple attempts at curbing his gambling failed and it was only when his credit card loan was rejected that Max realised the truth of his situation.
It was the wake-up call he needed.
After seeking professional help from Credit Counselling Singapore, Max gave his wife full control of his finances and started working towards paying off the debt that he had racked up.
With the extra income Max earned, doubling up as a Grab driver on top of his tutoring services, the couple worked through one bill at a time. They paid off the last of their debt in April this year.
Keeping to the grind
"I'm not someone with a lot of determination," Max admits matter-of-factly. "But God sustained me."
 "I would be very foolish if I fell again – I don't dare to think about it."
Through the support he received from his wife and community to the wise counsel of mature Christian friends who stood by him – and refused to lend him money that would enable his addiction – Max sees how the hand of God has guided him.
And it still does, because the temptation to gamble again is a harsh reality. Refusing to admit that is "as good as challenging the devil", he acknowledges.
Though he has a self-exclusion in place at the casino, gambling comes in very varied and accessible forms, Max points out. (To protect from getting addicted to online betting or jackpot machines, individuals can opt for self-exclusion from gambling venues/services.)
 "I would be very foolish if I fell again – I don't dare to think about it. But there's this verse in Zechariah – my middle name – that says: 'Not by might, nor by power, but by My Spirit.' (Zechariah 4:6)
"It's not easy, I must trust God to lead me through this journey."
Biblical principles and practical advice for those in debt
Max's experience is not unusual. 
According to the Monetary Authority of Singapore (MAS), rollover credit card debt in the last quarter of 2020 is estimated at $5.4 billion. While it was down 15.4% compared to the last quarter of 2019, the percentage of defaulted balances against the total credit also reached a six-year quarterly high of 9.1%. 
Help groups have seen up to double the number of problem gamblers seeking help.
In August last year, CNA reported that some help groups have seen up to double the number of problem gamblers seeking help after the Covid-19 Circuit Breaker period, when betting outlets and casinos resumed operations. Experts warned that this might be the tip of the iceberg, as some addicts turn to illegal means to feed their addiction. 
Rev Vincent Lee from Adullam Life Counselling, a Christian social service agency that helps those mired in debt, says: "Our beliefs shape and frame our actions, so it is very important to form beliefs that are biblical. The Bible, the Manual of Life, is a great place to start."
He shares some advice on how to escape debt from the story of Elisha and the widow's oil (2 Kings 4:1-7):
1. Seek help
One day the widow of a member of the group of prophets came to Elisha and cried out… (2 Kings 4:1)
First, seek the help of the Almighty God who is in control of everything including our situations (2 Chronicles 29:11-12, Romans 8:28).
Second, seek help from godly counsellors who are able to help specifically with debt-related problems.
Seeking counsel from the wrong sources might get you into more trouble.
2. Know your creditors
But now a creditor has come, threatening to take my two sons as slaves. (2 Kings 4:1)
Take ownership of the issue and be clear on the details of your debt: What is the full amount owed? How much are repayments and when are they due? What are the fees and interests being charged?
3. Take stock of what you have
"Tell me, what do you have in the house?" "Nothing at all, except a flask of olive oil," she replied. (2 Kings 4:2)
Shift your focus to the resources you do have instead of just looking at the amount due to be paid.
What help can you get? Even family support and love helps the person in debt. What can you do to raise money? For example, you can sell unused items or work part time by using a skill like driving.
It is helpful to create a personal financial statement which will give you a better overview.
4. Exercise faith by following the instructions given
So she did as she was told … and she filled one after another. (2 Kings 4:5)
"Debt is not an incurable disease – there is always a way out."
If the widow had not followed the instructions to borrow empty jars from those around her and rejected it from the onset, she would not have been relieved of her problem.
Not only must we humble ourselves, but we need to take heed of the direction and advice that the Lord and the godly counsellors give and exercise faith by following it.
The borrowing here is not getting the widow into more debt but to solve the problem. 
5. Work on the solution and follow through
"Go, sell the oil and pay your debts." (2 Kings 4:7)
Get to work on the solution and don't be distracted by "easier" paths that open up.
There have been cases of people who fall into scams and lose borrowed funds meant to help clear the debt.
There are also others who attempt to "win back" money by gambling while there are some who use their available cash to feed their lifestyle instead of paying down their debt. 
6. Know what is left
"You and your sons can live on what is left." (2 Kings 4:7)
Get to work on the solution and don't be distracted by "easier" paths that open up.
Create a spending plan which will help in the budget planning from the get go. If there is a deficit from the start, pre-emptive steps can be taken to prevent going into debt which could snowball into a larger debt.
There are some whose expenses exceed their income and they borrow or tap into their savings to support these desires. They do not spend within their means but rather, they spend what they have first and then look for money to tide them through the rest of the month. 
"Debt is not an incurable disease – there is always a way out," exhorts Rev Vincent. "God is concerned for us and we are precious to Him. When we seek Him for help, He is always there."
But he adds: "We talk a lot about this life on earth but miss out on what actually matters. Stay focused on eternity.
"Draw near to God before seeking solutions and praying for His direction." 
---
If you know of anyone seeking help for problem gambling, you can seek help from Adullam Life Counselling or find information on the National Council of Problem Gambling here.
---
RELATED STORIES:
From suicidal to saved: Ex-gambling addict and debtor finds new life in God
If you have enjoyed reading Salt&Light...
We are an independent, non-profit organisation that relies on the generosity of our readers, such as yourself, to continue serving the kingdom. Every dollar donated goes directly back into our editorial coverage.
Would you consider partnering with us in our kingdom work by supporting us financially, either as a one-off donation, or a recurring pledge?
Support Salt&Light