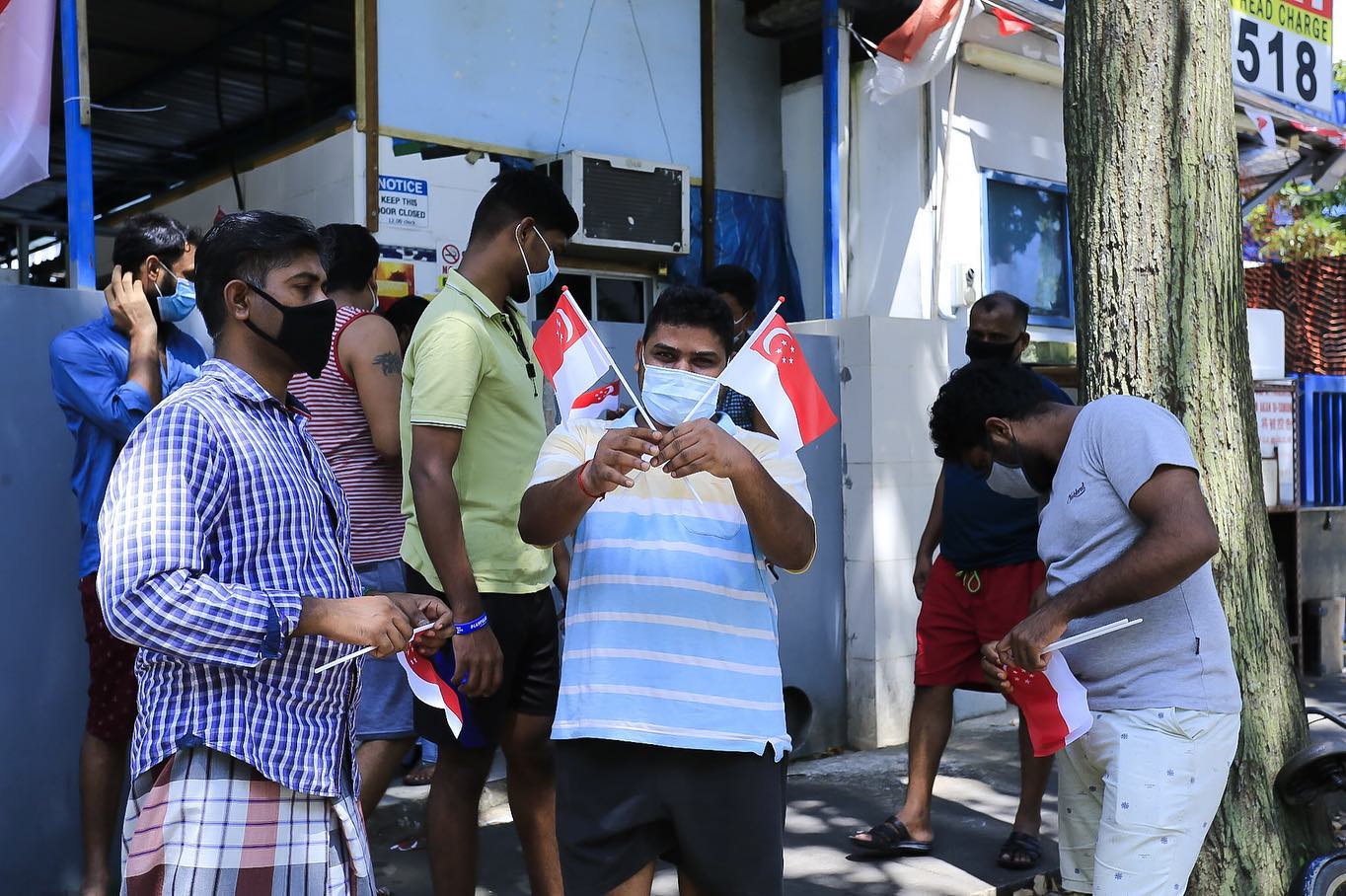 "That's a dream that I have, that Singapore will be a place where anyone and everyone can come and say: 'This is my country'," says Pastor Sam Gift. Photos by Thomas Franks.
He has been one of the frontliners leading the charge in caring for migrant workers during this pandemic.
Over the past two years, Pastor Samuel Gift, who co-founded the Alliance of Guest Workers Outreach (AGWO), has worked tirelessly with his volunteers to reach out to these workers and meet their needs.
He has spent most of his time going from dormitory to dormitory, checking in on his migrant brothers as they grapple with the fear, uncertainty and mental stress of the pandemic.
He has been up in the wee hours of the morning delivering food to them, so they can break fast during Ramadan while holed up in their rooms.
He has stood for countless hours at the gates of their dormitories assuring them that they call him if they ever need anything – anything at all.
All this, so these men, who have left their countries, families and homes to come here, know that there is someone who has their back, who cares how they are doing.
That, said Ps Sam, can really make all the difference.
But caring for the more than 350,000 migrant workers here will take a whole-nation effort. This is why Ps Sam has a dream for Singapore: That every Singaporean will go out and love just one guest worker.
This National Day, Ps Sam shares his heart behind his toil and how we can, together, make enough room for others so that they, too, can call our land home.
---
My dad, John Sam Stephen, came from Sri Lanka.
After ministering in a particular country, he was going back to Sri Lanka on this ship. As he was passing through the Straits of Malacca, the ship started to sink.
The ship captain told my dad to get on a dinghy and go to the nearest island, and that's how we rowed. And he came to this land called Singapore.
He ended up on the beaches in Sembawang not knowing anyone here. But Singapore welcomed and received my father. Singapore loved him and gave him a place called home. 
I think that's the beautiful thing about Singapore, where anyone who comes can find a home here.
In 1980, my dad felt so convicted to start and pioneer a church for guest workers – the foreigners who have come to make this land home.
So he started Smyrna Assembly.
When he went home to be with the Lord in 2008, I was appointed as the senior pastor of this church. One of the things that the Lord placed in my heart was to never forget the legacy, never forget the call of this church.
The call is to love, honour and care for the guest workers, whether they are guest workers from India, Bangladesh, or whichever country, or whether they are domestic helpers. To reach out to them and give them that family environment in Singapore is so important.
A new Home
One brother I have come to know is Sivakumar, who came to Singapore from India in 1999 as a general worker.
I've known Siva for 20 years. Through his work in his company – he has since been promoted to be the human resource manager who oversees 500 men – he has grown into that role and become a leader.
It truly astounds me. And it really brings a lot of joy and pride to say that Siva is a brother.
We decided: "Hey, why don't we come together to do something to impact the brothers?"
"As long as they enter the shores of Singapore, they are guests in our land." 
We invited a few of our friends and, to our surprise, we had 70 different people from different organisations, churches, non-government organisations, people of other faiths, coming together to say: "We will work together to help guest workers."
We call ourselves the Alliance of Guest Workers Outreach. Not migrant workers, but guest workers. Why? Because we believe that they're not just migrants. They're our guests.
As long as they enter the shores of Singapore, they are guests in our land. And our dream and our hope is that if every Singaporean could love a guest worker, wow, that's when we can present "home" in a new perspective, where everyone is loved, everyone is cared for.
No one is left behind.
Their pain became our pain
Last year, during the height of the pandemic, the mental health of the brothers was at its lowest.
Literally every day, we were going to Covid-positive dorms. Many of them, maybe a week or two into our feeding programme, were Covid-positive and shut down.
The truth was nobody knew what was going to happen tomorrow.  Nobody knew whether they would be alive the next day. That's the truth.
"The truth was, it was scary. But the pain that we saw in them drove us to continue doing what we are doing." 
Each day that they lived, they lived it in fear.
There were guys who were on the verge of suicide. There were guys who were in depression. And when they become brothers to you, their pain becomes your pain.
The truth is, it was scary. But the pain that we saw in them drove us to continue doing what we are doing.
Through that, many lives have been touched. Many lives have been saved. And right now, we are praying that as Covid-19 becomes endemic, that they will look up and have hope of a better tomorrow.
Brothers for life
To me, the guest worker brothers are my brothers for life.
That's a dream that I have, that Singapore will be a place where anyone and everyone can come and say: "This is my country."
When we do that as a nation, I think it would build a beautiful Singapore for tomorrow, for our kids, because we are teaching them a culture of honour, a culture of appreciation and, above all, a culture where everyone is equal in this land of Singapore.
You could be from different countries, but together we are Singapore.
Because to me, I think Singapore is made up of everyone, whether they are guest workers or professionals, whether they are born in this nation or not, we all make up Singapore, and together we are Singapore.
---
This is the third story in our National Day series leading up to August 9. Read the other stories in the series below.
"God put us here and we are committed to loving and serving its people": Pastor who gave up multiple passports to become a Singapore citizen
"For the first time in 20 years abroad, I realised that I truly miss home": Singaporean who overcame Covid hurdles to return to ailing dad
FOR MORE STORIES ON MIGRANT WORKERS:
One year on, the mental health needs of migrant workers remain pressing: HealthServe
The 5-year-old who raised $8,500 for COVID-hit migrant workers
If you have enjoyed reading Salt&Light...
We are an independent, non-profit organisation that relies on the generosity of our readers, such as yourself, to continue serving the kingdom. Every dollar donated goes directly back into our editorial coverage.
Would you consider partnering with us in our kingdom work by supporting us financially, either as a one-off donation, or a recurring pledge?
Support Salt&Light