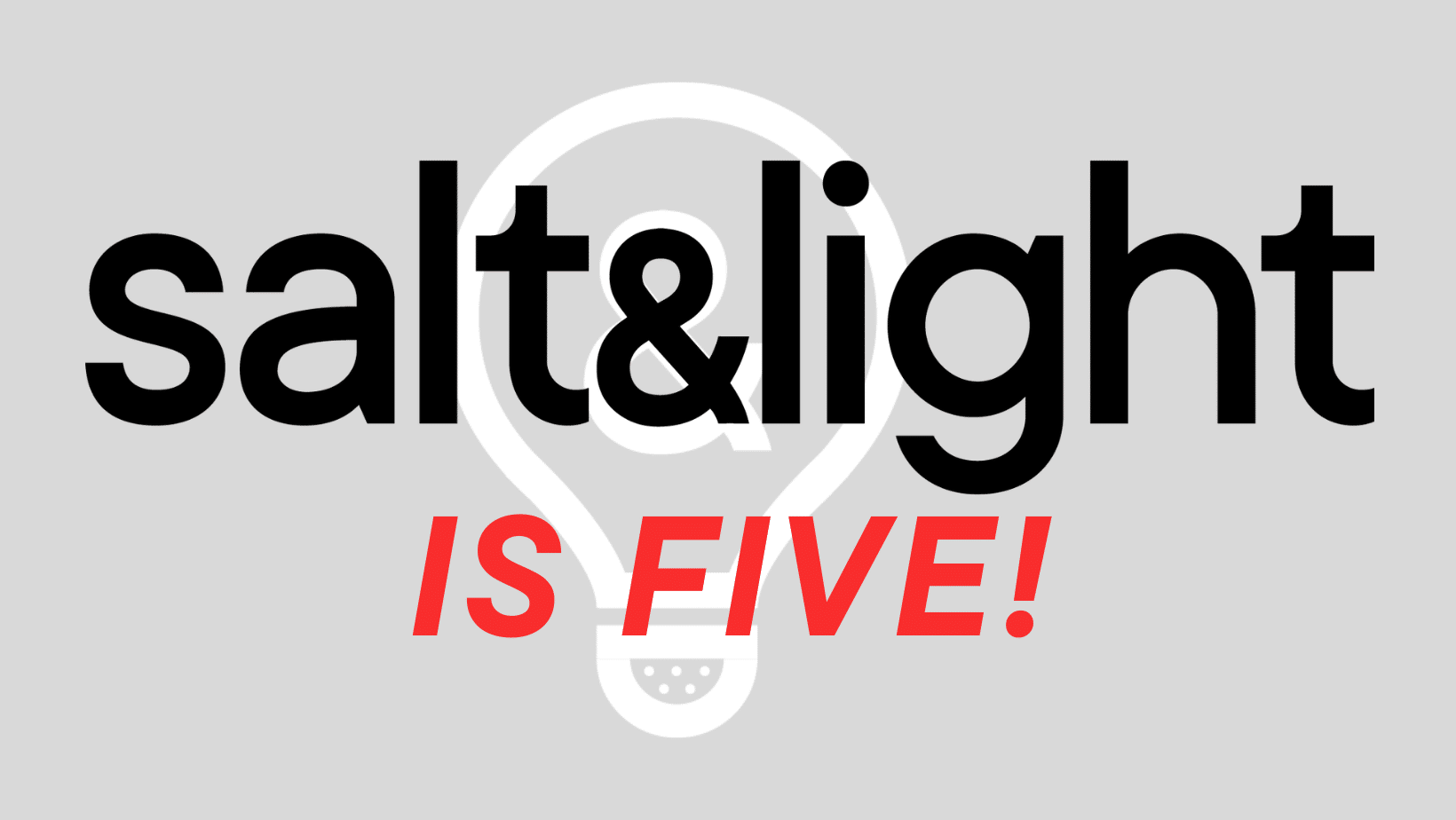 We look forward to bringing more stories of God's love, goodness and presence in the years ahead.
Salt&Light is five!
Five years ago we took a leap of faith to start publishing testimonies and stories of God's love, grace and goodness right here in Singapore, and it has been our privilege to be able to be able to equip, encourage and edify the body of Christ with true stories.
In the past five years, we have published 2,850 stories which have been read more than 16 million times. If you read one of our stories in the last five years, you were one of our 6.3 million unique visitors!
As we thank God for sustaining us thus far, let us take a sneak peek at what you have loved since our launch in January 2018.
OUR TOP 3 MOST-READ STORIES OF ALL TIME
What hope is there when something as horrific as rape happens to you?
Drawing in 402,000 page views since it was published in March 2019, this excerpt from the book, When A Good God Allows Rape, sees Joy bravely recounting the "black hole" she experienced as a teenager and the hope that she desperately clung to in the throes of the valley.
When Covid-19 first descended on Singapore, many were fearful and uncertain about what this meant for the country. So when Salt&Light published a first-person account of Case #48's brush with the virus in February 2020, his story was read more than 231,000 times.
At a time when vaccines and more in-depth information about the effects of the virus were not yet readily available, Case #48, who was from the Grace Assembly of God church cluster, shared how he chose to worship God in the storm and the love he experienced from those around him. 
Who doesn't enjoy a good love story? Especially an unusual one involving a prophecy, dreams and visions.
Since Malaysian Minister Hannah Yeoh's love story with her husband, Ram, was published on Valentine's Day in 2019, it has racked up more than 115,000 page views, taking third spot on our most-read stories list. 
The excerpt from her book, Becoming Hannah: A personal journey, traces God's sure hand in their relationship and how they only fell in love after deciding to get married.
OUR MOST ENGAGED STORY ON SOCIAL MEDIA
Many were horrified when news about about a chopper-wielding man brutally attacking a woman along Beach Road appeared in various mainstream news outlets. 
When Han Hongli, the victim of the attack, bravely stepped forward to share with Salt&Light her experience and her desire to forgive her estranged husband – both in print and in video – it captivated thousands.
Across our social media channels, her story reached more than 220,000 people and had close to 6,000 post interactions.
Read her story here or watch it here.
OUR TOP 3 MOST WATCHED VIDEOS 
Popular MediaCorp actor Chew Chor Meng 周初明 was given 18 months to live when he was first diagnosed with Kennedy's Disease. That was 11 years ago.
His wife, Deon, reveals the highs and lows of the family's poignant journey, and the secret behind their hope.
January 28. Not a special date for most. But for Francis and Suliani Yap, it is a date they will never forget.
On January 28, 2013, Francis was going about an ordinary day of work as an SAF regular when he received a phone call from his sons' school.
Nigel, 13, and Donavan, 7, had been hit by a cement mixer while cycling across the road. Both his children were dead.
The loss was indescribable and peace has not come easily. Yet today parents Francis and Suliani Yap look back and say: "God has been constantly watching over us and walking with us. We've had no lack."
Watch them share their story here.
In the days after her estranged husband savagely attacked her with a chopper in public, Han Hongli seethed with anger and bitterness.
"I truly hated him. I even felt the hate in my bones," she told Salt&Light in Mandarin some eight months after the incident along Beach Road on April 14, which went viral on social media.
"Forgiveness … I haven't gotten there yet," she admitted. "But from today I want to slowly forgive him and what he did to me."
Thank you for being a part of our journey!
What have you enjoyed about our content? What else would you like to see from Salt&Light? Do you know someone with a testimony to share? Tell us in the comments below or on our social media channels.
We look forward to bringing more stories of God's love, goodness and presence in the years ahead. Be sure to follow us on Facebook, Instagram, Telegram, YouTube and Twitter so you don't miss out! 
If you'd like to be a part of what Salt&Light is doing, click here to donate.
---
MORE STORIES FROM SALT&LIGHT:
"God doesn't spare me of thirst, but He brings water": America's Got Talent golden buzzer singer who is stricken with 3 cancers
"From today I want to slowly forgive him and what he did to me": Beach Road slashing victim who was attacked by estranged husband
My name is Amelia Ng. I cannot speak, move or breathe on my own. But I can pray.
If you have enjoyed reading Salt&Light...
We are an independent, non-profit organisation that relies on the generosity of our readers, such as yourself, to continue serving the kingdom. Every dollar donated goes directly back into our editorial coverage.
Would you consider partnering with us in our kingdom work by supporting us financially, either as a one-off donation, or a recurring pledge?
Support Salt&Light