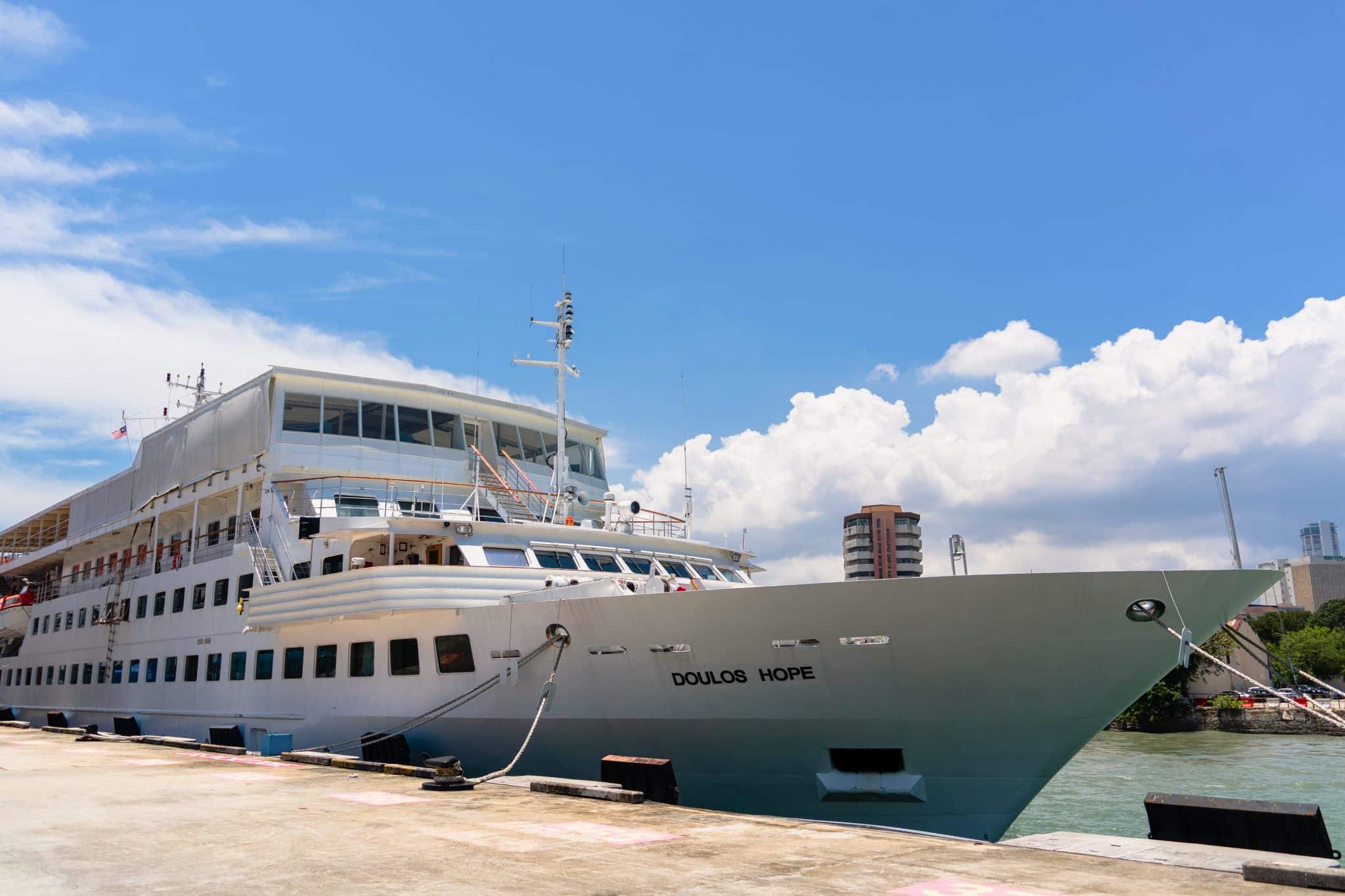 Serving as a catalyst to transform communities in the port cities she visits, OM's latest ship Doulos Hope will soon set sail around Southeast Asia. All photos courtesy of OM.
This floating book fair is about to become a "servant of hope".
After her purchase a year ago, Operation Mobilisation's (OM) Doulos Hope will be launching this Sunday (May 7), to serve alongside her sister vessel, Logos Hope.
Berthed at VivoCity, the five-deck Doulos Hope will open her doors to the public from May 7 to 21 for the OM ships' famous floating book fair, offering thousands of quality book titles.
Salt&Light speaks to Tan See Keen of OM Singapore on the seafaring ministry of Doulos Hope, and how God, in His divine provision, has brought the right people at the right time.
What can members of the public look forward to seeing on Doulos Hope?
Doulos Hope is the organisation's fifth ship. The ship's crew aims to share knowledge, help and hope with the people of the world's port cities that she visits.
We are ready to welcome many visitors on board the ship's floating book fair in the coming weeks.
Doulos Hope has many things to offer but people should not miss out on visiting her onboard book fair, experiencing the deck café, meeting the international volunteer crew and getting to hear their inspiring and unique stories.
Where do the crew come from?
There are over 50 crew members of more than 20 nationalities, such as Canada, Colombia, Netherlands, Paraguay, Philippines, Singapore, South Africa, United Kingdom, United States, Zambia and more.
To fully staff the ship, we hope to have 140 crew, so we are still recruiting!
Who are the Singaporeans on board?
There are three Singaporeans serving on board Doulos Hope – two men and one woman, all in their sixties and above.
Kim Chye, a welder, is 70 years old. Since he accepted Christ at 40, he felt a great desire to share the Gospel overseas.
After his retirement at 50, he first spent two years on board the (then in service) Doulos with his wife from 2005 to 2007. He was assigned to the engine room, and his wife was the secretary there.
Currently going on short-term trips with OM, Kim Chye has been serving on Doulos Hope since March 2023.
He will continue serving on board Doulos Hope for several months in the galley, cooking and assisting the main cook in food preparation. He also helps out in as many areas as needed, such as in ship maintenance and welding.
Kim Chye was diagnosed with Stage 4 lymphoma in 2021, but is cancer-free today.
He says: "At this age, God has given me a second life. I will do whatever I can to serve Him.
"I encourage young people to serve the Lord. Everything is in God's hands.
"When we serve God, He will bless us in ways beyond our expectations."
Who is the Captain of Doulos Hope?
The Captain of Doulos Hope is Captain James Berry from the United Kingdom and he has been volunteering with the Ships Ministry since 2007. He became Master of Doulos Hope in January 2023.
Captain Berry shares: "There was a clear invitation back to the ships in 2015, and I've stuck around since, coming when needed.
"It's more of a role that you grow into through various experiences, and I can see God's hand shaping that to give me the skillset I have today.
"We had expected a big crew but we now have less than the ideal number. It's not what we would like, but we have enough for today to operate the ship.
"We don't have everything we want – we still need to find the rest of our crew and put the finishing touches on the ship – but we have everything we need.
"I have seen people stretched by God beyond our understanding. Everyone – crew and volunteers – are coming together to pitch in whenever they can. There is a huge sense of team spirit."
What is unique to Doulos Hope compared to Logos Hope?
Doulos Hope is a smaller vessel, enabling her to operate in shallower waters, such as rivers.
That means the crew can access places previously beyond their reach and, for the first time, OM will be able to reach new ports, largely in Southeast Asia.
Being smaller also means that the community on board is even more like family. Everyone gets to know each other, and everybody will have the chance to help in different areas which will expose them to different opportunities, helping them to grow and develop.
What are the plans of Doulos Hope when it sets sail?
Over the next year, Doulos Hope plans to visit the countries located by the Mekong River.
The community on board is eager to learn from the local communities as much as they can and look for possibilities to partner with local organisations.
OM Singapore Executive Director, Phillip Quek shares: "It is a historic moment for me to witness the beginnings of Doulos Hope. What we are excited about is that it is a ship for Asia – we have a vision to partner with individuals and churches to share the love and hope of God in this region." 
How has God been present in Doulos Hope's journey to being operational?
Since acquiring the vessel, we have been grateful to see the great support we have received so far and the generosity of those who have come alongside us on the journey.
We are thankful for the commitment of the crew members who have stayed on board from the vessel's previous ownership when she was The Taipan, and we relished the opportunity to get to know them better as we embarked upon the outfitting work.
How can the body of Christ partner Doulos Hope in her ministry?
We invite you to partner with us by praying, giving, or by volunteering with us!
Please pray for more people to come and join the work of sharing knowledge, help and hope with the peoples and communities in Asia.
---
Stay tuned in the coming weeks for more stories in Salt&Light about the people who are serving on OM Ships.
Here's how you can be a part of the ministry of Doulos Hope
CEO of OM's Ship Ministry, Seelan Govender, says: "I invite you to join us in this journey towards seeing this vessel serve as a catalyst to transform communities in the port cities we visit, through prayer, investing financially, or serving with us!"
Rev Keith Lai, former President, the National Council of Churches of Singapore (NCCS) adds: "I feel a deep sense of wondrous awe at God's unfailing love for the millions of people in Asia. I have joyful confidence that Doulos Hope will be a beacon of hope to many through her impactful ministries." 
Doulos Hope Ship Visit
Dates: 7 – 21 May 2023, closed on Mondays
Where: VivoCity, 1 Harbourfront Walk, Singapore 098585, along the boardwalk
Opening hours: 1.00pm – 9.00pm
Tickets are to be pre-booked at Visit Doulos Hope. 
For more information, follow OM Ships on Facebook or Instagram or visit the website. 
To view opportunities to share God's hope around the world, follow OM Singapore on Instagram and Facebook or check out OM.
---
RELATED STORIES:
"God, what are you doing?": When a go-getter learnt to take her Kingdom assignment one step at a time
OM's new ship, Doulos Hope, a floating "miracle" that will build communities of disciples worldwide
"I really am looking forward to heaven": OM's George Verwer succumbs to sarcoma
"God directed me from the beginning": Singaporean Lawrence Tong on leading Operation Mobilisation
If you have enjoyed reading Salt&Light...
We are an independent, non-profit organisation that relies on the generosity of our readers, such as yourself, to continue serving the kingdom. Every dollar donated goes directly back into our editorial coverage.
Would you consider partnering with us in our kingdom work by supporting us financially, either as a one-off donation, or a recurring pledge?
Support Salt&Light