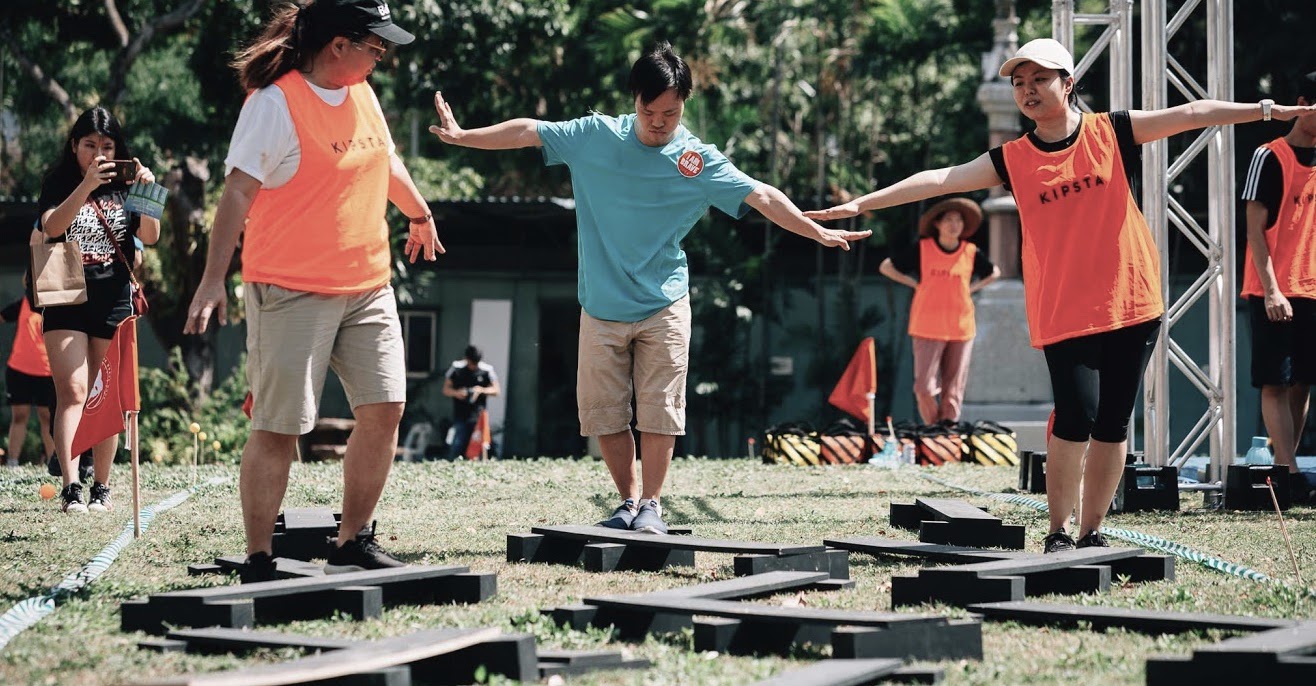 A special needs participant taking on The Brave Race with assistance from volunteers. Photo courtesy of LifeFest.
Eight-year-old Isaiah Soh was having a ball of a time. So were his parents. They were at LifeFest, an outdoor family carnival held on the historic grounds of St Andrew's Cathedral on Saturday.
Not very newsworthy, one might think. Carnivals and funfairs are often a highlight for families – the games, laughter and festive atmosphere delight both children and adults alike.
But Isaiah is a child who is on the autism spectrum and, for families like his, carnivals can often be more stressful than fun.
This is why LifeFest stood out from a typical carnival – children with special needs were not merely accommodated, but welcomed and celebrated.
Almost 3,000 people, including over 120 with special needs, turned up for the fun and games, making the carnival's aim to "Celebrate Life" come alive.
Even in the midday heat, the cathedral grounds were abuzz with activity. Many were enjoying the free ice-cream cones at the games and craft stations.
Some families were chilling out in the cool of the main tent, while several adults and children were spotted snoozing on the colourful beanbags.
But the draw of the event was The Brave Race, a special needs-friendly obstacle course that mimicked the popular Spartan Race, complete with a jump off a 2-metre-high platform right at the end.
Tobias Ng, or "Toby" as he likes to be called, was one of the race finishers who went home with a medal that day.
Toby, how do you feel? His parents prompted the 14-year-old, who is on the autism spectrum. Was it fun?
"Fah- fah- … fear," Toby said when he eventually found the right sounds.
"Even for me, it was quite daunting to look down. But he did it."
The Jacob's Ladder obstacle was the hardest for him, said his father, David Ng, 44. It was a 1.5-metre-high ramp leading to a steep slide at the end. "But he got through it after two tries."
"It took a lot of convincing," said his mother, Shirley Ng, 44, who followed him through the race. "Even for me, it was quite daunting to look down from above. That was the toughest, but he did it."
Do you like the medal, Toby?
"Yes!" This time he answers with a big grin on his pre-pubescent face. There was no doubt as to what he meant.
"Woohoo" to conquering
LifeFest volunteer Sixx Ng, who helped out on the course, said it was very heart-warming to see parents and volunteers cheer on the participants and how that "changed their courage".
"That's really, really amazing … Especially the special needs children, seeing them conquer it (the obstacles), it's like woohoo!"
Matthew Soh, 43, who ran through the course with Isaiah, was especially touched by the help and acceptance of the volunteers. "They allowed him to run through the course four times," Soh said with a smile. "Isaiah enjoyed that very much because he enjoys repetition."
"It is a blessing to us when people don't mind," he added, before sharing that Isaiah's meltdowns in the public often drew stares which added to the stress of the situation.
While he has recently come to accept those situations more calmly, his wife, Li Ching, said that she still feels "the hot flush of anger" when people don't understand.
"Can we have the eyes of Jesus?"
Not surprisingly, stares from passers-by are one of the main things that Ps Clement Sim, 31, wishes would change. "What do we do when we see a kid having a meltdown in public? What is our response? Instead of having eyes of prejudice or judgment, can we have the eyes of Jesus?"
They are made in the image of God, they have a destiny and a calling and a part to play in the body of Christ, he advocated. It is our perception of these individuals that has to change.
The pastor at Soakability Church, which welcomes families with special needs at their church services, often encourages parents by telling them: "Focus on what God is doing, do not focus on what God is not doing; Focus on what your kid can do."
It's not about special training, it is about whether we have the heart to do so.
But for the wider Church, Ps Clement believes that because we have the Holy Spirit in us, we must also be the ones who reach out to ease the difficult journeys of such families.
One practical tip he gave: "Look for the families with special needs in our midst; they are everywhere. Ask them, 'How can I bless you?'"
While you might need to get equipped to connect with the special needs children directly, you won't need specific skills to serve the family as a whole. It's not about special training, it is about whether we have the heart to do so, said Ps Clement. Jesus didn't have any "training", yet He dealt with lepers.
He continued: "You don't need to be equipped to buy them dinner, to help fetch a kid to school or even to have tea while doing the laundry. Look for the small practical things in your routine and include them – it doesn't take much.
"If every individual has a heart to do so, eventually this will become a church movement. We start with one person first."
"We will not choose": Parents who adopted four babies, three with special needs
If you have enjoyed reading Salt&Light...
We are an independent, non-profit organisation that relies on the generosity of our readers, such as yourself, to continue serving the kingdom. Every dollar donated goes directly back into our editorial coverage.
Would you consider partnering with us in our kingdom work by supporting us financially, either as a one-off donation, or a recurring pledge?
Support Salt&Light