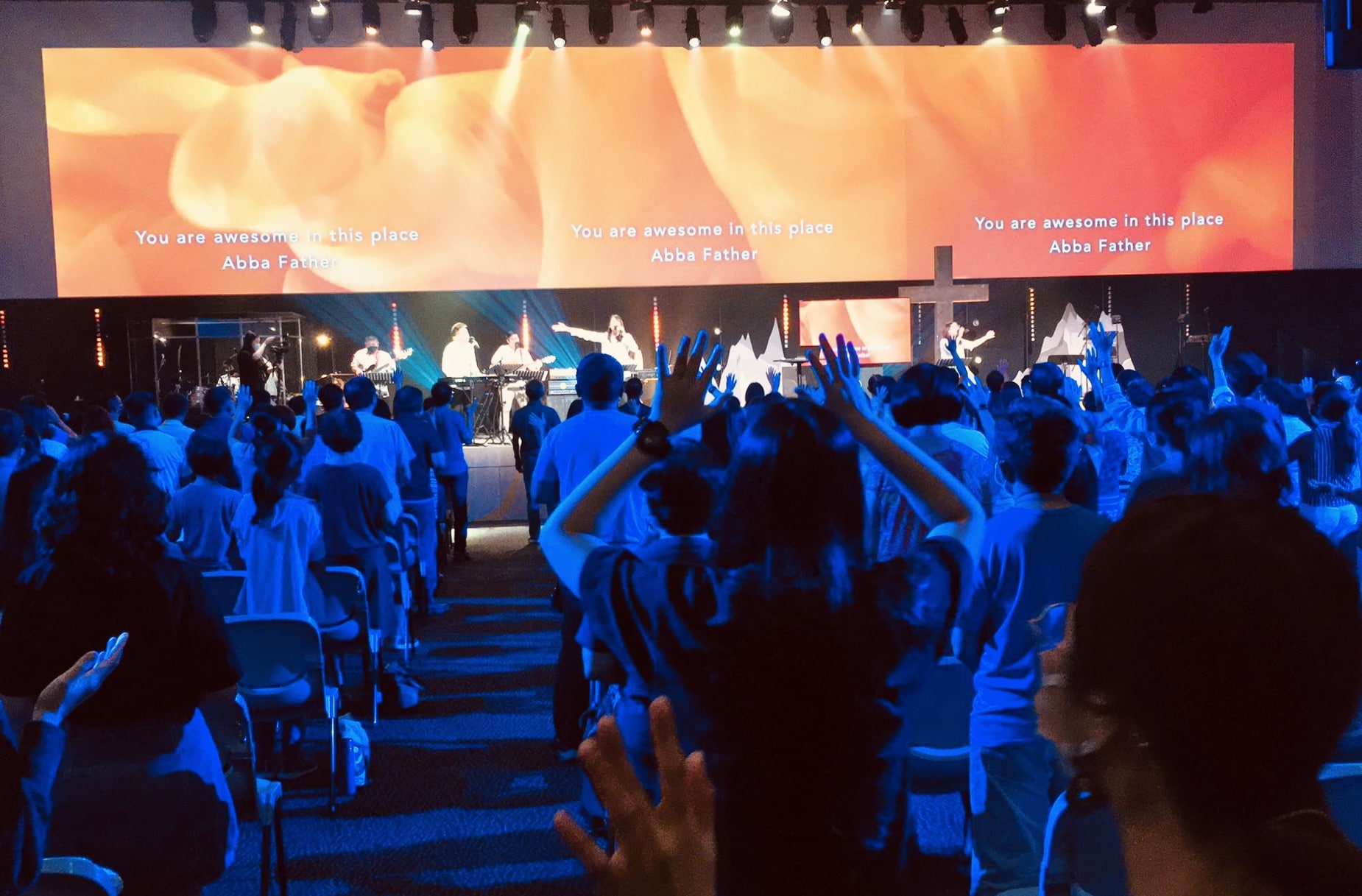 Returning to church on-site is a powerful communal witness to a watching world of the reality of our God. Photo courtesy of Bethesda Bedok-Tampines Church.
Food and drinks can be consumed on church premises; capacity limits will be increased to 75% for venues with more than 1,000 seats; and the limit on the number of unmasked performers or speakers will be removed, the Ministry of Culture, Community and Youth (MCCY) confirmed on Saturday (March 26, 2022).
The changes, which will take effect from Tuesday (March 29), are part of a slew of relaxed measures first announced by Prime Minister Lee Hsien Loong earlier this week, with the wave of cases of the Omicron variant gradually subsiding.
Changes announced by MCCY, effective March 29, 2022:
1. Congregational singing with masks on will be allowed.
From 29 March 2022, singing by worshippers will be allowed, as long as they keep their masks on.
"We had previously taken a strong position against such group vocalisation activities, like mass singing, because of the higher risk of transmission. But given we are now in a different position, we will start easing this restriction," said Mr Lawrence Wong, co-chair of the nation's Multi-Ministry Taskforce in a press conference following the Prime Minister's address.
"So long as masks are worn throughout such activities, we will allow for congregational singing, cheering by audiences at events, as well as singing in general settings, including our schools."
2. Masks optional outdoors, but still mandatory indoors
Everyone present in an indoor setting – except children below 6 years of age – must wear a face mask at all times, the MCCY said.  Face shields are not permitted as substitutes for face masks. And while mask-wearing will be optional in outdoor settings, the Government encourages people to still wear their masks even when outdoors "for personal protection and to protect others, especially in crowded areas". 
3. Safe distancing is not mandatory, but encouraged
Churches should avoid chokepoints and spread worshippers as evenly as possible, the MCCY advised.
4. Capacity limit for large venues up to 75%
The capacity limit for congregational worship services and other mask-on religious activities involving more than 1,000 persons will be increased to 75%, up from the previous 50%. This limit also applies for weddings and funerals conducted on church premises.
5. ART for singers, staff no longer mandatory
From March 29, Rostered Routine Testing regime will cease for those involved in the conduct of religious activities. Performers who are singing and playing wind instruments in front of an audience will no longer need to conduct additional testing, MCCY confirmed. "However, there can be no singing or playing of such instruments, unless all performers and crew, are fully vaccinated or exempted from VDS," the Ministry added.
6. No cap on number of unmasked performers or crew
From March 29, there will be no restrictions on the number of performers and crew, or the number of performers allowed to unmask for live performances, MCCY announced.
Static performers – those in the same position throughout the live performance – may be in groups of 10 persons. If none in a group is singing or playing wind/brass instruments, or if all performers in a group are masked, there is no need to maintain safe distance from other groups. However, if there are any unmasked performers in the group, they must maintain at least 1-metre safe distance from other groups. 
There must be at least a 1-metre setback between persons involved in the conduct of live performance elements and worshippers. 
7. Food & Beverages now allowed on church premises
From March 29, consumption of Food and Beverages is allowed in places of worship, with VDS in place – in other words, if all on premises are fully vaccinated or exempted from VDS.
Food must be served in individual portions, and individuals must be stationary (regardless of whether they are seated or standing). Participants should put on their masks as soon as they have finished eating or drinking.
As F&B consumption is a mask-off activity, participants (fully vaccinated) must comply with 1 metre safe distancing between individuals or groups of no more than 10 persons per group, with no intermingling between groups, MCCY said.
The capacity limit for communal meals involving more than 1,000 persons will be 75%. 
8. Up to 75% of staff allowed to work on premises 
From March 29, up to 75% of employees who are able to work from home can now return to the workplace, up from current limit of 50%. Social gatherings at workplaces will be allowed to resume, subject to prevailing safety management measures.
Churches should primarily engage staff to support religious activities, but can deploy volunteers to support if necessary, MCCY said.
9. Capacity limits up for funerals held in churches
Funerals held in religious premises are subject to the same capacity cap as the premises, regardless of vaccination status. No reception with food or drinks are allowed. From 29 March, visits to columbaria at places of worship for up to 10 persons will be allowed regardless of vaccination status. Visits should be kept as short as possible, MCCY said.
10. Other religious activities still subject to Vaccination-Differentiated SMMs
From March 29, churches and other religious organisations can allow one group of up to 10 persons, regardless of vaccination status, at any one time to conduct private worship in the place of worship, said MCCY. Any religious worker interacting with them must be fully vaccinated.
However, VDS (Vaccination-Differentiated Safe Management Measures) will continue to apply for other religious activities. From 29 March 2022, religious rites that are not part of a worship service, and other religious activities such as pastoral services) will be allowed with similar capacity conditions.
Mask-on classes (without VDS) can proceed without being subject to any capacity limit, subject to prevailing fire safety and room capacity requirements, said the MCCY.
"Remain watchful" 
Churches must submit a form acknowledging the new conditions for religious activities imposed before commencing the activities from March 29.
The relaxed guidelines for churches are in line with other changes the Prime Minister announced, which will kick in from next Tuesday. These include:
Group gatherings can include up to 10 people, up from 5
Mask-wearing outdoors will be optional, but remain mandatory indoors
Up to 75% of workers can return to the workplace, up from 50%
A simplified Vaccinated Travel Framework allowing all vaccinated travellers to enter Singapore
Mr Lee sounded a word of caution that Singaporeans must "remain watchful" and not "throw caution to the wind", with the reinstatement of more stringent measures a possibility should cases rise again.
"If you feel ill, test yourself. If you test positive, isolate yourself at home. If you test negative, and decide to go out, please wear a mask to protect others, even outdoors, just in case," said Mr Lee.
"Let us all continue to exercise personal and social responsibility."
---
MORE STORIES ON CHURCH IN THE NEW NORMAL:
Congregational singing with masks on allowed from March 29, as Singapore eases COVID-19 restrictions
Increased capacity, no more zones: New streamlined measures for church services from March 15
5 church models in the New Normal: Which way should your church go?
From Russia-Ukraine war to tremors in Singapore, the signs are clear: Time to arise as the End-Times Church
If you have enjoyed reading Salt&Light...
We are an independent, non-profit organisation that relies on the generosity of our readers, such as yourself, to continue serving the kingdom. Every dollar donated goes directly back into our editorial coverage.
Would you consider partnering with us in our kingdom work by supporting us financially, either as a one-off donation, or a recurring pledge?
Support Salt&Light