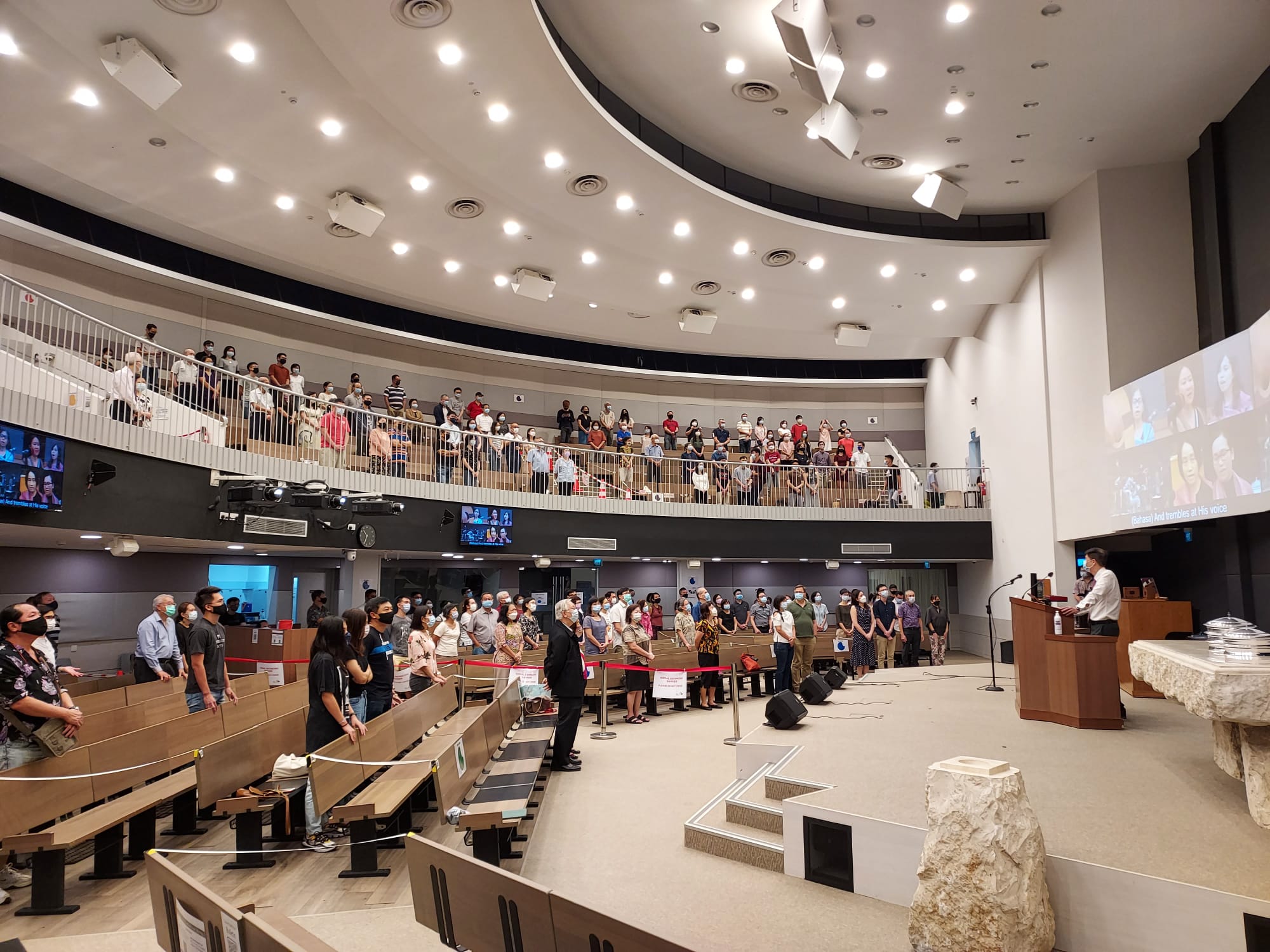 Zion Bishan Bible-Presbyterian Church resumed English services for 250 people in September 2020, before the changes of Heightened Alert.
It is easy to ignore the good news. 
With so much bad happening around the world, especially in Ukraine, we are bracing ourselves for more anxiety arising from economic and political turmoil.
But yes, the silver lining from Covid-19 finally broke on Thursday (March 24). PM Lee unveiled a whole host of relaxation measures. From tomorrow (March 29), we can even sing under our masks. But even from March 15, churches no longer needed to be zoned or have congregants seated apart.
Logistically, this means more people can physically attend service again, a huge step towards worshipping together once more. Or is it?
5 church models in the New Normal: Which way should your church go?
Churches are now at a crossroads on how best to proceed in this new normal with more options now on the table. Whatever the path, churches can and should emerge more determined to press on to complete the Great Commission. 
Where are the sheep?
But there's no denying that since the pandemic, a significant number of sheep have struggled to keep pace, even as under-shepherds struggle to account for all their sheep. 
Take the matter of attending physical service. The Eventbrite booking stats for worship services in my church indicate a 30% drop in our members attending onsite. And I am talking about the regular ones before Covid-19 struck. (On the flipside, we have seen new sheep walking in, some even getting baptised!)
A significant number of sheep have struggled to keep pace, even as undershepherds struggle to account for all their sheep. 
Some of the absent ones have, in these three years, become frail because of ill health or old age.
Others, however, honestly admit to preferring and being more comfortable worshipping from home, unless some church duty calls. A small number have chosen not to be vaccinated yet. They do so quietly and respectfully, though others elsewhere (here and abroad) are decidedly more vehement. 
Then there are those who decide to come depending on the infection rate, especially if they have young children, or if they are facing the virus in the exhausting frontlines. 
What of the rest? I have no figures for those who are church-hopping online, not to mention those who have stopped walking with the Lord or have given up on the institutional church altogether.
What about those who are genuinely overwhelmed yet unaccounted for even in small groups? My heart, and, I'm sure, those of many church leaders, goes out to these.
Taking stock post-pandemic
May I humbly offer some food for thought to help us "give careful thought to our ways" at this time?
My plea is this: Could it be that some of us have developed views and thinking which have a weak basis or which ignore the wider biblical perspective?
Here, I am casting my thoughts beyond just the matter of worshipping onsite: Are our actions and attitudes really for His glory?
Do we weigh the issue of submission to authorities against biblical scales? Or those of our own leanings?
The Lord's hand is evident as we see how the Covid-19 situation has been handled in Singapore, however imperfectly it has seemed.
Whether or not one has first-hand experience of situations abroad, it is arguable that the Lord has granted all manner of resource to our nation to steward us away from further big-cluster outbreaks. Yet some believers and church leaders struggle when it comes to submitting to the mandates from the authorities (medical authorities included). 
Question: Do we weigh the issue of submission to authorities against biblical scales (Romans 13:5; 1 Peter 2:13) or those of our own leanings (Proverbs 3:5,6)?
While it is true the science (and advisories) on this virus is evolving, ever playing catch-up, I can't help but detect a strong distrust and even disdain, not helped by unbridled and algorithm-biased access to information, true or otherwise.
Looking at the divide, could it be that we may have unwittingly made an idol of the right to control what we allow into our bodies, to the point that civil distrust and disobedience are exercised and justified in the name of Christ? 
Hard to admit, but I wonder if this is actually one symptom of an un-discipled church that "gather around them a great number of teachers to say what their itching ears want to hear" (2 Timothy 4:3). 
Lord, in our fellowship, forgive us for not being "quick to hear, slow to speak, slow to become angry" (James 1:19).
Anxious or reckless? 
Secondly, the Lord neither wants us to live anxiously nor recklessly for the things we cannot control. When it comes to our health and longevity, the whole counsel of God's Word does not teach us, on this side of the new heavens and new earth, to presume immortality (that nothing shall ever harm us) or mortality (that anything can potentially harm us). 
Each extreme is unbiblical but I'm afraid some have become reckless or anxious for their health as a result.
Both can lead us to take matters into our own hands, be it discrediting mask wearing or distrusting any announcement that appears to give us less stewardship over our own bodies. The slide in such thinking can be deceptively slippery.
Have any of our entrenched positions reflected either of these misguided and un-theological tendencies? Neither of these are of faith.
Running the race together
Thirdly, His Word warns us against spiritually lethargy and lukewarmness. It is detrimental to our walk of faith (not to mention the church body) if we are stuck in the rut of church-isolating, church-hopping or, worse, church-stopping altogether. 
His Word warns us against spiritually lethargy and lukewarmness.
The only right response is to get back on track immediately before the tragic fate of the proverbial frog-in-the-slowly-boiling-pot comes true. May we each reach out and encourage someone we know today who is wavering or astray, speaking the truth in love, without condemnation.
That said, it is sadly true that with mental health issues on the rise, the church is also not spared. We must not err in labelling these ones judgmentally but come alongside such brothers and sisters compassionately in word and deed.
It is also evident (but not unique to pandemic times) that when interpersonal offences abound, the temptation to "keep one's distance" naturally becomes easier during the pandemic for any who have felt aggrieved or been wounded. 
May God have mercy on us and grant us all – under-shepherds and sheep alike – the grace to persevere, to forgive, to seek reconciliation, to make amends. Let us lay aside every obstacle and sin that so easily entangles (Hebrews 12:1) and run this race of faith together.
While online services have their place, it is abundantly clear they just do not compare holistically to meeting someone face to face, especially when it is within your power to decide.
Is it possible some of us are wired differently such that we do not need to be physically present to stay strong in the faith? I doubt so. We are ultimately short changing ourselves (and our loved ones) and setting ourselves up for spiritual shipwreck if we persist in staying virtual. 
Someone needs you
I wonder if some are even waiting for the mask mandate to go before they start assembling again. Let's not fall for that excuse. Instead, let us obey the Sabbath Day injunction of biblical rhythm and corporate worship and seize every opportunity to do good to the household of faith (Galatians 6:10). 
In a faith as communal as ours, one of the best good we can do is to simply show up, to be present.
Someone longs to feel your smile even if it's beneath that mask. 
In a faith as communal as ours, one of the best good we can do is to simply show up, to be present.
Someone yearns to hear your warm, though muted, "hello" after a lonely and weary week at work. 
Someone needs to be able to bravely shed tears of joy or relief standing next to you, encouraged by the arms outstretched declaring that God remains good. 
I believe only when we are near enough to one another do we sense His presence, as the gaze of the Bride of Christ is upon the Groom, our Lord.
Worshipping together "in spirit and in truth" happens when we can feel the mutual gladness well up in our hearts, even as the Spirit-inspired words and music echo what our spirits yearn to express in renewed surrender and trust. 
Fire of fellowship
Indeed, we often forget we are each created spirit, soul and body (1 Thessalonians 5:23). As we return to onsite worship, and, eventually, to onsite cell group gatherings, we will rediscover the deep spiritual significance of the church literally gathered.
The fire of fellowship depends mutually on every log to glow strong.
Bear in mind that Paul mentioned being with the believers "in spirit" only because he could not (and not "would not") be physically present (1 Corinthians 5:4; Colossians 2:5).
And didn't the writer of Hebrews instruct us that we need to be spurring one another on towards love (Hebrews 10:25)?
The fire of fellowship depends mutually on every log to glow strong, and that happens when each knows he or she is demonstrably not alone in the good company (and great cloud) of fellow witnesses to His glory. 
Here's a final nudge. Even before we try to imagine what the refugees displaced around the world are facing, did you know that according to Open Doors, we are among the 7 in 8 Christians in the world who do not risk persecution or certain death for gathering publicly to profess our faith? 
That's 87.5% of all Christians who get to come together to publicly bear witness as a community. 
We who "get to" surely ought not to ignore such good news. 
---
RELATED STORIES:
From Russia-Ukraine war to tremors in Singapore, the signs are clear: Time to arise as the End-Times Church
God is still at work: How to counter that languishing feeling with spiritual rhythms
7 Southeast Asian countries where it's most costly to follow Jesus: Will you pray?
If you have enjoyed reading Salt&Light...
We are an independent, non-profit organisation that relies on the generosity of our readers, such as yourself, to continue serving the kingdom. Every dollar donated goes directly back into our editorial coverage.
Would you consider partnering with us in our kingdom work by supporting us financially, either as a one-off donation, or a recurring pledge?
Support Salt&Light