"I saw the photo of my car after the crash. I cannot believe that my family and I are still alive," says Longdy. "Jesus saved the three of us from death." The couple is still faced with a hefty medical bill. All photos courtesy of Hagar International.
The moment Sreymony Oeun saw a truck on the other side of the road hurtling at top speed towards the car she and her family were in, there was just one thought in her mind: We're all going to die.
In the split second right before the devastating impact, Sreymony, 33, or Ah Ny as she is known to family and friends, instinctively cried: JESUS!
Even though she did not personally believe in Him, her husband, Longdy Chhap, 32, had told her time and again about Jesus' love for their family.
Maybe Jesus would perform another miracle again. Just as He had done in Longdy's life.
From trafficked child to activist
Born with polio to a poor family in Poipet, Cambodia, Longdy was just eight years old when he was duped and trafficked to Thailand to become a street beggar.
From 5am to 6pm every day, he was forced to sit on the streets with his hands clasped together and head bowed, begging for money.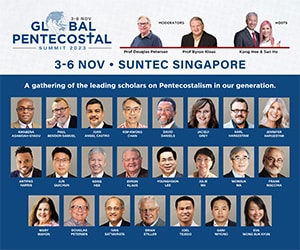 If he did not bring in US$20 a day, his captors starved and beat him, accusing him of being lazy and blaming him for his family's poverty.
Once, they starved him for three days, beat him and left him alone in a corner, oblivious to the fact that he was running a fever.
It was then that he cried out in desperation: "If there's a God in this world, help me out."
Soon after he was back on the streets, the Thai police arrested him and sent him back to Cambodia. That was the first miracle Longdy experienced.
"Even when I did not know Him, He was protecting me": Longdy, the child beggar who was trafficked five times, beaten and starved
Over the next two years, he was caught and repatriated four more times. However, he agreed to be sent out again each time, fully aware of the hardship that was awaiting him in Thailand.
He said: "It was only for one reason: I wanted to help my family. I didn't know if it was a right or wrong decision, but I just knew that it was the one thing I could do for them. 
"Even though I was hurt and in pain, at least I could help my family a little bit."
Finding healing
Though he went back to Thailand's streets again, he was eventually sent to Hagar International at the age of 13. Hagar supports those who have suffered trauma from human trafficking, slavery and abuse.
Through Hagar, Longdy received his first opportunity to further his education.
He found healing in knowing that God had a plan for his life all along.
It was also here that Longdy decided to put his faith in Jesus, whose peace replaced the anger and resentment he had long harboured in his heart, he told Salt&Light in a 2020 interview.
He also found healing in knowing that God had a plan for his life all along and that God had purposed his suffering for good (Romans 8:28).
"If I hadn't lost my legs to polio, looking at my attitude and personality, I probably would have ended up in a gang in the village, using drugs.
"If I hadn't been trafficked to Thailand, how would I have known how painful that experience is? I can better empathise with my clients because I know how painful and hard it is.
"If not for my past, I would not have known Jesus. I would not have known real Love. I would not have known how to help other people. So, I thank God for that. This was all in His plan."
Longdy eventually earned Bachelor's degrees in psychology and English, and developed a heart to journey with human trafficking survivors like himself.
With his training and experience, he became a social worker and counsellor at Hagar Cambodia until this March, when he relocated to Siem Reap and started work at another anti-human trafficking agency, A21, a close partner of Hagar's.
He continues to volunteer with Hagar and participates actively in its advocacy campaigns to support survivors and end human trafficking.
"I may not be able do everything at one time, but at least I can do something in this time. If you just start by doing something, even it's a small act, it can bring a smile to both you and someone else," he said of his calling and passion.
Jesus saved our lives
This was the story of God's love and grace in Longdy's life that Ah Ny had heard countless times.
From what her husband had told her, she knew in her mind that God is an all-powerful and loving Father, but had struggled to experience it or believe it in her heart – until now.
When she opened her eyes after the truck's head-on impact on their car, her chest was in excruciating pain.
Seeing blood all over Longdy and their three-year-old daughter, Tepi, she grit her teeth and carried her little one out of the car, before pleading with passers-by to call an ambulance.
Feeling unbearable pain in her body, she cried out to Jesus again to remove it so that she could bring her husband and daughter to the hospital.
The moment she uttered that prayer, the pain miraculously left her.
This allowed her to accompany Longdy and Tepi to the hospital, where they remain in critical condition with broken bones. Doctors are also doing their best to treat the girl, whose right eye was pierced with shattered glass.
According to Hagar, which is raising funds for the family, the projected hospitalisation and surgical cost for the whole family is estimated at US$30,000 – an impossible sum for them to pay off. 
Despite this devastating tragedy, Ah Ny told Hagar's staff members during a visit that she has personally experienced Jesus' love and power through the accident.
"Through Longdy, I've heard that God loves my family. But after the accident I know for sure He loves us and saved our lives," she told them.
"I will go to church with Longdy now and bring Tepi to church too. I am getting to know Jesus. From the day of the accident, I became sure that I want to start to following Him and being a child of God."
"My accident is a new story of grace to share"
For this Longdy is thankful, even as he lies in hospital.
"Thank you God that Ah Ny finally knows God and wants to be a Christian. I can see all her commitment to follow Jesus. It was precious that I lost again my two legs to bring my wife to God. It is worth it. Thank you Jesus," he said while in hospital.
While the couple do not know how they will foot the hefty medical bill or go through the journey of recovery as a family, Longdy is just thankful to be alive.
"I saw the photo of my car after the crash. I cannot believe that my family and I are still alive. Jesus saved the three of us from death. I am so thankful to God," he said.
"After this accident, I have a new story to share of God's glory and grace. In 2003, God used Hagar to save my life. Twenty years later, God used Hagar to save my life again from this accident.
"I will be a light and share the glory and love of God to people that I meet so that people's lives can change too and have hope.
"I still and forever believe in the power of prayer, no matter what the situation is."
---
WILL YOU HELP LONGDY, AH NY AND THEIR 3-YEAR-OLD CHILD?
Hagar is hoping to raise at least US$30,000 to support Longdy and his family's recovery. If you feel led to contribute, head over to this dedicated donation page link for the family.
---
RELATED STORIES:
"Even when I did not know Him, He was protecting me": Longdy, the child beggar who was trafficked five times, beaten and starved
If you have enjoyed reading Salt&Light...
We are an independent, non-profit organisation that relies on the generosity of our readers, such as yourself, to continue serving the kingdom. Every dollar donated goes directly back into our editorial coverage.
Would you consider partnering with us in our kingdom work by supporting us financially, either as a one-off donation, or a recurring pledge?
Support Salt&Light