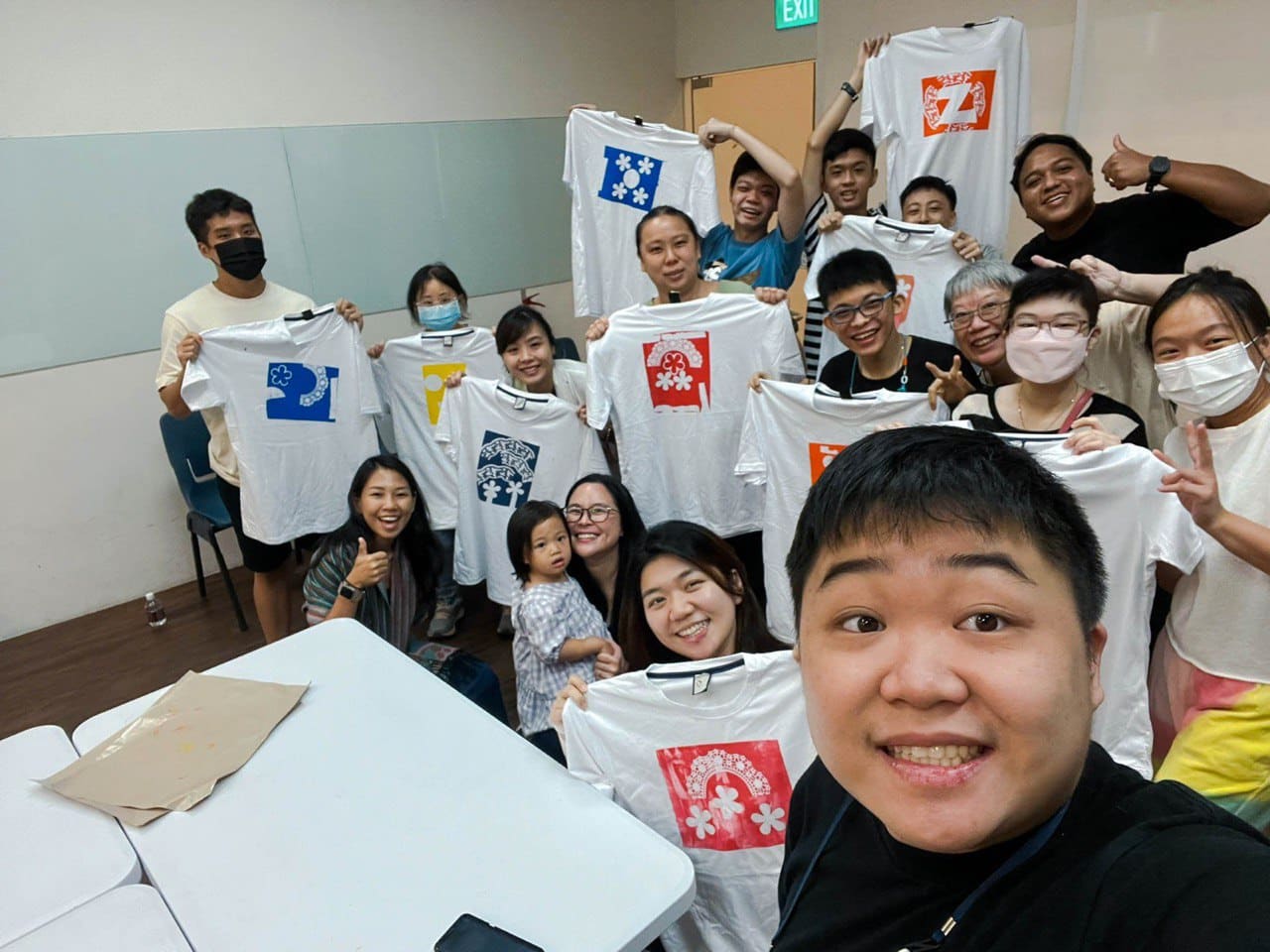 "We value the way you are uniquely formed," said Gwee Ting Ai of those with special needs that the enABLE Ministry welcomes. Ministry members did silk screen printing on t-shirts to raise $4,000 for missions. All photos courtesy of Gwee Ting Ai.
"How can it be that Mitchell has been in church for 20 years and no one has reached out to him? We have to do something about it."
When Gwee Ting Ai heard these words from a fellow church staff member, her heart welled up with emotion. It was a prayer she had been waiting on for the past two decades.
Since she first came to St James' Church with her husband and three children in 2002, Mitchell, her firstborn who has high-functioning autism, had struggled to find his place in the community.
The Sunday School programme had been too overwhelming for his senses. As a teenager, a lack of social skills on his part made going to youth group a challenge.
Even as he sat in service each week with his parents, who are leaders in the church, no one really knew how to engage with him apart from saying "hello".
"No one ever marginalised us intentionally. Everyone meant well. They always tried, they just didn't know how," said Ting Ai, who prayed through the years that there would one day be a place in church where her boy, now 26, could belong. 
A mother's pure joy
So, when this staff member pulled together a group of young adults who determined to get to know Mitchell better, Ting Ai almost cried.
"Suddenly, Mitchell was going to McDonald's with his peers. He would take 'wefies' and post them on social media saying, 'These are my friends!'" she said in awe.
Mitchell also started meeting his friends for dinner and recreational activities like bowling, which had never happened before.
"Suddenly Mitchell had friends. Suddenly he feels like he's part of St James' Church. Suddenly he feels like he matters," said Ting Ai, 55, who works in communications at the church.
"Seeing that was pure joy. After 20 years! But God's timing is perfect."
Building not just physical but social ramps
This inclusion of people with special needs is exactly what Ting Ai hopes to nurture with her church's new disability ministry, enABLE, which she helped to set up last October.
At a time when few churches have disability ministries, enABLE's primary aim is to help bridge the gap between those with special needs and other members of the congregation.
"We believe in inclusion, not segregation. We want the congregation to know them, and we want them to know the congregation, and for both to be comfortable because we are all members of the body of Christ," said Ting Ai.
This journey of bridging is a long one, she acknowledged, but they are taking baby steps. At the moment enABLE members, which comprise about seven teenagers and adults, join in the main service for corporate worship before leaving for their own programme.
At each Sunday's programme, a team of about a dozen volunteers will take turns to share Christ with them in ways they can understand. For example, they may learn a verse of a song, one Bible truth to bring home or how to pray.
When they are opportunities, the ministry involves other members of the congregation so that they can all get to know each other better.
For instance, as part of enABLE's first birthday, the church youths came alongside enABLE's members to do silk screen printing on pouches. Together, they sold the pouches and some notebooks to raise $4,000 for Missions Month.
Through these friendships forged and strengthened, Ting Ai hopes that one day the congregation will be better aware of how to interact with those with special needs and one day learn to embrace them in their services, ministries and cell groups.
"We don't want to build just physical ramps (to make our church more accessible) but also social ramps, which are harder to build," she said.
A community effort
In building these social ramps, which involve the changing of mindsets and attitudes, Ting Ai has found that she is not alone.
"The Lord showed me that my training started 26 years ago when He put Mitchell in my arms."
When her vicar, Reverend Canon Chua Siang Guan, suggested starting a special needs ministry in May 2021, she managed to gather from among the congregation a pool of educational psychologists, speech therapists, occupational therapists, physiotherapists and special needs teachers who were interested to help – all within four months.
Koinonia Inclusion Network (KIN), which advocates for the inclusion of people with disabilities and special needs in churches also came alongside the ministry to equip its volunteers through tailored workshops and its Certificate of Christian Disability Ministry (CCDM) course.
By October 2021, enABLE was up and running.
Standing among all these professionals, Ting Ai had initially felt inadequate.
"You always feel like when you lead a ministry you must be totally ready, totally trained. But the Lord showed me that my training started 26 years ago when He put Mitchell in my arms," she said. "That was the aha moment for me."
And her training is set to continue. This October Ting Ai became the first awardee of the Leaena Tambyah Scholarship for Disability Ministry by KIN, which aims to support the development of disability ministry leaders in Singapore.
Named after the disability sector pioneer who founded AWWA School, Singapore's first school for children with multiple disabilities, the scholarship will support Ting Ai as she remotely pursues a Graduate Certificate in Disability and Ministry at Western Theological Seminary in the United States.
"God has a sense of humour to give me this scholarship at the age of 55! I'm beginning to be short-sighted, everything is slower and I'm thinking of retirement," she said candidly with a laugh. "But this is where God is opening a door for me." 
Where everyone matters
Even though the ministry is but a year old, Ting Ai has already seen how their labour of love is bearing fruit.
One regular and enthusiastic member of enABLE is a 30-year-old woman with an intellectual disability who had been invited by her neighbour. 
"They may be weak in the world's eyes but God's power will shine through each of His creation."
"She loves it so much that she marches to church every week, straight into the room. We can't get deep her with at all but we know she keeps coming and she's excited about it," said Ting Ai.
"When her uncle came for a visit, she insisted on bringing him to church on Sunday. Her uncle said she practically ran to church ahead of him! So we were like, wow. Something is happening here," she added.
That, to her, is extremely fulfilling.
"I wonder what makes her want to come, rain or shine. There must be something. I think she feels accepted, valued, like she belongs," she said. 
Ting Ai has also noticed – to her joy – that since Mitchell has been accepted by his peers in church, he has been more eager to join in and help out at the activities at enABLE.
"Every Sunday he comes with purpose and he loves it. He's 10 years older than these kids but he doesn't feel it," said Ting Ai with a smile. 
After all, this is what enABLE's name stands for. "ABLE" represents their core values – Authenticity, Belonging, Love and Empowering – while "en" (God's grace in Mandarin) represents that which fuels all they do.
At the heart of the ministry is a core belief that each child of God is precious and valuable because he or she has been fearfully and wonderfully made by the Creator (Psalm 139:14).
Pointing to 2 Corinthians 12:9, which is enABLE's anchor verse, Ting Ai added that it is also in our weakness that God's power shines the brightest.
"They may be weak in the world's eyes but God's power will shine through each of His creation," she said.
She added: "I pray this ministry continues to send that message. You're valued because we value the way you are uniquely formed. You matter. You have a place with us."
---
RELATED STORIES:
"God did not make us independent; He made us interdependent": Embracing those with disabilities as Kin
This sports-based disability ministry wants kids with special needs to feel Brave
"Our boy is not a project, he is to be loved": Q&A on raising children with special needs
If you have enjoyed reading Salt&Light...
We are an independent, non-profit organisation that relies on the generosity of our readers, such as yourself, to continue serving the kingdom. Every dollar donated goes directly back into our editorial coverage.
Would you consider partnering with us in our kingdom work by supporting us financially, either as a one-off donation, or a recurring pledge?
Support Salt&Light