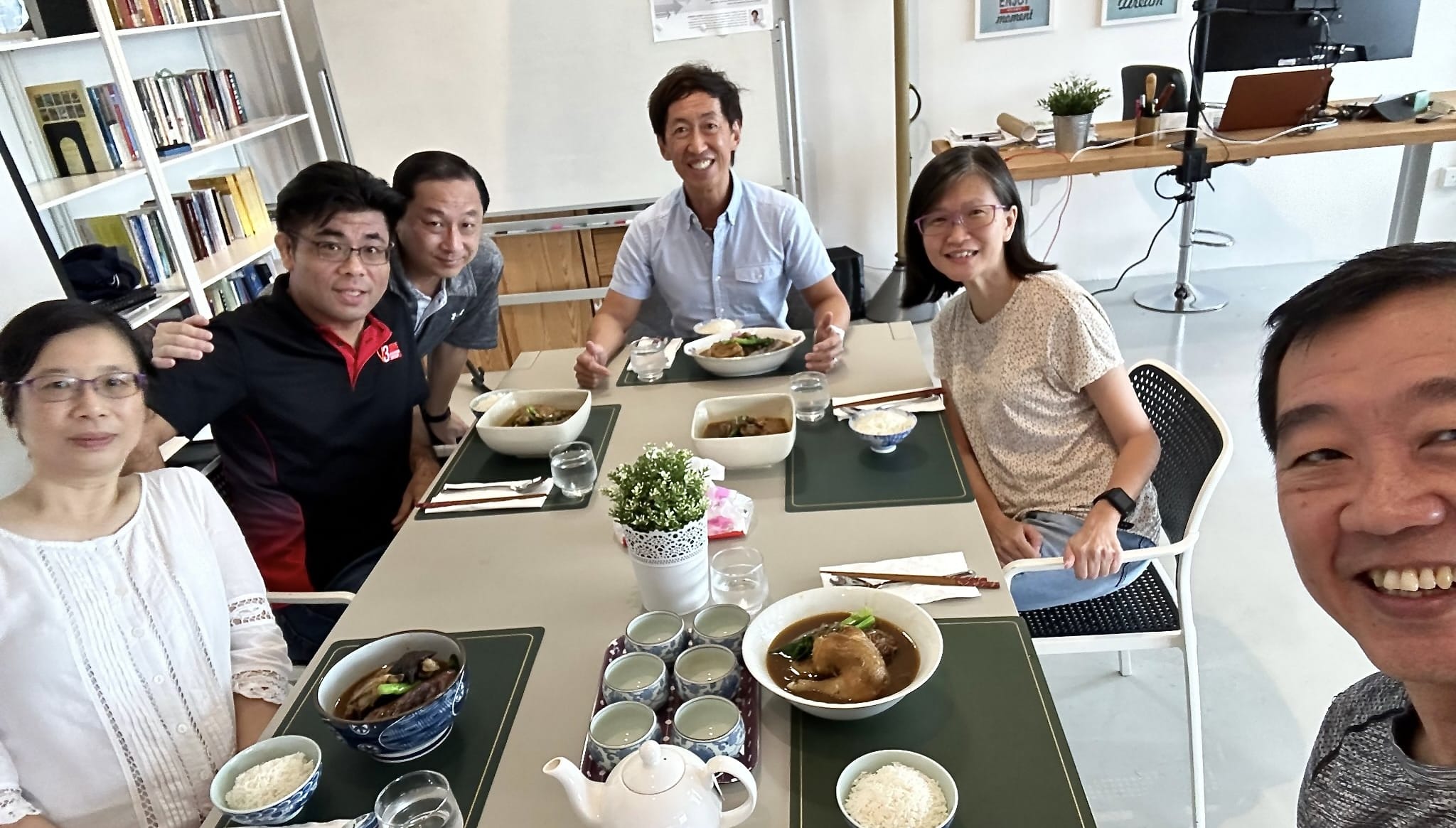 The FOMOS core team, with Joseph at the centre. Says Christy: "On this occasion, Joe had made chicken stew double-boiled over several hours. We often started our meetings with fellowship over meals personally prepared by Joe before we went on to business." All photos courtesy of Christy Lim.
The camaraderie between Joe and a group of us  – a mixed group of local missions pastors, missions organisation leaders and marketplace leaders – intensified over the last year or so.
Whether through our monthly FOMOS (Fellowship of Missional Organisations in Singapore) meetings, or working together for Courage Calls, Antioch Summit and 1361 training, we ate his master-chef standard home-cooked food together, prayed together, planned together, got into crisis situations together and together resolved curve balls thrown at us.
Missions mobilisation has never been so fun, especially since churches and missions organisations grow in unity under Joe's  humble and wise leadership.
We just launched a decade of missions together!
Assignment obeyed
Like the rest of the Church in Singapore, the pain of losing Joseph Chean, a beloved brother and legendary missions leader not just to me but to many, hits hard and deep.
The grief is profound, much as the message of his death is profound.
It is like a thunderous voice from heaven that says: "My servant and friend has served My purpose in his generation. My last assignment for him, he has obeyed to the end."
"My last assignment for him, he has obeyed to the end."
About a week before the Lord took Joe home, Joe Whatsapped a few of us in the FOMOS Core Team chat. He said: "Danger was never on my mind until someone asked me. I firmly believe that the safest place is in obedience. For many years, I have avoided this region. The Lord confronted. I repented and the invitation to …. (countries listed) … came shortly after. I said 'Yes' and it's reality now. So, I trust in His presence."
Joe was heading to West Asia to teach about the Father Heart of God over five days. He shared: "Considering cultural and ethnic chasm, superiority, pain … this teaching has turned out to be more challenging in preparation than the normal setting."
But Joe showed them Jesus amidst the pain and injustices his students had suffered and he ministered healing.
One refugee responded with: "There is so much pain in my life that it has become knots in my heart. This week, God has helped me to untangle and given me words to describe my pain. I'm much lighter, freed and I can feel joy."
Let the nations be glad
"For the earth will be filled with the knowledge of the glory of the LORD as the waters cover the sea." (Habakkuk 2:14)
This favourite verse Joe loves to echo rings loud in my ears.
As waves of grief hit me like the ebb and flow of the sea, my tearful cry to our loving, sovereign Father is: "Give us a heart that can co-grieve and co-suffer with those who suffer sudden loss especially in the face of injustice.
"Let our heart-brokenness give us a profound strength and determination to lay it all down – that the nations may be glad!"
"Unless a kernel of seed falls into the earth and dies, it remains alone; but if it dies, it bears much fruit. Whoever loves his life loses it, and whoever loves his life loses it, and whoever hates his life in this world will keep it for eternal life. If anyone serves me, he must follow me; and where I am, there will my servant be also. If anyone serves me, the Father will honor him." (John 12:14-26)
May the outpouring of honour on our dearly beloved brother yield an unprecedented outpouring of our lives for the nations.
---
Wake and funeral services will be held from tonight till Thursday (Nov 21-23). The services will be live-streamed. Click here for details.
---
RELATED STORIES:
Joseph Chean's wake to begin this Tuesday, with services to be live-streamed
Remembering Joseph Chean: His legacy of faith that will live on
"His life was one long mission trip": Tributes pour in for Joseph Chean from pastors, missionaries, co-workers
If you have enjoyed reading Salt&Light...
We are an independent, non-profit organisation that relies on the generosity of our readers, such as yourself, to continue serving the kingdom. Every dollar donated goes directly back into our editorial coverage.
Would you consider partnering with us in our kingdom work by supporting us financially, either as a one-off donation, or a recurring pledge?
Support Salt&Light