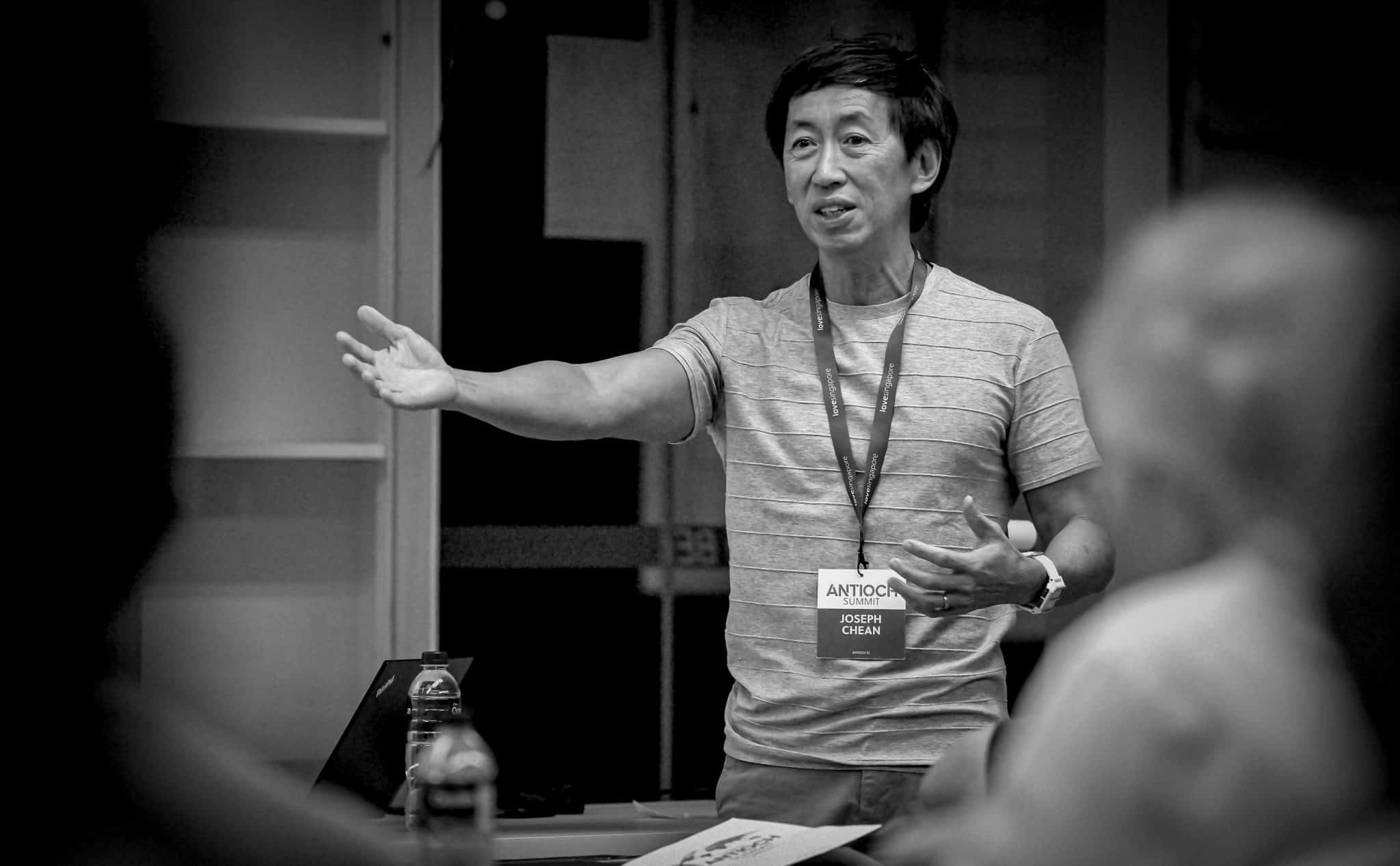 How do you grieve the loss of a man who loved God and others so passionately? By celebrating his life and cherishing the lessons that he has imprinted on all of our hearts.
Joseph, affectionately known as Joe, had been taking a short break in Istanbul after a teaching trip when he met with a road traffic accident. He would have turned 57 on November 19.
Best known for his work at Youth With A Mission (YWAM) Singapore, Joe served with the missions organisation for 26 years. Before that, he was a youth pastor at Chapel of the Holy Spirit and Chaplain's Assistant at St Andrew's School. 
Joe was first introduced to YWAM in 1994 when his church hosted a dance and music outreach team from King's Kids International, which is part of the YWAM global family of ministries. He would later go on to receive a picture from God of waves crashing into the shore, where he saw the waves as splashes representing youths. 
Excited about this vision, Joe travelled to Maui to be trained. Eternal Splashes was birthed in 1995, growing into an international movement that drew many to Christ with its evangelistic creative arts performances. 
Joe then sensed a call from God to join YWAM Singapore in 1997, but the journey took an unexpected turn when he failed to complete his first Discipleship Training School (DTS) in New Zealand.
"God, through that 30 months, really shaped me and moulded me."
Asked to step down from all leadership positions for a period of 18 months, Joe spent that time humbly serving behind the scenes, including being responsible for tasks such as clearing rubbish and washing toilets.
Realising how much those 18 months had impacted him, Joe chose to continue serving in these areas for 12 more months when that period was over.
"Those 30 months really did something to me. It stripped me in a manner that I never knew was possible. God, through that 30 months, really shaped me and moulded me," he had told Salt&Light in an interview just a few months ago.
Returning to New Zealand for his second DTS attempt with his wife and daughter in 2004, Joe successfully completed it and came back to Singapore. A year later, he was appointed the base leader of YWAM Singapore. 
One of Joe's first projects was to organise a missions conference called GoFest. Attracting 2,000 people from many nations, some 500 of them would go on to various parts of the world in response to the Great Commission.
Seven years later in 2012, Joe became YWAM Singapore's National Director, a post he held for 12 years until he stepped down this year.
During his time at the helm, YWAM achieved several milestones, including the setting up of Mercy Centre, which reaches out to marginalised groups such as red-light district workers, the homeless and youth convicts.
This was significant because for almost 30 years, the Singapore base had focused on two of its three pillars – training and evangelism – despite its location in Geylang.
Obeying God's leading to put more emphasis on its third pillar, YWAM's foray into mercy ministries encouraged churches in Singapore to look at how they could partner the organisation to care for the poor and needy.
Having shared often about YWAM's "red sea moments", Joe had always been a firm believer that God would provide the resources as long as He had spoken. 
"Man shall not live on bread alone, but on every word that comes from the mouth of God (Matthew 4:4)" was the verse he would frequently quote. 
It was not surprising then that Joe successfully led YWAM through Project Gateway, a $9.5 million building project for the purpose of expanding its ministries in Geylang, as well as training missionaries to go out to reach the last, the lost and the least.
Identifying strongly with Singapore's call as the Antioch of Asia, Joe also had a heart to spur young people to bring the Gospel to the nations.
As chairman of Fellowship of Missional Organisations in Singapore (FOMOS), he brought together missions organisations to plan the Courage Calls event in 2021. He was deeply concerned over what he saw in a post-Covid world, as many churches had either pulled their missionaries back home or pivoted from overseas to local missions.
In his other role with unity movement LoveSingapore, Joe served as the Strategic Coordinator of Antioch 21, which aims to mobilise Singaporeans for global missions. First launched in 2003 by the late Pastor Rick Seaward, Antioch 21 was relaunched in 2021 under Joe's leadership. 
In fact, just less than three months ago (August 28), Joe officially stepped down from his National Director position at YWAM, so that he could fully commit himself to the work of Antioch 21.
 
Responding to the news of their former leader, YWAM Singapore shared the following in a statement yesterday. 
"We are in shock and grief at this moment, and together with his wife Kim, and two daughters Olivia and Ashley, we are mourning the loss of a very dear spiritual father, leader, mentor, brother and friend.
"We seek your prayers alongside us for the family, and your understanding as we handle condolences. To honour the family, we ask that you give them privacy to grieve and settle necessary matters. More details will be released soon."
"We are in shock and grief at this moment."
Many members of the Antioch 21 team who had just interacted with Joe recently were also taken aback by his sudden departure.
"We just met last week for our regular breakfast before leaving for our separate trips – and he prayed for us lovingly and in person, as he always did," said Lam Baoyan, who is now ministering in Ukraine with her husband, Rudy Taslim.
"Rudy and I met Joe 10 years ago right after we came back from missions school in Africa. Over the years, he has poured into, believed in and championed everything we do," she shared.
Joe had even been texting the couple just the night before to find out how they were doing.
"Typical of Joe, as he always carried us in his heart every time we are out in the field," added Baoyan. "More than a hero of faith, Joe was our mentor and family."
Devastated and in tears when he heard the news, Simon Seow, co-founder of Indigitous and  Senior Digital Strategist at Cru, also could not believe what had just happened.
"At our last Antioch 21 meeting (two weeks ago), Joe and I were just talking about going cycling together and catching up in December when he would be taking a break. I was so looking forward to it!" he told Salt&Light.
Recounting how he came to join the Antioch 21 team, Simon said Joe's "infectious energy and visionary leadership" was what first drew him to say "yes".
"He was a dear friend, and I wanted to come alongside something that he truly believed in. I also knew that there was so much I want to learn from him," he recalled.
"But as we continued dreaming, planning and praying for Antioch 21, the inevitable happened. I became more and more invested, and eventually caught the vision Joe already saw a while ago."
Sharing how much Joe loved people, Simon also pointed out how Joe always found ways to show care even in the midst of busy work and significant projects.
"I remember that on my 50th birthday, he carved out a chunk of time during our meeting to allow people to share, to encourage me and to pray for me.
"He celebrated me, and affirmed what I brought to the team and to God's work. It was truly such a precious gift!"
Since the news broke yesterday morning, pastors from LoveSingapore and many others from across the Church have penned their tributes. 
If you are interested to share a fond memory of Joe, you can leave a message in either of the links below:
Do also look out for more eulogies that we will be publishing over the next few days for the man whom many will remember as larger than life.
Additional reporting by the Salt&Light team.
---
READ MORE:
"We are to be faithful with, not just 10%, but 100%": A challenge to rethink biblical giving
"We are to be faithful with, not just 10%, but 100%": A challenge to rethink biblical giving
Joseph Chean steps down from leadership at YWAM Singapore after 12 years as National Director
If you have enjoyed reading Salt&Light...
We are an independent, non-profit organisation that relies on the generosity of our readers, such as yourself, to continue serving the kingdom. Every dollar donated goes directly back into our editorial coverage.
Would you consider partnering with us in our kingdom work by supporting us financially, either as a one-off donation, or a recurring pledge?
Support Salt&Light