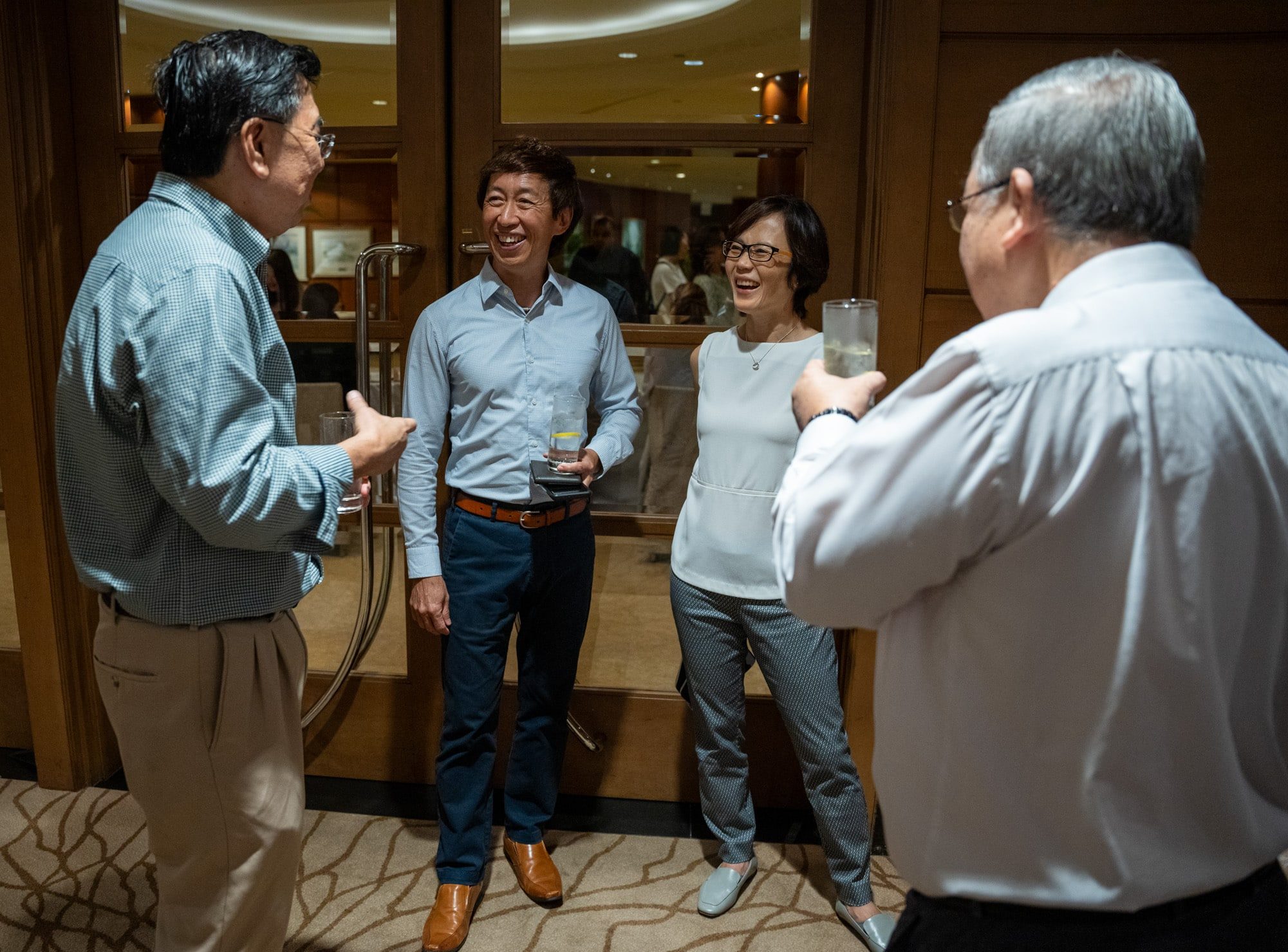 Joseph Chean and his wife Kim at the recent Kumbayah lunch on October 6, the first-ever inter-denominational clergy appreciation event. Photo by Thirst Collective.
A missionary, leader, mentor, brother, husband, father and friend – Joseph Chean was all of that and more. 
The former National Director of Youth With A Mission Singapore and Strategic Director of Antioch 21 passed away on Wednesday, November 15 from a car accident in Istanbul. 
Following the news of his sudden demise, many tributes have streamed in from all corners of Singapore and even from countries such as Cambodia, Myanmar, Timor-Leste, a testament to the countless lives he touched across the world.
To commemorate the legacy of faith Joe has left behind, the Salt&Light team has compiled just a few of the hundreds of eulogies that have come in.
"Missions was always on his heart"
In the pastoral ministry, it's not uncommon to encounter death and the loss of life. It's just something we all come to accept as part of our human journey. The news I received today, however, hit harder than expected.
Harder because Joseph was more than just a fellow minister, but also a dear friend. We have shared a few long drives up to the (LoveSingapore) Prayer Summit in Malacca and that had always made the hours long trip feel short.
In my book, he was one of the good ones, one of the heroes and giants, a real soldier and a true friend.
Most of us aspire to accomplish a fraction of what he had done for the Lord. Yet, the loss is most felt in the friendships that he had forged with many, often over a meal he prepared in his own home.
One could hardly ask for someone more invested in people and in the kingdom of God. That was why missions was always on his heart – his life was one long mission trip that has now come to an end in the autumn of his life, at a time when the magnificent colours of fall adorn the hills.
Joe has run his race magnificently, gave his all and held nothing back. Words seem inadequate to express our collective sense of grief and gratitude for this man's life.
Thank you Lord, for Joseph Chean. I wish we have had a few more of those long drives and conversations, but those few we had will have to do for now.
Until we meet again, the world will be lonelier without you my friend.
– Rev Daniel Wee, Senior Pastor, Church of Our Saviour 
"An outstanding missions leader"
Joe was a one-of-a kind leader with a strong physique but an even stronger love for God and passion for people.
We got to know each other when he took over the helm at YWAM and joined the leadership of Fellowship of Missional Organisations of Singapore (FOMOS). As his girls were studying in my church's kindergarten, I got to know him better whenever he sent or fetched them.
Joe's many courageous exploits and powerful messages soon made him an outstanding missions leader and highly in demand speaker both at my church and many missions meetings.
The last time we met on October 6 at the Kumbayah luncheon of church and missional organisations, we had such good fellowship talking about Antioch 21 and the decade of missions. We were the last to leave and talked till we reached our cars parked a distance away.
I didn't know it would be the last time I would see him on earth. His home-going may seem like a loss to Singapore's missionary cause, but I'm sure our invisible, mysterious, sovereign God knows his work is completed.
I'm envious he has entered eternity earlier than us all, but I'm sure God will, through Joe's life and example, raise up more like-minded workers to fill in his shoes.
 
– Rev Edwin Lam, Founding Chairman, FOMOS and Chairman, Singapore Baptist Convention
"Joseph touched the lives of many students"
While we grieve Joseph's passing, we cherish the many memories we created together as friends and fellow servants of our Lord Jesus Christ.
Joseph was a graduate of the School of Ministry in Tung Ling Bible School (TLBS) in 1990, and he joined the teaching faculty in 2018, focusing on "The Father Heart of God" and "Go Forth Mission".
Through these modules, Joseph touched the lives of many students. His compassion and authenticity in sharing his own journey helped many of us experience the redeeming, transforming and healing power of God's love.
Joseph's love and passion for the lost has also inspired many of our students to live intentionally missional lives daily.
Joseph was also our dear friend. We remember fondly the love and friendship we enjoyed with Joseph and his lovely family.
When we were down with Covid, we were heartily blessed by Joseph who cooked us his delicious chicken soup.
We will miss Joseph's infectious laughter, his genuine love and compassion for the broken-hearted, and his whole-hearted and deep passion and love for the Lord and the lost.
We know we will meet again. Until then, we will continue to press on and finish the race that God has marked out for us.
– Ong Guek Ju, Principal of TLBS & Dean of School of Ministry, and Philip Ong, Dean of School of Leadership, TLBS
"His hands and heart were on the ground"
Nothing surprises Joe. Even when I shared with him my deepest struggles and darkest thoughts, he would be ready to embrace me as I am.
Once when I told him about strong temptations faced at work, his response was not "you are supposed to be a holy man of God", but "think about the people you would stumble, if you fell".
That worked for me. Being a friend also meant he was honest with his own problems (e.g. in caring for his aged parents). He was not ashamed to admit that he felt helpless, and that he needed help.
Joe was practical as he was passionate for the kingdom. Although a visionary, his hands and heart were on the ground. "Don't waste time on things that don't count towards discipling the nations," he had said.
A decade ago, when I first announced to him about my chronic vision loss, I had expected some sympathy and a quiet prayer. Instead, he asked, "Have you started learning Braille?" and smiled gently.
Another time, he was told after a time of worship at YWAM base that his face had gold dust. What did he do? He went to the toilet and washed his face.
"I can't go around for my meetings later that day with glitter on my face!" Well, that's Joe for me.
– Rev Lai Kai Ming, Pastor, Barker Road Methodist Church
"He trained our youths, many are still passionate about God and missions"
I first knew Joe when he came to help with the youth ministry I was heading at Paya Lebar Methodist Church. 
He brought his team from Eternal Splashes, trained our youths, and together 70 of us went to Chiangmai for a mission trip. Many of the youths discipled by him are still passionate about God and missions. He certainly left a legacy in all of us.
My family and I also had the privilege of following him on a mission trip to Lijiang, and we became personal friends. Joe has always been an inspiration to me, and I am certainly discipled by him.
What a man of God he is. I will always remember many of his teachings and the conversations we had.
Joe, I will miss you! For whatever reason God takes you home so soon, we will not understand. But your legacy will live on, and we continue in the hope that we will meet again.
– Rev David Ho, Pastor, Covenant Community Methodist Church 
"Joe inspired us to cross mountains, rivers and oceans"
For over a decade, Joseph Chean was my YWAM leader, boss, brother, mentor and friend.
But most of all, Joe was the inspiration that brought me and many others to our knees before the Lord in worship and repentance, where we found ourselves declaring that we would go to the ends of the earth to spread the Gospel, whatever the cost, whatever the consequence.
Many of us did indeed find ourselves at the ends of the earth, in some of the most remote places with the harshest environments where the Gospel had never been. I would often joke that "it was all Joe's fault that we are here".
In fact, those far-flung nations and remote places that Joe had inspired us to cross mountains, rivers and oceans to get to were the exact places where I found the overwhelming presence and peace of the Lord. There was nowhere else I would have rather been.
And for that, I will always be grateful to Joe.
– Steve Loh, who served in YWAM Singapore from 2007 to 2018, co-founding Mercy Centre with Joe in 2013
"A man who has been with the Lord"
Joe, it has been my privilege to have met you. Thank you for loving the Lord and living for Him your whole life.
In my conversations with you at church camp, Anglo-Chinese School (Barker Road) Religious Emphasis Week (ACSBR REW), Homecoming to God, and most recently at Antioch 21 Summit, I am impacted by a man who has been with the Lord.
Your countenance, wisdom and discernment could only have come from time spent with God Almighty. Such is your impact on me, and I count it my distinct privilege given by God to have known you.
Your sermon in ACSBR REW, albeit completely recorded and played to the boys, still stands as one of the pivotal moments in the school when the boys stopped and listened to you as you shared God's heart with them.
When I heard about your passing, the words that came to my heart was from Job: "The Lord gave and the Lord has taken away; may the name of the Lord be praised."
– Loo Ming Yaw, Principal, Anglo-Chinese School (Barker Road)
"His yearning for the presence of God"
The "heart" thing about Joe was particularly his yearning for the presence of God to be manifested in our lives.
For him, it is not enough to have Him bless our plans, but that we should be sensitive to always have His presence manifested in our lives and in what we do.
– Rev Dr Jonathan Seet, Pastor-in-Charge, Pentecost Methodist Church
"The pedestal never seemed to be an issue for him"
I was pleasantly surprised that a camp speaker would reach out to a random camp participant to sow into. Joe actually initiated and asked if I would like to spend some time connecting.
This kickstarted the first of my many precious interactions with him that gave me a glimpse into his selfless heart.
I am sure all who know him can attest to how Joe is constantly thinking for others: how he can speak life into someone's situation, inspire others to reach out to an unreached people group and be a part of transforming nations.
His mind always worked so fast, but his heart always pointed him in the direction of sowing into others and His kingdom.
Over the years, we simply enjoyed catching up over a drink and just being real with one another.
I was always amazed at how he could be speaking to a stadium of thousands of people one day and chilling out with me the next.
The pedestal never seemed to be an issue for him: He always intentionally stepped down and remained humble and grounded.
Joe saw value in the individual – not as how the world defines it but value through the eyes of God – and he expressed his love for others by carving out time for them.
Thank you Joe for all that you have given of yourself to me through your mentoring, guidance and presence. Life would indeed have been different if I had not known you.
You really have made an indelible mark on my life at every major crossroad, just as you have done so for many other individuals, for the Church and for the nations. You will be dearly missed.
"Here I am, take me as an offering. Here I am, giving every heartbeat for your glory. Take me." You truly lived what you always sang, Joe.
– Kevin Lam, former staff at YWAM Singapore from 2019 to 2023
"He loved with his words, actions, time"
He spoke at my church's youth camp, and that begun my journey into full-time missions and ministry.
It has been 10 years since getting to know Joe personally, and I was on staff with YWAM for a portion of those years. 
Every time I was back in Singapore, Joe would offer to meet up to just have a chat and a meal together. Even as my wife and I entered into a serious relationship and into marriage, Joe was there to support and give counsel to us.
It is through all these moments with Joe that we witnessed his genuine love and care for all people. He loved with his words, his actions and his time.
Joe always carried God's heart for the nations and also for the people next to him.
Most recently, as we were saying goodbye at his Antioch 21 office after a meeting, I asked if I could just give him a hug. His face lit up with a big smile and said: "Of course."
Joe, we can't wait to give you a big hug when we see you again. We love you and miss you dearly.
– Maverick Leong, Lay Pastoral Staff (Youth Ministry), Aldersgate Methodist Church
"Spoke with power and conviction"
Joe was the person who helped my wife and I be open to the love and power of God through our iDTS (introductory Discipleship Training School) in 2009.
When Joe spoke, he spoke with power and conviction, and his stories of God working impacts his listeners in a deep and profound way.
– Asaph Lee, YWAMer, theological student at Discipleship Training Centre
"He told our stories when we couldn't"
Years ago, Joe visited my missions team in Timor-Leste. I walked to the YWAM Dili base to get him in the rain, along a road filled with potholes. He followed me as we made our way gingerly across muddy puddles.
Later on, he told me: "When I saw the muddy streaks of water flowing down your legs, I knew you were well adjusted."
This one passing comment has stuck in my head through the years, out of the countless conversations we have been in.
Perhaps above all, I want to honour him as a personal friend who walked the winding path of missions with me and so many others. He told our stories when we couldn't, and provoked our collective conscience to remember the lost, the least and the last.
I imagine Joe telling the chaotic story of his sudden promotion to glory to the family of saints in Heaven, with great glee and joy.
In my mind's eye, I can see his trademark hand gestures that always accompany his enthusiastic storytelling. I can hear his laughter.
Above all, I see him among the different nations and tribes and people groups whom he loved, and whose salvation he contended for till the very end.
Joe has been faithful to his lifelong assignment, and it now falls to the rest of us to be faithful to ours.
– Ting Siew Lee, Antioch 21 team member
"His life off-stage was even more revealing"
As a teenager, I had only known Joe as a speaker at youth camps and conferences. On stage, he was the "passionate missions guy" whose authority, stories and conviction reflected so much of Christ.
I was challenged to dare to live radically for the Lord. To listen to His voice. To see the Father's heart for the last, least and lost.
In 2020, I joined him in the Antioch 21 team. What I saw of his life off-stage was even more revealing of who he was.
"Anyone needs dinner? I'll cook!" Almost every meeting or catch-up session, Joe never failed to throw in this question.
He would be having a packed schedule of meetings, travels and speaking engagements, but made time to serve and love tangibly!
He became a key person the Lord used, who personally journeyed with me to be sent out as a missionary.
Today in East Timor, I grieve the painful loss of a mentor and older brother.
But thank you, Joe. For your intentional life and legacy – a radical life for Jesus, generations and nations. For being a voice for the nations on stage and a humble servant who walks the talk off-stage.
Thank you for finishing well. As for the rest of us, we're not done yet. We'll see you soon!
– Sarah Chan, Antioch 21 team member
"A man on a mission"
The moment Joe got a whiff of what God wanted him to do, he wasn't going to negotiate. He was a man on a mission!
Among the many qualities he has, three things were to clear to me about Joe.
He loved to worship, and he had a passion to call people and churches to fulfil their callings in what he was most passionate about: missions and discipling others to reach the lost.
I'm grateful for the time I have had to serve alongside him. We will miss him!
– Saula Fangupo Havea, Antioch 21 team member
"I was touched by his intentionality to connect"
I remember the first time we met in 2021. We chatted for two hours and had to leave. Joe then asked: "Do you cycle?" I replied: "Sure, why not?"
I eventually joined one of his personal rides that lasted almost four hours. There was so much in which we resonated with each other; I ended that ride with both my spirit and my thighs burning.
I did not know Joe prior to that, but I was touched by his intentionality to connect as a human being despite being such a well-regarded leader.
We became fast friends and fellow "colleagues" at Antioch 21. We would meet regularly for breakfast to catch up, share and encourage each other.
He would also reach out from time to time to check in on how I was. He even had an extended argument with me about my refusal to receive a birthday gift from him, all because he wanted to show me that I mattered.
Joe was one of a kind: confident yet humble, brilliant yet genuine, disciplined yet gentle, a great visionary yet faithful in the daily. With all these amazing traits, what stood out the most is that he was first my friend, then a co-labourer.
I struggle with the news of his passing, and I struggle to express my condolences.
Is this how Joe's story should end? I wished we had more time. There's so much of life we could have experienced together.
But I will never forget the times we have spent together. I'm grateful to have known him in the short three years: to hear of his heart, to see in real time his faithfulness, and to have worked together with him as we served.
Thank you Joe, for being you. I'll miss you dearly. When it all comes down in the end, may we be found faithful as we re-unite together with Christ.
– Kenneth Heng, Antioch 21 team member
"His heart for the nations and people was infectious"
Joe was a friend and mentor to me and many others. I will miss my cycle buddy. His heart for the nations and people was infectious.
I will always be grateful for the way he championed me, and I am thankful for his obedience to the Lord. His obedience touched the lives of many people not only in Singapore but around the world.
– Jethro Koh, Antioch 21 team member
"God assigns every one of us a piece of the puzzle"
"Life is so complex and there is no one way to evaluate every situation." – Joe's last message for me was on November 1.
Thank you Joe for the last three months at Antioch 21! So glad, honoured and privileged to serve with you at the office!
You shared with me that you do not eat bitter gourd because it is bitter, but you love goya champuru  (bitter melon stir fry) in Okinawa! I will definitely go and try it one day, Joe!
I also remember that you shared Isaiah 46:11 during our final pre-Antioch 21 Summit meeting on September 4.
You shared that God assigns every one of us a piece of the puzzle, and we all need to bring our own piece of the puzzle and put it together so that we can see God's full picture!
This exact particular verse became an important confirmation for me to join Rudy and Bao Yan for the Ukraine mission trip in November.
Thank you for your blessing Joe, and I will miss you!
– Winson Lee, special assistant to Joe, Antioch 21
We believe there are so many more untold stories of Joe. If you would like to share a tribute, we invite you to leave a message in either of the links below:
Do also keep his family in prayer during this time of mourning. 
Additional reporting by the Salt&Light team.
---
READ MORE:
Joseph Chean steps down from leadership at YWAM Singapore after 12 years as National Director
"We are to be faithful with, not just 10%, but 100%": A challenge to rethink biblical giving
"We are to be faithful with, not just 10%, but 100%": A challenge to rethink biblical giving
If you have enjoyed reading Salt&Light...
We are an independent, non-profit organisation that relies on the generosity of our readers, such as yourself, to continue serving the kingdom. Every dollar donated goes directly back into our editorial coverage.
Would you consider partnering with us in our kingdom work by supporting us financially, either as a one-off donation, or a recurring pledge?
Support Salt&Light
About the author
Gracia Chiang
Gracia used to chase bad news — now she shares Good News. Gracia's different paths in life have led her from diverse newsrooms to Living Room by Salt&Light, but her most difficult and divine calling to date is still parenting.
X
Support the ministry of Salt&Light!