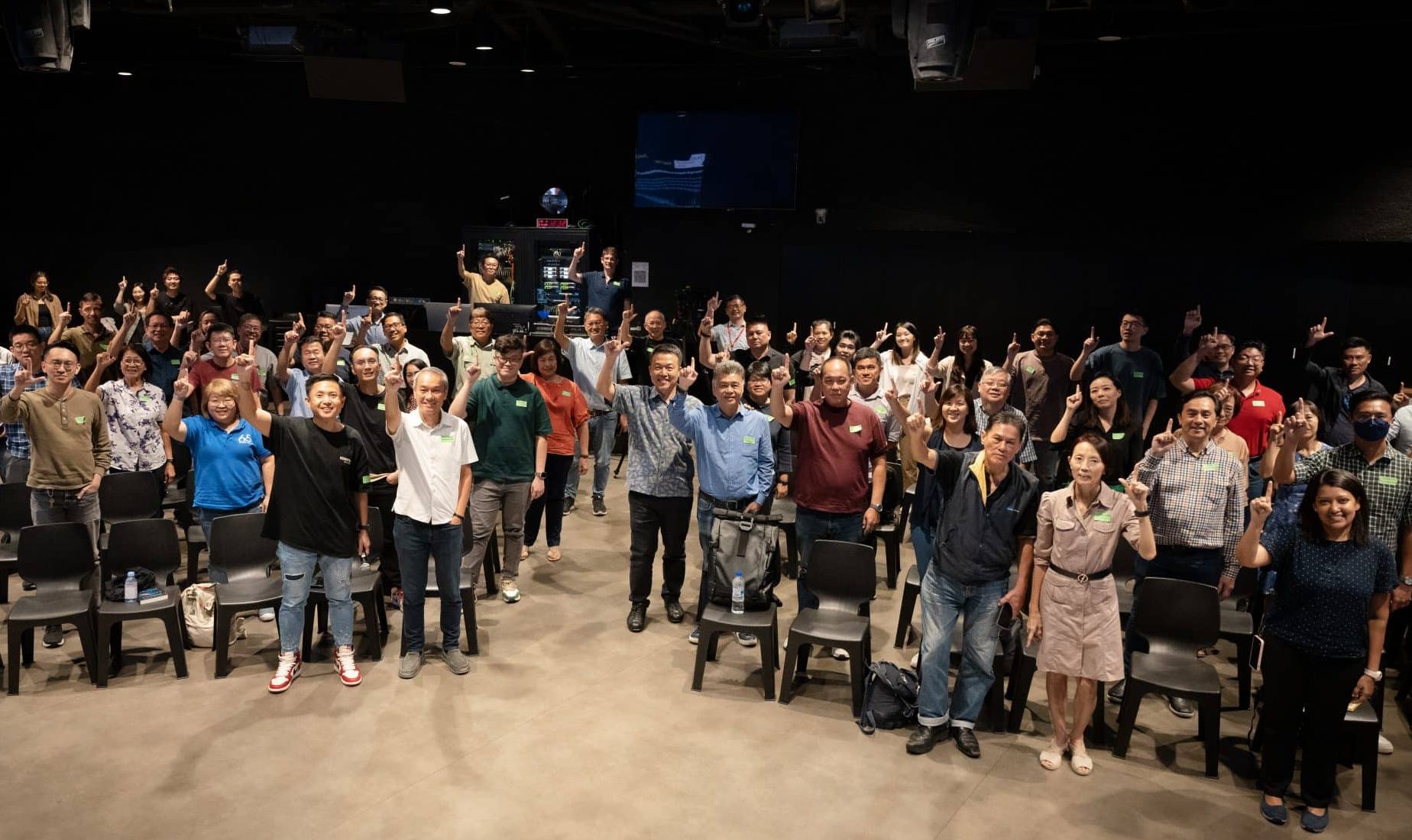 Can each of us win one person over to Christ? Pastors and leaders show their support for the One For Jesus movement.
It was a bustling night at Seiwaa Okonomiyaki and Teppanyaki restaurant along Dunlop Street in Little India.
Families, couples and friends were busy tucking into their Japanese pancakes and grilled meats as they engaged in conversation with one another.
Towards the end of the meal, Pastor Alan Tay went round to the tables and put forth an intriguing question to the patrons: "Do you want to understand your past and know your future?"
The curious ones who responded were invited to a café space upstairs where art cards were laid out on the tables. The patrons picked any random card that caught their eye and Pastor Clement Sim and his team from Soakability Church ministered to them by releasing timely prophetic words.
"Not only were my customers ministered to, I also saw my own staff at the restaurant being saved," said Pastor Alan Tay, a former pastor at Petra Community who owns the restaurant with three other business partners.
Pastor Alan partners Soakability Church to do outreach at his restaurant fortnightly. Soakability Church also does street evangelism in Chinatown and Little India every Sunday where its members pray for the sick and share the Gospel.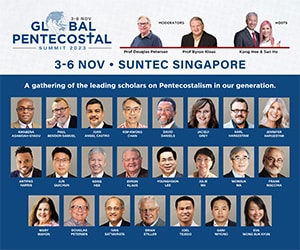 Pastor Alan knows the power of Kingdom partnership for evangelism. A few years ago, he partnered Dr Phillip Poh from Barker Road Methodist Church to do outreach via the chapel services at Anglo-Chinese School (Barker Road).
Bringing home pre-believers 
In 2016, he engaged the Singapore Youth For Christ performing arts group to conduct a Valentine's Day outreach at the school and more than 120 students prayed to receive Christ. In 2017, he roped in Alpha Singapore to conduct youth Alpha to the lower Secondary levels and more than 200 students accepted Christ. The following year in 2018, they did youth Alpha for the whole school and 500 students received Christ.
"When the body of Christ works together, we can achieve so much more for the Gospel," said Pastor Alan, who is also the executive director of the One For Jesus (OFJ) movement. The movement aims to mobilise every Christian to bring at least one pre-believer to Christ within 10 years.
Pastor Alan and Pastor Clement were sharing their experiences of evangelism with over 50 pastors and church leaders who gathered at Grace Assembly of God Church on May 24. The meeting was held for church leaders to share and discuss with one another their creative ideas for evangelism.
Pastor Norman Ng from 3:16 Church and Ps Rick Toh from Yio Chu Kang Chapel both shared how they embraced OFJ movement's call into their churches.
One For Jesus 
Pastor Norman Ng enlisted the help of celebrities such as Zhu Houren and Zhou Chu Ming (Chew Chor Meng) to reach out to the elderly in their midst. Zhu Houren, for instance, shared his story in the Mandarin service. Zhu Houren, together with Zhou Chu Ming, also volunteered to visit some of the seniors at their homes. A number of them were moved by God and were saved.
"When the body of Christ works together, we can achieve so much more for the Gospel."
3:16 Church also set aside six Sunday services ­– the prime time of the church – to conduct the Alpha course for the congregation. They prioritised this in order to deepen its members' understanding of the Gospel and grow their passion to reach the lost. Members did not just hear the call, they acted on it and invited 100 first-time visitors to the church to join them in exploring life's biggest questions.
Pastor Rick Toh shared how, at Yio Chu Kang Chapel, they prioritised evangelism in the church.
At the start of each year, members prayerfully ask the Lord for the names of their unsaved loved ones. The church dedicates time during its services – once a month – to get its congregants to press in to pray for the one person whom they hope to bring to Christ. Their small groups did outreach through social gatherings every fifth week.
Said Pastor Rick: "Christ established the church to fulfil the Great Commission as a main task rather than a side focus. Though I am quite a quiet person, my preference or personality has to be put aside in order to fulfil what is in Christ's heart."
Since the inception of the One For Jesus movement in 2021, over 1,000 believers – representing 86 churches and three parachurches – have made the commitment to bring one person to Christ.
The idea for the movement began when Jason Wong, the founder of Yellow Ribbon Project and Dads for Life movement, heard God asking him: "Do you think you can bring one person to Christ if given 10 years to do so?"
"Christ established the church to fulfil the Great Commission as a main task rather than a side focus."
Jason replied in the affirmative, as it was a rather low bar for him, but the question kept coming back to him.
"Then, I realised that the question was not just meant for me, but also for every Christian," said Jason, who worships at Cornerstone Community Church.
When he started asking people around him this question, they all said "yes".
Struck by what would happen if this were to be a reality, Jason realised that it would mean that in 10 years, the Christian population in Singapore would double from 12% to 24%.
That has not happened before, noted Jason. He had felt a special burden for evangelism in the year leading up to the Celebration of Hope rallies.
Then, Bishop Rennis Ponniah was conducting the roadshows for Celebration of Hope (COH) when he showed a graph on the percentage of the Christian population in Singapore and pointed out how its growth had plateaued in recent years.
"One of the things he said that I never forgot was: The Church has stopped growing," said Jason.  
He said that One For Jesus is not meant to be another church, ministry or event.
"It is a movement to raise the water level so that every boat can float and go higher. Instead of having one man to reach a thousand (such as a Billy Graham or Reinhard Bonnke), if a thousand people reach one each, the same number of people will be reached," said Jason.
Sharing resources 
To that end, the movement hopes to equip individuals and churches with the training and resources to evangelise effectively.
"Though I am quite a quiet person, my preference or personality has to be put aside in order to fulfil what is in Christ's heart."
On the individual level, it hopes to distribute Gospel toolkits and encourage believers to go for the JesusToday workshops that focus on how to share the Gospel through normal conversations.
On the church level, there would be Alpha and other apologetics trainings offered, such as the upcoming Global Alpha Chinese Conference to be held in July.
Nationally, there are also plans for other large-scale outreach events, such as on Grandparents' Day in November and Chinese New Year next year.
Said Jason: "We hope every church will join us in this effort by sharing their evangelism resources with us – whether it is teaching materials, tools, stories, videos or activities – so that we can put together an outreach toolkit to share with the rest in the Church for greater impact."
---
For more details on One for Jesus, click here. 
If you have outreach resources that you would like to share, fill up the form here.
---
RELATED STORIES: 
One For Jesus: Can you bring 1 person to Christ if you have 10 years to do that?
"When somebody tells me it can't be done, I would take it as a challenge": Jason Wong on transforming lives of families, former offenders
How having his feet washed in prison prepared an ex-offender to wash the body of his dying father
If you have enjoyed reading Salt&Light...
We are an independent, non-profit organisation that relies on the generosity of our readers, such as yourself, to continue serving the kingdom. Every dollar donated goes directly back into our editorial coverage.
Would you consider partnering with us in our kingdom work by supporting us financially, either as a one-off donation, or a recurring pledge?
Support Salt&Light