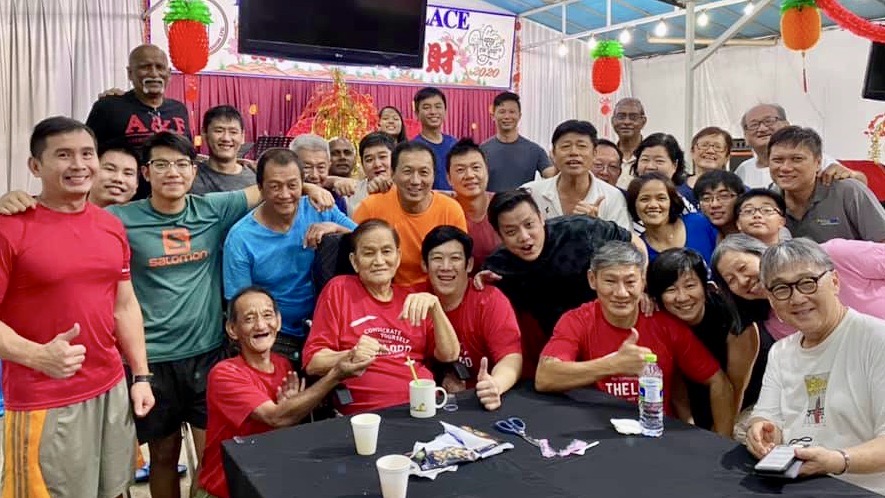 The Hiding Place family celebrating Ps Philip Chan's 69th birthday on January 7 this year. His love for all who pass through the doors of the halfway house has touched countless lives. Photo from Caleb Tan's Facebook.
"Just love them like they are family," the late Pastor Philip Chan said of over 1,000 men and their families who passed through the doors of The Hiding Place (THP), Singapore's first halfway house that he co-founded with his wife Christina.
Pastor Philip passed away at the age of 69 on February 3, 2020, after a battle with liver cancer.
After recovering from drug addiction and accepting the Lord on May 11, 1976, he began working with those struggling with drug addiction.
The home's motto, "As long as we live, we will open our door to anyone who knocks", is one that Ps Philip and Christina took seriously from the start. They practised what they preached to their staff. (James 2:17)
This has seen them welcome not just drug addicts, but also ex-prisoners, gambling addicts, homeless orphans, troubled youths and anyone in need of help. This has even included those with mental disabilities.
The couple's radical love has touch countless lives, not just that of residents, but their families as well.
Big heartedness
Jenny Cheng was one those who was deeply impacted. She has known Ps Philip and Christina since 1987, when her brother, Sunny, first joined THP's residential rehabilitation programme. Sunny had been addicted to drugs since he was a teen and had been in and out of prisons.
Jenny recalled a time in 1992 when THP staff and residents were in Kuala Lumpur, Malaysia, for their church camp. Sunny received a call that his father was gravely ill. Without hesitation, Ps Philip purchased air tickets and accompanied Sunny back to Singapore.
"He could have opted to send somebody else to fly back with Sunny but Ps Philip came back with him. He even shared the Gospel with my dad during his last moments and my dad accepted Christ there and then," said Jenny, 58.
"You see his love, you see God's love. Simple as that."
Despite Sunny's multiple stays in THP, he continued to struggle with drug addiction. His years of drug abuse finally caught up with him in 2011. When Ps Philip found out Sunny was in a hospital's intensive care unit, he rushed down to minister to him.
Ps Philip visited Sunny several times and it was during one of these visits that Sunny finally accepted Christ as his Lord and Saviour. He was eventually moved to a hospice to live out his remaining days.
Through Sunny's time at THP, both his parents and two of his siblings, including Jenny, came to know Christ. Jenny and her husband continue to attend the Corrie Ten Boom Centre, the church in THP's premises.
"Ps Philip told Sunny he could have his wake at THP. The only thing was, Ps Philip's birthday on January 7 may have fallen on the same day. He told Sunny that he could have his wake in the worship hall while he had his birthday celebration outside. Can you imagine this big-heartedness?" an emotional Jenny told Salt&Light. Her brother held on and died on January 8, 2011.
"That was the extent of Ps Philip's kindness to us, which was constantly and consistently shown throughout his life. You see his love, you see God's love. Simple as that."
A stubborn rock
When Kelvin Choo first set foot in THP in February 2017, he was adamant that he was just there to quit his drug addiction. Religion, to him, was secondary, having been brought up in a home where his dad was openly against Christianity.
"Quitting substance abuse was actually a secondary problem. The primary problem was because I didn't have God in my life."
"Over time, I came to realise that quitting substance abuse was actually a secondary problem. The primary problem was because I didn't have God in my life," admitted Kelvin, 40, who accepted Christ nine months after being in THP.
As family visits were limited to once a fortnight, Kelvin's dad would take the opportunity to be see his son more frequently by attending the weekend church services held in THP. During that period, his dad was diagnosed with cancer.
"When my dad's condition worsened, THP made special arrangements for me to take him to hospital, to give us more time together. When he was unable to walk, the staff accompanied me home to have dinner with my family," Kelvin told Salt&Light.
"My dad was touched by these gestures and it was then that he decided to accept the Lord. I was really, really surprised. It was a very big miracle – seeing how God moved this stubborn rock," he said, his voice breaking.
"The day before Christmas Eve in 2018, the THP family went to my dad's place to sing carols. He was lying in bed and they came, instruments in tow, and sang for him before he was called home to the Lord on Christmas Eve."
The blessing
Tan Hock Seng's elder brother took him to THP in 1981, when he was just 23, in the hope that he would stop his drug habit.
Little did he know that he would go on to stay at THP for the next 39 years and counting. All because of an exchange he had overheard.
At the time, he had just joined THP's programme and, by his own admission, was no angel.
"Eh, how is Hock Seng?" he overheard his elder brother asking Ps Philip during a family visit.
"Don't worry, he's a blessing!" came Ps Philip's swift reply.
"I was thinking in my heart, 'I'm not a blessing lah … why he say like that?' I realised Ps Philip was saying that by faith. So that really stuck in my mind – to be a blessing," said Ps Hock Seng, 62, who now oversees the halfway house.
Legacy of love
Sart S, a THP resident-turned-staff, also recounts the many times when residents hurled abuse at Ps Philip due to some misunderstanding and left the halfway house on a sour note.
"Sometimes after that, they would call, asking to return as they had gotten into trouble again," said Sart, 65, who oversees discipline in the home. "Ps Philip would tell us to take the boy in. Even when we reminded him of what happened in the past, he would say, 'Never mind lah, learn to love them. Just love them.'"
He recalled another time when he was interviewing a potential resident and his family. This was the family's third interview and they had asked to meet Ps Philip as he had not been present during the earlier interviews.
Sart asked for the family's understanding as Ps Philip had become increasingly ill and was resting after a medical appointment at the hospital.
The room where they met was just next to Ps Philip's bedroom. Upon overhearing the conversation, Ps Philip hobbled out to meet with the boy and his family.
Despite his tiredness, ill health and spinal issues that made walking painful, Ps Philip grabbed any chance he could to fulfil God's call on his life, which is also THP's mission:
We proclaim Him, admonishing every man and teaching every man with all wisdom, so that we may present every man complete in Christ. (Colossians 1:28-29)
The musician had been a resident at THP from 1991 to 2000 before leaving for an overseas music stint. While overseas, he started taking drugs again. "If there is one place that can help me turn my life around, it is The Hiding Place. So I called Ps Philip and he told me to come back immediately.
"I thank God for Ps Philip. The burden that God placed on his heart to love all of us has changed and touched so many lives, including mine and my family's. I will never forget the way he loved us and taught us to love others."
Wake details
Pastor Philip Chan's wake is being held at The Hiding Place at 50 Jalan Lekar until Thursday (February 6). The cortege leaves for Mandai Crematorium on Friday. Details can be found here.
If you'd like to contribute to the work of the Hiding Place, click here. 
If you have enjoyed reading Salt&Light...
We are an independent, non-profit organisation that relies on the generosity of our readers, such as yourself, to continue serving the kingdom. Every dollar donated goes directly back into our editorial coverage.
Would you consider partnering with us in our kingdom work by supporting us financially, either as a one-off donation, or a recurring pledge?
Support Salt&Light