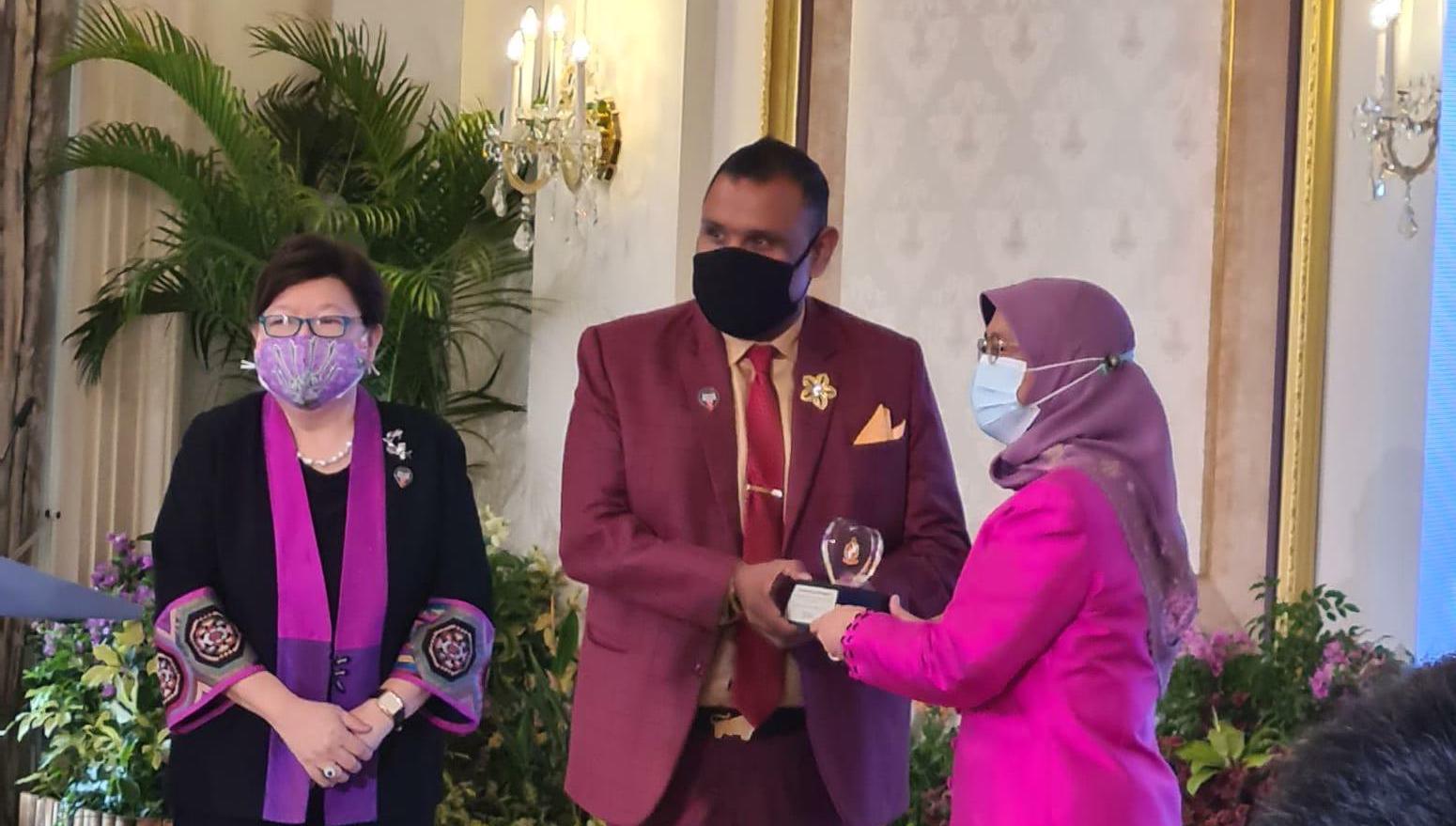 Rev Samuel Gift Stephen (centre) receiving the Special Commendation from President Halimah Yacob (right) in the Leader of Good category at the President's Volunteerism & Philanthropy Awards 2020 Special Edition. Photos courtesy of Samuel Gift Stephen.
His evangelist father invited migrant workers home regularly, and the family would host no less than five workers on any given day.
Rev Samuel Gift Stephen, who as a child grew up sharing meals and sleeping next to the guest workers, received a Special Commendation (Leader of Good category) at the President's Volunteerism and Philanthropy Awards on Friday (Oct 16) for showing the same grace to the workers.
Rev Samuel is the Lead Director of the Alliance of Guest Workers Outreach (AGWO) and Vice President of The Hope Initiative Alliance (HIA).
At the peak of the Covid pandemic, Rev Samuel spent up to 15 hours a day doing meal deliveries and looking after the well-being of migrant workers as they served the Stay-Home Notice (SHN) issued to all workers in the construction industry.
HIA won this year's award in the Organisation of Good category, having spearheaded efforts to feed and care for over 12,000 migrant workers in almost 300 factory-converted dormitories in the early days of the Covid pandemic.
An inter-religious collective of charities and NGOs, HIA delivered pre-dawn meals every day throughout the Ramadan season to 6,000 fasting Muslim workers, and has so far distributed more than 1 million meals, along with food supplies, hygiene products and basic medical kits worth more than $3million.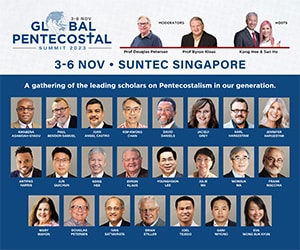 On receiving the award, Pastor Samuel said his work was a result of Matthew 5:16, which encouraged him to let his light shine before others "that they may see your good deeds and glorify your Father in heaven".
The Church rallied
The President's Volunteerism and Philanthropy Awards, the highest honour in Singapore for giving, recognises outstanding organisations and individuals for their contributions to society.
"This award is especially for the Church in Singapore."
"This award is especially for the Church in Singapore who rallied their volunteers to serve our guest worker brothers," said Pastor Samuel, acknowledging the invaluable contribution of HIA's many partners, donors and volunteers and calling it a "kind affirmation" of their efforts.
The HIA-AGWO coalition recognised that the workers needed more than just physical food supplies and set up an Adopt-A-Dorm programme where organisations could build friendship and rapport with the workers they were supporting.
More than 70 churches participated in this initiative and many are continuing their engagement even today.
The majority – almost 80% – of the volunteers involved with the Ramadan pre-dawn meal distribution to the 6,000 workers were from churches as well. 
His father's legacy
"It brings great joy to my family that the work my father began more than 50 years ago is honoured today," said Pastor Samuel with emotion. His late father was an evangelist in Singapore who reached out to migrant workers in the construction industries. 
AGWO will continue its work in building bridges across ethnicity, race, language and religion, assured Pastor Samuel. Right now, the focus is on developing mental resilience in the workers, while honouring and showing appreciation to them. 
Organised annually by the National Volunteer and Philanthropy Centre (NVPC), this year's President's Volunteerism and Philanthropy Awards, held on Friday, October 16, were presented to 31 recipients at the Istana.
A record number of 236 nominations were received this year, triple the number in 2018, noted President Halimah Yacob.
"The overwhelming response is a testament to the tremendous efforts across the nation in response to Covid-19," said the President.
"At this time, what they need is family," say volunteers who deliver thousands of 2am Ramadan meals to migrant workers
"We watched in awe as the miracle of five loaves and two fishes came alive!" How one church rallied to support 1,200 migrant workers
If you have enjoyed reading Salt&Light...
We are an independent, non-profit organisation that relies on the generosity of our readers, such as yourself, to continue serving the kingdom. Every dollar donated goes directly back into our editorial coverage.
Would you consider partnering with us in our kingdom work by supporting us financially, either as a one-off donation, or a recurring pledge?
Support Salt&Light