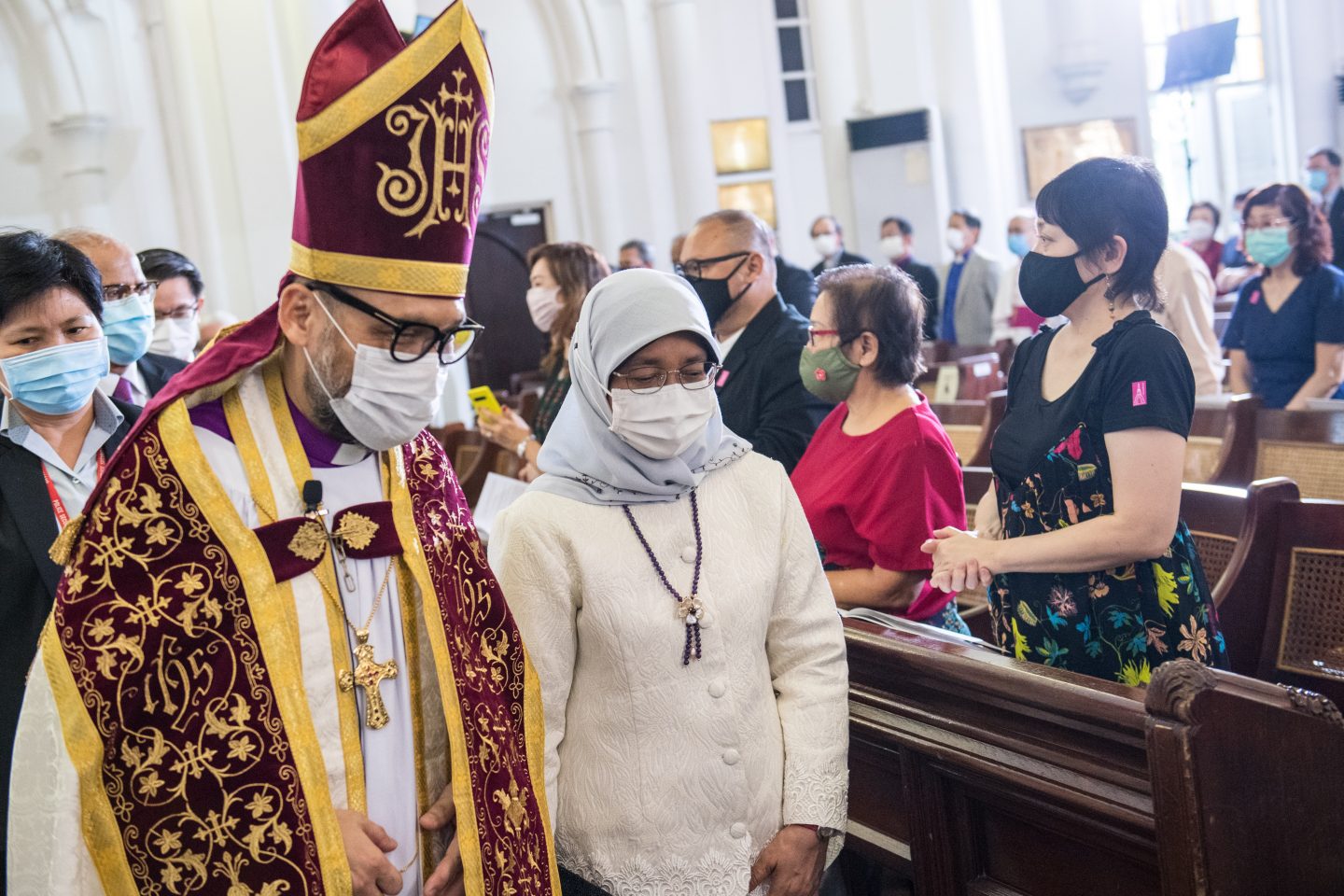 The newly-installed Bishop of Singapore, Titus Chung, escorts the President of Singapore, Mdm Halimah Yacob, at the end of yesterday's service celebrating his consecration and enthronement. All photos courtesy of St Andrew's Cathedral.
"I know your shoe size. It is not as small as you or others might like to think. Your shoe size is as big as the heavy task and responsibilities that God is placing upon you."
The Right Revd Datuk Danald Jute (Bishop of the Diocese of Kuching) had this advice for the newly-installed 10th Bishop of Singapore, during yesterday evening's (October 18) consecration and enthronement service.
Bishop Titus Chung, 55, steps into the large shoes of Rt Revd Rennis Ponniah, who retired after eight years of service as the 9th Bishop of Singapore. 
The sacred and momentous occasion was steeped in ceremony and tradition. But with Covid restrictions on church gatherings limiting those present to 100. Thousands were present at previous installations.
The 2.5 hour service at St Andrew's Cathedral was attended by religious, community and political leaders including the President of Singapore, Mdm Halimah Yacob, and her husband. Also present were former president Tony Tan and his wife, Mary, both Anglicans. More than 2,000 people followed the service which was live-streamed on YouTube.
The Rt Revd Dr John Chew – the 8th Anglican Bishop of Singapore – opened the service with a prayer. This was followed by his reading the authority for the consecration, reiterating the duties required of the Bishop as the chief pastor of the Anglican Church. 
"Your shoe size is as big as the heavy task and responsibilities that God is placing upon you."
"A Bishop is called to lead in serving and caring for the people of God. As chief pastor, he shares with his fellow Bishops a special responsibility to maintain and further the unity of the Church, to uphold its discipline, and to guard its faith. He is to promote its mission throughout the world.
"It is his duty to watch over and pray for all those committed to his Church and to teach and govern them after the examples of the Apostles, speaking in the name of God and interpreting the Gospel of Christ. He is to ordain and send new ministers, guiding those who serve with him and enabling them to fulfil their ministry.
"He is to be merciful, but with firmness, and to minister discipline, but with mercy. He is to have special care for the outcast and needy; and those to turn to God he is to declare the forgiveness of sins."
The Cathedral bells were rung 39 times, symbolising the 39 Articles of Religion of the Anglican Church. 
Faith in a time of Covid
Bishop Titus takes on his new appointment during a challenging and uncertain time of the global Covid-19 pandemic.
"The task of the Bishop of Singapore is to be the cure of souls. With it comes a two-fold responsibility, namely: We are to serve the Church and the nation we belong to under the divine purpose of God. Such responsibility God has entrusted to us could not be clearer as we weather the storm of an unprecedented pandemic in human history that pushes us almost to our very limit," said Bishop Titus in his first address in his new role.
"The weight of our responsibility being the cure of souls … is ever increasing."
"Tending to the bodily needs alone only will not be enough to restore a person to his or her complete wellness," he said, referring to the rise in the last few months, of mental and psychological health needs among Singaporeans due to the impact and stress of Covid-19.
"The weight of our responsibility being the cure of souls, tending not only to the needs of he body, but also the mind and the spirit is ever increasing.
"What we need is not something just for here and now. Not withstanding the great pressure to get ourselves out of the woods as soon as possible, but a long term plan, enabling every one of  us to grow healthily, holistically and strongly in the long run. And we have to begin with the youngsters among us.
"One may ask, how can we do that? … Certainly, there is more than one answer to the question," he said, citing music and arts, or counselling as possibilities for some.
But for Christians, "the importance of faith, among others, cannot be underestimated", he said.
"Faith is needful and crucial because it nurtures the human mind and the spirit, giving strength to life and building resilience. Faith enables a person to grow and to relate to one another with love and hope, especially in a period of great challenge and difficulty. Faith is where love and hope are found, and in love and hope, faith.
"To God, every single life matters. We are to provide support and care to everyone."
The responsibility of the Bishop of Singapore "has a lot to do with building lives and enabling communities to grow strongly in faith and hope so that everyone may live up to his or her potential in peace and harmony …
"To God, every single life matters. We are to provide support and care to everyone, more so to those who are in need of help, in such a way that they are able to overcome the vicissitudes of life courageously and resiliently. This is the sacred and solemn task. We need all the help we can get from God."
Bishop Titus ended his address by referring to the Gospel of Mark. (Mark 10: 44 – 45)
"If you ask me why we Christians are doing what we are doing, I think the answer is here … Faith, love and hope are best expressed in our service to one another. For our Lord, Jesus Christ, came to serve and not to be served. And to give a new life that otherwise would not be possible." 
---
ABOUT THE DIOCESE OF SINGAPORE 
The Diocese of Singapore dates back to the founding of modern Singapore in 1819 with the arrival of the first English traders. Established in 1909, the Diocese of Singapore is a very active member of the global Anglican community. In  Singapore, her membership has grown significantly to 22,000.  
Under her care are six deaneries – Cambodia, Indonesia, Laos, Nepal, Thailand and Vietnam. 
Within Singapore, the Diocese comprises 27 churches, 10 schools, 8 kindergartens, 8 childcare centres, 17 centres under the Singapore Anglican Community Services, and 10 centres under the St Andrew's Mission Hospital.
---
RT REVD RENNIS PONNIAH TALKS ABOUT HANDING OVER THE REINS:
"Jesus is girding his Church in a new way for a new day," declares Rt Rev Rennis Ponniah, as he prepares to hand over reins to new Bishop-designate
Bishophood not a prize to be won but a cup to be drunk, says Bishop Rennis Ponniah as he prepares handover
If you have enjoyed reading Salt&Light...
We are an independent, non-profit organisation that relies on the generosity of our readers, such as yourself, to continue serving the kingdom. Every dollar donated goes directly back into our editorial coverage.
Would you consider partnering with us in our kingdom work by supporting us financially, either as a one-off donation, or a recurring pledge?
Support Salt&Light