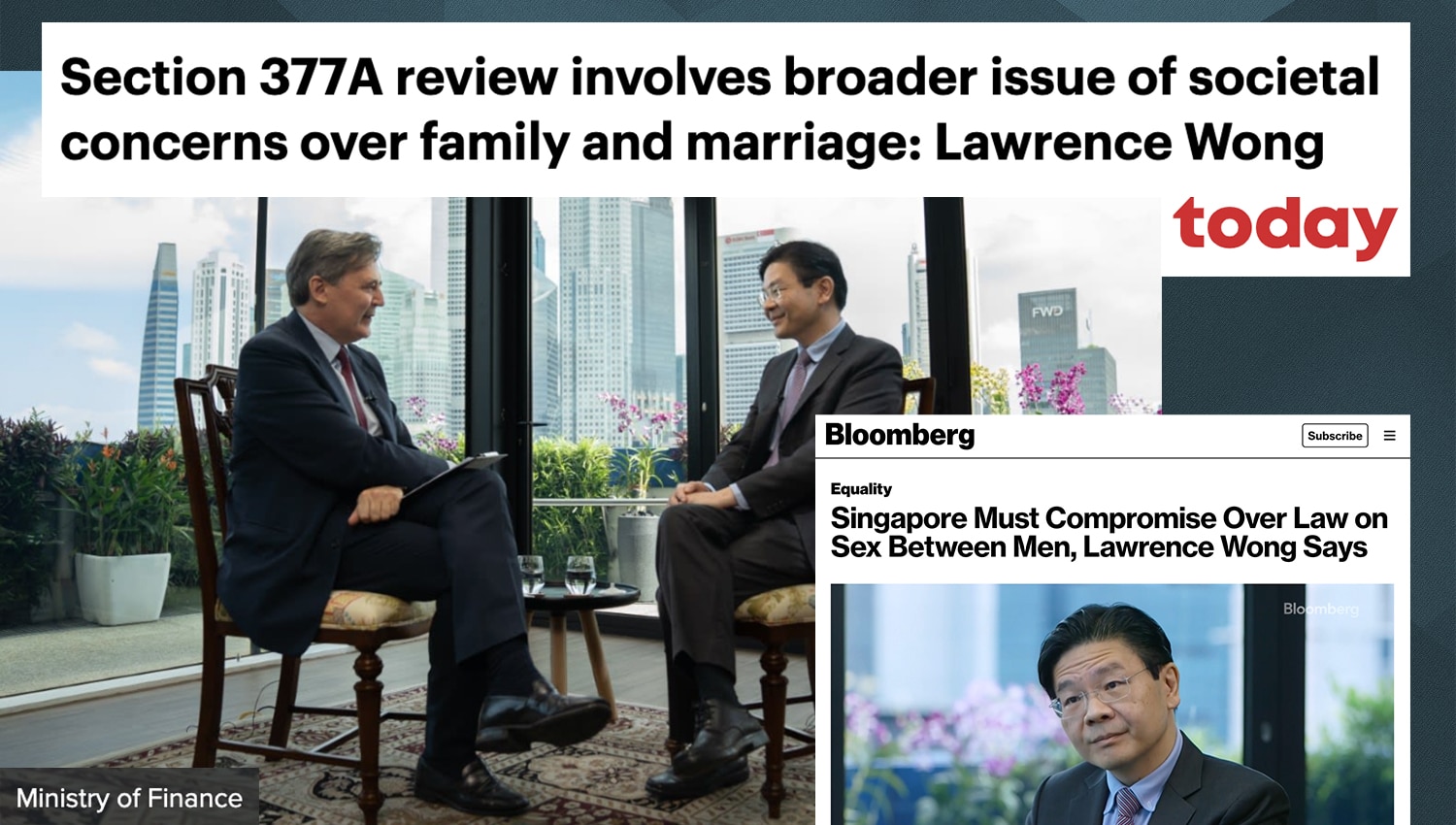 Singapore Deputy Prime Minister Lawrence Wong in an interview with Mr John Micklethwait, Bloomberg News Editor-in-Chief, on 15 Aug, 2022.
In the strongest signal yet that Section 377A – the law in Singapore's Penal Code which criminalises sex between men – may soon be reviewed, Deputy Prime Minister Lawrence Wong noted in an interview with Bloomberg that views on the law had "evolved".
"Views on the law and criminalisation of homosexual behaviour certainly have evolved (and) changed, but there are also views around family and marriage (to consider)," said the Prime-Minister-in waiting in an interview on Monday, 15 August, which was published on Tuesday.
"We will have to engage them and consider how best to move forward on this matter, recognising that people in Singapore hold very strong views, and sometimes these are opposing views."
In its article, Bloomberg paraphrased Mr Wong as saying that "Singapore must compromise" on the current position on Section 377A.
The authorities are considering how to move forward without causing "deeper divisions in our society", said Mr Wong, who will take over from Mr Lee Hsien Loong as Prime Minister "not later than 2025".
"DEEP AND OPPOSING VIEWS"
Section 377A, he noted, serves an important purpose as a moral signpost for the nation.
"In Singapore there are many segments who feel that it's not just about the law, but the law is a marker for other things, things that they care about, about society, societal values, about family, about marriage," he told Bloomberg Editor-in-Chief John Micklethwait.
Such concerns should inform any review of the law, he indicated.
"It is about how we organise ourselves as a society, whether or not values around family – around marriage – will be changed, and those are the concerns that the larger segment of Singaporeans is concerned about," he was quoted as saying in TODAY.
The Deputy Prime Minister said any decision on Section 377A should be led by Singaporeans. Foreign politicians such as Nancy Pelosi have called for change on policies related to the local LGBTQ (lesbian, gay, bisexual, transgender, queer) community.
"These are matters for Singaporeans to discuss and come to a consensus on how to move forward," the Ministry of Home Affairs said in response to the United States' House Speaker's comments.
In his Bloomberg interview on Monday, Mr Wong added: "It is one of those issues that has to be managed and dealt with carefully and sensitively, because it pertains to our social values and norms and we have been doing this for a range of different issues.
"Whether it is race or religion, or whether it is regarding sexuality, we know that these are issues where different segments of society hold deep views and sometimes opposing views." 
TIMELINE: CHALLENGES TO SECTION 377A IN 2022
Mr Wong's interview was the latest of incidents this year surrounding the law.
Various Singapore politicians have release a series of statements suggesting the Government is looking for the "best way forward" on Section 377A, while pro-family advocates have said that any such move would be unwise "unless and until" safeguards are in place for the definition of marriage, freedom of practice of religion, and other areas which may be impacted.
Government looking to safeguard position of marriage as between man and woman: Minister K Shanmugam
Singapore's apex court dismisses call to repeal Section 377A
If you have enjoyed reading Salt&Light...
We are an independent, non-profit organisation that relies on the generosity of our readers, such as yourself, to continue serving the kingdom. Every dollar donated goes directly back into our editorial coverage.
Would you consider partnering with us in our kingdom work by supporting us financially, either as a one-off donation, or a recurring pledge?
Support Salt&Light