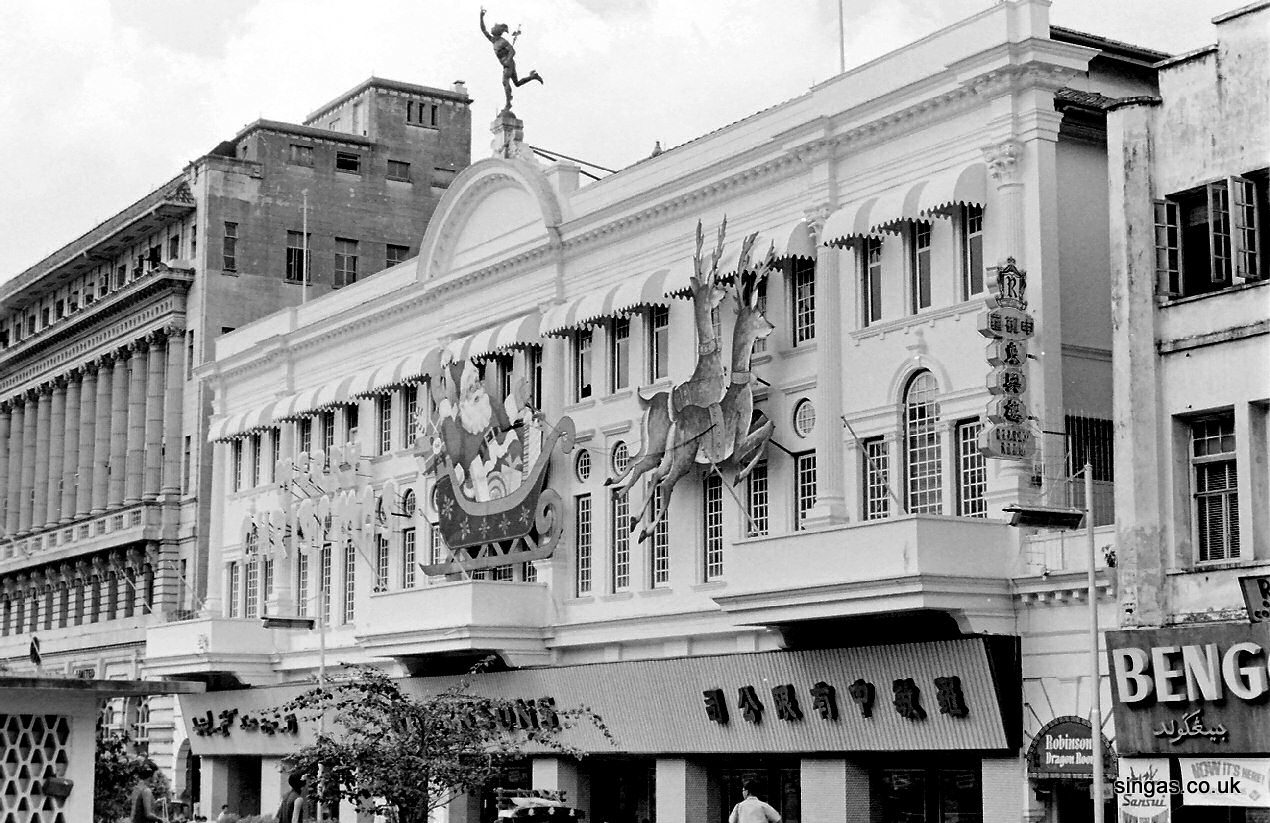 Raffles Place, Christmas 1968, with the original Robinsons geared up for the festive season. Photo by Bill Johnston on http://www.singas.co.uk/
She survived two Japanese bombs during World War II, a massive fire in 1972 that killed nine people and burnt her elegant Raffles Place store to the ground, and the financial crises of 1998 and 2009.
But Robinsons, the grand old dame of Singapore department stores, will not survive the extraordinary year that is 2020.
The company said the decision to close permanently was due to changing retail trends and the weakening of demand for large-scale department store concepts. Covid restrictions, while necessary, did not help, with reports showing a 32% drop in sales in July.
When news broke on Friday (October 30) that the lights of the 162-year-old department store, once known for its glittering Christmas façade, will blink out permanently, many Singaporeans were awash with nostalgia.
Some 20 Brethren assemblies in Singapore today owe their start to Robinsons founder, Philip Robinson.
Almost every family, it seems, has fond memories of the Singapore icon.
Church Elder and historian, Dr Ernest Chew, remembers Robinsons as his mother's favourite department store. While she shopped for cosmetics and Parker Knoll armchairs, he would be found among the Meccano sets. (Yes, there were toys before Lego.)
An NTU student of mine told of how his one regret in life was missing the chance to truly know his grandfather. Before retirement, his grandfather had been a security guard at Robinsons. My student had been too busy with teenage distractions to pay his grandfather any mind. It was only when the old man died that he discovered that his grandfather had been a hero who had rescued shoppers from the store's 1972 inferno.
My late mother-in-law, a woman ahead of her time who worked as secretary to the Chairman of one of the Big Four banks in the 1960s-80s, bought all her office dresses from Robinsons. They were more than vain accoutrements. The smart Robinsons dresses and leather shoes (together with a stiff coiffure) lent her an imposing authority, a kind of warrior's armour, against effete callers looking to waste her boss's time and, once, against picketing protestors on the steps of the Raffles Place bank.
Robinsons, with its faint air of delicious aspiration and special occasion treats, managed to transcend the transactional to become synonymous with gracious service (often delivered by older staff) and wholesome family outings.
But did you know that, even as the shutters come down on the iconic department store, the spirit of Robinsons lives on in another way?
Some 20 Brethren assemblies in Singapore today owe their start to Robinsons founder, Philip Robinson.
Philip Robinson and the Brethrens in Singapore
1857: English merchant and Oxford graduate, Philip Robinson, first arrived in Singapore with his wife, Eliza, and young daughter around 1857. The couple would later have six more children born in Singapore, one of whom they would name Stamford Raffles Robinson.
Philip Robinson, who was born in 1830 in Worcestershire, England, had converted to Christianity at 14. At this tender age, he had started teaching Sunday School in Tewkesbury Baptist Chapel.
When he first arrived in Singapore, Robinson worked at Cursetjee & Co as a bookkeeper for a Parsi businessman dealing in jewellery, fashion, wines and books.
1858: Robinson co-founded "family warehouse", Spicer & Robinson, with former Singapore jailkeeper James Gaborian Spicer.
In their personal capacity, Robinson and Eliza began meeting up with a group of Christians, all British, at 108 Bencoolen Street for worship.
1859: Even as the department store was renamed Robinson & Co and grew in commercial success (it would later count as customers the rulers of the Malay Archipelago and King Mongkut of Siam), Philip and Eliza Robinson were growing in their conviction that they were called to be Christian witnesses in Singapore.
1864: On July 3, the Robinsons opened "Missions Rooms" in 108 Bencoolen Street with seven other believers, birthing the Brethren Movement in Singapore. The first Brethren Lord's Supper was held at "Mission Rooms".
1866: As the early assembly at Bencoolen Street grew, the believers moved to new premises at 77 Bras Basah Road.
The Robinsons built a meeting house in Bras Basah which they named "Bethesda". Bethesda Gospel Hall was officially opened on September 30, 1866.
Robinson delivered his first official sermon on October 7, 1866.
Bethesda Bras Basah later moved to Ang Mo Kio after the land was acquired by the Government.
1867: Robinson introduced "tea parties" at Bethesda Gospel Hall for visiting military personnel and non-believers. An entry for its first "tea meeting" on August 1, 1867, recorded an attendance of 130 soldiers, sailors and "many others". Robinson combined tea and camaraderie with evangelistic "addresses" by various men, including himself.
1867: A Chinese-speaking congregation, known as The Chinese Gospel House, was formed on March 24, pastored by Tan See Boo. Local Brethren gradually shouldered leadership responsibilities in the churches.
The Chinese church held their first bilingual service on May 18, 1869, after Robinson proposed joint Breaking of Bread services with the Chinese Gospel House.
At this time, the Robinsons were staying at "Dunman's Corner" in Bras Basah Road, which was also the location of Bethesda Gospel Hall and Chinese Gospel House.
1873: On June 12, the Robinsons departed for England, but returned to Singapore on several occasions, even rejoining Bethesda Gospel House in 1883.
1886: Robinson died on February 14 of "granular disease of the kidneys", after suffering 10 days of lung congestion.
The London office of Robinson & Co was taken over by Eliza Knight Robinson, while his son Stamford Raffles Robinson and Alfred William Bean became agents of the firm in Singapore.
The Bethesda churches begun by Philip Robinson continued to grow. From the congregations at Bethesda Bras Basah, the work spread to the New Bridge Road and Katong areas before the Second World War.
The Bethesda (Katong) congregation in Pennefather Road was formed in 1936.
1941-1945: Robinsons department store at Raffles Chambers was hit twice by Japanese bombs during WWII but reopened the next day.
The store was closed from 1942 to 1945 during the Japanese Occupation.
1946-2020: Not only did Robinson & Co survive WWII, the Bethesda churches did too.
Bethesda (Katong) became autonomous in 1948. There was also extension work in Yio Chu Kang, Geylang and Bukit Panjang. This set the pattern for the expansion of Brethren work — the commencement of Sunday Schools, Gospel meetings and "Breaking of Bread" services followed by the registration of autonomous churches (also called Gospel Halls or Chapels).
The Brethren in Singapore have been active in parachurch and missions work, alongside evangelical Christians from other churches.
An early example was Mr Ernest Tipson of the Bible Society. He was followed by men like Mr Lauw Kim Guan (involved in Gospel radio ministry), Dr Benjamin Chew (Youth for Christ, IMPACT magazine, and the Overseas Missionary Fellowship), and Dr GD James (the founder of the Asia Evangelistic Fellowship).
Dr Chew was the Chairman of the Singapore Billy Graham Crusade in December 1978, and the founding Chairman of the Evangelical Fellowship of Singapore, established in 1980.
The year 2016 marked the 150th anniversary of the establishment of the first Brethren Assembly at Bras Basah Road. Today, Brethren churches in Singapore include: Angora Brethren Church, Bethesda (Bedok-Tampines) Church, Bethesda Chapel, Bethesda Church Bukit Arang, Bethesda Community, Bethesda Frankel Estate Church, Bethesda Hall (Ang Mo Kio), Bethesda Hall (Depot Walk), Bethesda (Katong) Church, Bethesda Pasir Ris Mission Church, Bukit Panjang Gospel Chapel, Living Sanctuary Brethren Church, Pasir Panjang Hill Brethren Church and Yio Chu Kang Chapel.
Philip Robinson may be known for his eponymous department store, but his evangelistic fervour and church-planting spirit continue to grow in quarters and extents that even he, one of the trailblazing pioneers of Singapore, may be surprised to know.
If you have enjoyed reading Salt&Light...
We are an independent, non-profit organisation that relies on the generosity of our readers, such as yourself, to continue serving the kingdom. Every dollar donated goes directly back into our editorial coverage.
Would you consider partnering with us in our kingdom work by supporting us financially, either as a one-off donation, or a recurring pledge?
Support Salt&Light