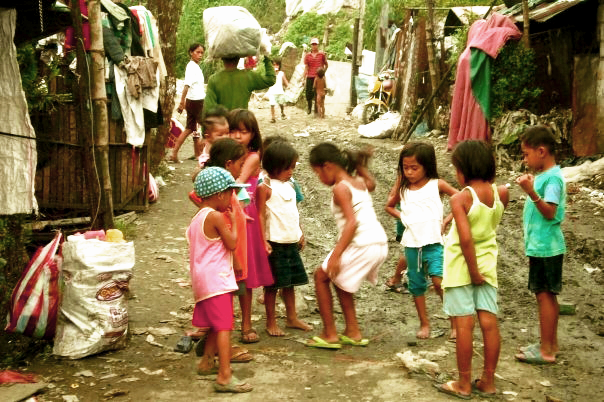 Children playing in a village in Patayas, a poverty-stricken district in the north of Metro Manila, the Philippines. Tens of thousands of families have gone without food after the government ordered the country into a lockdown on March 16. Photo by Ironchefbalara on Flickr.
A Christian social enterprise in the Philippines is looking to raise about SGD$113,000 a week for the next month to supply food to some 10,000 poor families who have been badly affected by the coronvirus lockdown. 
In a letter posted on their website on Monday (April 6), chairman of Human Nature, Dylan Wilk, said: "Here in the Philippines, many areas are on total lockdown, including millions of poor people with zero savings/money on hand to buy food.
"We don't know how He will do it, but we believe God will allow us to take care of those 10,000 families in Payatas."
"Local governments have been completely overwhelmed by the sudden and immediate need to provide food for hundreds of thousands of people in their cities and have had immense difficulty reaching everyone.
"Sadly, tens of thousands of people in poor areas have still not received any relief packs, or have received only enough for a few days."
He added that many organisations, including churches, businesses and individuals, have been "feverishly working to plug the gap".
Since March 16, the entire island of Luzon, where more than half of the 105 million population live, has been in lockdown. On April 7, Philippine President Rodrigo Duterte approved the extension of the lockdown until the end of the month. 
As of today, the Phillipines has recorded more than 3,800 coronavirus infections and 182 deaths.
Give to all who ask
Human Nature, which employs people from poor communities and produces sustainable beauty products, has distributed almost 4,000 food packs to those who have not yet received food assistance, Wilk said, adding that each food pack will feed a family of five to six for a week.
And they are working to give out more.
Wilk, who was born in England, said: "We are not really setting a limit but have simply been responding to everyone who asks for help, following Jesus' command in Luke 6 to 'give to everyone who asks you … Do to others as you would have them do to you'. (Luke 6:31)
"Many of these people are desperately hungry by the time we hear about them and a few days' delay could be devastating, especially for the children, so we respond immediately.
"But as you can see, it has become a huge number for a small company like ours and we are in great need of financial support to be able to continue to feed all these people until the government help arrives, or until the end of the lockdown, whichever comes first."
A light in the darkness
The enterprise has identified Payatas, a district in the north of Metro Manila, as the area in the "greatest need" right now.
Wilk is partnering with Friar Paul Uwemedimo, a long time friend who lives and serves among the "poorest of the poor" in the district, to reach out to these residents.
In a Zoom meeting with interested donors on April 8, Friar Uwemedimo described Payatas as a place with "massive poverty", with most of its residents working as manual labourers, such as construction workers and tricycle drivers.
"With the lockdown, people can't go to work. Many don't have savings, they don't have bank accounts."
"People live in tiny houses, jammed in like sardines. There is poor hygiene.
"With the lockdown, people can't go to work. Many don't have savings, they don't have bank accounts. They live day to day. There's no safety net and no social security for them."
Friar Uwemedimo runs a foundation called Puso ng Ama (PNA), which means "heart of the Father", that cares for these people.
"Our aim is to help them experience the love of God through Jesus in the power of the Holy Spirit. At the heart of it we want them to know Him and follow Him as disciples, but we believe God's love is not an invisible thing. People experience it through the physical, social and emotional," he said.
In a survey of "just a small area" of Payatas last week, Wilk said they found almost 2,000 families who had not received any food since the lockdown began. They gave out some rations then but food has since run out.
"We believe God's love is not an invisible thing. People experience it through the physical, social and emotional."
They are also surveying wider areas and are expecting to find tens of thousands in similar situations, he said.
Wilk and Friar Uwemedimo have set their minds on supporting 10,000 families in the next four weeks and are raising funds to provide them with food packets – each costing 400 pesos, or SGD$13.
Wilk said in the meeting: "We don't know how He will do it, but we believe God will allow us to take care of those 10,000 families in Payatas."
In his letter, he also urged believers to be the salt of the world and a light in the darkness.
"Let's remind ourselves that the Gospel was given not for times of prosperity, comfort and ease but for times like these. These are times when the Gospel can shine most brightly."
Want to help?
You can donate via Human Nature's website, where there are options to donate one pack, 10, 50 or 100.
Alternatively, you can donate directly to PNA (Puso ng Ama), a foundation that is in partnership with Human Nature.
Payee name: PUSO NG AMA FOUNDATION INC
Address: Phase 3, Lower Empire, Payatas B, QUEZON CITY, 1119, PHILIPPINES
Account number: 0421-0740-03
Name of Bank: BANK OF THE PHILIPPINE ISLANDS
Routing Number: 026005966
Address of Bank: BPI Commonwealth Branch, Commonwealth Ave. cor Don Antonio Heights Subdivision, Quezon City, 1109, Philippines
Reference for Transfer: Payatas food
For those outside the Philippines:
Account currency: Philippine Pesos
SWIFT CODE: BOPIPHMM
If you give directly to PNA, please scan your deposit slip and email/message it to [email protected] for your receipt and a note of thanks.
"You are in our prayers": Kit Chan, Gurmit Singh, join in battle against COVID-19
The gifts in the valley: How God shepherded a pastor's soul after his wife died
If you have enjoyed reading Salt&Light...
We are an independent, non-profit organisation that relies on the generosity of our readers, such as yourself, to continue serving the kingdom. Every dollar donated goes directly back into our editorial coverage.
Would you consider partnering with us in our kingdom work by supporting us financially, either as a one-off donation, or a recurring pledge?
Support Salt&Light