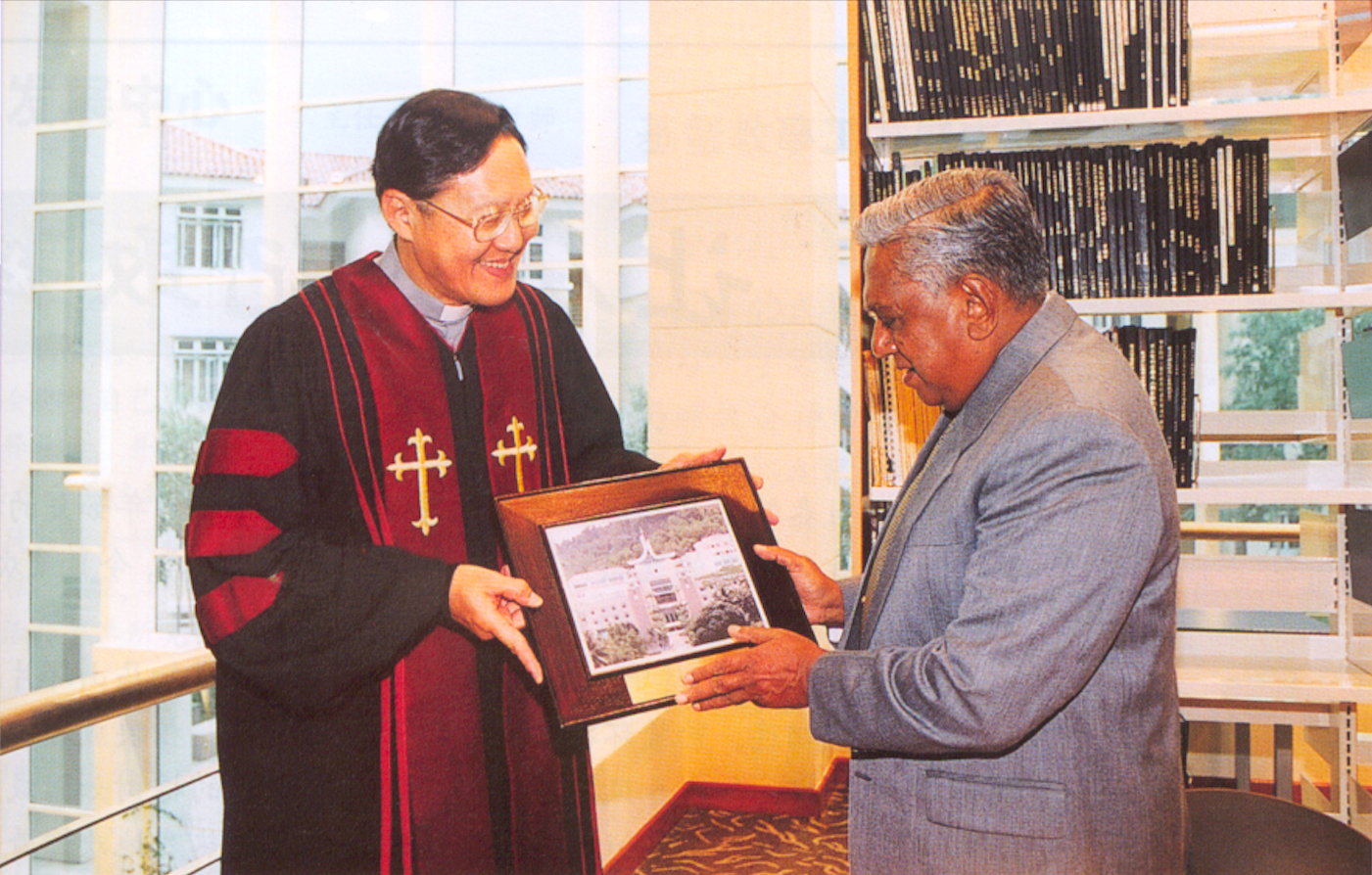 Rev Dr Ngoei received Singapore's former President, the late SR Nathan, as the Guest-Of-Honour at the 2002 opening of the TTC campus in Upper Bukit Timah. All photos courtesy of Trinity Theological College, unless otherwise stated.
The longest-serving principal of Trinity Theological College (TTC), Rev Dr Ngoei Foong Nghian, is stepping down on June 30 after nearly 20 years at the helm of Singapore's oldest interdenominational seminary.
He will be succeeded by TTC vice principal, Rev Dr Edwin Tay, who has been his understudy since 2018.
At the helm
Rev Dr Ngoei has worn the mantle of TTC leadership since 2001, the year the college was preparing to move from its former Mt Sophia campus to its current home in Upper Bukit Timah. 
At the time, the College, whose origins were birthed in the confines of Changi Prison during World War II, had already been in existence for more than half a century since its founding in 1948. Still, it faced many day-to-day challenges. 
TTC's origins were birthed in the confines of Changi Prison during World War II.
For one, it existed to support the ministry of the Church, but to provide the quality of education necessary for such a task required financial support from the ecclesiastical community.
TTC had to be able to employ proficient faculty and implement projects, in order to hone its graduands' competencies. To do so, it required funding, which would not be forthcoming unless it nurtured closer partnerships with churches across the denominations.
Then, as now, those realities were twin priorities for the College, Rev Dr Ngoei told Salt&Light. 
Under his leadership, laity-targeted courses and resources were developed and launched with flexible attendance options. The Master of Theological Studies is an example. Started in 2005, it offers lay persons – regardless of vocation – the opportunity to attend Bible school part-time for equipping or even to clarify God's call on their lives. 
"Theological education was shunned even by educated Christians who frowned upon such 'intellectual pursuits'." – Rev Dr Ngoei
In the last decade, TTC has also extended its reach and influence, establishing links between seminaries in Singapore and overseas through jointly-held conferences and by offering certification across regional and international seminaries.
More than 200 students enrol in TTC each year, a third of whom are foreigners. This number includes both clergy and lay persons. 
Rev Dr Ngoei shared that the journey has been a fulfilling one for him, with TTC now having a "credible" track record and global partnerships.
"In a sense, I grew together with TTC over the years," he said, noting, however, that the College needs a new generation of leaders who are "more attuned with the needs of the digital age". 
Leadership succession had always been a concern, but it was only in 2014, when Rev Dr Ngoei was 64, that TTC's Board of Governors embarked on a more focused search for someone to fill his shoes.
In 2018, Rev Dr Tay was appointed as Vice-Principal. He was unanimously voted in by the Board of Governors earlier this month as Principal. As with Rev Dr Ngoei's original term, Rev Tay's appointment is for three years.
Holding Christ's banner high
Rev Dr Ngoei reflected that the biggest difference he has observed through his tenure is the shift in mindset: Theological education is now recognised as an important part of spiritual formation and growth for Christians living in the 21st century – especially amongst the younger generation.
Previously, the devotional aspects of the faith and personal piety were seen as the means to address the "more complex issues" of public life, taking precedence over building theological foundations.
"In fact, theological education was shunned – even by educated Christians who frowned upon such 'intellectual pursuits'," Rev Dr Ngoei said.
"Should we not expect Christ's ambassadors to be well-trained so as to fly Christ's flag high before the nations?" – Rev Dr Tay
But over the past two decades, Christians in Singapore have matured in the faith and their diet has changed.
There is a growing thirst for theological education amongst a "thinking and enquiring" Christian community who are moving from "milk" to "solid food", he said. (1 Corinthians 3:2, Hebrews 5:12)
Pointing out that the call to discipleship knows "no divide" between clergy and the laity, Rev Dr Tay noted that theological equipping for the laity is essential, as they represent the frontlines of Christian witness in society.
He said: "If we expect our country's ambassadors to be well-trained so that they can fly our Singapore flag high, should we not expect Christ's ambassadors to be well-trained so as to fly Christ's flag high before the nations?"
A new chapter
Rev Dr Ngoei, who at 70 is well past the official retirement age, is looking forward to leading a slower pace of life and spending more time with family, but this does not mark the end of his service in ministry.
Said the Honorary General Secretary of the National Council of Churches of Singapore: "As a clergyman, I must always be open to God's prompting and His call to serve." 
As for Rev Tay, his calling as a theologian is to be an expositor and steward of the Gospel. "With my new appointment, this has now been extended into the area of administration and leadership," he said.
"Among other things, I hope that this 'deposit of faith' is passed on in all its richness through the various theological disciplines and community life at TTC."
"Do the right things and deal with others in love": Bishop Chong to Methodists in Aldersgate service
New course launched to help churches build disability-inclusive communities