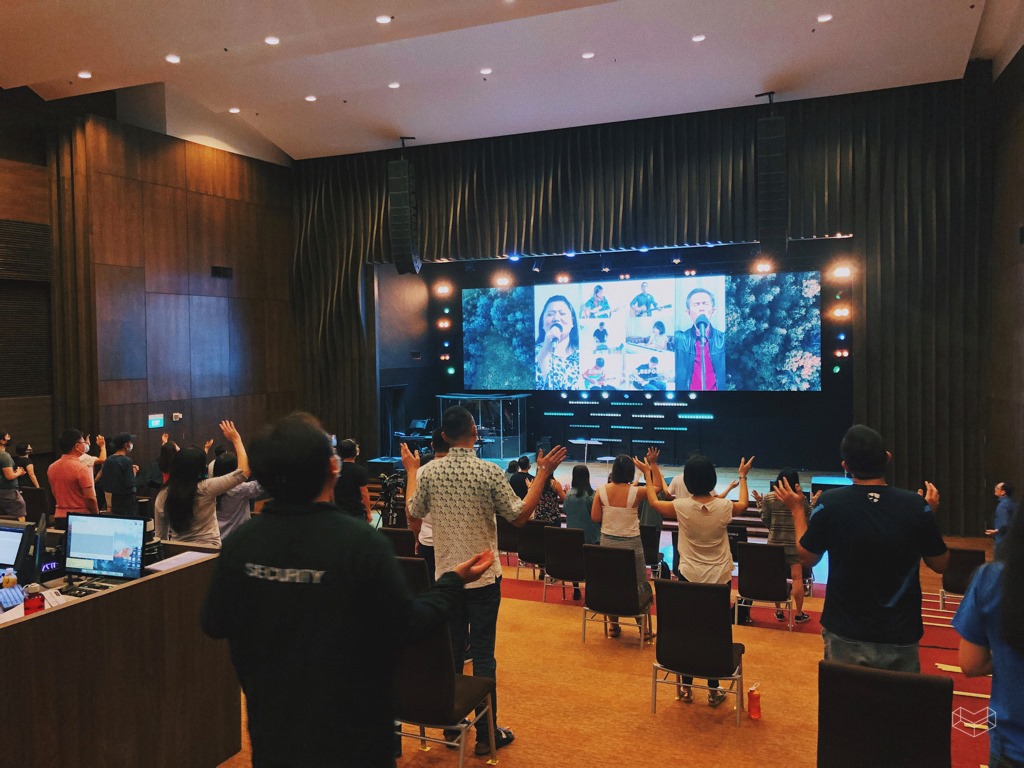 Cornerstone Community Church reserves a few seats at their physical services for isolated groups who have not been able to tune into the online services. Photo from Cornerstone Community Church Facebook page.
As more worshippers are allowed to gather for physical services, churches are banding together to share tips on how to resume services safely.
In a forum held over Zoom last Wednesday, three church pastors shared how they have been holding their physical services in line with safe management measures.
The event, called Church Re:Start, was attended by 88 people from over 40 churches. It was organised the Alliance of Pentecostal and Charismatic Churches of Singapore (APCCS) and moderated by Pastor Pacer Tan from Lighthouse Evangelism.
Encouraging pastors to let their congregations worship on-site, Pastor Yang Tuck Yoong, Senior Pastor of Cornerstone Community Church, said: "We were created to be social beings. It's really important that we don't atrophy in the comforts of our own home.
"In the Scriptures, we are constantly exhorted not to forsake the assembling together of the saints, which is an important part of our journey together as believers."
Remembering isolated groups: Cornerstone Community Church
Prior to Covid-19, Cornerstone Community Church (Cornerstone) had 5,000 people at its weekend services across four different venues, said Executive Pastor Lim Lip Yong.
Since physical services have been allowed to resume, members can book a seat through an online ticketing system on a first-come-first-served basis every Friday.
However, members of their youth service are allocated tickets on a rotation basis according to the zone their cell group is in. With this arrangement, each can come to physical church at least once a month, said Ps Lim.
"The convenience of having Zoom classes is definitely a huge discovery for us during this period of time."
While there are many logistics needed to reopen safely, he said the checklist provided by the Ministry of Culture, Community and Youth (MCCY) is "quite exhaustive". It details the safe measures required, including temperature taking stations, signages and distancing between chairs.
However, he noted that to hold Holy Communion and water baptism on-site, churches must submit separate safe management plans to be approved by MCCY. 
To cater to isolated groups who may not have smart devices or Internet connection, the church also reserves a small number of seats for them and arranges transport for them so their exposure to the virus is minimised, said Ps Lim.
Worship services aside, he added that attendance for Christian education classes have "really skyrocketed" since they went online on Zoom, with twice as many people attending than before.
"The convenience of having Zoom classes is definitely a huge discovery for us during this period of time," he said.
From October, Cornerstone will be moving back to livestreaming their Sunday services instead of pre-recording them, said Ps Lim.
He added that the church is also thinking of starting an online campus that is specifically targeted to an online audience, though its end goal is to direct them to attend physical service.
Altar call in the pews: Kingdom Life Community Church
At Kingdom Life Community Church, who has about 240 people across three services, those who are actively involved in life groups are given priority to book a seat at the physical service, said Senior Pastor Benjamin Chew.
In the sanctuary, the church has constructed a "glass house" at the pulpit where the preacher can speak without wearing a face mask or shield, he added.
However, this requires special permission from MCCY and approval is given on a case-by-case basis, he said.
"We need to be so prepared that when the next wave hits … our church can still function as per normal."
The church is currently streaming their live service on Zoom, so that "those members at home still have connection with our physical service", said Ps Chew.
Another thing that has changed is the way the altar call is being done.
Now that members cannot come up for prayer, they are asked to stand up where they are if they want to respond to the altar call.
As members sit in clusters of five, each cluster is responsible to pray for any member within the group who stands up.
Moving forward, Ps Chew said he hopes to ready the church to decentralise quickly should a second wave happen.
"We need to be so prepared that when the next wave hits, our church can be (decentralised) in homes and families, and the church can still function as per normal … Discipleship, evangelism and all that can still continue."
Integrating physical and online congregations: 3:16 Church
At 3:16 Church, which has about 150 members, services are designed in a way that allows both physical and online congregation to feel that they are worshipping together, said Deputy Senior Pastor Norman Ng.
Instead of having a pre-recording or livestream on YouTube, the online congregation tunes in via Zoom. Their faces are then broadcasted on a screen at the back of the physical service.
"Everyone has a sense of community, that we are here together."
This is "so that everyone has a sense of community, that we are here together", said Ps Ng.
Pastors and cell group leaders who are tuning in online sometimes carry out the offering, prayer or Scripture reading sections so it "feels like it's one service instead of two", he added.
At the physical service, attendance is alternated between families and adults, and youth and young adults.
Ps Ng noted that it was important to help the children see that it's important to have a sense of community. "We saw them miss their friends … It's important for us to see and care for one another," he said.
"We don't have all the answers, but … we are all in this together."
Looking forward, Ps Ng said that the online service is a feature that is here to stay, for those who are overseas or for those who may not be comfortable to return to physical church.
He added that online tools should be integrated with on-site models and be leveraged for a greater purpose, such as evangelism through online Alpha.
He said: "To regather is not the end. It's the means to the end, which is for the Church to be known for our love amongst the people. That will always be essential.
"We don't have all the answers, but what we do know is it cannot be business as usual, and we are all in this together."
---
More stories on Sunday services returning to church:
46% of Church-goers say they're ready to head back to physical worship service: Survey
If you have enjoyed reading Salt&Light...
We are an independent, non-profit organisation that relies on the generosity of our readers, such as yourself, to continue serving the kingdom. Every dollar donated goes directly back into our editorial coverage.
Would you consider partnering with us in our kingdom work by supporting us financially, either as a one-off donation, or a recurring pledge?
Support Salt&Light