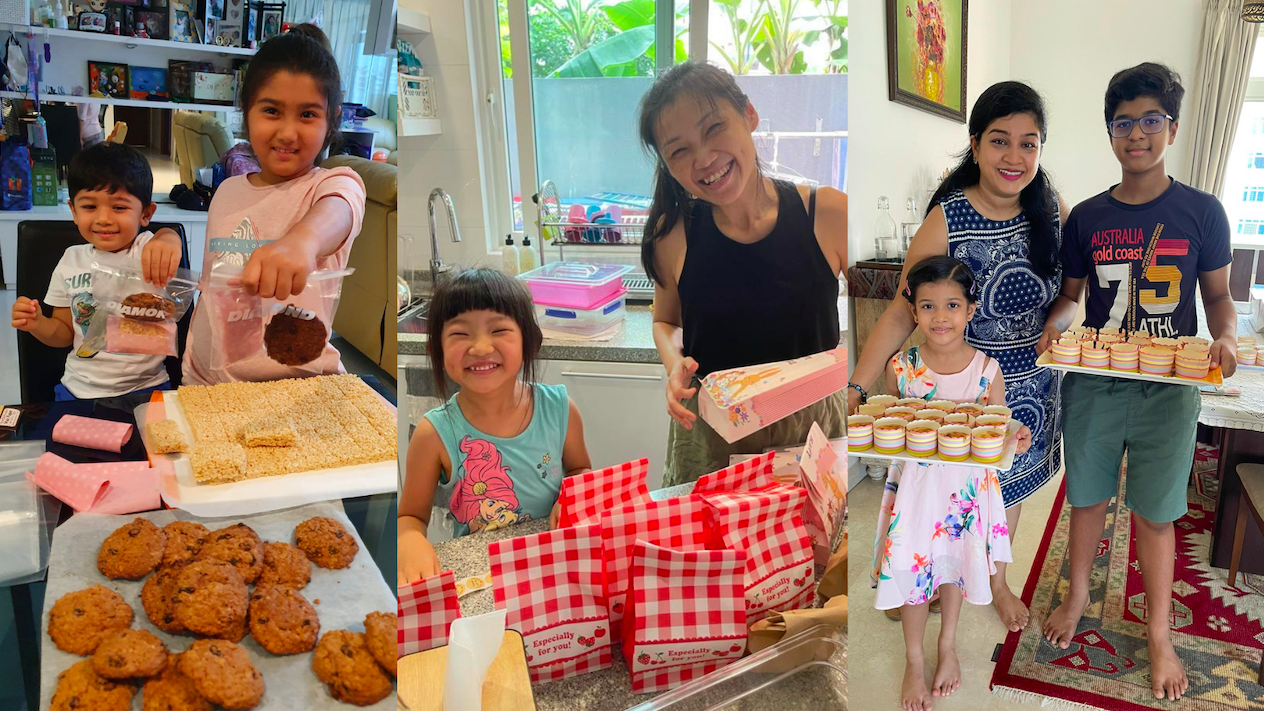 About 150 young bakers spent one weekend over the June holidays baking for migrant workers, under an initiative by AGWO. Photos courtesy of Priya Mohan.
Over the June holidays, more than 150 children banded together to bake cupcakes and cookies for some 7,000 migrant workers, to thank them for helping to build Singapore.
The baking drive, which kicked off in mid-June, was organised by the Alliance of Guest Workers Outreach (AGWO) and is on track to reach at least 10,000 migrant workers by National Day (August 9).
Six-year-old Om Narayan Kunhiraman was one young baker who contributed to the drive. He told Salt&Light that he spent an hour baking chocolate chip cookies with a friend.
When asked why he decided to bake for the migrant workers, he said matter-of-factly: "Because they have worked really hard building what we need and they deserve what we deserve, so that's why we baked the chocolate chip cookies."
His sister, 10-year-old Raaga Narayan Kunhiraman, also spent an afternoon with three friends baking chocolate chip cookies and making handwritten cards for the workers.
"Dear Uncle, thank you for working hard for us!" read one card written in coloured inks. 
She said it was fulfilling to see photos of the migrant brothers smiling as they received the cookies she had baked over two hours. "Seeing them enjoying themselves was really worth it," she said.
When asked what they would say to encourage these migrant workers, Om piped up without missing a beat: "Thank you! You can do this!"
His sister added: "Go! You can do this! We're supporting you!"
Missing home
Priya Mohan, a volunteer at AGWO who initiated the drive, told Salt&Light that she decided to rope in children to contribute, as many migrant brothers have young children back home whom they have not seen in a while due to the ongoing pandemic.
"It's not a big thing, but it has touched the hearts of the migrant brothers," said Mohan, a "dorm mum" who cares for foreign workers living in several dormitories.
"It's not what you give them, but it's about the kids," she said, adding that she was inspired by a similar drive carried out last Christmas, which resulted in some 6,000 packets of baked goodies that helped to spread the holiday cheer in the dormitories.
Mohan, who runs her own finance advisory services outfit, hopes such initiatives can help to connect local families and migrant brothers. "It's a good way to make everybody feel good," she said.
Zhang Huaqiao, 36, who works as a cleaner, told Salt&Light he was pleasantly surprised when he found out that the cake he received had been baked by a child.
"It tasted pretty good," he said in Mandarin. "I'm thankful for them. I feel that nurturing a kind heart from a young age is remarkable."
Zhang, who is from Sichuan, China, added that he has not seen his own two children, who are 8 and 10, for three years now as he has not been able to return home due to the pandemic.
"But combating the virus is understandable. It can't be helped," he said, sharing that he keeps in contact with his family through daily video calls.
Mahafuz Hoque, 31, a construction worker from Bangladesh, had only praise for how tasty the cookies he received were.
"It was very, very nice. Very tasty and yummy. Not only I say. My brothers and all people said very good," he told Salt&Light over a phone call.
"We feel very happy to receive so much love and care from the children."
He added that the treats were especially appreciated as he has not been able to go outside to buy his own goodies due to the current restrictions.
"We feel very happy to receive so much love and care from the children, to have cupcakes and cookies. How much we say thank you also not enough," he said.
Om and Raaga's mother, Parvathi Narayan, who is also a "dorm mum", told Salt&Light that her children's participation has shown them how a small gesture can spread happiness.
"Seeing those photographs come back and the smiles on the migrant workers' faces, as well as the messages they send, there's so much gratitude and warmth," said Parvathi, who is a vice-president of marketing at Prudential Financial.
Gestures of care
Ps Samuel Gift Stephen, chairman of AGWO, said he hopes the drive can help children to be aware of migrant workers and build an appreciation for their work in Singapore.
He added that the recent Phase 2 (Heightened Alert) measures had been a blow to many workers as they could not visit their designated recreational centre (RC), which is the only place they can go to apart from their dormitories and workplaces due to coronavirus restrictions.
"We are saying: We remember you. We are here to journey with you. We care for you."
"That actually led to a steep incline in the number of guest workers going through depression and who were emotionally affected, because their only solace at the early point of the year was to go out to visit the RCs and do their shopping and see their friends," he said.
This stress was further compounded by their worries over their families' well-being back home in countries like India and Bangladesh, which have been hard hit by the pandemic, he added.
"So, just doing this small gesture of giving them cookies tells them that we are there with them still. We are saying: We remember you. We are here to journey with you. We care for you. It really brings a lot of healing to what they're going through right now." 
More bakers and volunteer drivers needed
AGWO is still looking for junior volunteer bakers and volunteer drivers who would like to contribute to the baking drive, which will run until National Day.
Here's how you can contribute:
What can I bake?
You can bake cookies, cupcakes or muffins. All items baked should be halal. 
Each item should be individually packed so it can be easily distributed. You may use ziplock bags, cling wrap or foil to package the baked goodies. Phoon Huat and Daiso have good options at reasonable prices. 
For cookies, it is recommended for each pack to include either a) at least five small-sized cookies, b) 2-3 medium-sized cookies or c) one large-sized cookie. 
It is also recommended for one baker to produce at least 20 packs. There is no maximum limit.
Do remember to label your box or bag with Name/Item/Quantity (eg Ana/Banana muffins/24). If there are nuts, please clearly label: "INCLUDES NUTS".
Everyone, even adults, is welcome to bake.
How do I give the baked goods to the migrant workers?
There are a few drop-off points across the island. All drop-offs will be contactless. Drop-offs should be done between 2pm and 4pm on the Saturday you have chosen. 
The address of the drop-off point closest to your home will be shared with you at least two days before the date of delivery.
Volunteer drivers will then pick up the baked goodies between 5pm and 7pm and do a contactless drop-off at dormitories across the island. 
At each dormitory, the person-in-charge will then distribute the goodies to the migrant workers. Volunteers are strictly not allowed to conduct the direct distribution due to safety regulations.
Is there anything else I can do?
It would be wonderful if your children can make cards, drawings or paintings for the brothers to show their appreciation for the hard work they do.
Do also feel free to take pictures of your family baking activity and share it with AGWO on Facebook and Instagram.
How can I sign up?
Interested parties can sign up to bake here, or to be a volunteer driver here.
Happy baking!
---
FOR MORE STORIES ON MIGRANT WORKERS, READ:
We are in this together: Showing love to our foreign workers
One year on, the mental health needs of migrant workers remain pressing: HealthServe
If you have enjoyed reading Salt&Light...
We are an independent, non-profit organisation that relies on the generosity of our readers, such as yourself, to continue serving the kingdom. Every dollar donated goes directly back into our editorial coverage.
Would you consider partnering with us in our kingdom work by supporting us financially, either as a one-off donation, or a recurring pledge?
Support Salt&Light